19.07.2021
Nearly a decade ago, Jeff Bezos' spaceflight company Blue Origin was locked in a battle for use of a historic NASA launch pad at Kennedy Space Center.
Bezos wanted pad 39A – the host of Apollo 11 and dozens of space shuttle missions –open to multiple companies and their rockets since NASA retired the shuttle program. After bids and protests, the agency ultimately selected Elon Musk's SpaceX to lease Florida's most high-profile pad.
During the fight over 39A, Musk in a 2013 interview said SpaceX would consider sharing the pad if Blue Origin could produce a human-rated vehicle within five years. He famously told SpaceNews: "Frankly, I think we are more likely to discover unicorns dancing in the flame duct."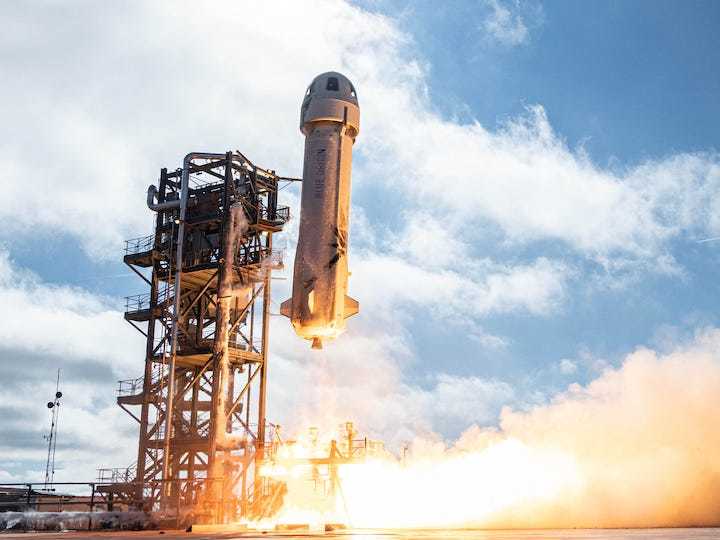 Bezos didn't get the pad. But since then, his company shifted its gaze south a few miles and secured a different facility, spending more than $1 billion to convert Launch Complex 36 to its exact specifications for the upcoming New Glenn rocket. Blue Origin's private facility in Texas, meanwhile, has launched the New Shepard rocket more than a dozen times since 2015 without major issues.
And now, Bezos himself is set to touch space and give his company's tourism-focused New Shepard vehicle the ultimate endorsement by becoming the first to fly it. The 8 a.m. Central time launch dubbed NS-16 will include his brother Mark, longtime women-in-space advocate Wally Funk, and Oliver Daemen, the winner of an auction for the capsule's fourth seat. The crew covers two age-related records: both the oldest (Funk, 82) and youngest (Daemen, 18) to fly to space.
Ultimately, the contest over pad 39A was one of several pivotal moments that paved the way for Bezos, 57, to steadily increase investments of time and money, the latter of which continues to come from Amazon earnings. From engine tests to contracts to hiring sprees, a more than 20-year journey bought the company to this point – and Tuesday's launch will be its most high-profile, defining moment to date.
Jeff Bezos and Blue Origin's journey
Bezos' interest in space, at least as documented officially by the Miami Herald, dates back to his teenage years as a student at Miami Palmetto Senior High School.
In his 1982 graduation speech, the valedictorian said he envisioned a future in which Earth-harming activities like heavy industry are moved off-planet, leaving behind a national park-like home for humanity. It may have seemed far-fetched at the time, but perhaps not so much – after all, Bezos was a child during the Apollo missions to the moon and his speech came less than a year after the first space shuttle launch.
Six years after founding Amazon, Bezos in 2000 put his passion for spaceflight to action with the founding of Blue Origin near Seattle, Washington. The company's first coat of arms showed two turtles reaching for the stars and text that read "Gradatim Ferociter," a Latin homage to "The Tortoise and the Hare" that translates to "step-by-step, ferociously."
"You will travel in a land of marvels," Bezos said during a speech to Princeton University's graduating class of 2010, during which he discussed advances in technologies ranging from spaceflight to healthcare. "Jules Verne, Mark Twain, Galileo, Newton – all the curious from the ages would have wanted to be alive right now."
One of his earliest public milestones involving space came in 2013 when he personally helped recover two Apollo-era Rocketdyne F-1 enginesfrom the bottom of the Atlantic Ocean. They were later confirmed to have flown the Apollo 11 mission in 1969 and are currently on display at the Seattle Museum of Flight in Washington.
1384 Views