14.04.2021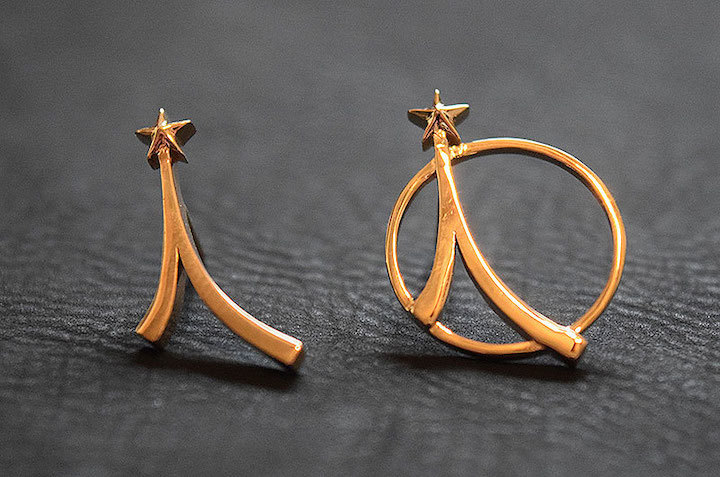 Two days after Yuri Gagarin became the world's first person to fly into space, his country, the former Soviet Union, presented him a small, military-style insignia representing that he was a Pilot-Cosmonaut of the USSR.

The first-of-its-kind device, depicting a satellite and spacecraft in orbit over Earth, would go on to be presented to every Soviet cosmonaut who made a spaceflight through 1991, and then, after a slight redesign, awarded to every Pilot-Cosmonaut of the Russian Federation to this day.

A similar practice began in the United States in December 1961, eight months after Gagarin was honored, when the U.S. Navy and U.S. Air Force bestowed Alan Shepard and Virgil "Gus" Grissom with their respective branch's astronaut wings. The similar devices both featured at their center a five-pointed star with three trailing rays passing through a halo — a symbol that later would be adapted as a lapel pin to be worn by NASA astronauts, with a gold version for those who launched into space.

In the 60 years since those first insignia were introduced, additional devices and pins have been created to represent other subsets of space travelers. The British Interplanetary Society, for example, created a rocket-shaped pin to be presented to astronauts from the United Kingdom, and the Federal Aviation Administration (FAA) awards commercial astronaut wings to the flight crews aboard U.S. licensed private spacecraft.

What has not existed until now has been a symbol to unite every person who has flown into space. Enter the Universal Astronaut Insignia.

For space explorers, by Space Explorers

"This all started in a van down by the river outside of Star City, Russia on March 18, 2015," Andy Turnage, executive director of the Association of Space Explorers(ASE), recalled in an interview with collectSPACE. Established in 1985, the ASE is a professional and educational organization for current and former astronauts.

Turnage and Michael Lopez-Alegria, a former NASA astronaut and a member of the ASE's executive committee, were on their way back from a celebration of the 50th anniversary of the first spacewalk, when the topic came up in discussion.

"Andy and I noted that even though many nations have flown citizens in space, only NASA astronauts have a specially-designed insignia for that relatively small community. We wondered if the time had come to create a common insignia for all space travelers, from all nations — and indeed it has," said Lopez-Alegria.

Creating a single device to represent everyone, however, presented a challenge. The design needed to translate across multiple nationalities and cultures, as well as be applicable to at least the two primary ways people experience spaceflight: suborbital and orbital missions.

Multiple concepts for the pin were put forth, but none of them really worked. It was not until a meeting of the executive committee did a symbol emerge — twice.

"[Russian cosmonaut] Pavel Vinogradov and I were doodling ideas at opposite ends of the room and independently arrived at almost identical designs," Turnage said. "It ended up being very close to what you see today."

The final version of the Universal Astronaut Insignia comprises ascending and descending chevrons crowned with a five-point star, representing the journey into space and the return to Earth. A circlet encompassing the chevrons is added to the pins worn by those who entered Earth orbit or flew beyond.

Universal eligibility

"Anyone who is verified as having flown into space will be eligible to wear the appropriate variant of the insignia," explained Turnage. "ASE will coordinate with recognized launch providers to verify entry to space."

Lopez-Alegria presented an early prototype of the pin to Beth Moses in October 2019. As Virgin Galactic's chief astronaut instructor, Moses completed a suborbital spaceflight aboard the company's SpaceShipTwo "Unity" in February 2019.

"It's a real honor to be recognized by an association which counts so many pioneers of space exploration among its members," Moses said at the time. "A lot has changed since humanity first entered space, but the fascination with space and everything surrounding it remains the same."

Future passengers who pay to launch to space, including those who fly with Virgin Galactic, Blue Origin, SpaceX and Axiom Space, will be eligible to wear the Universal Astronaut Insignia, as will the professional astronauts and cosmonauts who go on missions for the world's different space agencies.

"Thanks to the efforts of commercial spaceflight companies, the international community of space travelers is going to continue to grow and evolve," Turnage said. "ASE members are the pathfinders to space and our role as an organization is to provide leadership, guidance, inspiration and a sense of unity within the human spaceflight community. We believe creating a common symbol for all space travelers is one way to provide those things."

In addition to awarding the pins, the ASE is creating and will maintain a physical Registry of Space Travelers that will include the almost 600 people who have flown into space to date and grow as more follow. The registry will assign a flight order number for each pin-recipient, establishing a master record for spaceflight history.

"As one of the initiators of the idea, it is a special privilege for me to take my pin, and three others just like it for my crewmates, to space on Ax-1," said Lopez-Alegria, who is returning to space as the commander of Axiom Space's first flightto the International Space Station in 2022. "That ground-breaking mission and its crew exemplify the very universality that the pin is meant to represent."

Firsts in space

The first of the Universal Astronaut Insignia pins to fly into space is now in Earth orbit with Soichi Noguchi, a Japan Aerospace Exploration Agency (JAXA) astronaut and ASE executive committee member, who launched with SpaceX's first operational mission for NASA in November.


"Now, therefore, it is resolved that all space travelers shall be eligible to display a Universal Astronaut Insignia and receive an individual placement of entry to space upon certification of spaceflight by a recognized launch provider," Noguchi said in a video of him reciting the ASE's resolution establishing the new pin.

Noguchi and other members of the ASE leadership have received their own pins, but the one that he has with him on board the space station has been reserved for a special recipient.

"The pin he has with him in space — the first flown pin — will be presented to the family of Yuri Gagarin," Turnage said. (Gagarin, 34, died in a 1968 jet crash.)

The ASE is planning to present Gagarin's pin at the International Astronautical Federation's (IAF) Global Space Exploration Conference in St. Petersburg, Russia in June, when more ASE members will also receive their pins.
Quelle: CS
984 Views