26.12.2020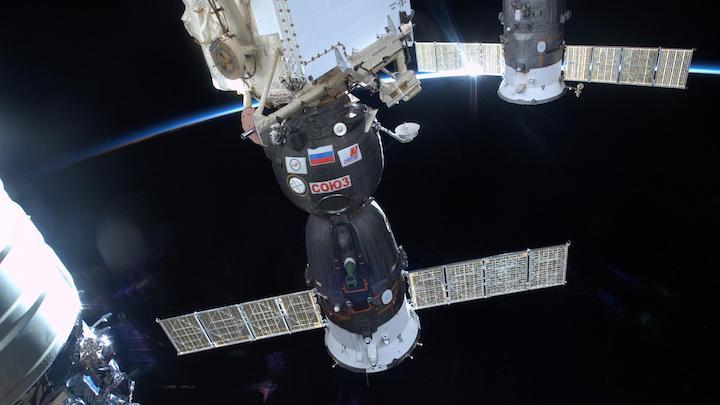 Foto: NASA
It's a rocketship. And an actual rocketship, not a lazy attempt to try and describe the performance of a 600bhp saloon as a launch control system shortens the life of its drivetrain.
Until Space X returned space travel to America's east coast in 2020, a Soyuz was your only way to get aboard the International Space Station. The Soyuz family of spacecraft have been blasting astronauts (and supplies, and equipment…) off into orbit since the mid-Sixties and they're the most commonly used launch vehicle on Earth. We can't speak for the other planets just yet.
Between NASA ending the Space Shuttle programme in 2011 and a Falcon 9 launching humans from Cape Canaveral in May 2020, Russia's Soyuz was how we got men and women into space, including British astronaut Tim Peake. He took off on the 128th Soyuz mission – space flight TMA-19M – from Kazakhstan's Baikonur Cosmodrome in December 2015. He spent one hour shy of 186 days in space with Yuri Malenchenko and Timothy Kopra before they undocked from the ISS and returned safely to Earth in June 2016.
It was actually the Soyuz TMA-M's penultimate mission, and one month after Peake and Co. returned home, it'd been superseded. Progress and tech updates in space travel are even more ruthless than in the world of RS, M Division and AMG, it seems…
Its replacement, the Soyuz MS, is still in service, but unlike its forebear, it essentially has an arch rival in the form of Space X's Falcon 9, which is what we'll likely see Peake go back into space aboard if he returns – as hoped – in the mid 2020s.
A Soyuz comprises many parts, but it only resembles a rocket for a short while after launch countdown reaches zero. The satellite shape you see in the main image above is how the TMA-M looks for the vast majority of its mission, and it's split into three sections – the service module, orbital module and descent module. Of all the wildly expensive and technical kit that got Peake to space, only the descent module survived its trip and still exists (you can see it in London's Science Museum). Talk about a short shelf life.
But to get those three segments into space, you need to screw the TMA-M atop some firepower. And this is where Soyuz begins to look long and pointy again. The 'first stage' comprises the four rocket boosters around the outer edge, weighing almost 45 tonnes apiece (including fuel) and with a burn time of two minutes following lift off, after which they're jettisoned. At this point, the crew will be 41,500 metres – or 26 miles – in the sky.
"The launch is unbelievable," says Peake. "In terms of that initial feeling of raw power lifting you off the launchpad, it's hard to describe what nine million horsepower feels like, it's just unbelievable."
Then you're onto the long, cylindrical, solo 'second stage' rocket that weighs around 105 tonnes fuelled. It ignites at launch and burns for another three minutes after the first stage (4m48s in total), quadrupling the Soyuz's altitude to 176,000 metres (109 miles) in the process.
Once this has done its job, it's automatically cut free from the spacecraft by the ignition of the 'stage three' engine, by which point the Soyuz is in space, horizontal rather than vertical, and it's being directed on its way to orbit, its 17,765mph top speed, and the ISS. At which point we ought to hand over to somebody who's actually been there, a certain Mr Peake…
Quelle: TopGear
977 Views