WOOMERA, AUSTRALIA – The Japanese space agency said Sunday the capsule from its Hayabusa2 space probe was collected from the Australian desert in "perfect condition," hopefully containing samples from the Ryugu asteroid that could help explain the origins of life.
The capsule appeared as a bright fireball lasting several dozen seconds as it re-entered Earth's atmosphere before dawn, its protective heat shield glowing as it reached temperatures of approximately 3,000 degrees Celsius.
If the mission was successful, the capsule will contain two samples from the Ryugu asteroid, including the first subsurface asteroid sample ever collected. Scientists believe that organic matter and water existed on the asteroid when the solar system was created around 4.6 billion years ago.
"The capsule was in perfect condition. We're looking forward to opening it up," Yuichi Tsuda, Hayabusa2 project manager at the Japan Aerospace Exploration Agency (JAXA), said at a news conference.
The deputy director general of JAXA's Institute of Space and Astronautical Science, Masaki Fujimoto, said during the same news conference that once collected from the desert, the capsule was carried by hand into a so-called quick-look facility to be cleaned and dismantled so the interior sample container could be exposed.
An analysis of the gases that may have been emitted from the asteroid material is expected to begin Monday.
Fujimoto said the team in Australia is anxious to perform the analysis as the presence of gases within the sample container would indicate that the asteroid samples were successfully collected.
Scientists hope primordial material believed to be contained in the samples will help further research into the origins of life on Earth and the evolution of the solar system.
The capsule, which was released from the space probe Saturday afternoon, landed in a desert near the Woomera Prohibited Area, a remote Australian military and civil aerospace facility that is also one of the largest land-based test ranges in the world.
The Hayabusa2 space probe made two landings on Ryugu to collect samples.
The first landing, in February 2019, saw the probe collect a surface sample from the asteroid. The second sample, collected in July the same year, is the first-ever subsurface sample from an asteroid and was extracted after an artificial crater was created by firing a copper projectile into the surface.
The two samples will provide scientists with a comparison of the composition of the asteroid above and below the surface.
Although Ryugu is believed to have undergone minimal change since the formation of the early solar system, scientists say materials below the asteroid's surface would not have experienced the same weathering and potential contamination from other meteorite impacts as those on the surface.
At the beginning of Earth's formation, the planet was entirely without water due to its close proximity to the sun. Scientists believe that once Earth cooled, water and organic matter were delivered to it by meteorites with a composition similar to Ryugu.
JAXA's recovery mission is being supported by the Australian Space Agency, which was established in July 2018 to develop the country's space industry.
"This is certainly our first joint (operation), where we're working on a mission with another country," agency head Megan Clark said in an interview. "It's quite exciting for us and exciting for our team to be able to support Japan."
"Also, we're learning a lot through all this. We're learning a lot for when we're the ones who are nervous because it will be our mission," Clark said.
The Hayabusa2 space probe was launched from Japan's Tanegashima Space Center in December 2014 and has traveled over 5 billion kilometers so far.
Unlike the original Hayabusa mission, the Hayabusa2 space probe will not return to Earth. Instead, it will continue on an extended mission to explore asteroid 1998KY26.
While the Hayabusa2 mission has so far proceeded smoothly, the coronavirus pandemic significantly disrupted JAXA's plans for the capsule recovery operation.
Travel restrictions have seen a reduced team of only 79 essential personnel making the trip to Australia from Japan.
Additionally, the team went through quarantine twice — once in Japan and again when they arrived in Australia. However, an unexpected coronavirus outbreak in the state of South Australia, where Woomera is located, saw the entire state go into a mandatory six-day lockdown, delaying preparations further.
Knowing that the team from Japan would be in isolation for two weeks on their arrival in Australia, Clark said the agency put together a "welcome pack" of local South Australian wines, sweets and hand creams for their colleagues.
"It's hard to do isolation, so we were just providing little gifts and food, and making sure they had everything they needed, so they didn't feel alone," she said.
Quelle: The Japan Times
+++
Asteroid Ryugu Dust Delivered to Earth; NASA Astrobiologists Prepare to Probe It
On Dec. 6 local time (Dec. 5 in the United States), Japanese spacecraft Hayabusa2 dropped a capsule to the ground of the Australian Outback from about 120 miles (or 200 kilometers) above Earth's surface. Inside that capsule is some of the most precious cargo in the solar system: dust that the spacecraft collected earlier this year from the surface of asteroid Ryugu.
By the close of 2021, the Japan Aerospace Exploration Agency, or JAXA, will disperse samples of Ryugu to six teams of scientists around the globe. These researchers will prod, heat, and inspect these ancient grains to learn more about their origins.
Among the teams of Ryugu investigators will be scientists from the Astrobiology Analytical Laboratory at NASA's Goddard Space Flight Center in Greenbelt, Maryland. Researchers in the astrobiology lab use cutting-edge instruments that are similar to those used in forensic labs to solve crimes. Instead of solving crimes, though, NASA Goddard scientists probe space rocks for molecular evidence that can help them piece together the history of the early solar system.
"What we're trying to do is better understand how Earth evolved into what it is today," said Jason P. Dworkin, director of the Goddard's Astrobiology Analytical Laboratory. "How, from a disk of gas and dust that coalesced around our forming Sun, did we get to life on Earth and possibly elsewhere?" Dworkin serves as the international deputy of a global team that will probe a sample of Ryugu in search of organic compounds that are precursors to life on Earth.
Credits: Japan Aerospace Exploration Agency
Ryugu is an ancient fragment of a larger asteroid that formed in the cloud of gas and dust that spawned our solar system. It is an intriguing type of asteroid that's rich in carbon, which is an element essential to life.
When Dworkin and his team receive their share of a Ryugu sample next summer, they will look for organic compounds, or carbon-based compounds, in order to better understand how these compounds first formed and spread throughout the solar system.
Organic compounds of interest to astrobiologists include amino acids, which are molecules that make up the hundreds of thousands of proteins responsible for powering some of life's most essential functions, such as making new DNA. By studying the differences in the types and amounts of amino acids preserved in space rocks scientists can build a record of how these molecules formed.
Dust from Ryugu, which is currently 9 million miles, or 15 million kilometers, from Earth, will be among the most immaculately preserved space material scientists have laid hands on. It's only the second sample of an asteroid that has ever been collected in space and returned to Earth.
Before the Ryugu delivery, JAXA brought back tiny samples of asteroid Itokawa in 2010 as part of the first asteroid sampling mission in history. Prior to that, in 2006, NASA obtained a small sample from comet Wild-2 as part of its Stardust mission. And next, in 2023, NASA's OSIRIS-REx will return at least a dozen ounces, or hundreds of grams, of the asteroid Bennu, which has been traveling through space and largely unaltered for billions of years.
"Our final objective is to understand how organic compounds formed in the extraterrestrial environment," said Hiroshi Naraoka, professor of geochemistry at Kyushu University in Fukuoka, Japan, and the lead of the global Hayabusa2 team that will analyze Ryugu's organic composition. "So we want to analyze many organic compounds, including amino acids, sulfur compounds, and nitrogen compounds, to build a story of the types of organic synthesis that happens in asteroids."
After analyzing the makeup of Ryugu, scientists will get to compare it to Bennu, the site of a wildly successful sample grab by OSIRIS-REx, which briefly touched down on the asteroid's surface on Oct. 20.
"The two asteroids have similar shapes, but Bennu appears to have a lot more evidence of past water and of organic compounds," said Dworkin, whose lab also is due to receive a tenth of an ounce, or several grams, of Bennu. "It'll be very interesting to see how they compare, given they came from different parent bodies in the asteroid belt and have different histories."
Analyzing Asteroid Particles Takes a Lot of Practice
Analyzing Ryugu dust will be one of the most demanding projects Goddard astrochemists have tackled. They will have to work with a miniscule amount of sample. Hayabusa2 is expected to have collected no more than a few grams of dust (that's about six coffee beans!) from Ryugu, although this is much more material than was returned from Itokawa. This tiny amount will be dispersed among many scientists, which means Dworkin and his colleagues will get only a fraction of the original sample — slightly more than a typical snowflake.
"We'll be dealing with much smaller sample allotments than we typically work with when we analyze meteorites," said Eric T. Parker, a Goddard astrochemist who works with Dworkin.
Parker said that the Goddard team, in collaboration with international colleagues, has been practicing working with tiny samples for more than a year. For example, they've analyzed dust grains from a carbon-rich meteorite called Murchison. Then, they used the identical technique to analyze a sample without any extraterrestrial material in it to make sure they could tell the difference between the two.
After Goddard scientists receive Ryugu dust, they will suspend the particles in a water solution inside a glass tube. They will then heat the solution to the temperature of boiling water, or 212 degrees Fahrenheit (100 degrees Celsius), for 24 hours in an attempt to extract any organic compounds that can dissolve in water.
The researchers will run the solution through powerful analytical machines that will separate the molecules inside by shape and mass and identify each kind.
"With really precious samples like Ryugu, of course you think, 'I hope this test tube doesn't break,' or 'I hope this reaction goes correctly,'" said Hannah L. McLain, a Goddard researcher on Dworkin's Ryugu analysis team. "But at this point, we've fully established our technique to be sure nothing can go wrong and we are excited to analyze the real sample."
Banner image caption: Artist's concept of a NASA spacecraft speeding toward a rendezvous with an asteroid. Credits: NASA's Goddard Space Flight Center. Download image here.
Find out how NASA's Johnson Space Center in Houston will receive and process dust from Ryugu and prepare it for analysis by labs around the world.
Quelle: NASA
----
Update: 9.12.2020
.
Hayabusa2's asteroid dirt may hold clues to the early solar system
After landing safely on Earth, a capsule holding samples from Ryugu is in Japan for analysis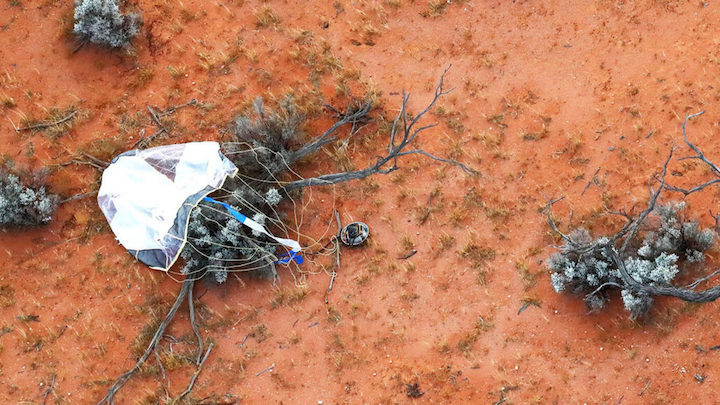 Hayabusa2's sample return capsule was located in south Australia shortly before dawn local time on December 6. A helicopter crew found it with its parachute draped over a tree.
JAXA
For the first time, scientists are about to get their (carefully gloved) hands on asteroid dirt so old it may contain clues to how our solar system formed and how water got to Earth.
A capsule containing two smidgens of dirt from asteroid Ryugu arrived in Japan on December 7, where researchers will finally get a chance to measure how much was collected. The goal of Japan's Hayabusa2 mission was to collect at least 100 milligrams of both surface and subsurface material, and send it back to Earth.
"Hayabusa2 is home," said project manager Yuichi Tsuda of the Japanese Aerospace Exploration Agency, or JAXA, at a news conference December 6, hours after the sample return capsule landed successfully in Woomera, Australia. "We collected the treasure box."
Ryugu is an ancient, carbon-rich asteroid with the texture of freeze-dried coffee (SN: 3/16/20). Planetary scientists think it contains some of the earliest solids to form in the solar system, making it a time capsule of solar system history.
Hayabusa2 explored Ryugu from June 2018 to November 2019, and grabbed two samples of the asteroid (SN: 2/22/19). One came from inside an artificial crater that Hayabusa2 blasted into the asteroid's surface, giving the spacecraft access to the asteroid's interior (SN: 4/5/19). On December 4, the spacecraft released the sample return capsule from about 220,000 kilometers above Earth's surface. The capsule created a brilliant fireball as it streaked through Earth's atmosphere.
At a "quick look facility" in Woomera, gases the asteroid material may have emitted were initially analyzed. But the capsule won't be opened until after it reaches the JAXA center in Sagamihara, Japan.
Hayabusa2 is the second mission to successfully return an asteroid sample to Earth. The first Hayabusa mission visited stony asteroid Itokawa and returned to Earth in 2010. Engineering and logistical problems meant that its return was years later than planned, and it grabbed only 1,534 grains of asteroid material (SN: 6/14/10).
For Hayabusa2, though, everything seems to have gone according to plan. The spacecraft itself still has enough fuel to visit another asteroid, 1998 KY26, which is smaller and spins faster than Ryugu. It will study how such asteroids might have formed, how they hold themselves together, and what might happen if one collided with Earth. The spacecraft will reach that asteroid in July 2031, although it won't take any more samples.
Quelle: ScienceNews
+++
Hayabusa2 Capsule Arrives at JAXA Facility in Japan
A capsule delivered by the Hayabusa2 unmanned probe that is believed to contain sand samples from asteroid Ryugu arrived at the Sagamihara Campus of the Japan Aerospace Exploration Agency, or JAXA, in Kanagawa Prefecture, south of Tokyo, on Tuesday, after being retrieved in Australia.
The capsule will be opened at a special analysis facility and observed and analyzed with a microscope and other devices for around six months.
A truck carrying the capsule arrived at the campus at around 10:30 a.m. (1:30 a.m. GMT).
Project manager Yuichi Tsuda said: "I'm relieved. I'd like to say to Hayabusa2 that it did a great job to finish its 'errand.'"
If the capsule contains sand, it will be the first time that such material has been retrieved from a space rock since the first Hayabusa brought back sand from asteroid Itokawa in 2010.
Quelle: nippon.com
+++
Hayabusa2 capsule taken to JAXA lab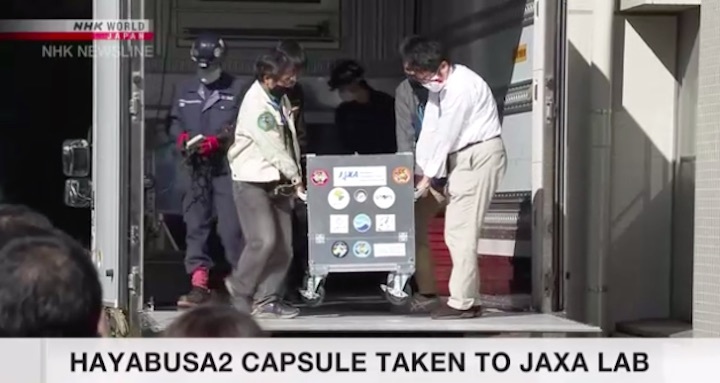 A capsule released by the Japan Aerospace Exploration Agency's space probe Hayabusa2 arrived at a lab near Tokyo, Japan on Tuesday. Officials held a news conference during which they thanked the public for warmly welcoming back the capsule.
The capsule is believed to contain samples from the Ryugu asteroid. It was retrieved after landing in an Australian desert on Sunday and arrived at Haneda Airport in Tokyo on Tuesday morning.
Tsuda Yuichi, the project manager of Hayabusa2, said he was touched when he realized that the capsule had traveled more than 5 billion kilometers.
Kuninaka Hitoshi, the head of the Institute of Space and Astronautical Science, said that the coronavirus pandemic forced them to briefly consider postponing the return of the capsule.
But he said they succeeded as a result of their determination to continue despite the circumstances. He also said they hope to analyze the samples thoroughly in order to derive as much scientific value from them as possible.
Analysis of the samples, which could provide clues on the origin of life, is expected to start in June.