4.06.2020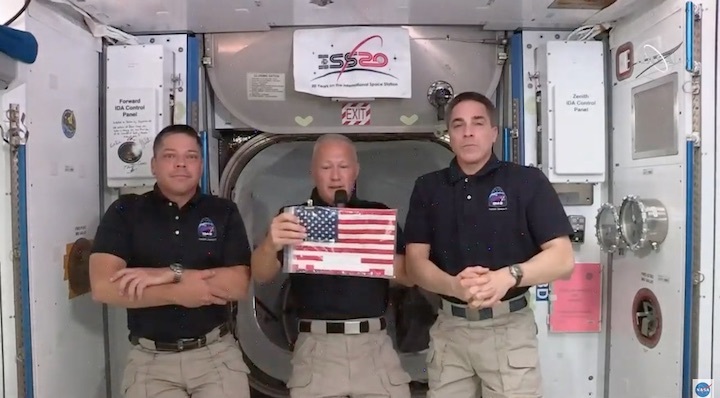 WASHINGTON — After making history on the first crewed flight of an orbital spacecraft launched from the United States in nearly nine years, two NASA astronauts are settling in on the International Space Station.
Astronauts Bob Behnken and Doug Hurley arrived at the ISS May 31, 19 hours after the Crew Dragon spacecraft they were on launched from the Kennedy Space Center. They will remain on the station for up to four months, joining the station's crew of NASA astronaut Chris Cassidy and Roscosmos cosmonauts Anatoly Ivanishin and Ivan Vagner.
While Behnken and Hurley trained primarily to test SpaceX's commercial crew spacecraft so that NASA can certify it for use on more routine missions, the shortfall in crew on the ISS mean the two will also be spending time helping out with station operations.
That work has already started, Cassidy said in a June 1 media event. "Today is day one, and they're hitting the ground running, unloading the vehicle. We've got HTV right at our feet and we'll be working in there in very short order."
The H-2 Transfer Vehicle, or HTV, is a Japanese cargo spacecraft that launched to the ISS May 20 and was berthed to the station five days later. It carried several tons of cargo for the station.
The HTV also brought to the station a final set of new lithium-ion batteries for the station's power system, whose installation requires a set of spacewalks. Both Behnken and Cassidy have spacewalk experience, and NASA is considering having them perform those spacewalks, or EVAs, in the next several weeks.
"That's going to take somewhere on the order of four to five EVAs to install those. At this point, we are looking at all options that could allow us to do those EVAs while we have Bob and Doug on board," Kenny Todd, NASA deputy ISS program manager, said at a May 31 press conference.
How long Behnken and Hurley will remain on the station is an open question. NASA officials say several factors go into that assessment, including the health of the Crew Dragon spacecraft as well as the readiness of the next such spacecraft, which NASA currently plans to launch Aug. 30 on a mission called Crew-1 with four astronauts from NASA and the Japanese space agency JAXA on board.
Steve Stich, deputy program manager of the commercial crew program, said at the May 31 briefing that they'll be watching the health of the solar arrays on the Crew Dragon in particular, looking for any degradation in their performance. Neither NASA nor SpaceX have explained why those solar panels appear to be more sensitive than those used on other spacecraft, or the station itself.
Stich said they will power on the Crew Dragon spacecraft weekly to test its solar arrays. "It'll probably take a few weeks to get trending on that," he said. "In a month or so, we'll be able to make a decision as to how long to keep this vehicle in orbit."
Behnken acknowledged that uncertainty during the June 1 media event. "Several recent crews have had a little bit more uncertainty than we've had historically for how long their mission duration was going to be," he said, referring to NASA decisions to extend the stays of some individual astronauts, driven in part by commercial crew delays. "Doug and I have maybe the most uncertainty, because it could be relatively short or we could potentially double or triple, maybe, what was originally expected for us just a few short months ago."
One ceremonial thing the Demo-2 astronauts have done is "capture the flag." The final shuttle mission, STS-135, left behind on the station a small American flag that also flew on the first shuttle mission, STS-1 in 1981. The flag was to remain on the station until the next American crewed spacecraft arrived.
"Chris had it right on the hatch where we left it nine years ago," said Hurley, who was part of the STS-135 crew. He then displayed the flag, to which he said Cassidy added a note: "Do not forget to take with Crew Dragon."
"You can bet we will take it with us when we depart back to Earth," Hurley said. "We are lucky enough to be able to take it home with us, and that will be our plan here in a month or two or three or four."
Quelle: SN
----
Update: 7.06.2020
.
SpaceX Demo-2 Astronauts Get to Work on Space Station Science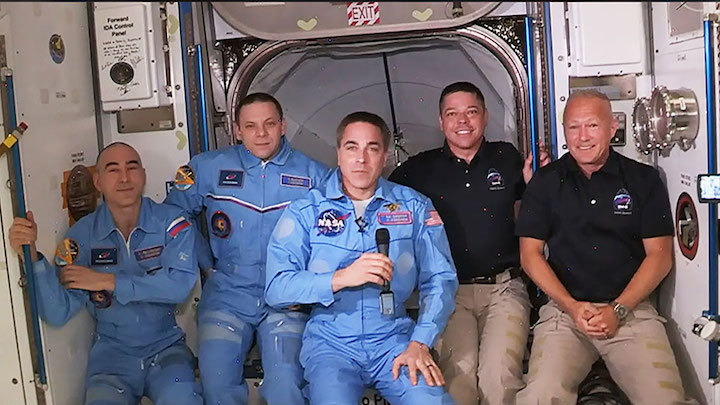 The Expedition 63 crew has expanded to five members with the arrival of the SpaceX Crew Dragon. (From left) Anatoly Ivanishin, Ivan Vagner, Chris Cassidy, Bob Behnken and Doug Hurley.
At a time when so many feel isolated, the world came together with hopeful energy on Saturday to watch as two American astronauts were launched into orbit from U.S. soil for the first time in nearly a decade—and for the first time ever onboard a commercially owned spacecraft. The successful SpaceX Demo-2 launch and docking, which carried NASA astronauts Doug Hurley and Robert Behnken from the Space Coast of Florida to the International Space Station (ISS), not only initiated a new era in American spaceflight but also rekindled the wonder and excitement of sending humans into space. Now, the two astronauts are getting to work in their new residence.
During their stay on the space station, the Demo-2 crew has joined the Expedition 63 crew in working on maintenance of the station and scientific research onboard the orbiting laboratory. This week, one of the first experiments Hurley and Behnken will work on is a project from a Massachusetts-based startup that aims to bring benefit back those of us here on the ground. The project, co-sponsored by the ISS U.S. National Laboratory and Boeing, seeks to enhance a drug delivery device for use in patients with conditions that require frequent injections, such as diabetes.
The project is from Cam Med Inc., a company that designs and builds microfluidics-based medical devices aimed at improving quality of life for patients. Cam Med has developed the Evopump—the first truly bandage-like patch pump for subcutaneous delivery of one or more medications. The thin and flexible pump adheres to a patient's skin and infuses medications instead of injecting them. While many current drug delivery pumps are bulky and complex, the Evopump is designed to be small and discrete. Cam Med hopes their ISS National Lab project, which launched on SpaceX's 20th commercial resupply services mission in March and is supported by Ohio-based engineering services company ZIN Technologies, will help them improve dosage control in the Evopump.
Space-based research is important to Cam Med because the functional absence of gravity reduces some complexities of the physical environment, allowing more thorough studies in microfluidics. Within the Evopump, bubbles are produced on an electrode using a technique called electrolysis, in which an electric current drives a reaction. These bubbles create differences in pressure in the device that enable its precise, controlled drug delivery. Onboard the space station, the research team can evaluate processes such as bubble formation and behavior in ways not possible on the ground. A better understanding of how bubbles evolve on the Evopump electrode could allow Cam Med to further enhance the device and its benefits for potential patients.
Cam Med's experiment, one of many scientific investigations the Demo-2 crew will work on while onboard the ISS, is supported by a "Technology in Space Prize." Through the prize, the ISS National Lab and Boeing award grants to startups associated with the MassChallenge accelerator program to conduct innovative research and development onboard the ISS. In total, the ISS National Lab and Boeing have awarded more than $4.5 million in funding through the Technology in Space Prize since its inception. During this multiyear partnership, more than a dozen investigations from innovative entrepreneurs have launched to the station, with diverse goals including but not limited to the production of retinal implants in microgravity and the development or improvement of cancer therapeutics.
When Hurley and Behnken return to Earth on SpaceX's Crew Dragon, it will bring this historic mission to a close—but this is just the beginning of a new chapter in American spaceflight. Space has always held a unique power to connect humanity, and in today's uncertainty, collective achievement and hope is critical in inspiring all Americans to continue to reach for the stars in pursuit of a shared future in space.
Quelle: THE ISS NATIONAL LAB
----
Update: 11.06.2020
.
NASA anticipates August return for Hurley and Behnken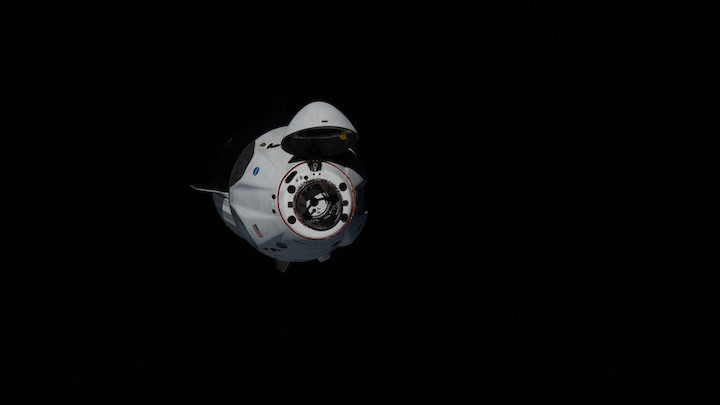 SpaceX's Crew Dragon spacecraft will likely return to Earth in August to wrap up a test flight to the International Space Station with NASA astronauts Doug Hurley and Bob Behnken, a senior space agency official said Tuesday.
The exact schedule for Hurley and Behnken's return to Earth will hinge on several factors, such as the performance of their Crew Dragon spaceship, the progress of their work on the space station, and weather conditions in the capsule's landing zones in the Atlantic Ocean and the Gulf of Mexico, according to Ken Bowersox, the acting associate administrator for NASA's human exploration and operations mission directorate.
Bowersox said Tuesday that the Crew Dragon's Demo-2 mission — the first SpaceX mission to carry astronauts — is proceeding as planned, and the crew capsule is performing well since its launch on a Falcon 9 rocket May 30 from the Kennedy Space Center and docking with the space station one day later.
The successful liftoff of the Crew Dragon marked the end of a nearly nine-year gap in launches of astronauts into orbit from U.S. soil following the retirement of the space shuttle in 2011.
Before the launch, NASA officials said the Crew Dragon test flight could last from one to four months, depending on a range of technical and weather factors.
"We didn't prescribe the length of the Demo-2 mission until we got the crew on orbit and we could see the performance of the Dragon," Bowersox said Tuesday. "The Dragon is doing very well, so we think it's reasonable for the crew to stay up there a month or two. The actual details are still being worked out."
Bowersox took over as acting head of NASA's human spaceflight efforts last month after the abrupt resignation of Doug Loverro, who served in the role for six months before leaving the agency. Industry sources have said Loverro broke NASA procurement rules during a contract competition earlier this year for federal funding to support the development of new human-rated landers to carry astronauts to the lunar surface.
The Crew Dragon spacecraft that launched with Hurley and Behnken was certified to fly in space for up to four months. The limiting factor on the spacecraft's endurance is the degradation of the ship's power-generating solar arrays in the harsh environment of low Earth orbit.
NASA is now looking at bringing Hurley and Behnken back to Earth in late July or some time in August.
Bowersox discussed the plans Tuesday in a briefing during a joint meeting of the National Academies of Sciences, Engineering and Medicine's Space Studies Board and the Aeronautics and Space Engineering Board.
Behnken is expected to perform at least two spacewalks in late June and early July with space station commander Chris Cassidy, who launched in April on a Russian Soyuz spacecraft. The duo will replace batteries on the far starboard end of the space station's solar power truss, installing fresh power packs delivered by a Japanese HTV cargo craft last month.
Hurley will operate the space station's Canadian-built robotic arm during the spacewalks. The arrival of Hurley and Behnken on May 31 ended a six-week period when Cassidy was the only U.S. astronaut on the space station, limiting the crew's capability to perform experiments, repairs and other required maintenance activities.
"It is very likely that by the end of July, we will have conducted some spacewalks with Chris Cassidy and Bob Behnken, replaced some batteries on the ISS, and we'll — about two months from now — start thinking about bringing Bob and Doug home," said Bowersox, a former astronaut and SpaceX executive. "We'd like to get them home some time in August."
But if weather conditions look favorable, NASA and SpaceX might elect to have the Crew Dragon undock from the station and return to Earth before the end of July, sources said.
Alongside their work to assist Cassidy with regular space station operations, Hurley and Behnken are also helping SpaceX ground teams continue their assessment of the Crew Dragon's performance. Mission controllers planned to place the Dragon capsule into a hibernation mode, then wake up the ship's systems to verify the spacecraft can perform its role as a quick-response lifeboat to scurry astronauts back to Earth in the event of an emergency.
Mission managers are also checking data to monitor the status of the solar arrays.
Bowersox said strict wind limits for the Crew Dragon spacecraft flying the Demo-2 mission — named "Endeavour" by Hurley and Behnken — will also come into play as NASA and SpaceX plan the return schedule. In some cases, the wind limit for splashdown could be as low as 9 knots.
"The Demo-2 vehicle has a little bit tighter restrictions on its landing wind requirements, so we'll need to provide extra lead time for the weather possibilities, but I think it will all work out in August," Bowersox said. "August is often a light wind month in the parts of the Gulf (of Mexico) and the east coast of Florida that we're looking at landing, so I think we'll be able to find a good opportunity in there."
But officials have not set a target date for the landing. That will wait until later in the mission, once Behnken and Cassidy complete their spacewalks.
"We don't want to try to pin things down to too hard of a date or too hard of a time," Bowersox said. "We want to pick the conditions that are right for this first return of the Crew Dragon with crew on-board."
A few hours after departing the space station, the Crew Dragon will fire its Draco thrusters for a braking burn and re-enter the atmosphere, targeting a parachute-assisted splashdown at sea. The landing zones are located roughly 24 nautical miles, or 27 statute miles, off the east coast of Florida, with a backup site in the Gulf of Mexico south of Pensacola.
The Demo-2 test flight is a precursor to operational crew rotation missions to the space station using the Crew Dragon spacecraft. The first of the operational Crew Dragon missions, known as Crew-1, is scheduled for launch no earlier than Aug. 30 from the Kennedy Space Center.
NASA has ordered six crew rotation flights on the Crew Dragon spacecraft through 2024, each carrying four astronauts to and from the space station on expeditions lasting as long as 210 days. SpaceX also has agreements with Axiom Space and Space Adventures, two commercial space companies, to fly private citizens into orbit on shorter-duration Crew Dragon missions beginning as soon as late 2021.
SpaceX developed the Crew Dragon under contract to NASA, but the company is free to use the spacecraft for commercial flights without NASA involvement.
NASA has a similar contract with Boeing for development of the Starliner crew capsule, which has yet to fly with astronauts. An unpiloted Starliner test flight was cut short before docking with the space station in December, and Boeing plans to fly a second demonstration mission later this year before a test flight with a crew on-board in early 2021.
Steve Stich, deputy manager of NASA's commercial crew program, said May 31 that space agency managers will evaluate the readiness of the next Crew Dragon spacecraft — for the Crew-1 mission — before deciding when to bring Hurley and Behnken home.
"Not only are we looking at this particular vehicle, we're also looking ahead to Crew-1," Stich said. "That's an important mission for us. It has four crew (members). It really is what commercial crew is about — having the vehicle ready to do these increment missions … Right now, it's targeting toward being launch-ready at the end of August timeframe. So we'll just kind of continue to look at this vehicle. Is it performing well? We'll look at the readiness of that vehicle, and in a month or so, we'll be able to make a decision as to how long to keep this vehicle in orbit."
NASA astronauts Mike Hopkins, Victor Glover, Shannon Walker, and Japanese astronaut Soichi Noguchi are training for the Crew-1 mission. The Crew-1 flight will only launch after the return of the Demo-2 mission, and a subsequent review of data from the Crew Dragon test flight.
While the spacecraft for the Demo-2 mission came with a four-month certified mission lifetime, the Dragon for the Crew-1 flight will be certified for a full-duration 210-day mission, according to NASA.
Stich said there are several modifications to the capsule SpaceX is building for the Crew-1 mission, although major components such as the capsule's life support system and guidance, navigation and control systems are largely unchanged.
"The Crew-1 vehicle can land in a little bit higher wind state," Stich said. SpaceX has changed some of the outer composite panels to make that a little stronger."
"It also has the capability not only dock to the forward port of the space station, but it can go to the zenith (space-facing) port as well, so it has that capability, and it has a couple other features," Stich said.
The space station has two docking ports outfitted to receive Crew Dragon and Starliner spacecraft. Once the Crew Dragon and Starliner vehicles are operational, NASA expects both ports will be used simultaneously to accommodate visiting crew and cargo ships.
Quelle: SN
----
Update: 26.06.2020
.
Spacewalk65 NASA astronauts Doug Hurley and Robert Behnken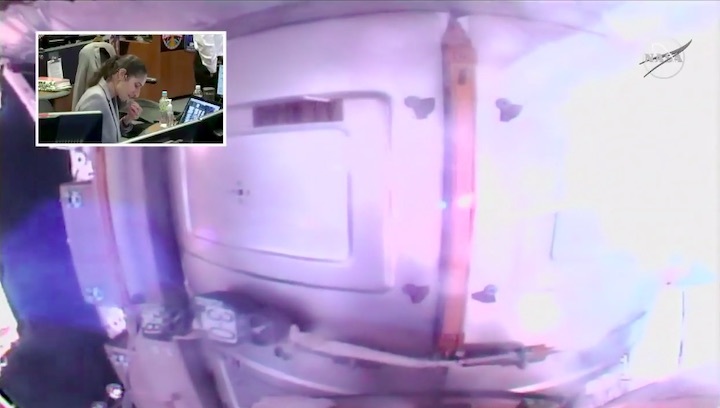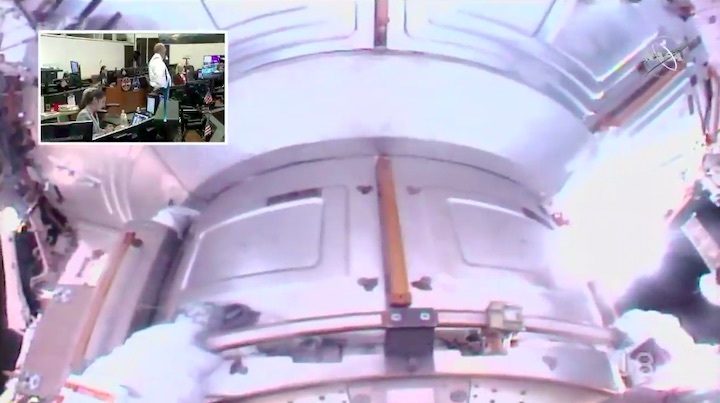 Rückkehr von Spacewalk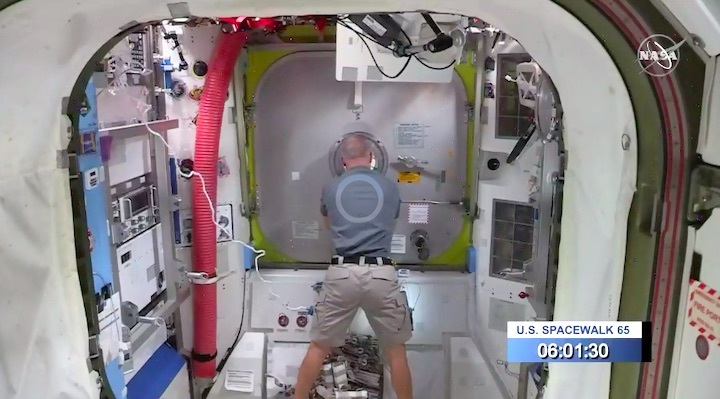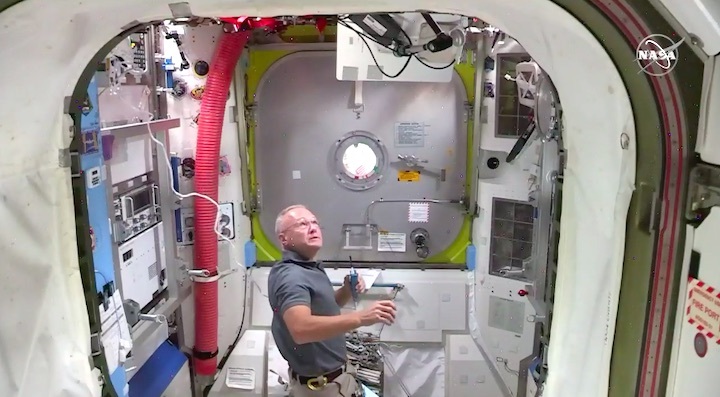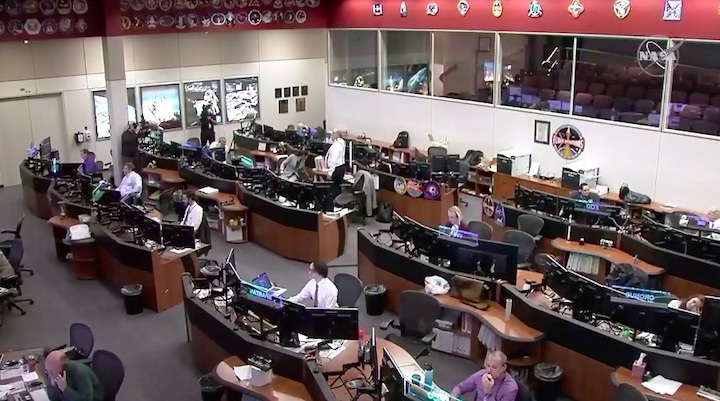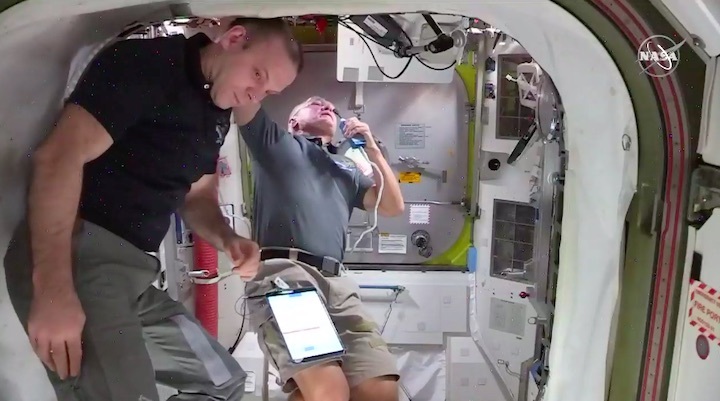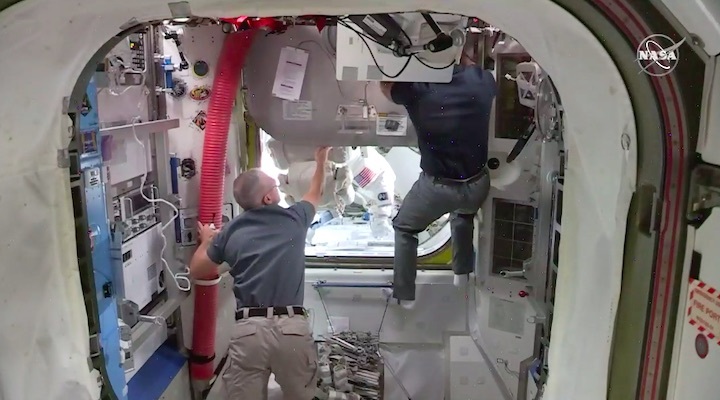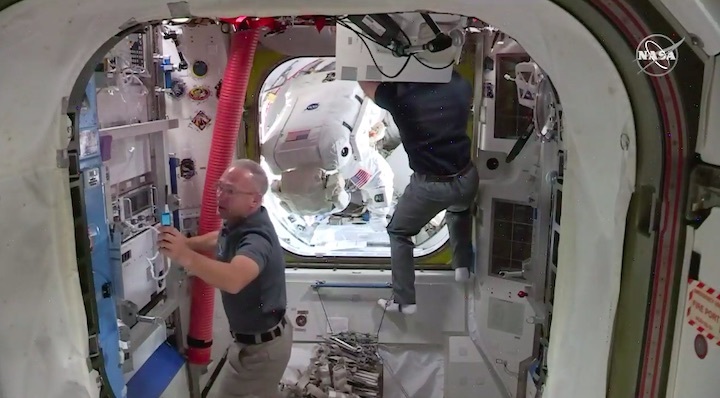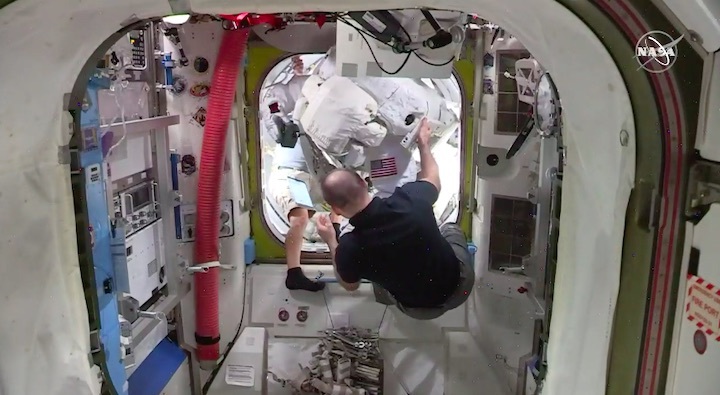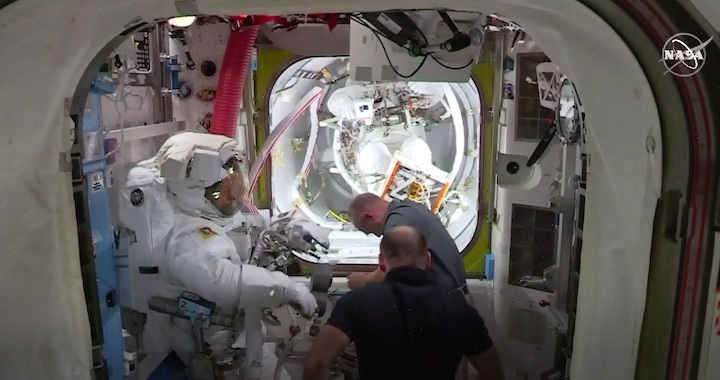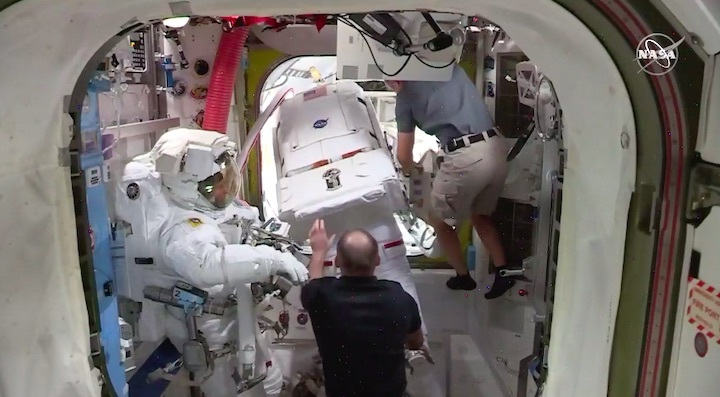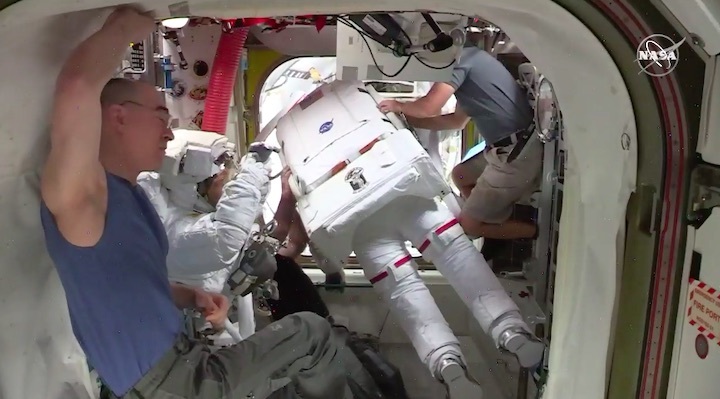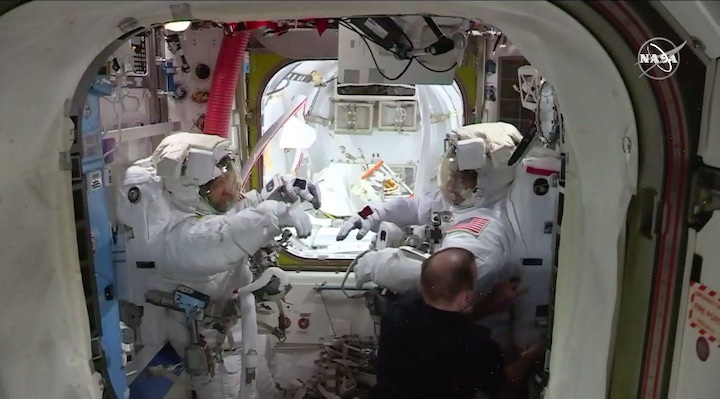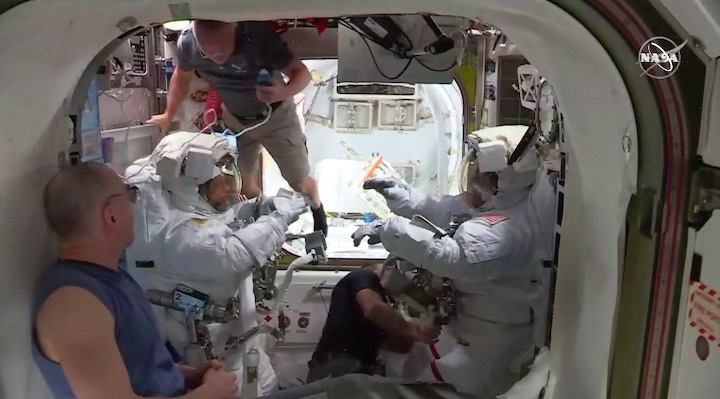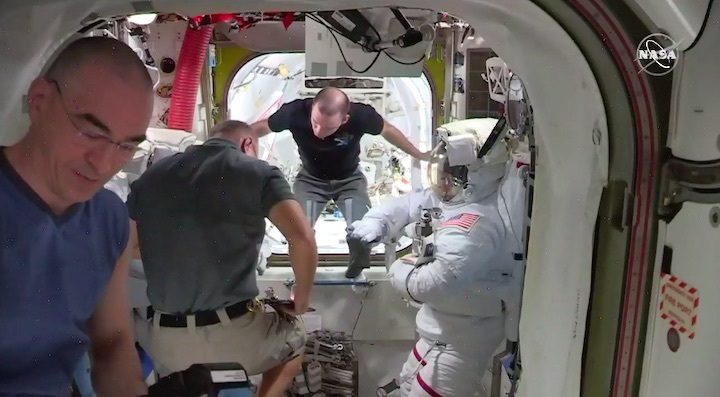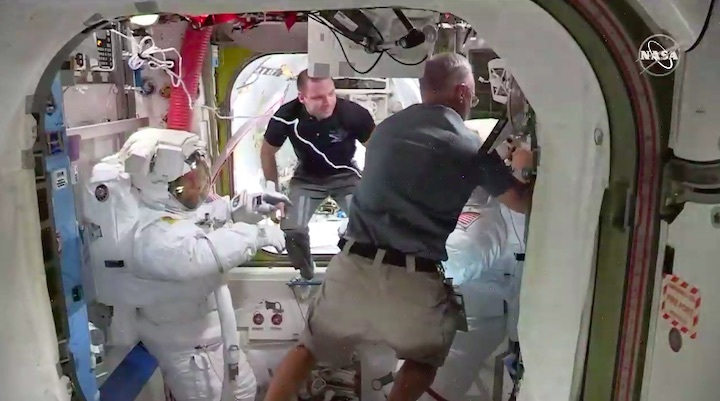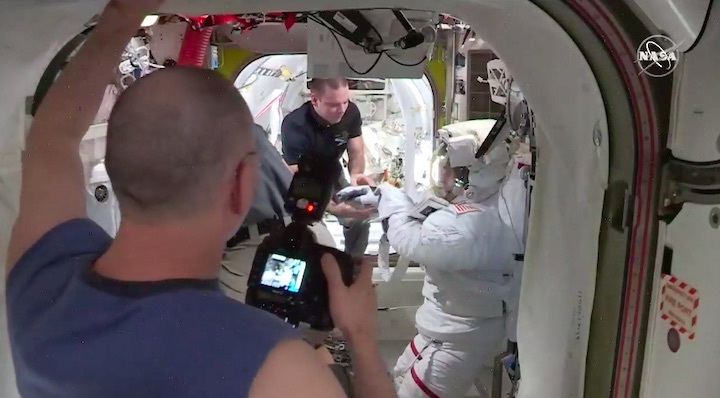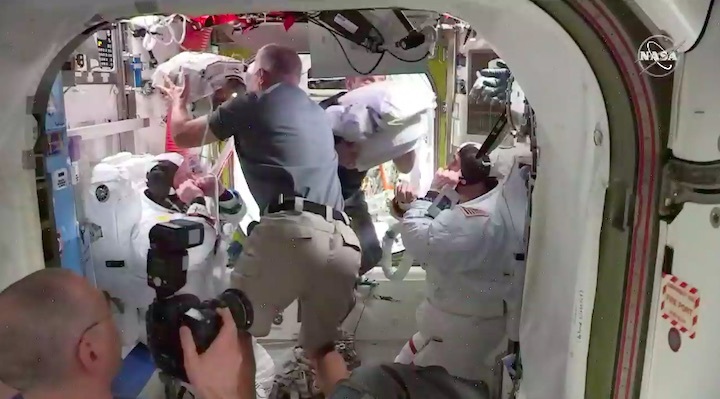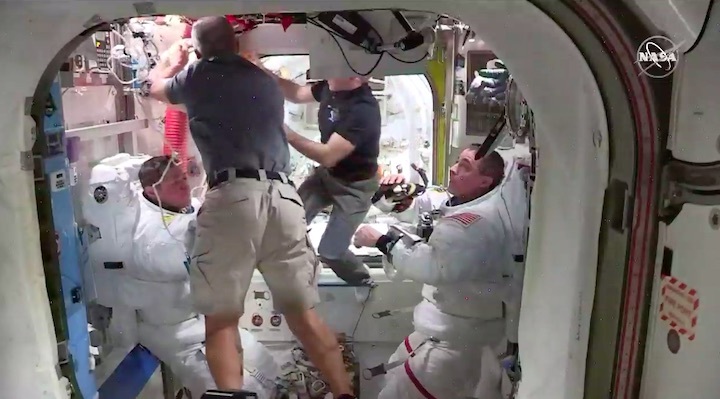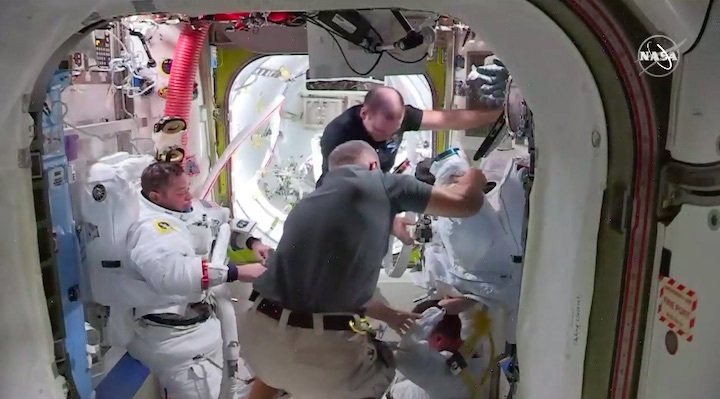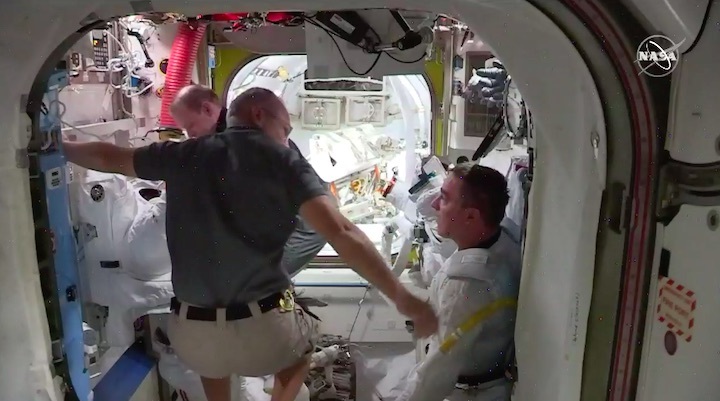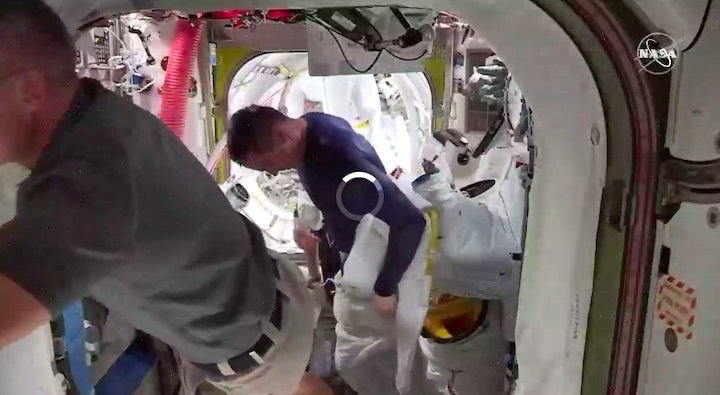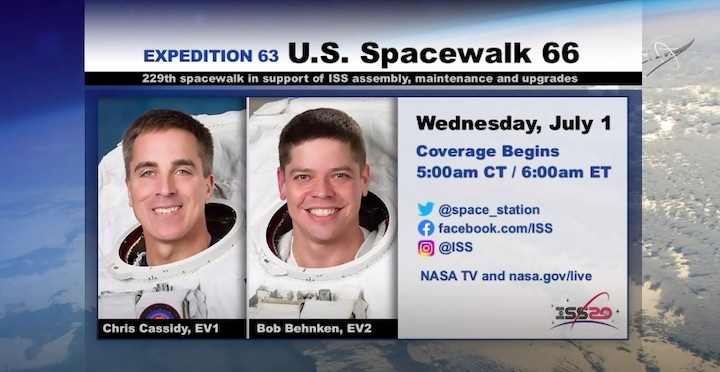 Quelle: NASA-TV
3554 Views