25.04.2020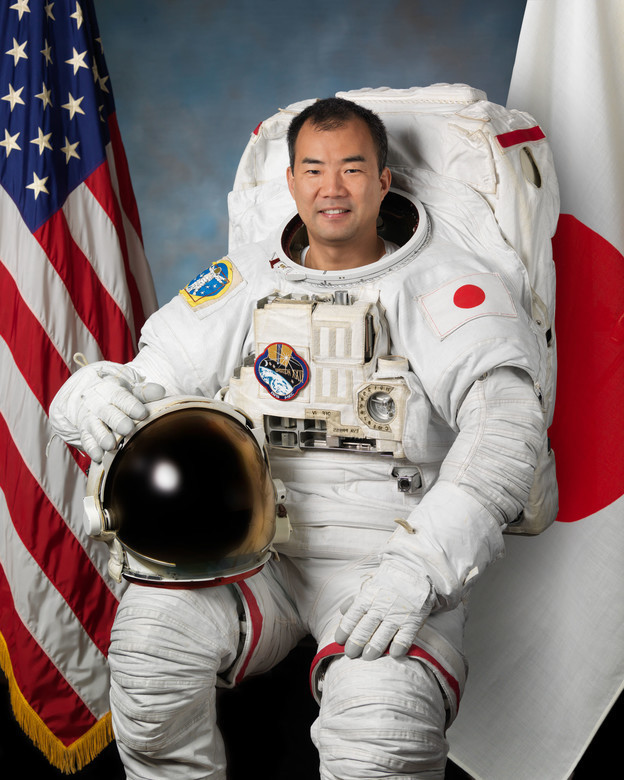 JOHNSON SPACE CENTER, Texas – Soichi Noguchi, Japan Aerospace Exploration Agency astronaut, is currently undergoing training and is set to travel to space alongside NASA astronauts Col. Michael Hopkins, U.S. Air Force, Cmdr. Victor Glover, U.S. Navy, and Shannon Walker, for the Crew-1 mission, tentatively scheduled for August 2020. Noguchi shared details on his training in preparation for Crew-1 during a briefing broadcasted to 50th Wing Staff Agencies Schriever Airmen, April 17. (Johnson Space Center courtesy photo)
SCHRIEVER AIR FORCE BASE, Colo. --
Four 50th Wing Staff Agency Airmen attended a SpaceX briefing on its latest developments and future travel plans to the International Space Station, by Soichi Noguchi, Japan Aerospace Exploration Agency astronaut, at Schriever Air Force Base, Colorado, April 17.
Col. Jack Fischer, 50th Space Wing vice commander and former NASA astronaut, shared the conference, "Preparing for flight aboard SpaceX/Crew Dragon: Post Certification Mission 1," to keep Airmen engaged and informed on the cooperative efforts to further the space mission alongside SpaceX, Space Force and NASA.
"Soichi's purpose was to share with astronauts and cosmonauts the current status of the Crew Dragon flights and answer questions about training," Fischer said. "My purpose [in broadcasting the conference] was to share a neat experience with the Airmen and hopefully, inspire them a bit. Despite COVID, space exploration is continuing … and is awesome."
Noguchi, who has been an astronaut since 1996, will travel aboard SpaceX's Crew Dragon spacecraft (also known as Dragon) to the International Space Station alongside three NASA astronauts.
The mission, US Crew Vehicle-1, also known as Crew-1, is tentatively set for August 2020. USCV-1 will be the first crewed operational flight of SpaceX's Dragon spacecraft.
During the presentation, Noguchi talked about his training for the upcoming Crew-1 mission, elaborated on the design of the Crew Dragon spacecraft and addressed questions from the astronaut and space focused online conference attendees.
Noguchi also introduced the mission that precedes Crew-1, Demo-2.
"We are now preparing for the first flight of SpaceX and that mission is called Demo-2," Noguchi said. "NASA astronauts Robert Behnken [Colonel, U.S. Air Force] and Douglas Hurley [Colonel, U.S. Marine Corps, Ret.] are training for [what will be] a certification mission. The launch is slated for May 27."
According to NASA, the purpose of the Crew-1 mission is to certify the Dragon spacecraft for operational, long-duration missions to the ISS; laying the foundation for the NASA Commercial Crew Program and the NASA Artemis program, with the goal of landing the first woman and next man on the Moon's surface by 2024.
Moreover, the unprecedented Demo-2 certification mission will feature the first crew of astronauts to launch from American soil since the termination of the Space Shuttle Program in 2011 via the Space Transportation System 135 launch.
"Most of the space training will be conducted in Los Angeles, California, [at] SpaceX headquarters," Noguchi said. "Some of the training will take place in Houston, Texas so I will be moving between those two states."
Fischer shared his time as a NASA astronaut emphasized the importance of training for a mission in space.
"The most important training is the emergency training in your transport vehicle and aboard the space station," he said. "Those procedures have to be second nature so that when [the environment] is smoky, dark and potentially toxic, you can resort to your memorized response and stabilize the situation."
Fischer and Noguchi bonded as they trained together for previous NASA missions.
"He was in the astronaut office during my entire time [at the Lyndon B. Johnson Space Center in Houston, Texas]," he said. "We did all sorts of stuff together, including some spacewalk training in our huge pool, the Neutral Buoyancy Lab. He is pure class, and has a big heart. He's just a great guy."
When recalling his 2017 mission in space – where he logged 136 days in space with two spacewalks, Fischer remembered the negative effects of gravity he felt on his body, but highlighted the rewarding experience of going to space more than made up for the temporary discomfort.
"After a long mission, coming back isn't fun, to put it bluntly, gravity sucks," he said. "After turning off your vestibular system for a while, the turbulent ride of atmospheric re-entry, parachute opening and landing are definitely not fun. But, you got to go to space, so it's definitely worth it."
Fischer said both historical missions will have a significant impact on furthering the U.S. space mission and re-establishing the American space program as a world leader.
"These astronauts will be flying in a vehicle made by Americans, in America, on an American rocket powered by American engines," he said. "We're witnessing the epicenter of space exploration coming back to our country, and it's exciting to see the re-emergence of U.S. space [flight] power as we define the future."
Quelle: UNITED STATES SPACE FORCE
2344 Views