8.04.2020
Nachzügler-Meldungen nennen wir Meldeeingänge welche sich auf Beobachtungen von vergangenen Tagen beziehen. So erreichen uns Tel-Anrufe zu zurückliegenden Überflügen der Starlink-Satellitenvon 30.03.2020 sowie 6.04.2020 aus Berlin, Leipzig, München, Wilhelmsfeld, Ludwigshafen.
CENAP-Michelstadt
+++
STARLINK AND THE ASTRONOMERS: AN UPDATE
As Starlink satellites continue to enter low-Earth orbit — there are 360 of them now — SpaceX is working to mitigate the serious problems they pose for astronomy.
On March 18th, aerospace company SpaceX sent its sixth batch of 60 Starlink satellites into the sky. That brings the total number of Starlinks in low-Earth orbit to 360, putting SpaceX well on its way to having a working network of broadband internet-providing satellites. The company is staying on course to build a preliminary network of 1,584 satellites, and ultimately one that's 12,000 or even 40,000 strong.
Those numbers throw many astronomers into despair. Satellites in our skies are nothing new — the number has been increasing steadily since the Space Age began. But for the first time, thousands of satellites will be reflecting sunlight from low orbits, making them bright enough to outshine the stars.
ONE POTENTIAL SOLUTION: THE DARKSAT
Astronomers have voiced their concerns, and SpaceX is listening. They launched a DarkSat (technically identified as Starlink-1130) on January 6th with an "experimental darkening treatment" to reduce the amount of light it reflects.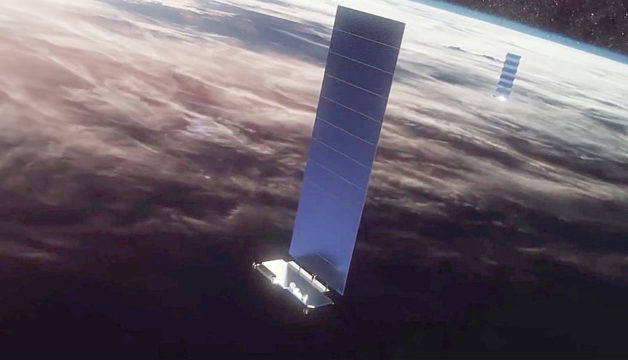 "Preliminary results show a notable reduction," said SpaceX engineer Jessica Anderson in a webcast of the most recent launch.
However, observations by Jeremy Tregloan-Reed (University of Antofagasta, Chile) and colleagues using the 0.6-meter Chakana telescope in northern Chile, show that the reduction, while notable, is modest. The results are posted on the astronomy preprint server arXiv.
Using images of satellite tracks taken on March 6th, when the satellite had reached its nominal 550-kilometer altitude and oriented its solar panel to the Sun, the astronomers measured a brightness of 7.6 magnitudes. That's only slightly fainter than another satellite (Starlink-1113), which came in at 6.7 magnitudes.
A lot of factors come into play when determining how bright a satellite will be, among them the angle between the satellite, the Sun (whose light it's reflecting), and Earth. The satellites were at a low elevation, putting them farther away from the telescope than they would have been if they were directly overhead. Using a simple calculation, the astronomers found that if directly overhead, the satellites would both be brighter, but the reflective coating would help more: the darkened Starlink would be 0.88 magnitudes, or 55%, fainter than its counterpart.
The upshot is that the experimental darkening could help make the satellite less visible to backyard astronomers, but it won't do enough to help professional observatories, especially ones set to perform wide-field surveys.
The Vera C. Rubin Observatory being built in Chile will scan the whole night sky every three days. Astronomers and SpaceX alike recognize it as representing one of the observatories most severely impacted by Starlink.
The issue for Rubin Observatory is that a single too-bright satellites not only streaks across an image, but cross-talk effects between detector segments also create multiple fainter echoes of that trail. A single satellite trail thus ruins not just the pixels within the actual trail but significant portions of the image.
THE SUN UMBRELLA
Fortunately, the experimental coating isn't the only trick up engineers' sleeves. Another idea, which SpaceX CEO Elon Musk announced March 9th at the Satellite 2020 conference, is to equip each satellite with what amounts to a sun umbrella, shielding the spacecraft from the Sun and thus preventing reflection. However, it's still unclear what this sunshade would look like or when it would be launched.
"SpaceX has been aggressively pursuing multiple solutions," says Kelsie Krafton (American Astronomical Society). SpaceX's incremental approach to manufacturing makes it adaptable, she adds, so that potential solutions can be continually incorporated, tested, and improved upon.
The AAS and the International Astronomical Union (IAU) have been coordinating talks between SpaceX and astronomers around the world. "Every time we talk to [SpaceX], they reveal even more work they are doing on this project," Krafton says.
Tony Tyson (University of California, Davis), an astronomer with the Rubin Observatory, agrees. "SpaceX is taking this seriously and is committed to solving the problem," he says. "This is a complex engineering problem."
SO WHAT'S NEXT?
SpaceX is continuing to roll out its broadband internet plans, having just received Federal Communications Commission (FCC) approval for 1 million Starlink ground stations. And even amid the coronavirus pandemic, another Starlink launch is scheduled for April.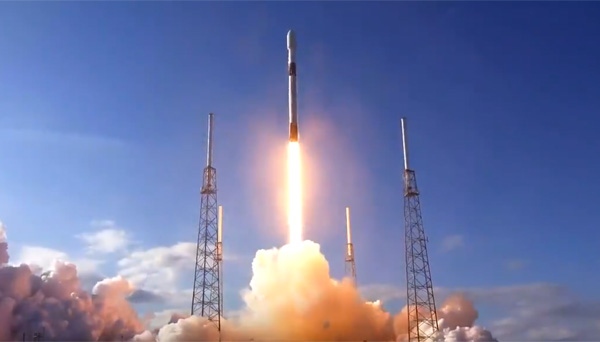 What's more, on March 30th, SpaceX's only major competitor, OneWeb, filed for Chapter 11 bankruptcy protection. OneWeb is the only other company with megaconstellation dreams to have actually launched working satellites; the company had already brought 74 of them into low-Earth orbit, most recently on March 21st. Those satellites — and the radio spectrum they've claimed — will likely not come down but rather be sold as part of the bankruptcy proceedings. Amazon and several Chinese companies have expressed interest in operating a megaconstellation.
The business of telecom satellites is a risky one that SpaceX CEO Elon Musk acknowledges. Most companies that have attempted it have failed. But so far, it looks like SpaceX is succeeding. As such, the company's engineers will need to keep hacking away at the problem of how to make their satellites less of an intrusion to the night sky.
Quelle: Sky&Telescope
----
Update: 9.04.2020
.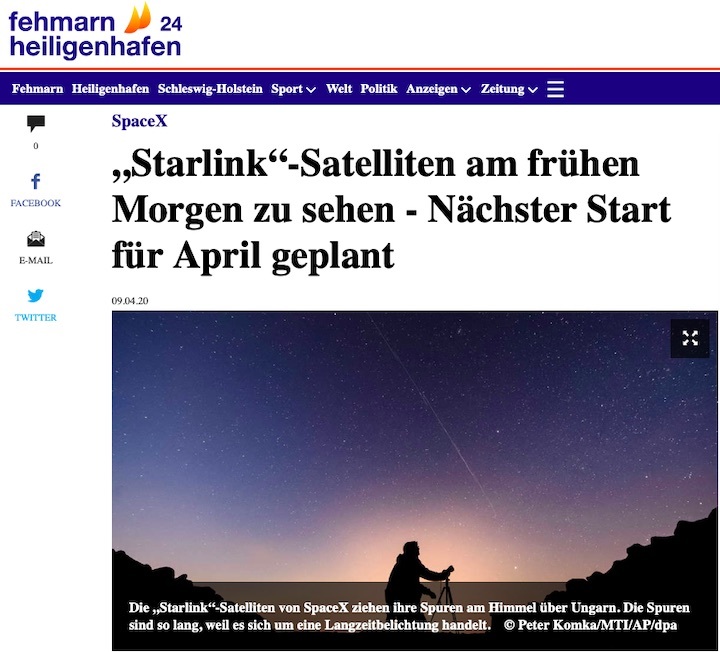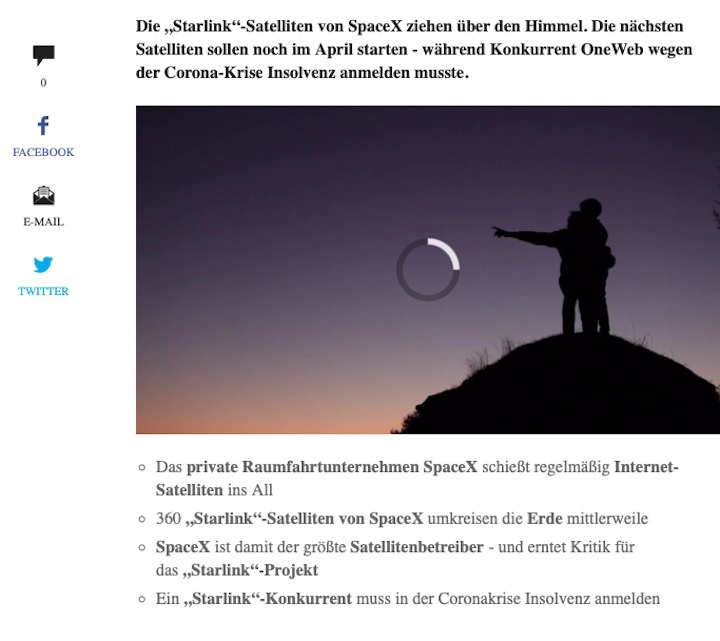 Quelle: Fehmarnsches Tageblatt
+++
SpaceX plans another Starlink launch next week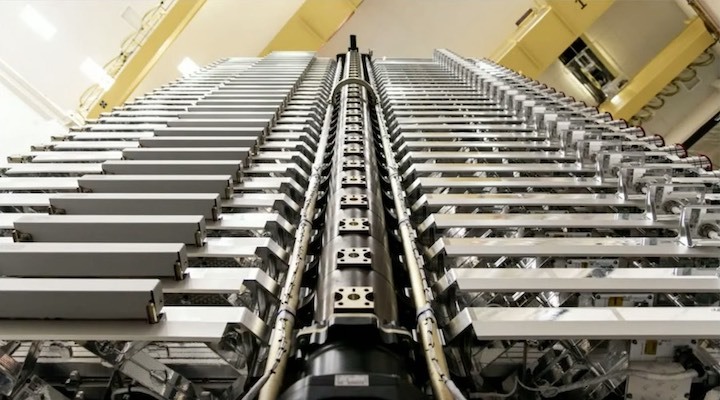 SpaceX is preparing to launch another batch of satellites for the Starlink Internet network from Florida's Space Coast as soon as April 16, a sign that launch operations at Cape Canaveral could continue at a reduced pace amid the global coronavirus pandemic.
The launch next week is also set to occur weeks after a major competitor to SpaceX's Starlink network filed for bankruptcy.
The mission is set for launch at around 5:31 p.m. EDT (2131 GMT) next Thursday, April 16, from pad 39A at NASA's Kennedy Space Center in Florida.
Warning notices released to mariners have been released suggesting the launch is scheduled next week. The mission will mark the 84th flight of a Falcon 9 rocket since 2010, and SpaceX's seventh launch so far this year.
The flight will also be the ninth launch from Cape Canaveral in 2020.
The military-run Eastern Range, which supports launch operations at Cape Canaveral, remains open amid the coronavirus pandemic. But some missions are facing delays, including at least two SpaceX launches that were planned for March 30 and April 29.
The launch of Argentina's SAOCOM 1B radar observation satellite was planned March 30 from Cape Canaveral, but Argentine officials ordered a postponement due to travel and work restrictions associated with the pandemic.
The U.S. Space Force confirmed Tuesday that the next launch of a GPS navigation satellite — previously planned April 29 on a Falcon 9 rocket — would be delayed two months until no earlier than June 30 to ensure launch crews would not be exposed to the COVID-19 viral disease.
CNBC reported Monday that six SpaceX employees have tested positive for the coronavirus. SpaceX has not responded to multiple requests for information about the company's measures to combat the spread of the virus.
For now, SpaceX is proceeding with the launch of additional Starlink broadband satellites, sources said.
SpaceX has launched 362 Starlink satellites to date, including test versions. Since last May, SpaceX has launched six dedicated Falcon 9 flights for the Starlink network, each with 60 satellites on-board.
On the most recent Falcon 9 launch with Starlink satellites last month, one of the rocket's first stage engines shut down prematurely. SpaceX said it is investigating the engine problem, and NASA and the U.S. Space Force are participating in the inquiry.
SpaceX is in the unique position of both launch provider and customer for Starlink missions.
The Starlink launch campaign has made SpaceX the operator of the world's largest fleet of satellites, but hundreds more could launch before the end of this year.
SpaceX aims to deploy more than 1,500 Starlink satellites to provide near-global Internet connectivity, serving businesses, schools, the U.S. military and private citizens. Thousands more Starlink satellites could eventually be launched by SpaceX, which has regulatory approval to operate nearly 12,000 spacecraft to beam Internet signals from space.
Each of SpaceX's Starlink satellites is built at the company's spacecraft development site in Redmond, Washington. The flat-panel, solar-powered relay stations each weigh about a quarter-ton, and are designed to climb into an operational orbit some 341 miles (550 kilometers) above Earth using krypton ion thrusters.
The multibillion-dollar project is a core business for SpaceX, which also launches the Falcon 9 rocket family and plans to begin sending NASA crews to the International Space Station as soon as next month. SpaceX is also developing a huge new reusable launch vehicle and space transporter called the Starship.
Elon Musk, SpaceX's founder and CEO, said last month that the Starlink network will reach the "hardest to serve" Internet customers, and will not be a major threat to established telecom operators.
SpaceX has not publicized connectivity speeds or prices for consumer-grade connectivity through the Starlink network. But Musk gate prospective customers a taste of what they could expect.
"It will be very low latency, and we're targeting latency below 20 milliseconds, so somebody could play a fast response video game at a competitive level," Musk said in early March. "That's the threshold for latency. And bandwidth? The bandwidth is a very complex question. Let's just say somebody will be able to watch high-definition movies, play video games, and do all the things they want to do without noticing speed."
Musk said SpaceX is not currently thinking about spinning off the Starlink project to form another company, adding that his main goal is ensuring that Starlink is a viable business after previous attempts to build large constellations of communications satellites in low Earth orbit ran into trouble.
"We need to make the thing work," he said. "It's real important to just set the stage here for LEO communications constellations. Guess how many LEO constellations didn't go bankrupt? Zero."
OneWeb announced last month it was filing for bankruptcy after launching the first 74 of a planned fleet of nearly 650 Internet satellites.
"Not to bankrupt," Musk said. "That would be a big step — to have more than zero in the not bankrupt category."
Quelle: SN
----
Update: 17.04.2020

17.04.2020
Uns erreichen gerade seit 21.30 MESZ Meldungen zu Starlink-Satelliten Überflügen über unsere Tel-Hotline und per E-Mail aus:
München-City, Bad-Reichenhall, Fulda, Passau, Freiburg, Offenburg, Ingolstadt, Seeheim, Kühlheim, Baden-Baden, Füssen, Landsberg, Essenbach,
CENAP-Michelstadt
+++
Ursache der Sichtbarkeit von Starlink-Satelliten sind die Solar Panel welche stark im Sonnenlicht reflektieren: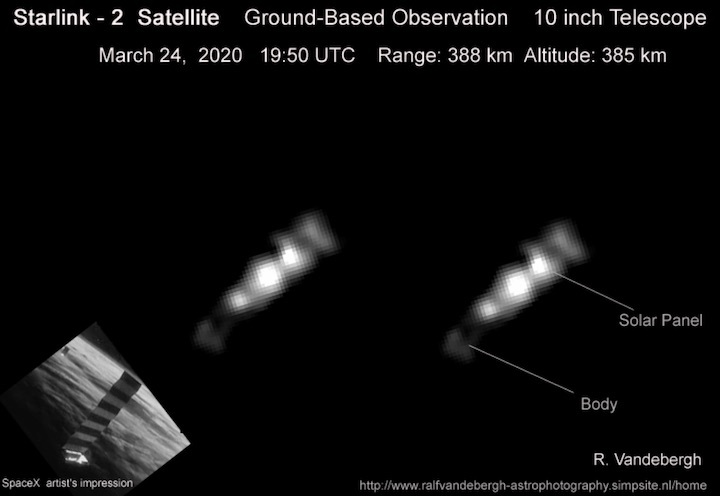 +++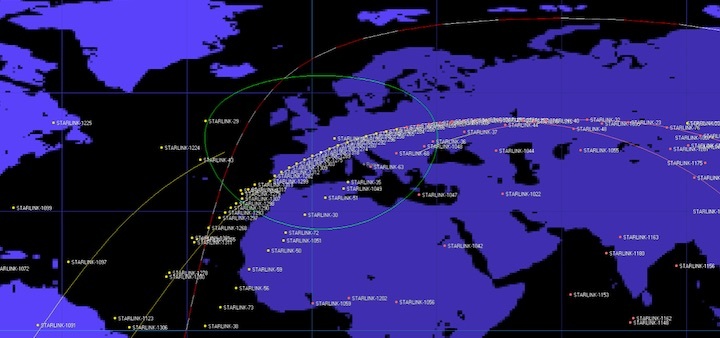 Blick auf Starlink-Satelliten Überflug von 21.30 MESZ
Quelle: Astronomia Pratica, Italia
----
Update: 18.04.2020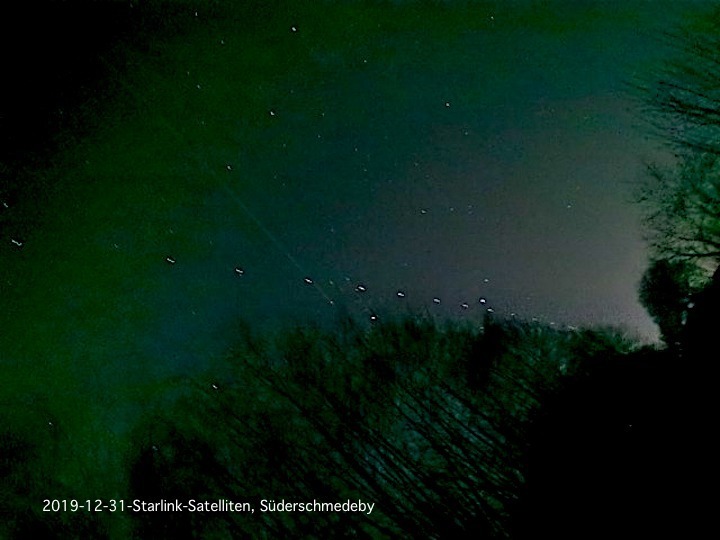 18.04.2020
In der vergangenen Nacht bekamen wir zu den Starlink-Satelliten noch weitere Beobachtungen gemeldet. Wie in oberer Grafik werden heute Abend fast zur gleichen Uhrzeit ein weiterer Überflug der Starlink-Satelliten zu sehen sein und sicherlich für weitere Meldungen sorgen. Die nachgereichten Beobachtungen kamen aus: Maisach, Mindelheim, Starnberg, Arnstorf
Stand 7.30 MESZ
CENAP-Michelstadt
+++
Update: 22.30 MESZ
Aktuell Beobachtungseingänge über Starlink-Satelliten Überflüge aus:
Mannheim, Wiesbaden, Deggendorf, Michelstadt, Raghun, Bad Düben, Höchst i.Odw, Karlsruhe-Beiertheim, Bispingen, 6270 Tondern-Dänemark,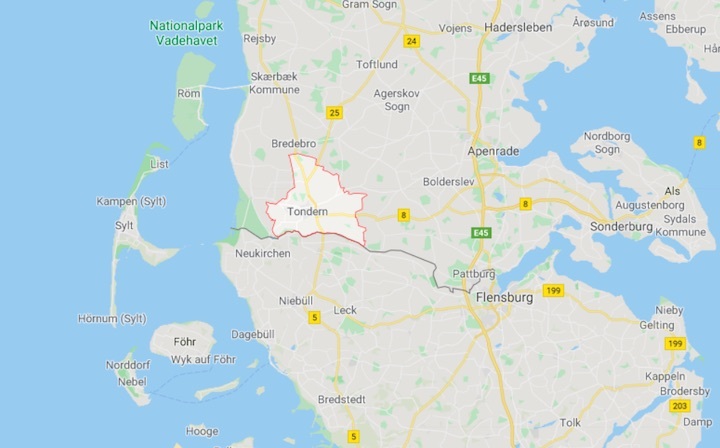 Berlin, Pforzheim, Mainz, Kempten,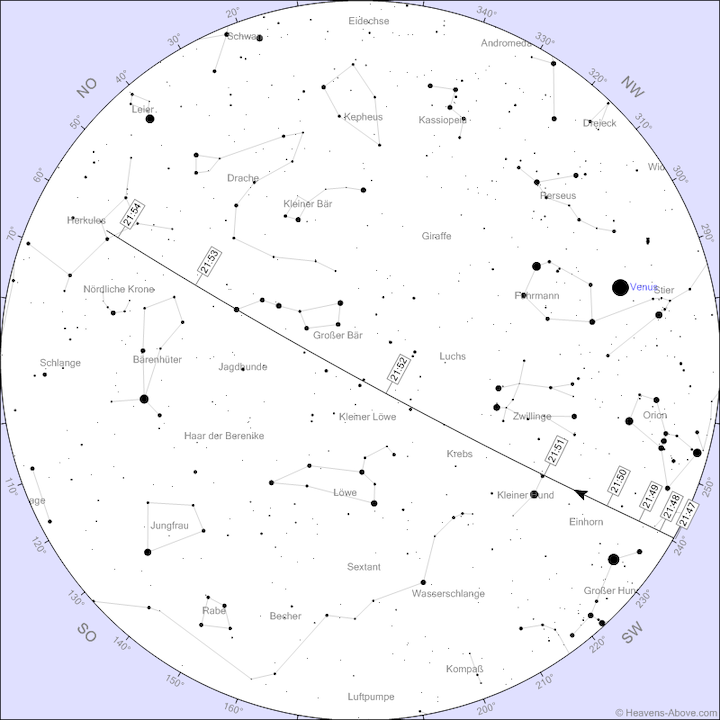 Überflug-Karte Standort Kempten
+++
Weitere Eingänge aus: Sinsheim, Neckarsteinach, Sandbach, Kaiserslautern, Wangen, Wetzlar, Blaustein, Oberwesel,
Stand 23.40 MESZ
CENAP-Michelstadt
----
Update: 19.04.2020

19.04.2020
Man schaut immer mit dem Augenwinkel auf Handy, ob nicht gleich eine weitere Starlink-Satelliten Meldung eintrifft nach dem gestrigen Abend. Eigentlich hatten wir im süddeutschen Raum diverse Gewitterzellen zum Überflugzeitpunkt und so hofften wir ...
Aber da es Lücken auch im Süden gab hatten wir Anrufe und E-Mails von der dänischen Küste bis runter an den Bodensee.
Nachfolgend ein paar Auszüge der E-Mails und weiteren Meldungen die bei uns eintrafen:
...
Wiernsheim:
Nachricht: => Ich habe heute Abend auf dem Balkon in den Sternenhimmel geblickt wie ich es an Abenden mit Sternen immer gerne tue. Heute Samstag 22.10 Uhr Ort 75446 Wiernsheim liegt zwischen Karlsruhe und Stuttgart. Da man wegen Corona Nachts schon lange keine Flugzeuge mehr sieht machte ich eine merkwürdige Beobachtung. Zuerst dachte ich an ein Flugzeug aber es flog viel höher als normal dann kam noch eines hinterher . Nun war ich doch schon etwas verunsichert denn es sah aus wie wenn ca. 8 Sterne wie an an Schnur im fast gleichen Abstand (bis auf die 2 letzten) die zogen näher zusammen über mich hinweg. Eine beeindruckende etwas unheimliche Situation. Der Flug war Richtung Stuttgart. Bin nach dieser Beobachtung ins Internet und habe nachgelesen -ich war nicht die erste die so eine Lichterkette gesehen hat auch andere Menschen haben es gesehen. Ich dachte ich schreibe Ihnen das mal durch, irgendwie ist in dieser Corona Zeit alles durcheinander . Falls es zur Rückinfo kommen würde an ingelestalli@gmx.de 64 Jahre alt und noch voll fit im Kopf
freundliche Grüße I.S
+++
Bingen:
Nachricht: => Mein Mann und ich haben heute abend seit 22 Uhr bis jetzt 22.40 Uhr ca.34 helle Lichter in gleichmäßigen Abständen zueinander am Himmel über Bingen am Rhein gesichtet. Und es nimmt kein Ende. Sie fliegen von West nach Ost. Was sind das für Lichter?
Über eine Antwort würden wir uns freuen. LG Petra
+++
Hamburg-Harburg:
Nachricht: => sternenhelle, schnelle Flugkörper perlschnurartig in etwa gleicher umlaufbahn von süden nach osten in Hamburg-Harburg gesichtet ab 22:30uhr
ich freue mich über aufklärung
+++
Seeheim-Jugenheim:
Flugbewegung Samstag 18.042020 , 22.00 h. Ca. 20 stark leuchtende Flugobjekte über Seeheim-Jugenheim Ot. Balkhausen ...
+++
Langgöns Hessen:
Ich habe eine merkwürdige Sichtung gehabt.
Eine komische lichterformation.
Uhrzeit war 22.30 bis 22.55.
Mein Standort war Amthausstraße in langgöns Hessen.
Ich habe in meine iPhone den Kompass nach der Richtung geschaut. Die Objekte waren versetzt geflogen und helle Lichter. Richtung circa vom kompass 240sw -270 w
In Richtung ca 30 nö - 90 ö.
Erst sah ich 2 Lichter die schräg geflogen sind . Habe mir nicht dabei gedacht dann sag ich wieder 2 Sternen förmliche Lichter aus gleicher Richtung kommend. Dann waren es 3 Lichter und dann kamen einzelne Objekte. 11 Stück. Eines hatte ganz hell geleuchtet , ich würde sagen mit einem kleinen blau Stich. Habe das ganze bis elf Uhr beobachtet. Aufgrund der derzeitigen pandemie würde ich Flugzeuge ausschließen. Mit mir haben das 2 Personen auch gesehen.
Für mich war es eine unglaubliche Erlebnis sowas gesehen zu haben. Vielleicht hat es nich jemand gesehen, . Für weitere Fragen stehe ich ihnen zur Verfügung.
Vielleicht können sie mir mitteilen was ich da gesehen habe.
Mit freundlichen Grüßen
B.
+++
Weitere Meldungen kamen aus: Brandenburg, Flensburg, Ulm, Husum, Schwarzenbek, Gyhum, Grabow, Alzey, Rastatt,
Stand 9.00 MESZ
CENAP-Michelstadt
+++
Blick auf die Medien: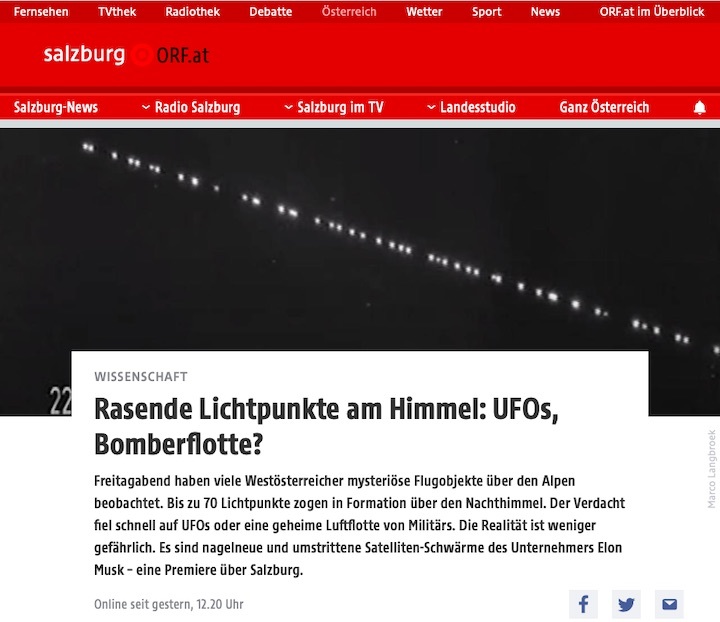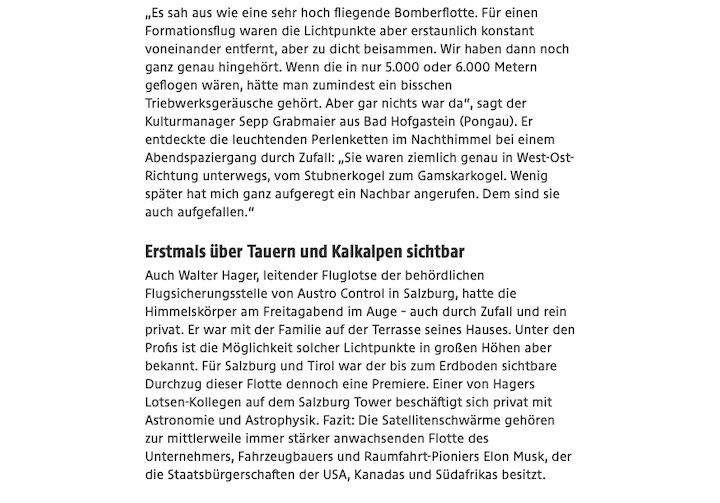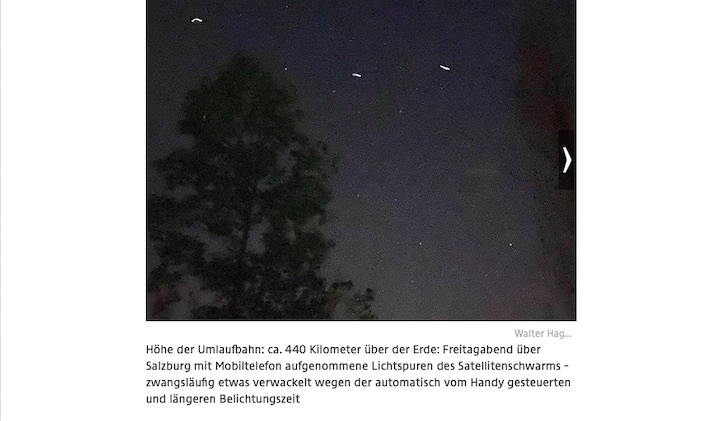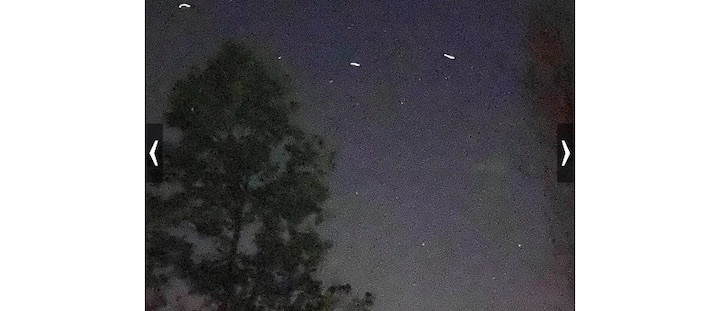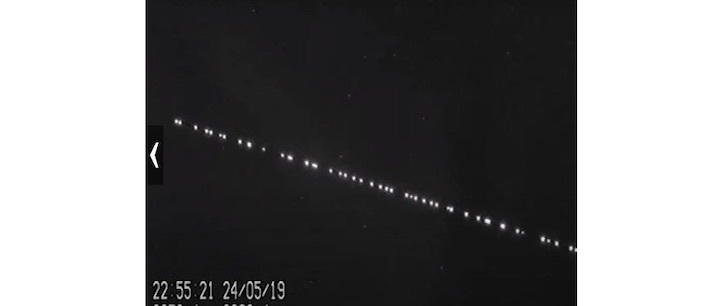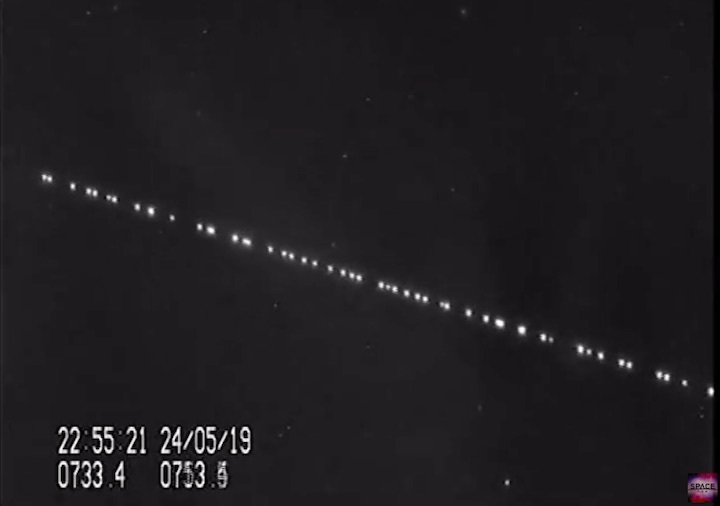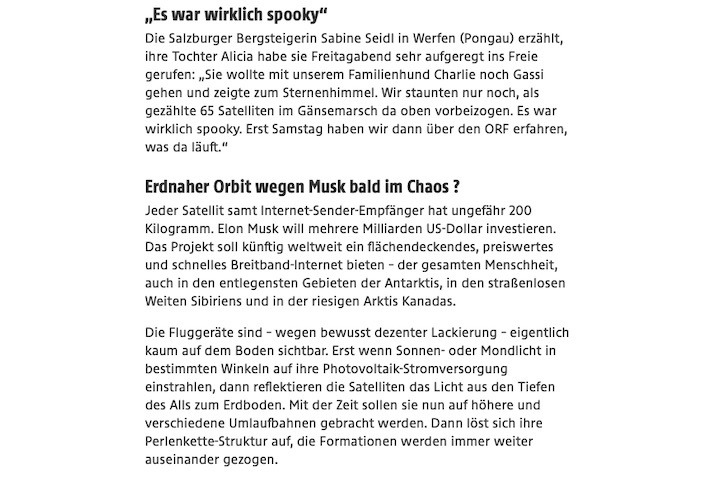 +++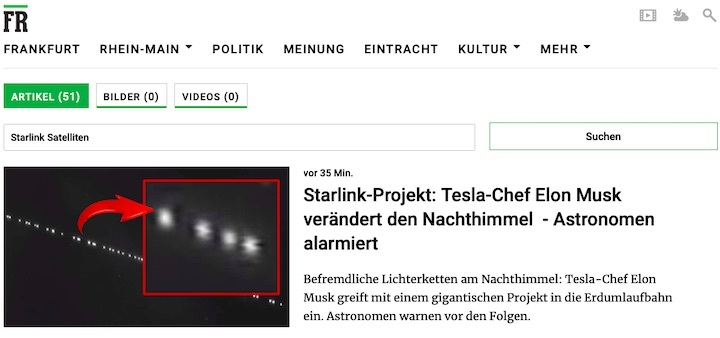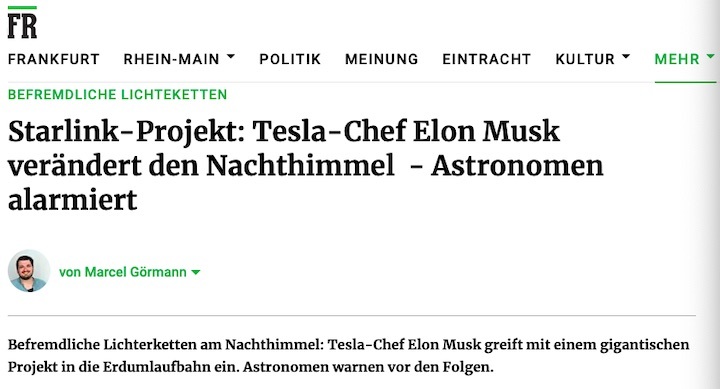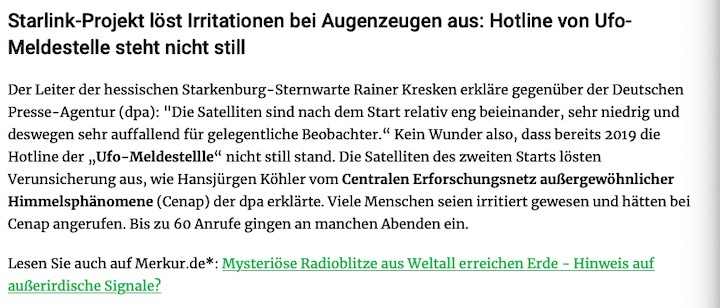 +++

19.04.2020 / 18.00 MESZ
Inzwischen erreichten uns weitere Beobachtungen der Starlink-Satelliten von gestrigen Abend über unser Tel-Hotline sowie per E-Mail aus:
Pforzheim, Dossenheim, Kiel, Bruchsal, Flensburg, Ilvesheim,
CENAP-Michelstadt
+++
Einen weiteren Starlink-Satelliten Überflug ist heute gegen 21.00 MESZ über Deutschland zu sehen, nachfolgend Überflug-Szenario im Bereich Hannover: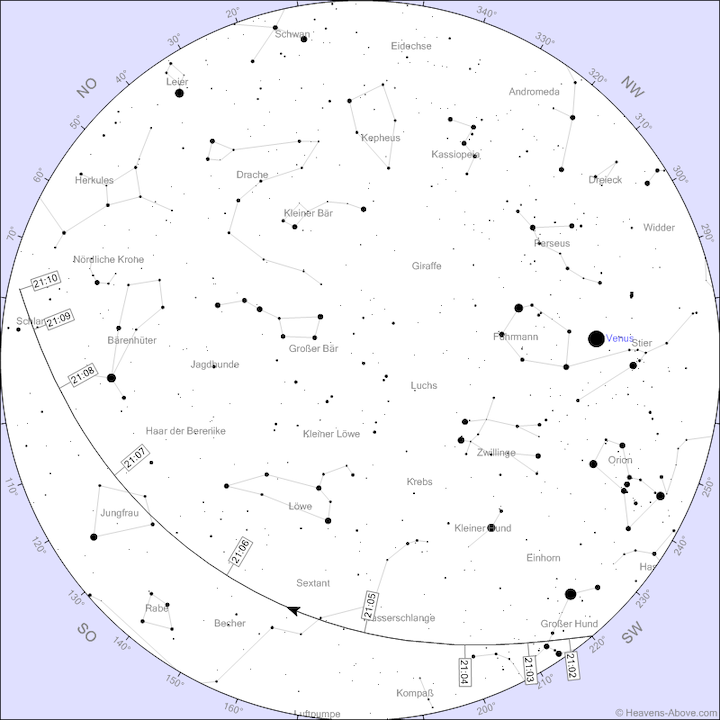 +++

Update: 22.45 MESZ
Derzeit Beobachtungseingänge der Starlink-Satelliten über Tel-Hotline und E-Mail aus
Oberkirchen, Düren, Simmern, Troisdorf, Wesel, Koblenz, Ahaus, Bad-Berleburg, Kreuztal,
Büllingen-Belgien, St.Vith-Belgien, Brandscheid,
Hagen, Herte, Duisburg, Zunguldak-Türkei,
CENAP-Michelstadt
----
Update: 20.04.2020

20.04.2020 / 8.00 MESZ
Dritter Abend in Folge mit verstärkten Meldeaufkommen bei unserer UFO-Meldestelle welche durch die Starlink-Satelliten-Überflüge verursacht werden. Gerechterweise müssen wir aber auch aufführen, wir wieder neben den Starlink-Satelliten auch Venus als "unheimliches Licht" gemeldet bekamen. Nach aufarbeiten der weiteren E-Mails werden wir auch zur Venus ein Update bringen. Hier erst einmal die weiteren Beobachtungen der Starlink-Satelliten:
Hamburg, Straelen, Erkelenz, Niederzier, Bensheim, Bütgenbach-Belgien, Krewinkel-Belgien, Pirmasens, Tuttlingen, Blaubeuren,
CENAP-Michelstadt
+++
Update: 13.30 MESZ
Weitere Meldeeingänge aus: Dortmund, Neckarsulm, Karlsruhe, Nordleda,
CENAP-Michelstadt
+++
Update: 21.00 MESZ
Weitere Meldeeingänge aus: Hirzenhain, Wolfrath, Leverkusen,
CENAP-Michelstadt
+++

20.04.2020 / 22.00 MESZ
Weiter geht es mit heutigen Beobachtungen der Starlink-Satelliten aus:
Ober-Mörlen, Bonn-Alfter, Breitungen/Werra, Bad-Homburg, Röttenbach, Erlangen, Nürnberg-Langwasser, Hamburg, Bad-Kissingen, Coburg, Schlüchtern, Amorbach,
CENAP-Michelstadt
+++
Überflug-Karte 20.04.2020: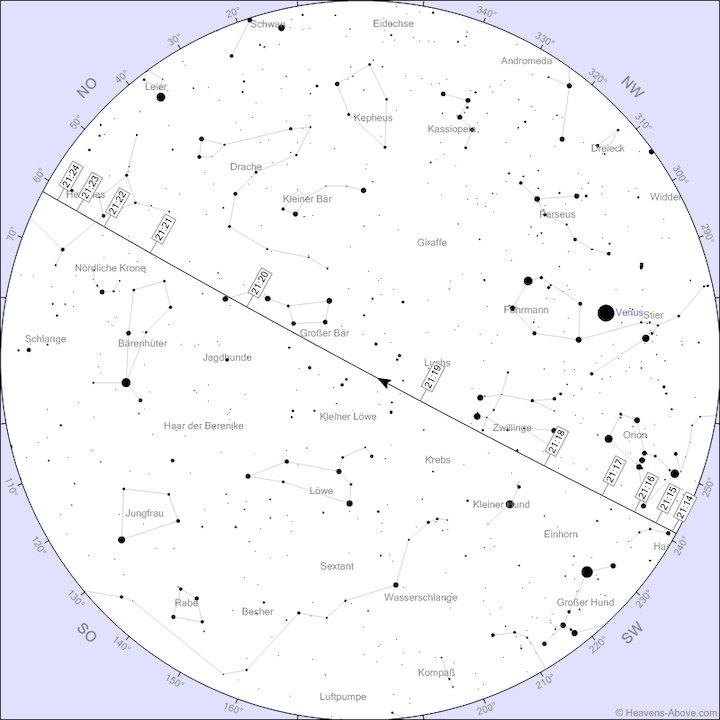 Quelle: Heavens Above
+++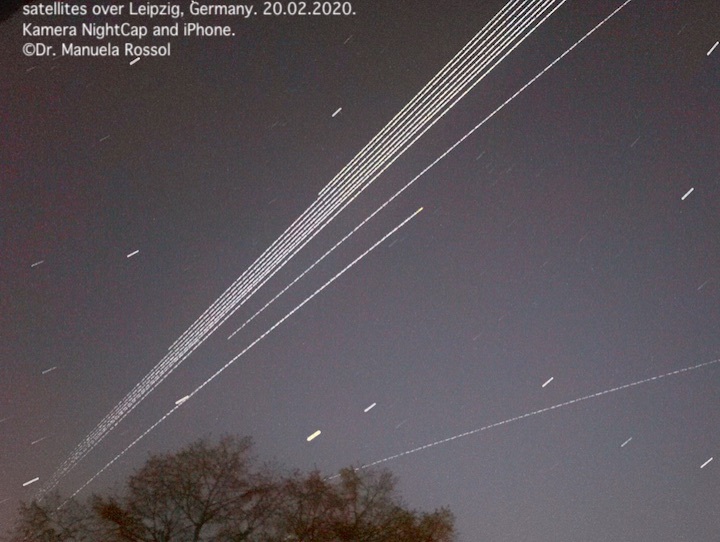 Starlink-Satelliten Spuren über Leipzig
----
Update: 21.04.2020

21.04.2020 / 8.00 MESZ
Nach Aufarbeitung der E-Mail-Eingänge in der Nacht bei unserer Meldestelle welche durch die Starlink-Satelliten Überflüge verursacht wurden, kommen nachfolgende Beobachtungsorte zu unserer Melde-Liste: Zwingenberg, Waldbrunn, Rostock, Ober-Ramstadt, Büttelborn, Mainz-Kastel, Eppstein, Bad-Brückenau, Fladungen, Ettenhausen-Suhl, Schwobfeld, Braunschweig, Vreden, Alzey,
CENAP-Michelstadt
+++
Blick in die Medien: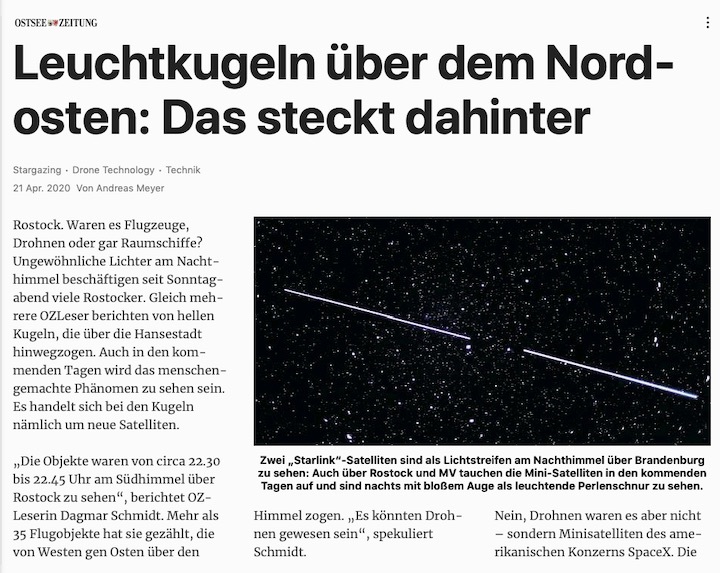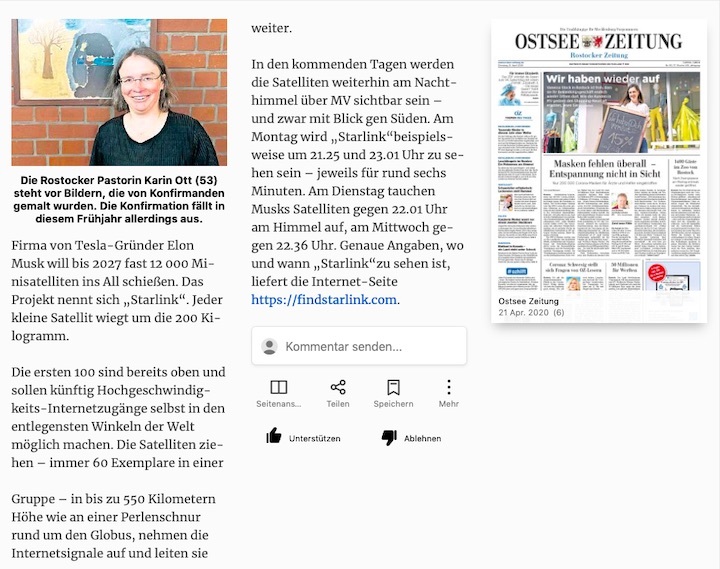 +++
Starlink space display 'set to continue all week'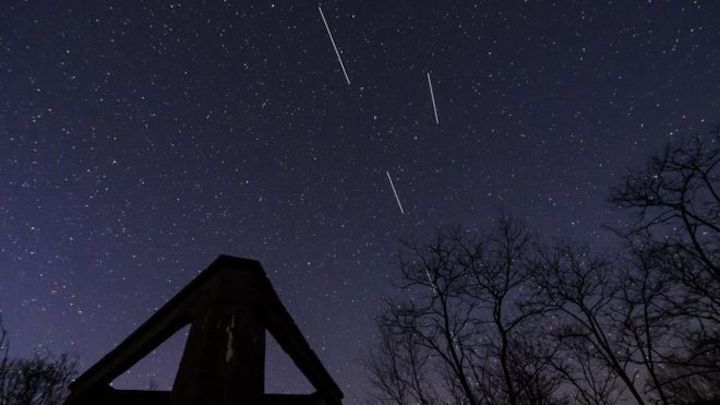 The spectacle of satellites passing over the UK in what looks like a chain of lights should be visible for the rest of the week, space experts say.
The 60 Starlink satellites launched by Elon Musk's SpaceX firm appear in a line crossing the night sky.
They were launched into space in March but their current orbital position has made them easier to see in recent days.
Stargazers have been using apps and websites to check when they can spot the display.
SpaceX has sent 300 satellites into space so far towards a planned network of 12,000, with the aim of improving global internet coverage.
They have been taken up in batches of 60, with the most recent launch in mid-March.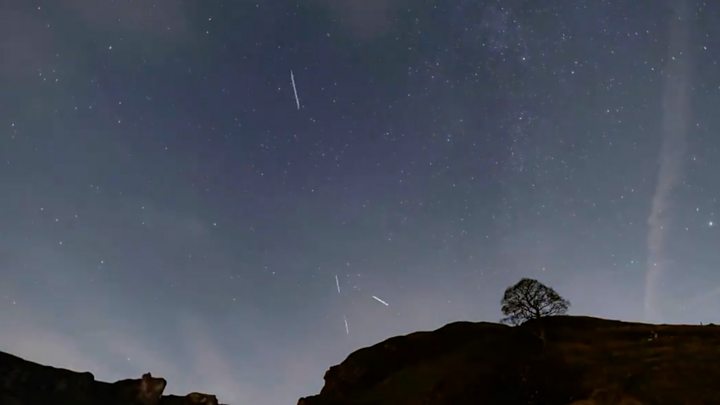 The most recent line of satellites has been spotted in Derbyshire, Manchester, London, Leeds and across Europe, with many people sharing their excitement on social media.
The National Space Centre in Leicester said each batch was deployed to an orbit about 180 miles above Earth and had moved to about 340 miles away.
Sophie Allan, from the centre, said current good visibility was down to a combination of the batch's low orbit, clear night skies and the angle of the satellites in relation to the sun.
She said she expected this to continue for at least another five days.
Several websites and apps allow people to track the current locations of the satellites, with the next UK display expected shortly before 22:00 BST on Monday.
However, the project has been criticised by some astronomers who have branded the space technology an eyesore.
Quelle: BBC
----
Update: 22.35 MESZ

21.04.2020
Aktuell bekommen wir gerade Beobachtungsmeldungen der Starlink-Satelliten bei unserer Meldestelle rein. Aus nachfolgenden Beobachtungsorten kamen die Meldungen: Stuttgart-City, Mainz, Wiesbaden, Nettetal: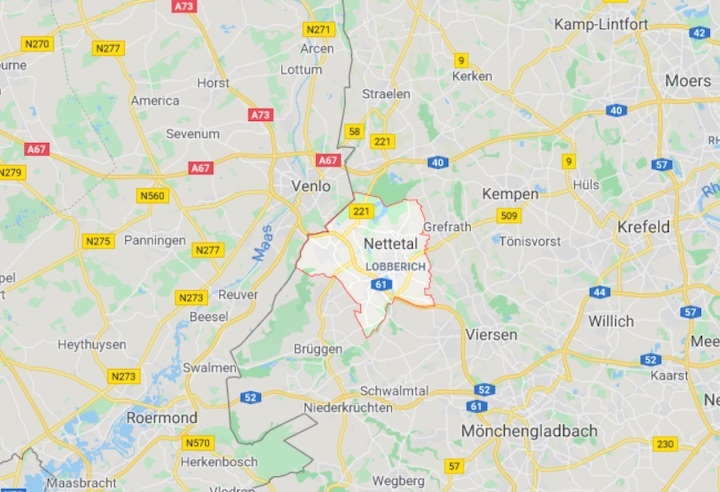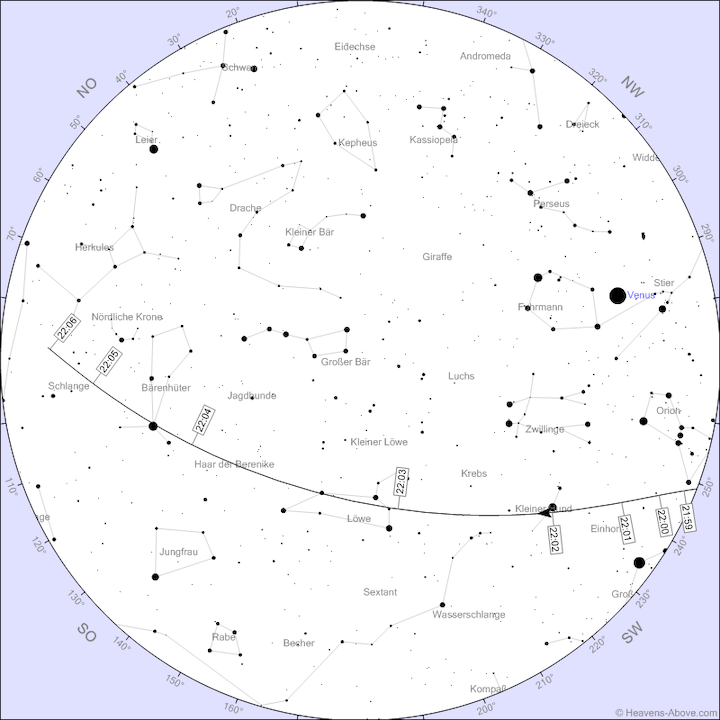 +++
Weitere Beobachtungen aus: Kleve, Holzwickede, Emsbüren, Wendeburg, Mainz-Hartenberg, Büdingen,
Aglasterhausen, Karlsbad, Nagold, Mespelbrunn,
CENAP-Michelstadt
----
Update: 22.04.2020

22.04.2020 / 8.30 MESZ
Weitere Beobachtungsmeldungen von Starlink-Satelliten erreichten unsere Meldestelle, aber inwzischen sieht man sie auch von der ISS: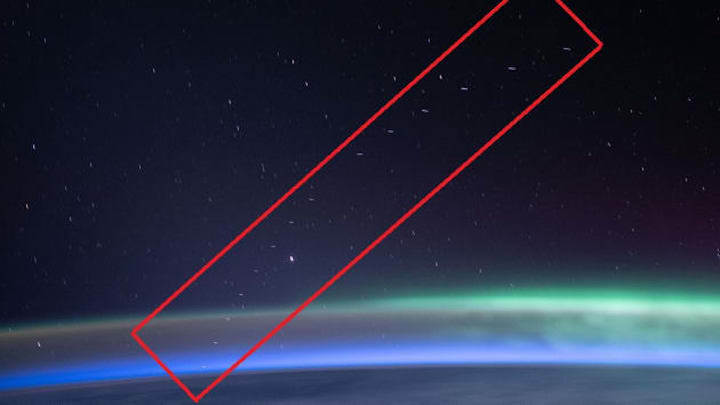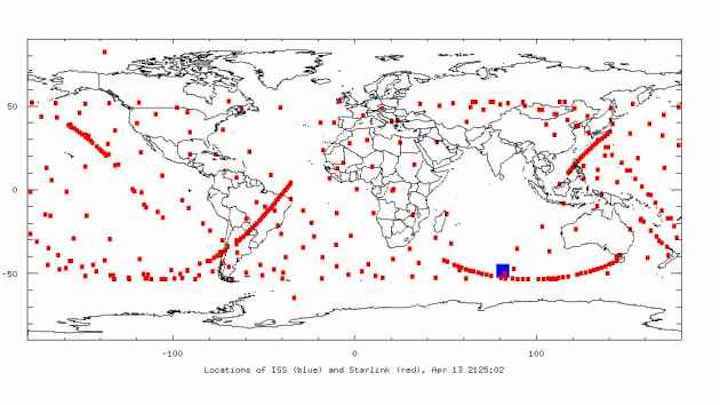 Quelle: CNBC
+++
Beobachtungen von Gesternabend kamen aus: Heppenheim, Groß-Gerau, Hannover, Wismar und Rostock:
Guten Tag, mein Name ist M. H. und ich habe etwas gesehen, zusammen mit
meinem Bruder, dass uns nicht in Ruhe lässt, weil wir gehofft hatten, am nächsten Tag etwas darüber
lesen zu können. Es war so eindeutig und lange zu sehen das es unmöglich nicht noch viele
andere hätten sehen müssen.
Am Sonntag dem 19.4. 2020 um ca. 22.20 Uhr(das ganze geschehen ging etwa 25 min )stand
ich mit meinem Bruder vor dem Mehrfamilienhaus meiner Mutter in Rostock Toitenwinkel.
Mein Bruder meinte plötzlich, guck mal da oben, der ist schnell, was ist das? Ich so, ein
Satellit und wir guckten hinterher. Dann sagte er, guck mal noch einer gleich dahinter. Dann
wurde es wirklich komisch ich kann garnicht beschreiben wie wir guckten zu der Richtung wo
es herkam und sahen plötzlich sechs im exakten Abstand hintereinander fliegen. Sehr schnell
wie ein kampfsmjet, nur viel weiter oben muss es gewesen sein. Dann wieder 1 bis 2 bin
später, realisierten wir erst, das es garnicht mehr aufhört. Es kamen immer mehr um, unsere
Schätzung zufolge, waren es in den gesamten Zeitraum 100 Lichter, die ungefähr die
Helligkeit der Sterne hatten, aber bisschen heller. Wir haben es uns ganze zehn Minuten
zusammen angeschaut, dann hatte mein Bruder gesagt er geht jetzt schnell nach Hause, (
ihm wurde unwohl, was mir gezeigt hat, dass es echt echt war, was wir sahen) seine
fünfjährige Tochter war alleine, da er schnell was bei meiner Mutter abholen musste. Er
braucht zehn Minuten bis nach Hause, als er ankam, rief er mich an und wir beide
beobachteten es weiter. Dann kurz vor den Ende, ist auf einmal ein Licht aus der Reihe
langsamer geworden, oder hat sich auf dass ihm folgende zubewegt. Ich sagte zu meinem
Bruder am Telefon, siehst du das, es fliegt auf ein anderes zu.? Mir wurde nochmals
komischer, als es mir sowieso schon die ganze Zeit war. Jetzt hab ich gesehen, das die
Lichter auch manövriert haben. Nachdem dass geschah, dauerte es noch eins, zwei Minuten
und es war vorbei. Ich bin bis jetzt bisschen geflasht muss ich sagen, da ich mich Hobby
mäßig, sehr für Astronomie und Physik interessiere, ist es für mich umso aufregender, was wir
beobachtet haben. Meine Bitte, bitte versuchen sie herauszufinden, was es war. Es lässt mir
und meinem Bruder keine Ruhe, weil es wirklich, wirklich spektakulär und unglaublich war.
Wenn es sich um ein ( normales)Phänomen gehandelt hat, bitte ich um Entschuldigung. Die
Anzahl und dir dauer des ganzen, war einfach zu hoch, als das es sich um Schrott, etc.
gehandelt gaben könnte. Es gab keinen Schweif, nur Lichter, ungefähr wie Sterne in Größe
und Helligkeit. Danke das ich es jemanden schreiben konnte!! Gruss M.
+++
Ich danke Ihnen für ihre Antwort, also doch Satelliten. Ich bin begeistert. M.H.
CENAP-Michelstadt
+++
Update: 12.30 MESZ
Weitere Beobachtungsmeldungen von Gesternabend gingen ein aus: Wiesbaden, Berlin-Tegel, Bad Grotzingen,
CENAP-Michelstadt
+++
Update: 18.00
Weitere Beobachtungsmeldungen von Gesternabend gingen ein aus: Duisburg, Kronau,
CENAP-Michelstadt
----
Update: 23.04.2020

23.04.2020 / 7.45 MESZ
Zu den Überflügen der Starlink-Satelliten von Gesternabend bekamen wir Meldungen aus:
Berlin-Neukölln, Branedenburg, Flensburg, Simonsberg, Eggebek, Niesgrau, Eckernförde, Lammershagen,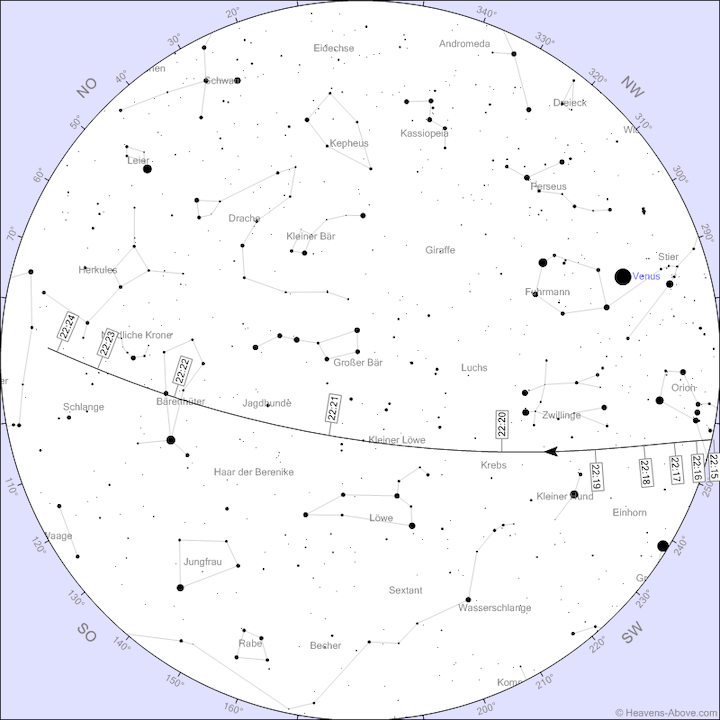 +++
Und erfolgreicher Start der nächsten Starlink6-Satelliten brachte weitere 60 Satelliten in den Orbit. Den Überflug nach dem Start konnte man in Europa sehen: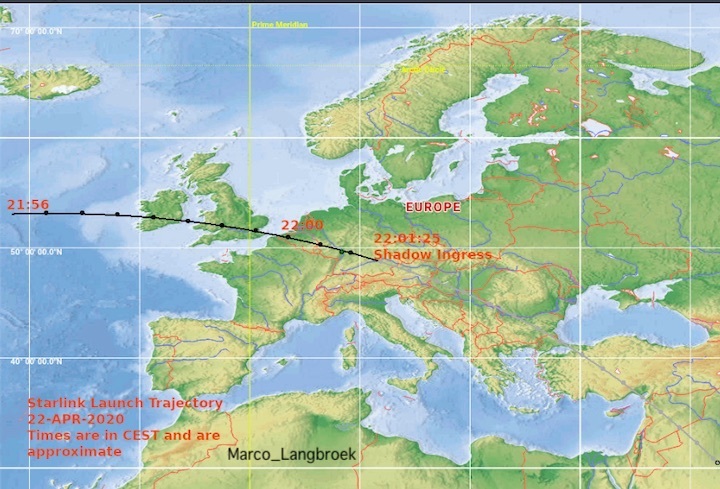 CENAP-Michelstadt
7989 Views