25.11.2019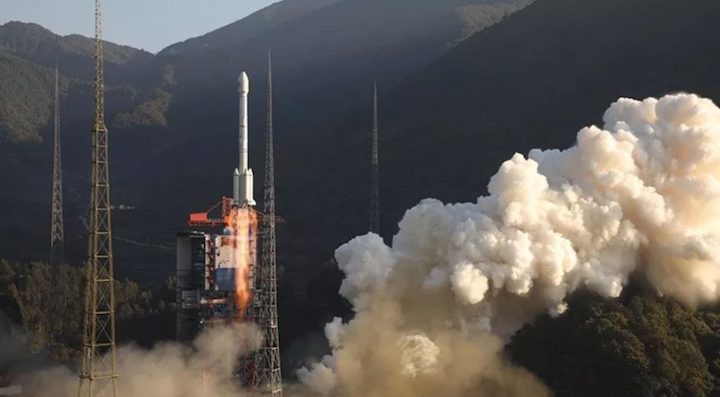 TUUSULA, Finland — A successful Chinese Long March 3B launch of a pair of Beidou satellites Friday had severe consequences downrange with a spent stage destroying a home.
A Long March 3B lifted off from the Xichang Satellite Launch Center at 7:55 p.m. Eastern Friday, with a Yuanzheng-1 upper delivering two Beidou satellites into medium Earth orbit.
The Beidou-3 M21 and M22 satellites have been cataloged in orbits with an average altitude of 21,800 kilometers and inclined by 55 degrees by Space-track.
The mission was China's 28th orbital attempt of 2019 but the launch attracted attention for its impact back on Earth.
Video footage emerged on Chinese social media shortly after launch showing the apparent destruction of a rural building. Flames are seen within the building along with fumes from residual propellant rising from the booster wreckage.
The first stage and four side boosters of the Long March 3B use a toxic hypergolic propellant combination of hydrazine and nitrogen tetroxide.
There have so far been no state media reports on the incident. The footage and social media comments suggest the owners returned home following standard evacuation ahead of launch.
The post on Sina Weibo, a microblogging service, drew over 600 comments. Many expressed concern for the residents, with discussion as to why such events happen and speculation regarding compensation for the victims.
According to a notice seen by SpaceNews, populated areas within calculated drop zones were issued with evacuation orders. Residents were also advised against approaching wreckage due to harmful chemicals.
Airspace closure notices ahead of launch indicate drop zones for the side boosters and the first stage within Guangxi Zhuang Autonomous Region, south China.
Another, near-identical Long March 3B launch of a new pair of Beidou satellites is expected within the next month.
Infamously the first Long March 3B launch, carrying Intelsat 708, went out of control moments after launch and hit the ground. The ensuing fireball destroyed a village.
Friday's pair were the 50th and 51st Beidou satellites sent into orbit. Beidou is the Chinese answer to the United States' GPS, and has been made a national priority due to economic benefits and military applications.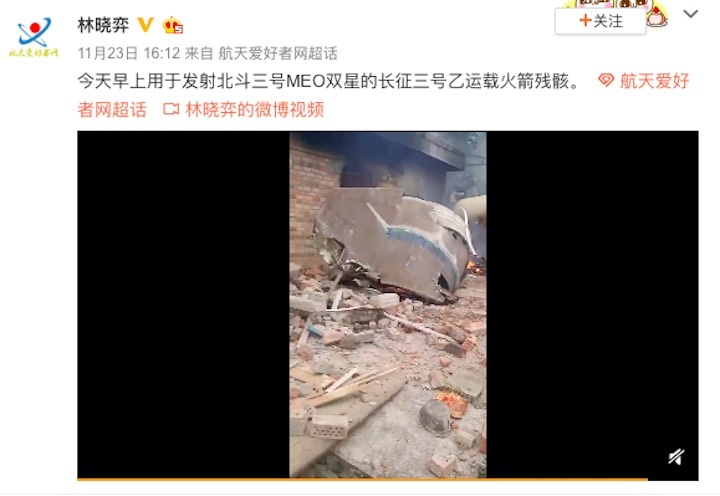 Launch debris dangers
The China Aerospace Science and Technology Corporation (CASC), the country's main space contractor and manufacturer of Long March rockets, has recently been taking measures to constrain the drop zones with tests of grid fins and parafoils.
The moves are also seen as steps toward developing reusable first stages for new generation rockets using kerosene and liquid oxygen propellant.
Grid fins have been tested on the smaller Long March 2C and 4B launchers, but not the Long March 3B.
The debut of the cryogenic Long March 8, expected to be capable of vertical takeoff, vertical landing, is slated for 2020. China has also tested sea launches with the Long March 11 solid rocket, but this has only light lift capability.
China's first three launch sites were established during the Cold War. Sites deep inland were thus selected to provide a measure of protection amid tensions with the U.S. and Soviet Union. This means launches result in spent stages falling to ground rather than in the oceans, as is the case with U.S. and European launches.
The country opened a fourth site on the coast of Hainan island, south China, in 2016. It has so far been used sparingly, seeing a pair of launches each for the new Long March 5 and Long March 7 launch vehicles.
Development of new launch vehicles and a greatly expanded launch rate have meant an increase in such incidents.
In 2018 China led the world for the first time in terms of number of launches with 39 orbital missions. It looks set to do so again in 2019, having already attempted 28 launches, including two failures, and a busy finish to the year expected.
Quelle: SN
2318 Views