8.05.2019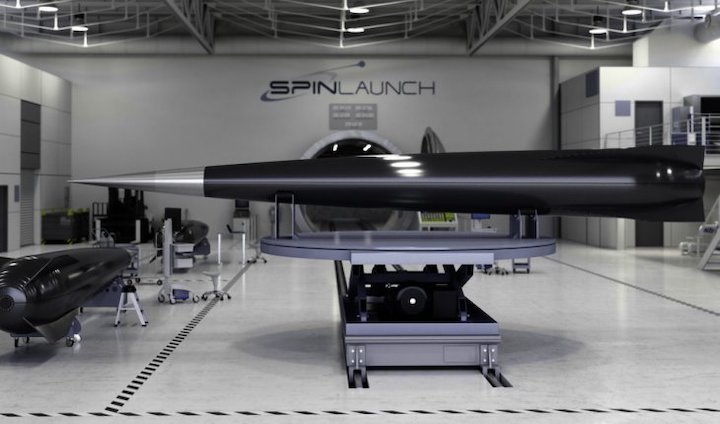 This is a launch vehicle for the centrifugal catapult technology that will be tested by SpinLaunch at Spaceport America. (Courtesy of SpinLaunch)
Spaceport America's newest tenant is building technology that could literally fling rockets into space.
California-based SpinLaunch Inc. has developed a novel centrifuge system that rapidly spins a vehicle around on the ground until it reaches hypersonic speeds. It then releases the rocket like a catapult to hurl to the edge of space.
It's a cutting-edge concept that, if successful, could radically change the way small satellites are launched in the near future. It could cut expenses to a fraction of today's costs as the world prepares to place tens of thousands of tiny, shoebox-sized "cubesats" into low Earth orbit.
All the testing will now be done at Spaceport America in southern New Mexico near Upham, about 50 miles north of Las Cruces. The company will break ground today on a $7 million, 10,000-square-foot test facility there, SpinLaunch founder and CEO Jonathan Yaney told the Journal. It will also invest about $1 million in infrastructure, including a new access road, support buildings and an off-grid solar electrical system to power its facilities.
"We're building a unique, different type of space launch system," Yaney said. "The spaceport provides the environment and conditions we need to mature our technology and bring it online."
The company has gained a lot of traction since launching in fall 2014. It's raised about $40 million to build its technology, including a $35 million round of venture investment it closed on in June from Airbus Ventures, Kleiner Perkins, and Google Ventures, now called GV.
That money allowed SpinLaunch to move from a small incubation space in Silicon Valley to a 140,000-square-foot test and manufacturing facility in Long Beach, Ca., where it's now based. It also paved the way to locate its test center at Spaceport America, which Yaney said is ideal for a startup like SpinLaunch.
"Spaceport America is conducive and inviting to small startup businesses like ours, because they understand that our needs are different from the big companies that have been around for decades," Yaney said. "They don't put up all kinds of hurdles."
Spaceport administrators, for example, offered a quote for SpinLaunch officials to set up operations within days of talking with them, something that would have taken six months or more at established sites like NASA's Kennedy Space Center in Florida, Yaney said.
3074 Views