Orbital ATK's Antares rocket with Cygnus spacecraft is on schedule for a 5-minute launch window opening May 21 at 4:39 a.m. EDT on the company's CRS-9 cargo resupply mission to the International Space Station. Launch will be from Virginia Space's Mid-Atlantic Regional Spaceport Pad 0A at NASA's Wallops Flight Facility on Virginia's Eastern Shore.
The 6-hour, 15-minute count is scheduled to begin at 10:24 p.m. tonight.
Weather remains at 65-percent favorable for the May 21 launch window. The current forecast for a one-day slip in the launch has 55-percent favorable weather and 75-percent favorable for a two-day slip.
"Weather is going to potentially affect visibility" of the launch in the region, although cloud cover can occasionally enhance views when the rocket illuminates them during flight, said Doug Voss, deputy chief of the Range and Mission Management Office at NASA Wallops, during a press briefing this morning.
A May 21 launch would have the Cygnus spacecraft scheduled to arrive at the International Space Station on Thursday morning, May 24.
Quelle: NASA
+++
Update: 21.05.2018
Antares Rocket Launches NASA Cargo to Space Station in Dazzling Predawn Liftoff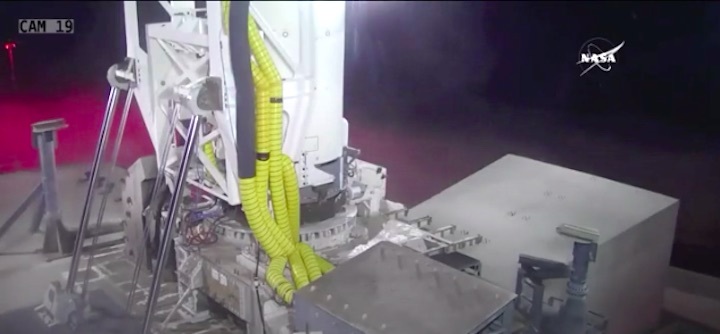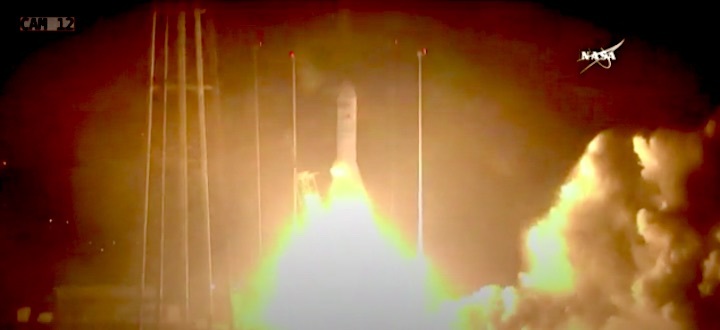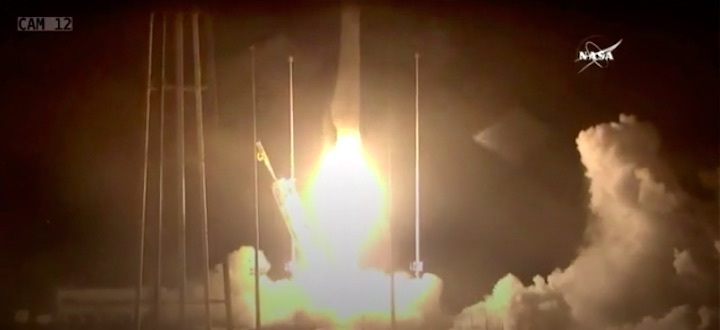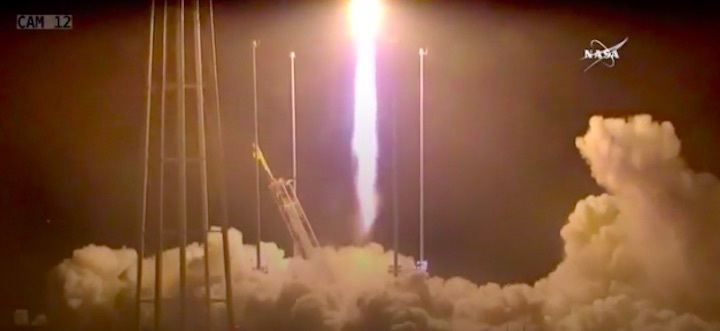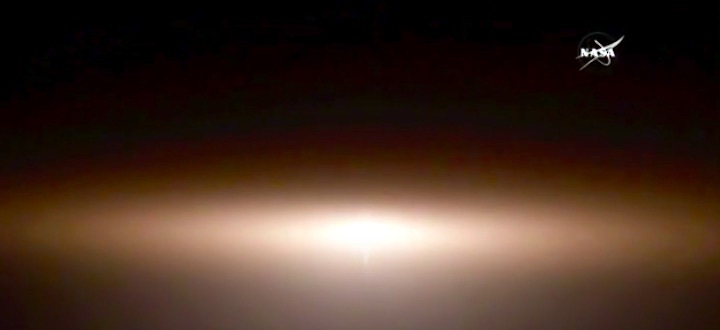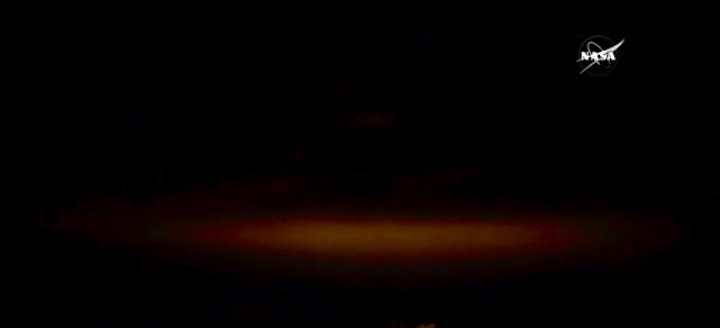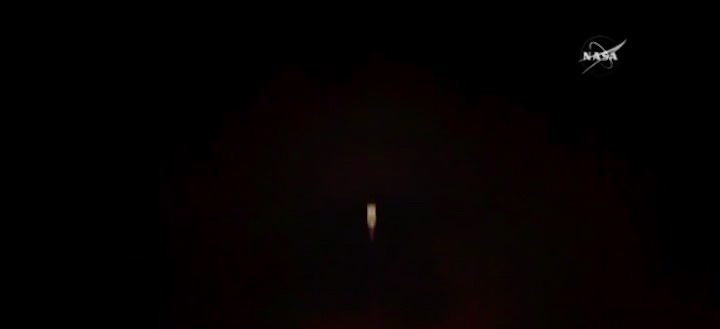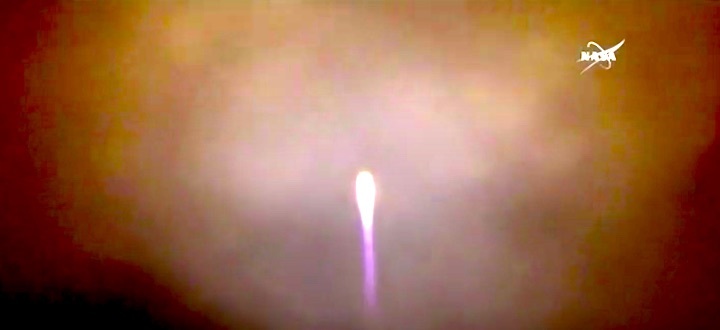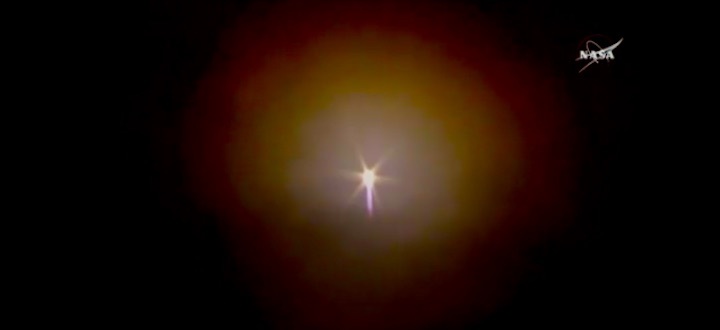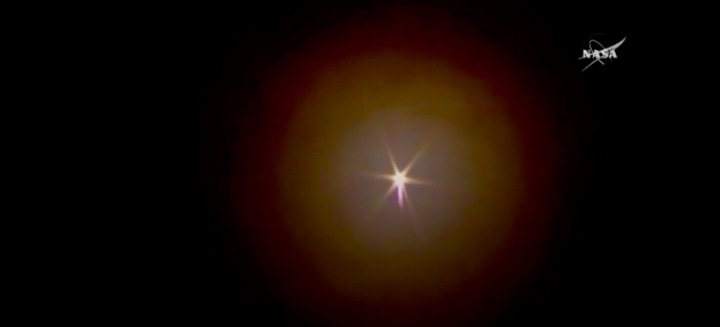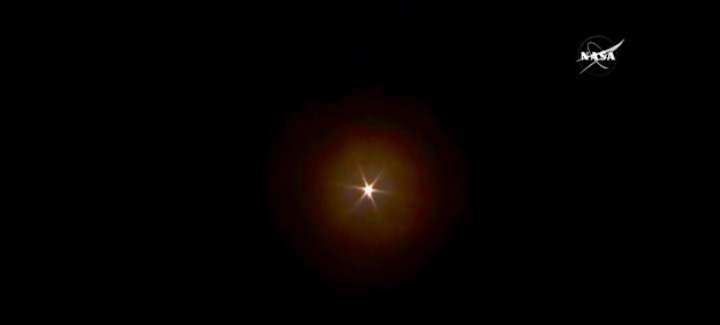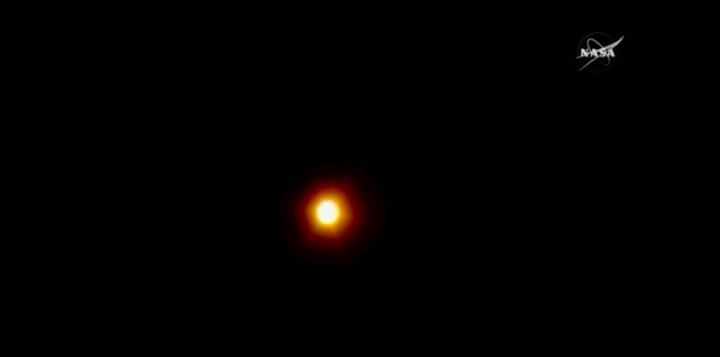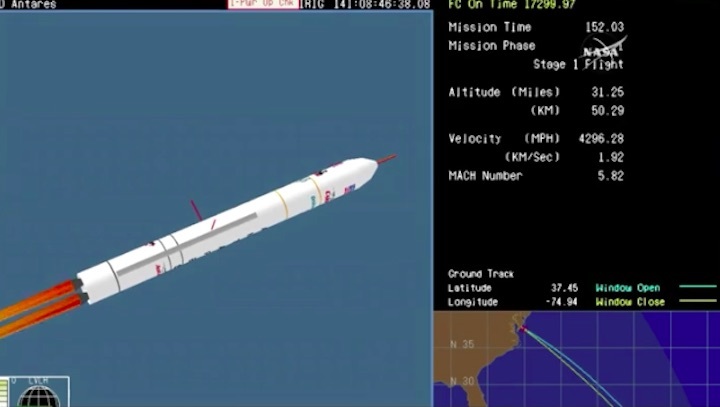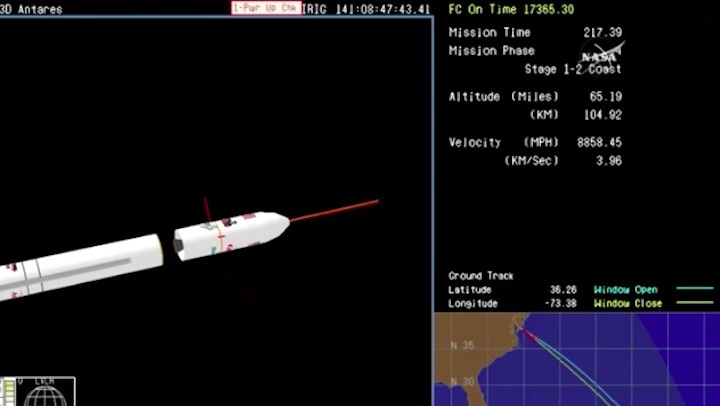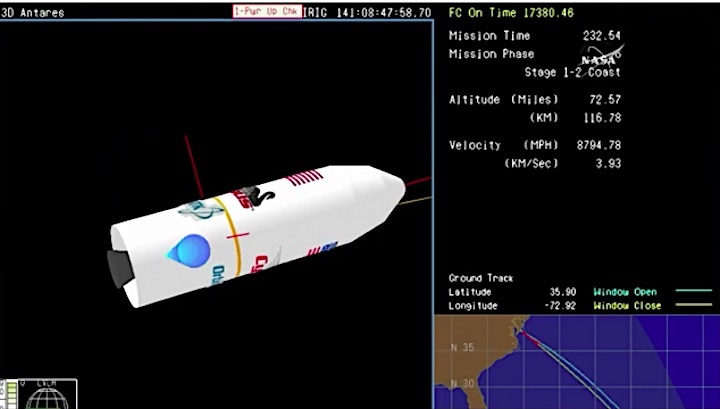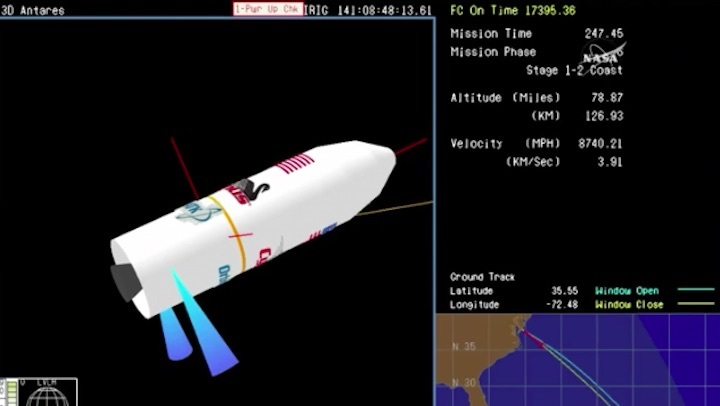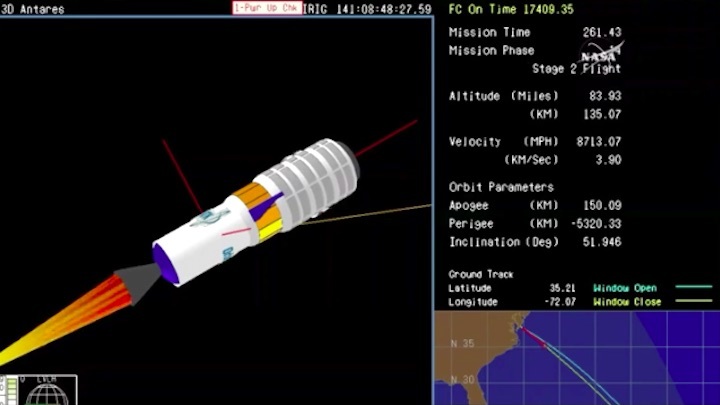 Frams: NASA-TV
-
WALLOPS ISLAND, Va. — An Orbital ATK Antares rocket pierced the clouds in the predawn sky over Virginia this morning (May 21) with a dazzling predawn launch to deliver more than 3 tons of vital supplies to the International Space Station.
The Antares rocket launched an uncrewed Cygnus cargo ship at 4:44 a.m. EDT (0844 GMT) from Pad-0A of NASA's Wallops Flight Facility here, and successfully reached orbit 9 minutes later. The Cygnus, also built by Orbital ATK, is expected to arrive at the space station on Thursday (May 24).
"Earth's newest spacecraft launched this morning in a column of fire and roar," Kirk Shireman, NASA's space station program manager, told reporters after the successful liftoff. "Just an outstanding, outstanding launch."
Because of its predawn timing, Monday's launch was expected to be visible to potentially millions of spectators along the U.S. East Coast. More than 2,000 people were expected at NASA's Wallops Flight Facility Visitor Center alone, NASA officials said. And one of those spectators was NASA's new adminsitrator, Jim Bridenstine, who attended the launch in person, according to NASA.
Orbital ATK's Cygnus is packed with 7,385 lbs. (3,350 kilograms) of experiments, clothing, food and other supplies for the six Expedition 55 crewmembers currently living aboard the International Space Station.
That gear includes the Cold Atom Laboratory, an experiment built by scientists to create the coldest spot in the universe using lasers, as well as a closed-loop plant growth experiment, a sextant for navigation studies, and a series of cubesats that will be deployed in orbit from both the station and the Cygnus itself once it departs the orbiting laboratory.
"What's also important is it will bring home almost 3 tons of cargo back from the space station," Shireman said yesterday.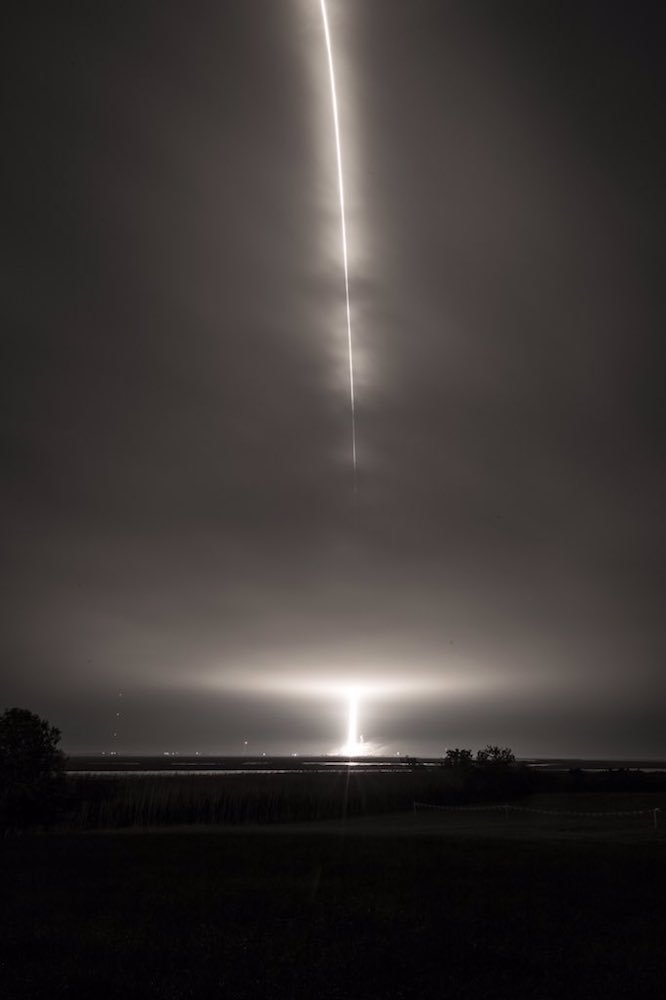 The Cygnus spacecraft is a disposable vehicle designed to intentionally burn up in Earth's atmosphere at the end of its mission. Before leaving the space station, it will be filled with tons of trash and other unneeded items for disposal, according to its mission profile. Orbital ATK named this Cygnus the S.S. J.R. Thompson in honor of J.R. Thompson, a former NASA director and Orbital ATK executive who died last November.
"In fond memory of [the Cygnus spacecraft's namesake, aerospace executive] Mr. J.R. Thompson, we wish Cygnus a a smooth trip on the rest of their journey to the International Space Station," a spokesperson from Mission Control said after annoucing that the spacecraft had reached orbit.
Monday's launch marked the ninth cargo delivery mission for NASA by the Dulles, Virginia-based Orbital ATK under a $2.9 billion contract for 11 such missions in all. It was the seventh Orbital ATK cargo mission to use the company's Orbital ATK's Antares rocket. The other two missions launched on Atlas V rockets built by the United Launch Alliance, a partnership of Boeing and Lockheed Martin.
Orbital ATK is one of two companies currently ferrying cargo to the International Space Station for NASA. The other is SpaceX, which is expected to fly 20 delivery flights for NASA as part of a contract valued at just over $3 billion. SpaceX has flown 14 of those missions so far using its Falcon 9 rockets and Dragon spacecraft.
NASA has also picked Orbital ATK, SpaceX and another company —Sierra Nevada Corp. — for a new round of cargo delivery contracts under its Commercial Resupply Services 2 program. Sierra Nevada will use its uncrewed Dream Chaser space planes and Atlas V rockets to make its deliveries.
Visit Space.com Thursday for complete docking coverage of the Cygnus OA-9 mission. This story, originally posted at 4:58 a.m. EDT, was updated at 7:46 a.m. EDT to include comments from NASA's post-launch press conference.