18.04.2018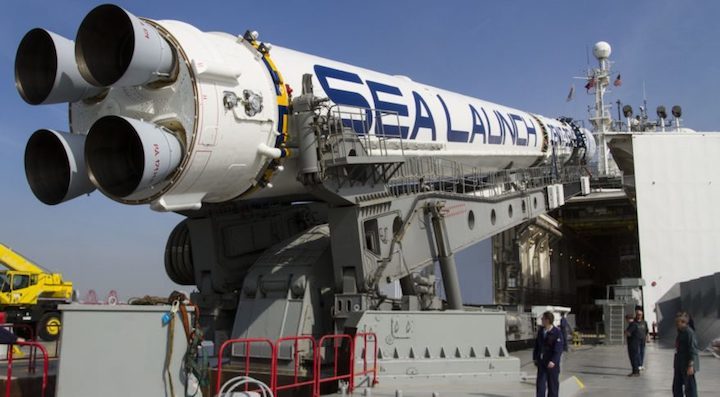 Sea Launch's last mission, shown here, was in 2014 with the Eutelsat-3B satellite. Credit: Sea Launch
-
WASHINGTON — Some 19 months after announcing its intent to buy the assets of Sea Launch, Russian aviation group S7 has closed the purchase.
In a statement released April 17, Sea Launch CEO Sergey Gugkaev said the transaction gives S7 the ocean-faring mobile launch platform Odyssey, the Commander support vessel, as well as certain equipment and intellectual property rights.
"This finally achieves a long and difficult process of title transferring to S7 Group which started in late 2016," he said.
Sea Launch and S7 faced a lengthy regulatory approval process from U.S. and Russian governments for the asset transfer — one that took 15 months instead of the initially estimated six months. That process included an analysis by the Committee on Foreign Investment in the United States (CFIUS), an interagency committee that assesses whether transactions that could give control of an American business to a foreign entity might harm national security.
S7's next challenge will be determining what launch vehicle to use to bring Sea Launch back to life.
Sea Launch previously used the Zenit rocket, produced collaboratively by Ukraine and Russia, mostly to launch telecom satellites to geostationary orbits.
Yury Koptev, Roscosmos' head of the scientific and technical council, said in an April interview on the Russian state corporation's website that restoring Zenit rocket production would necessitate better Russian-Ukrainian relations. Zenit launches slowed to a near-halt after Russia annexed Crimea from Ukraine in 2014.
An alternative to the Zenit is Russia's future Soyuz-5 rocket, which Koptev described as a Russian analog of Zenit. RSC Energia, Sea Launch's largest shareholder prior to the S7 sale, said it will assist in adapting Soyuz-5 rockets for launches from the Sea Launch complex.
But even if S7 can launch the Soyuz-5 using Sea Launch infrastructure, it will take considerably more time than the company had hoped to revive the launch business. S7, in announcing the purchase of Sea Launch infrastructure at the 2016 International Astronautical Congress in Guadalajara, Mexico, hoped to begin launches roughly 18 months after obtaining government approvals. Koptev said the Soyuz-5 won't be ready until 2022, meaning S7 would have to wait four to five years.
Sea Launch's Gugkaev said that starting April 19th, Sea Launch SA will be named SL Aerospace SA and will not be part of the new Sea Launch group. In an email to SpaceNews, Gugkaev said SL Aerospace will "remain a part of Energia Group." He declined to say what Energia will do with SL Aerospace sans-Sea Launch's primary assets.
Gugkaev, who planned to step down as CEO after the asset sale closed, said he will stay as CEO of SL Aerospace a little longer "to liquidate few companies inside our group, finalize the audit," and handle other responsibilities. A successor has not yet been selected, he said.
Quelle: SN
2371 Views