20.04.2018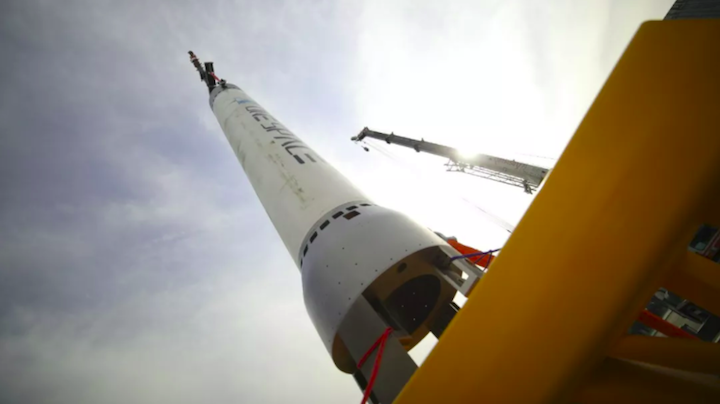 The scene following a vertical assembly rehearsal of an OS-X rocket, developed by Chinese commercial rocket company OneSpace. Courtesy of OneSpace
-
Chinese NewSpace launch service provider OneSpace has performed a vertical assembly rehearsal of its OS-X rocket ahead of the company's debut rocket launch in June.
The vertical assembly took place in Beijing on April 11, using independently developed equipment to transport the rocket.
The test verified the function and performance of a range of equipment, including transportation and lifting systems, launch pad, as well as rocket assembly, transfer and erection processes, according to a social media release.
The OneSpace OS-X1 rocket is designed for suborbital flights to provide high-altitude research and test services. Its debut launch is planned for June, following successful tests of its solid-propellant engine in December.
The site of the first launch and details of potential payloads are yet to be disclosed.
OneSpace OS-X rocket vertical assembly rehearsal
Orbital plans, orders and background
The company hopes that its OS-M rocket series, first with the OS-M1 rocket, will later provide low-cost, light-lift launch services for low Earth (LEO) and Sun-synchronous orbits (SSO).
OS-M1 will be capable of lifting 205 kg to 300 km altitude LEO, and 73 kg to 800 km SSO. It recently completed wind tunnel tests and will have a maiden flight around the end of the year. Future OS-M series rockets may be made reusable, the company says.
CEO Shu Chang told Chinese media early in the year that OneSpace has already received close to ten orders for launch services, including major customers in the domestic satellite sector and possible strategic partnerships with European satellite firms.
A OneSpace container for transporting OS-X rockets. Courtesy of OneSpace
OneSpace is headquartered in Beijing and was established in 2015 following the announcement of a government initiative to promote integrated military and civilian development, which included the opening up of the space sector to commercial participation and private capital.
The company has received support from the State Administration for Science, Technology and Industry for National Defence (SASTIND), and has raised 500 million yuan (US$77.6m) through finance rounds since its establishment in summer 2015, according to Tencent Technology.
OneSpace is one of a number of emerging players in the Chinese commercial launch sector, Landspace, i-Space, Linkspace, which has recently succeeded with a vertical takeoff, vertical landing (VTVL) test, and Expace, which is aiming to perform four commercial launches inside a week later this year.
Quelle: gbtimes
2215 Views