14.03.2018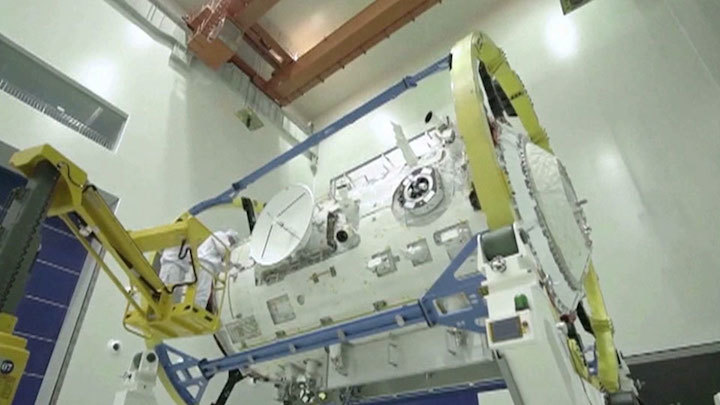 For China, the sky is not the limit — it's beyond.
The country has big projects in the works for space exploration.
One could be up and running in just a few years.
CGTN's Frances Kuo has more on the steps it's taking to get there.
The next frontier of China's space exploration program – its first permanent, manned space station. It's expected to be ready for service in 2022.
To reach that goal, China is designing and developing a telescope and four modules.
The core module will have docking areas for cargo ships and manned spacecraft.
"We also have an important scientific facility — the optical module," Zhou Jianping, chief designer for China's space station said. "It will carry a space telescope that has a two-meter diameter lens with the same level of image resolution as the well-known Hubble telescope."
And, it will go a step further by offering a field of view 300 times that of the Hubble,
Tests begin this month on a new heavy-lift rocket. It will carry crucial parts to the space station.
Ahead of this month's CPPCC First Session, China's first astronaut, Yang Liwei, said the space station has been a top priority after the successful launch of Space Lab Tiangong-2.
"China has harnessed the three fundamental technologies in space expedition: space transportation, astronaut extravehicular mission and space rendezvous," Yang said. "It's safe to say that we are capable of building our own space station. This year is crucial for our research work."
China may have the only orbiting station in space once it's completed. It's designed to last for at least 10 years.
The station will likely play a major role in carrying on the functions of the International Space Station which may retire in 2024.
---
Keith Cowing discusses Tiangong-1's return to Earth
The next frontier of China's space exploration program – a permanent, manned space station – is expected to be ready for service in 2022. But as this new station readies for launch, another is set to come crashing back to Earth. Keith Cowing, an astrobiologist and editor of NASAWatch.com, discusses this and other Chinese space developments with CGTN's Elaine Reyes.
Quelle: CGTN
2131 Views