-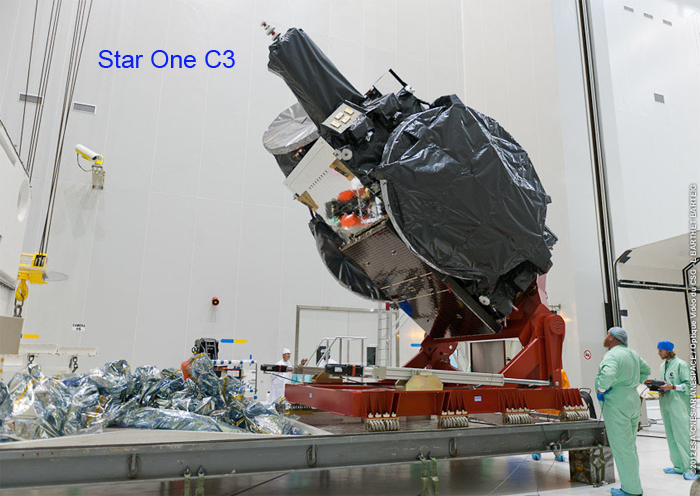 -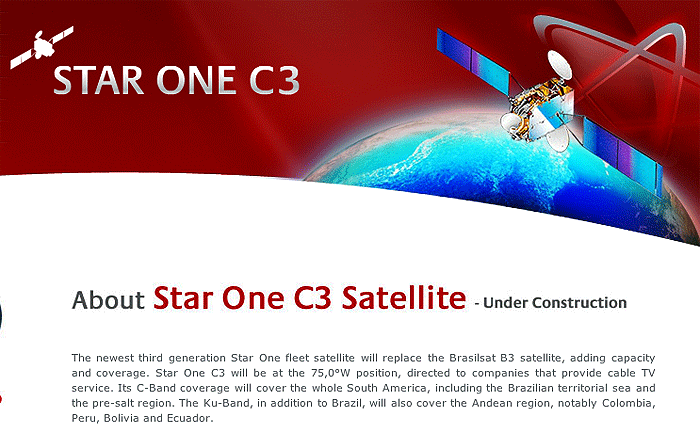 -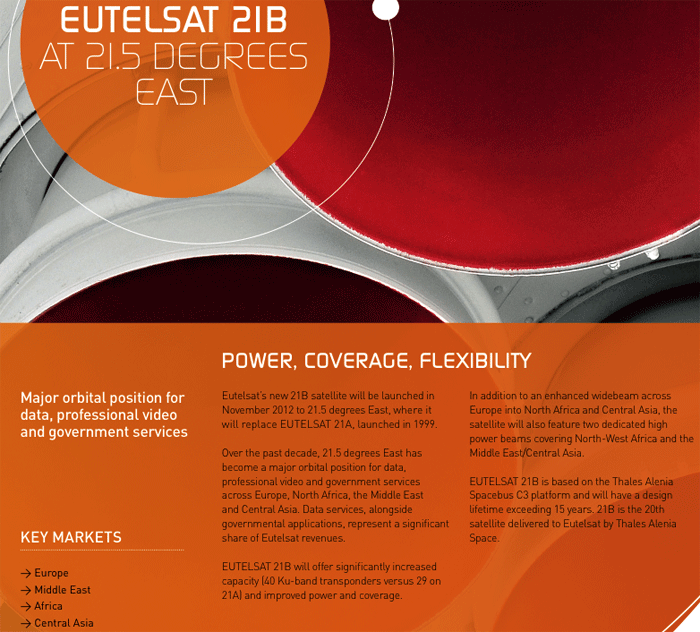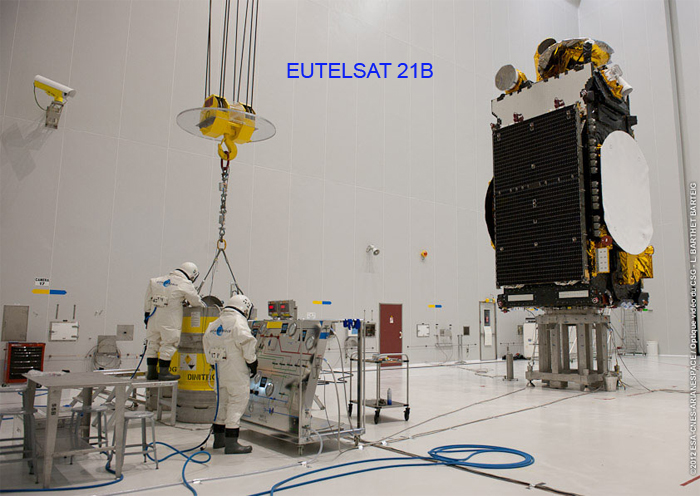 During activity in the Spaceport's S5 payload preparation building, Star One C3 begins its processing for Arianespace Flight VA210, while EUTELSAT 21B receives its propellant load.
-
Ariane Flight VA210
The two satellite passengers to be carried on Arianespace's Flight VA210 – the sixth Ariane 5 mission of 2012 from French Guiana – are undergoing checkout at the Spaceport for their November 9 liftoff.
Orbital Sciences Corporation's Star One C3 spacecraft for Brazilian communications service provider Star One S.A. has begun its pre-launch processing in the S5 payload preparation facility, joining the Thales Alenia Space-built EUTELSAT 21B for Europe's Eutelsat Communications – which currently is being fueled.
EUTELSAT 21B will have a liftoff mass of five metric tons, carrying 40 Ku-band transponders on its Spacebus 4000 platform. To operate at Eutelsat's 21.5° East orbital position, the satellite will enable Eutelsat to boost capacity at this orbital slot by almost 50 percent – providing relay services for telephone companies, enterprises and government administrations in Europe, North Africa, the Middle East and Central Asia.
Star One C3 is based on Orbital's GEOStar™ bus, and is to weigh in at under 3,200 kg. It is fitted with a hybrid payload to provide C- and Ku-band communications for the South American region.
Arianespace's five Ariane 5 missions conducted to date in 2012 from French Guiana have orbited eight satellites and one Automated Transfer Vehicle for servicing of the International Space Station.
In addition to these heavy-lift flights, the company performed one medium-lift Soyuz mission so far this year from the Spaceport, lofting a pair of Galileo navigation system IOV (In-Orbit Validation) spacecraft, while a Soyuz launch conducted by Arianespace's Starsem affiliate from Kazakhstan's Baikonur Cosmodrome deployed the Metop-B weather satellite.
Adding to the 2012 activity was Arianespace's support for the successful qualification launch of its light-lift Vega vehicle from French Guiana, with this maiden mission performed under responsibility of the European Space Agency.
Quelle: Arianespace
-
-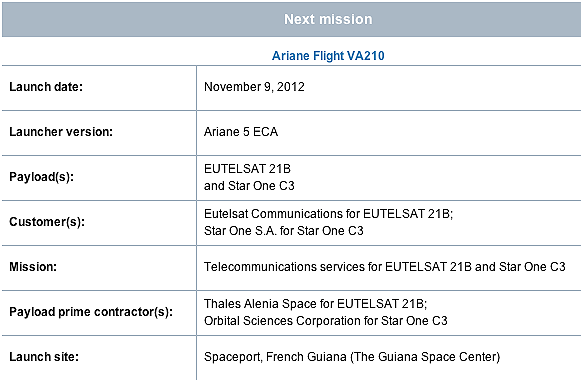 -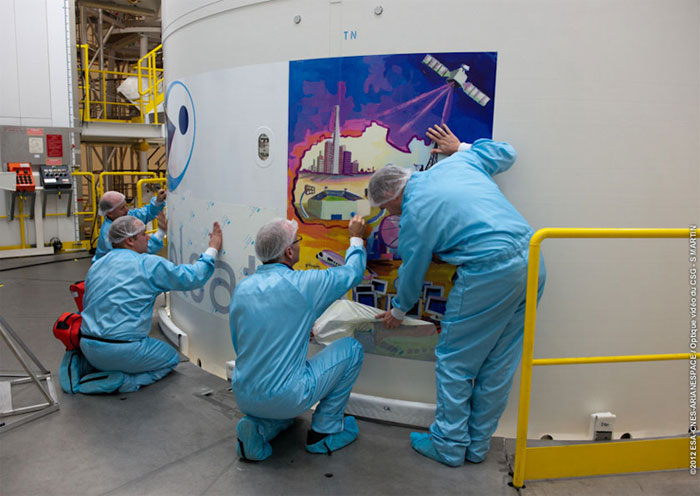 -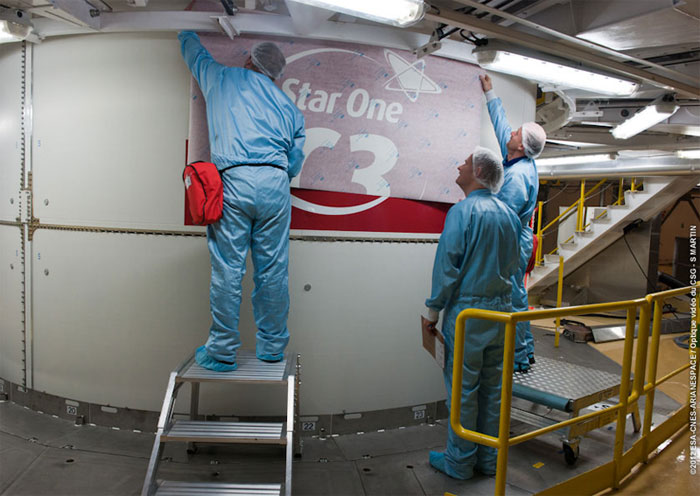 -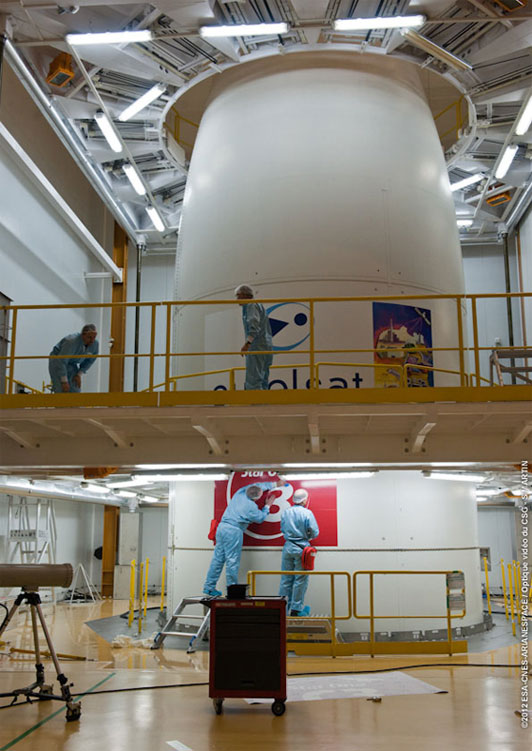 The Eutelsat logo with an artist's depiction of EUTELSAT 21B's coverage footprint is positioned on the Ariane 5 payload fairing for Flight VA210, along with a logo for the Star One C3 satellite (photos at left). This activity was performed inside the Ariane 5 Final Assembly Building at the Spaceport, using an integration rig for the payload fairing (photo at right).
Ariane Flights VA210 & VA211
Launch vehicle preparations for the next two Ariane 5 flights from French Guiana are moving forward at the Spaceport as Arianespace maintains the mission pace in 2012 with its heavy-lift workhorse.
Activity conducted this week included installation of customer graphics on the payload fairing for Ariane Flight VA210, which is to orbit the EUTELSAT 21B and Star One C3 telecommunications satellites on a launch scheduled for November 9.
As with all Ariane 5 flights, the vehicle's ogive-shaped payload fairing – which protects its spacecraft passengers during ascent through the denser atmospheric layers – is made available for logos and other images that represent the mission's customers and their satellites. The fairing is jettisoned approximately three minutes after an Ariane 5's liftoff.
For Flight VA210, team members working in the Ariane 5's Final Assembly Building placed large decals on the fairing with the Eutelsat logo and an artistic representation of EUTELSAT 21B's coverage area, along with a red and white logo for the Star One C3 satellite.
In parallel, a key milestone was reached for Arianespace's Flight VA211 with the completion of initial build-up for its Ariane 5, which has been assembled inside the Spaceport's Launcher Integration Building. This step was marked with installation of the ESC-A upper stage and vehicle equipment bay as a single unit atop the vehicle's cryogenic core stage.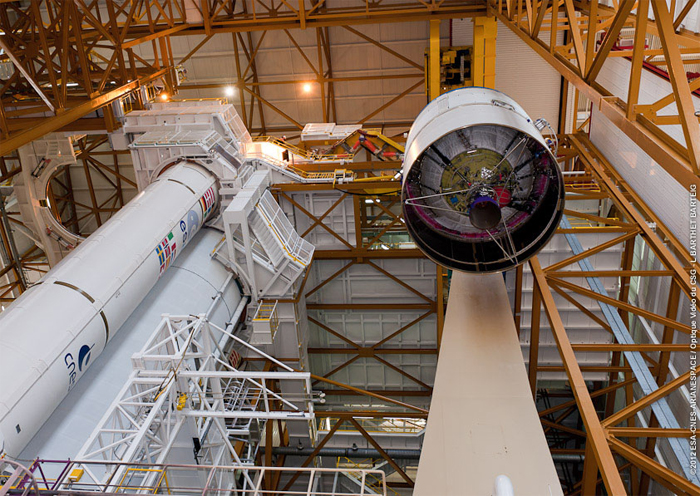 In this upward view inside the Spaceport's Launcher Integration Building, the ESC-A upper stage and vehicle equipment bay are raised as a single unit for installation atop Flight VA211's Ariane 5.
Once additional integration and checkout steps are completed, the Ariane 5 will be ready for its transfer from the Launcher Integration Building to the Spaceport's Final Assembly Building – currently occupied by Flight VA210's Ariane 5. The Final Assembly Building will become available once the Ariane 5 for Flight VA210 is transferred from this facility to the Spaceport's ELA-3 launch zone on the day before liftoff.
Arianespace's Flight VA211 is targeted for mid-December with a dual-payload of the Skynet 5D and Mexsat 3 satellites.
Preparations for these two upcoming launches continue a busy year for Arianespace's heavy-lift Ariane 5. Previous missions during 2012 lofted Europe's third Automated Transfer Vehicle for servicing of the International Space Station on March 23; the JCSAT-13 and VINASAT-2 telecommunications spacecraft on May 15; a mixed telecommunications/meteorological satellite payload of EchoStar XVII and MSG-3 on July 5; the Intelsat 20 and HYLAS 2 relay platforms on August 2; and the ASTRA 2F and GSAT-10 spacecraft on September 28.
Quelle: arianespace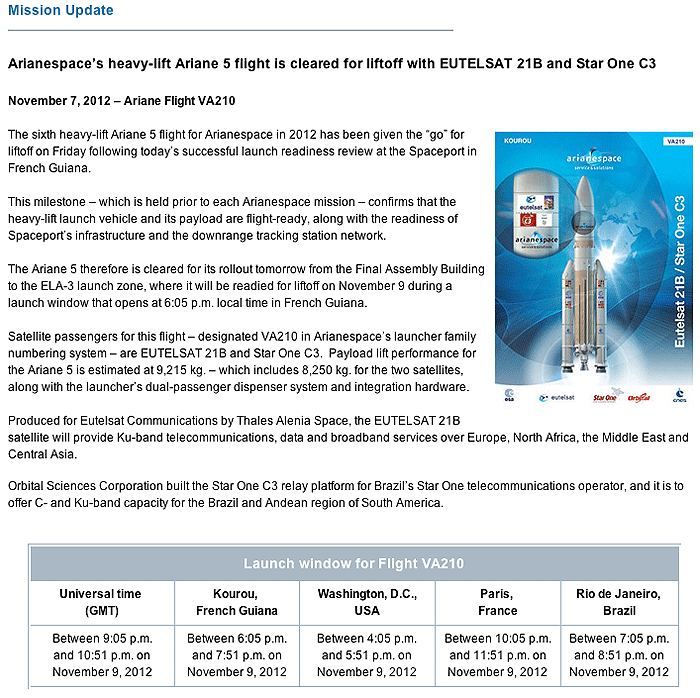 4957 Views