For the first time in almost four years, three Americans will be aboard the International Space Station (ISS) together this weekend, as Soyuz MS-05 brings a new team of astronauts and cosmonauts to the multi-national orbiting outpost. Veteran shuttle flyer Randy Bresik, Russian cosmonaut Sergei Ryazansky and Italy's Paolo Nespoli are slated to launch from Baikonur Cosmodrome in Kazakhstan at 9:41 p.m. local time (11:41 a.m. EDT) on Friday, 28 July, after which they will follow a well-trodden four-orbit "fast rendezvous", docking at the station's Earth-facing (or "nadir") Rassvet module, some six hours and 20 minutes later. In Nespoli's words, the 134 cubic feet (3.8 cubic meters) of the tiny Soyuz cabin promises "an amazing ride…with little legroom".
The three spacefarers and their backups—Russian cosmonaut Aleksandr Misurkin, NASA astronaut Mark Vande Hei and Japan's Norishige Kanai—traditionally paid homage to Yuri Gagarin at Moscow's Kremlin Wall, earlier this month, before flying out to Baikonur on 16 July. Over the next few days, the crews ceremonially raised their national flags, prompting Nespoli to tweet "We are getting serious!" For Bresnik, the highpoint was climbing for the first time into the "real" Soyuz MS-05 spacecraft, wearing his "real" Sokol launch-and-entry suit, using his "real" seat-liner and equipment.
As outlined previously by AmericaSpace, the number of U.S. occupants of the ISS will increase from two to three members for at least the next year, in response to a Russian decision to reduce its own complement of cosmonauts. When Bresnik, Ryazansky and Nespoli arrive at the station, they will be welcomed by Expedition 52 Commander Fyodor Yurchikhin and his crewmates Peggy Whitson—more than eight months into a 9.5-month increment—and Jack Fischer. The six spacefarers will work together for a month, before Yurchikhin, Whitson and Fischer return to Earth on 3 September.
During their month together, the crew will oversee a spacewalk by Yurchikhin and Ryazansky and potentially the arrival of SpaceX's CRS-12 Dragon cargo ship, laden with supplies, including the Cosmic Ray Energetics and Mass (CREAM) instrument. With the departure of Yurchikhin's crew, Bresnik will assume command of the station and Expedition 53 will officially commence. Ten days later, on 13 September, Soyuz MS-06 will deliver the second half of his team—Misurkin, Vande Hei and NASA astronaut Joe Acaba—to the ISS.
The six-strong team will work together for the next three months, welcoming Russia's Progress MS-07 and Orbital ATK's OA-8E Cygnus cargo ships in October, followed by SpaceX's CRS-12 Dragon in November. A pair of U.S. Extravehicular Activities (EVAs) are targeted for late October, although spacewalking crew members have yet to be identified. These EVAs will be tasked with the replacement of failing cameras on the station's Integrated Truss Structure (ITS), installation of additional High-Definition (HD) cameras and maintenance work. Current plans call for Bresnik, Ryazansky and Nespoli to return to Earth on 14 December, wrapping up 139 days in orbit.
If their mission runs to schedule, 60-year-old Nespoli will not only become the oldest Italian spacefarer, but also the most flight-experienced of his countrymen or women, with an expectation that on 23 August he will surpass Samantha Cristoforetti's 199-day national record. Additionally, in September, Bresnik will celebrate his 50th birthday, as Misurkin heads over the hill by welcoming his 40th birthday in orbit.
Quelle: AS
+++
Launcher for next space station crew in position for liftoff Friday
A Russian Soyuz rocket made a railroad journey Wednesday to its launch pad in Kazakhstan, two days before blastoff with a crew of three spaceflight veterans from the United States, Italy and Russia heading for the International Space Station.
The three-stage rocket departed an assembly building just after sunrise Wednesday on a special rail car for the journey to Launch Pad No. 1, the same mount from which Russian cosmonaut Yuri Gagarin launched on the first piloted space mission in April 1961.
A hydraulic lift raised the Soyuz vertical before swing arms moved into place around the rocket. The launch structure containing the Soyuz booster then rotated to align with the planned launch azimuth.
Friday's liftoff is scheduled for 1541 GMT (11:41 a.m. EDT; 9:41 p.m. Baikonur time). The three-man crew inside the Soyuz MS-05 capsule will head into orbit on a fast-track pursuit of the space station, with docking set for approximately 2200 GMT (6 p.m. EDT) with the research outpost's Rassvet module.
Russian cosmonaut Sergey Ryazanskiy, 42, will occupy the Soyuz spacecraft's center seat during Friday's launch and docking. The Soyuz commander, a biochemist with a career in space medicine before his selection as a cosmonaut in 2003, is making his second trip to the space station after spending 166 days in orbit as a flight engineer on the Expedition 37 and 38 crews.
NASA astronaut Randy Bresnik will be the Soyuz MS-05 spaceship's board engineer, assisting Ryazanskiy with cockpit duties during the six-hour voyage from liftoff to docking. The 49-year-old retired Marine Corps fighter pilot hails from Santa Monica, California, and logged nearly 11 days in orbit aboard the space shuttle Atlantis on a 2009 mission to the space station.
Bresnik will take command of the station's Expedition 53 crew in September.
European Space Agency flight engineer Paolo Nespoli has 174 days of space experience on two previous missions, including a flight on the shuttle Discovery in 2007 and a long-duration stay on the space station in 2010 and 2011. Nespoli, 60, is a native of Milan and was a special forces operator in the Italian Army before working on several European space projects as an engineer.
The trio will become part of the space station's Expedition 52 and 53 crews, joining commander Fyodor Yurchikhin and flight engineers Peggy Whitson and Jack Fischer on the orbiting complex. Yurchikhin, Whitson and Fischer are due to depart the station and return to Earth on Sept. 2, and three fresh crew members will launch on the next Soyuz spaceship from Baikonur on Sept. 12.
The space station has been flying with a three-person crew since early June, and Friday's docking will boost the outpost's occupancy back to six.
Yurchikhin and Ryazanskiy will conduct a spacewalk Aug. 17 to deploy several small satellites and work outside the Russian segment of the station.
A SpaceX Dragon supply ship launched from NASA's Kennedy Space Center in Florida is expected to arrive at the complex the same week, but its liftoff will have to work around the scheduled Russian spacewalk. Station managers want to ensure the satellites released by the Russian spacewalkers are accurately tracked before committing the Dragon cargo freighter to approach the outpost, minimizing the chance for a collision with one of the small craft.
The Dragon capsule is currently set to launch around Aug. 14, but if it slips more than a day or two, the launch aboard a Falcon 9 rocket could be further delayed until officials are sure the small satellites are well away from the space station. A United Launch Alliance Atlas 5 rocket is also expected to launch the same week, potentially complicating bookings on the U.S. Air Force's Eastern Range, which is responsible for flight safety, communications and tracking support for all missions from Cape Canaveral.
Quelle: SN
---
Update: 28.07.2017
.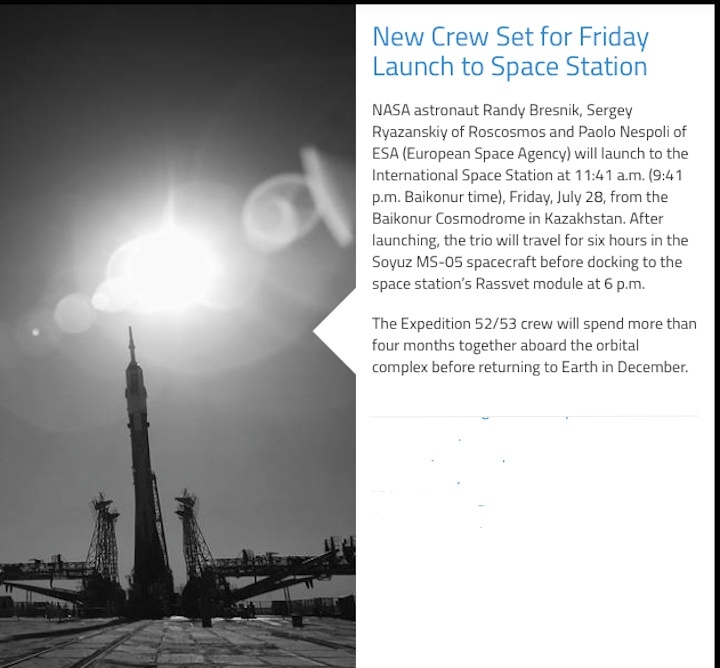 Quelle: NASA
+++
Update: Erfolgreicher Start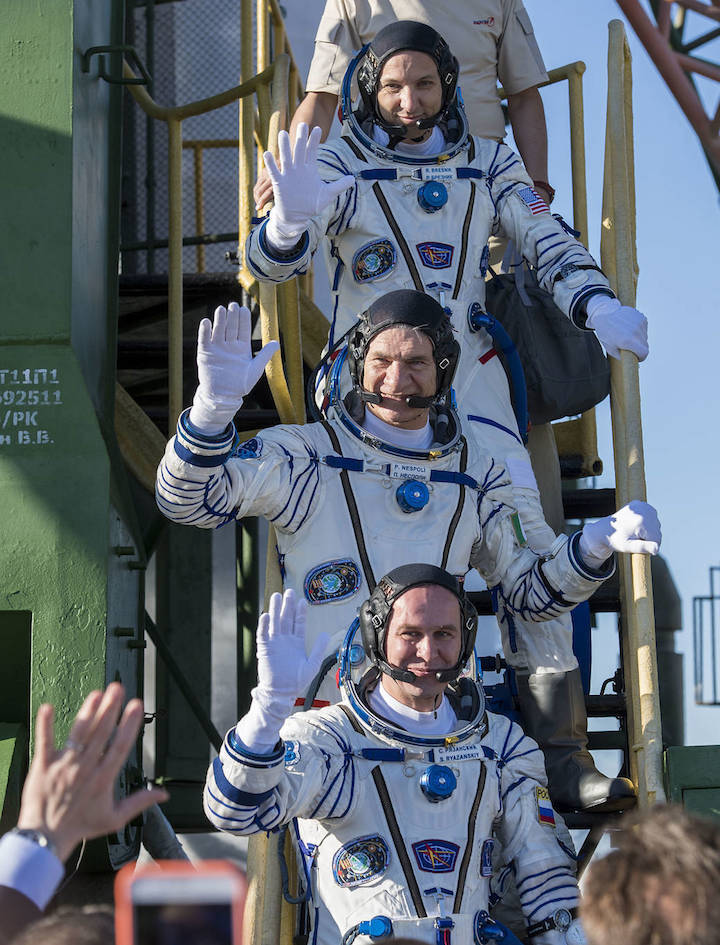 Expedition 52 flight engineer Randy Bresnik of NASA, top, flight engineer Paolo Nespoli of ESA (European Space Agency), middle, and flight engineer Sergei Ryazanskiy of Roscosmos, bottom, wave farewell prior to boarding the Soyuz MS-05 rocket for launch, Friday, July 28, 2017 at the Baikonur Cosmodrome in Kazakhstan. Ryazanskiy, Bresnik, and Nespoli will spend the next four and a half months living and working aboard the International Space Station.
...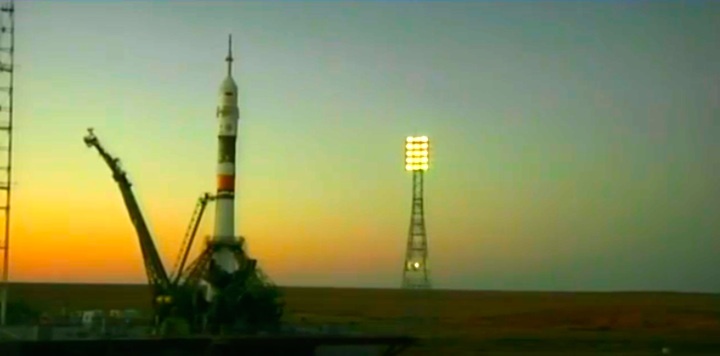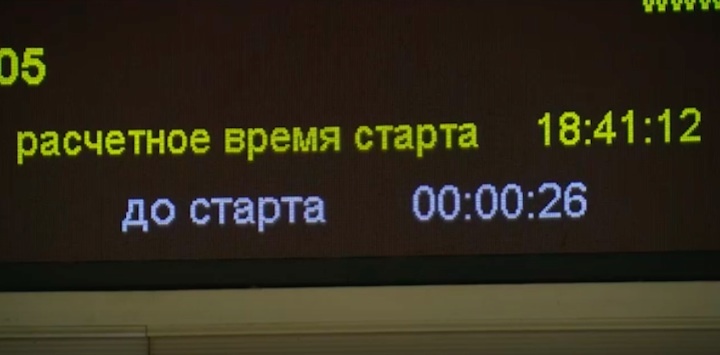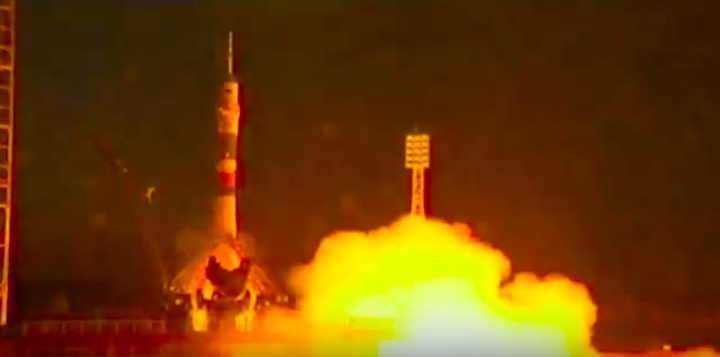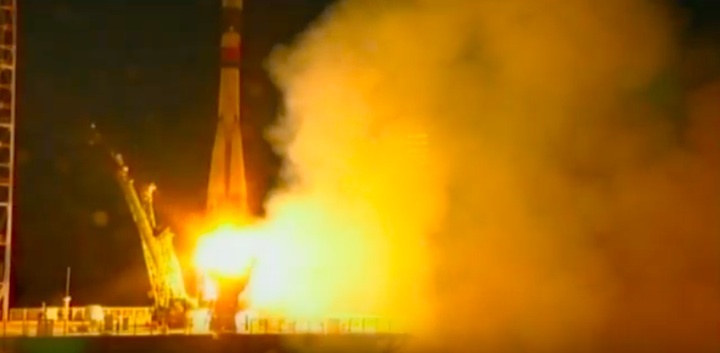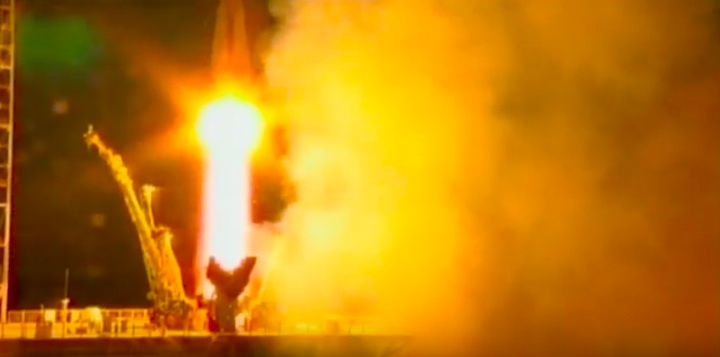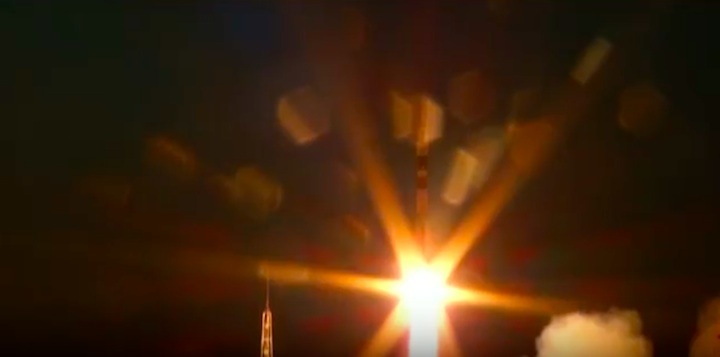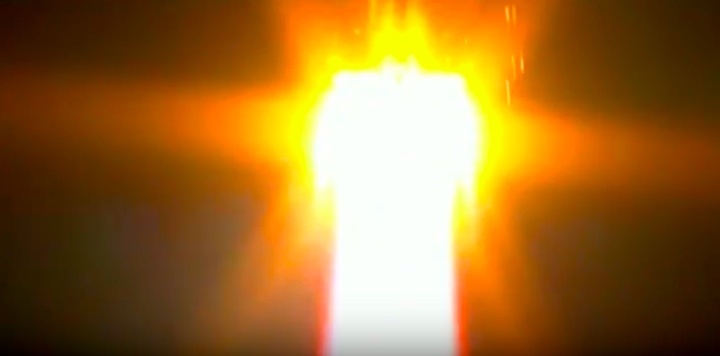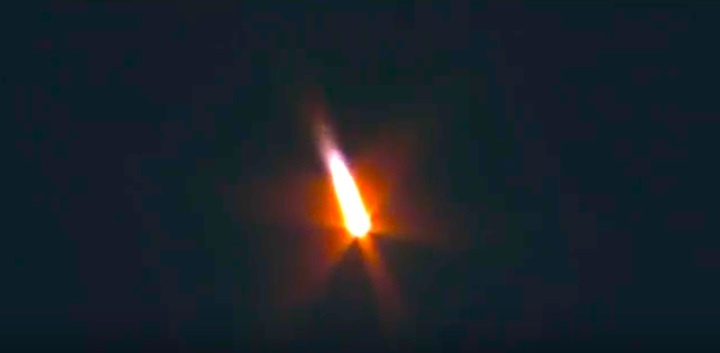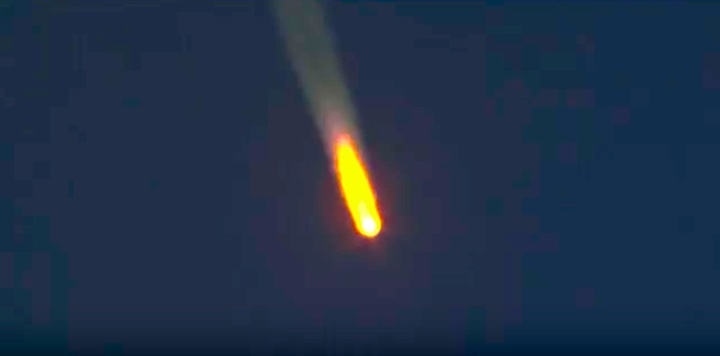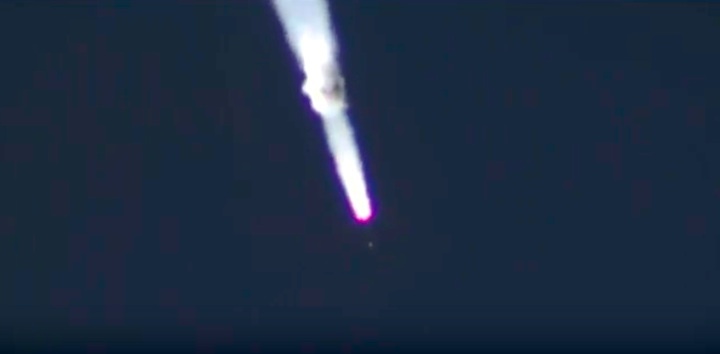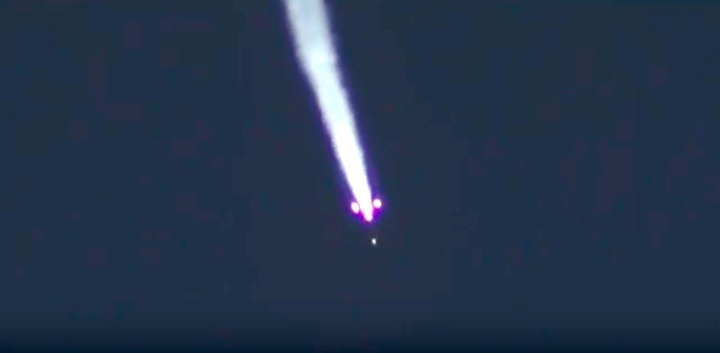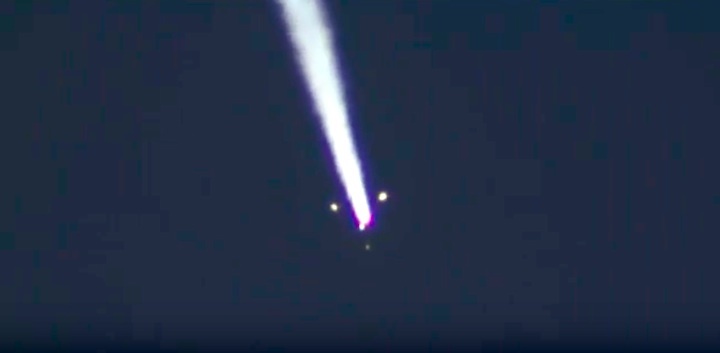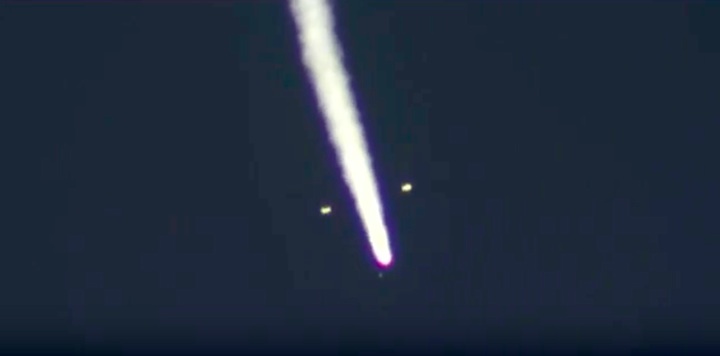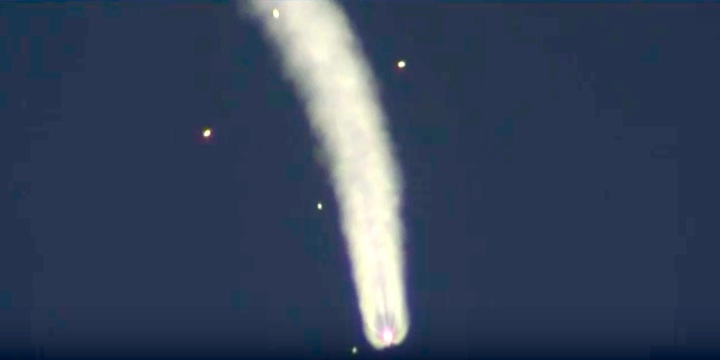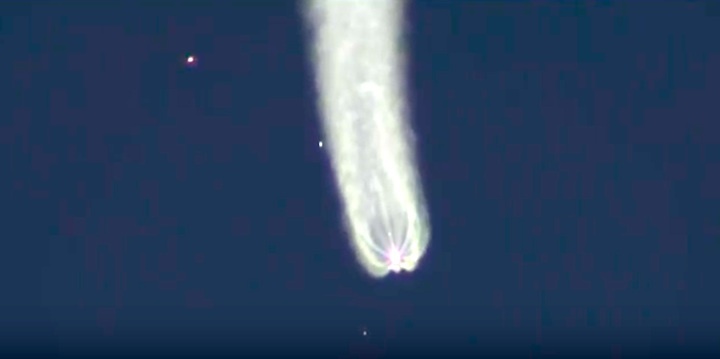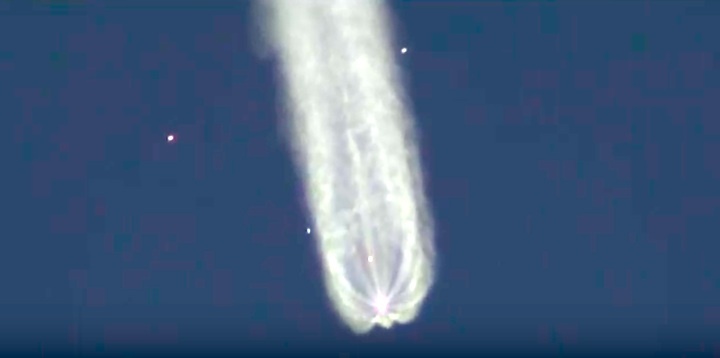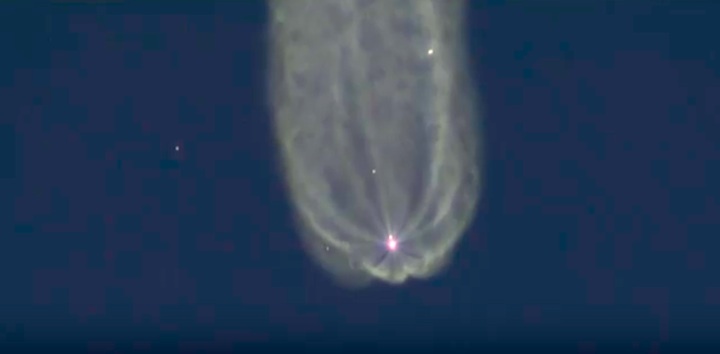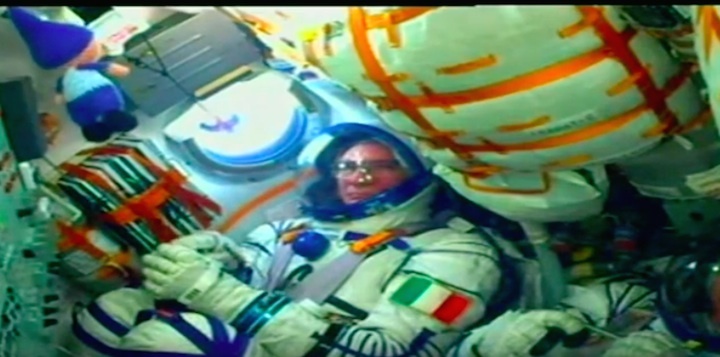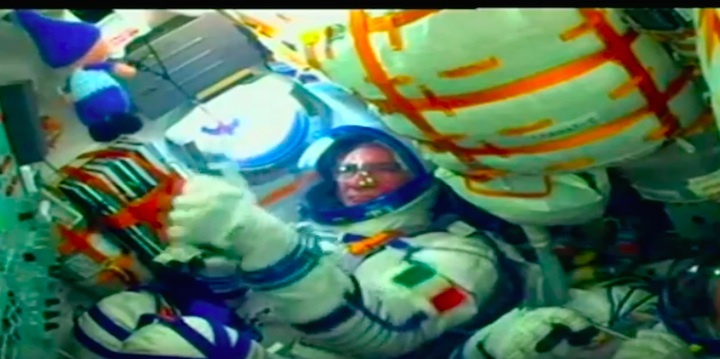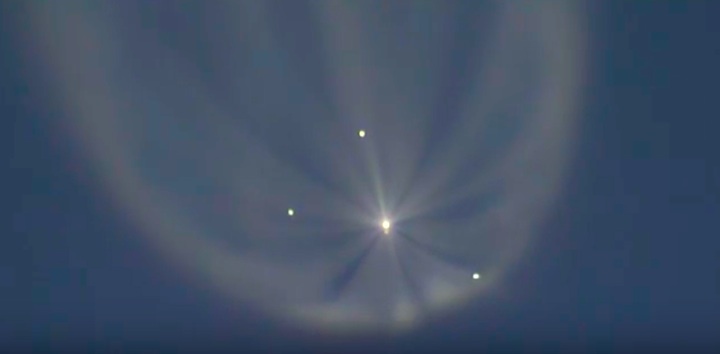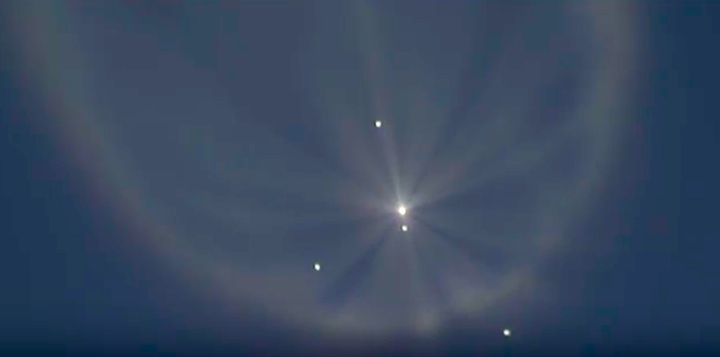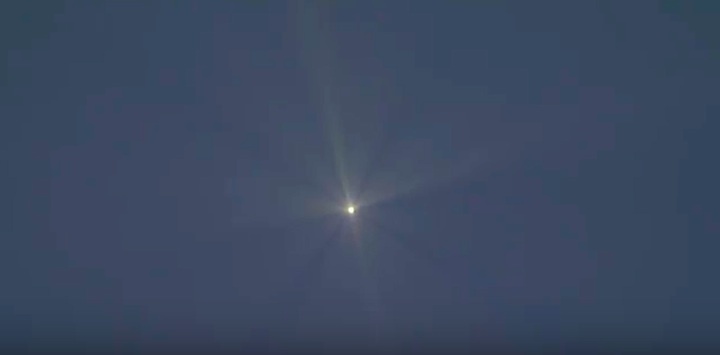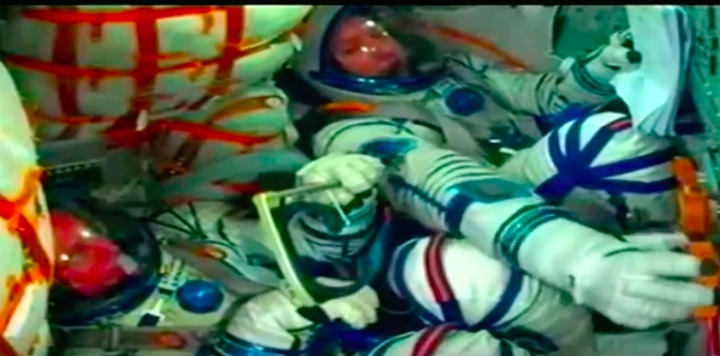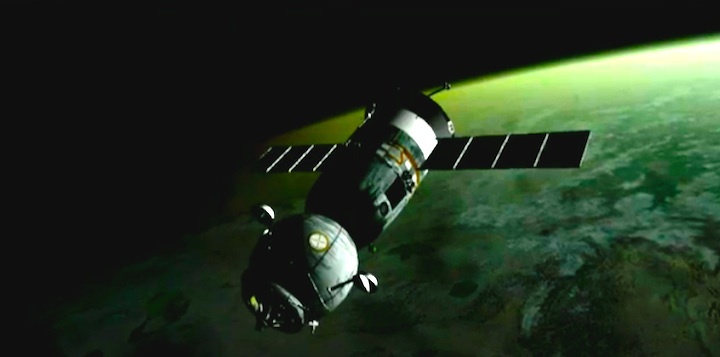 Quelle: Roscosmos
+++
With a final handshake we say goodnight to @astro_paolo and all six #EXP52_53 crew #VITAmission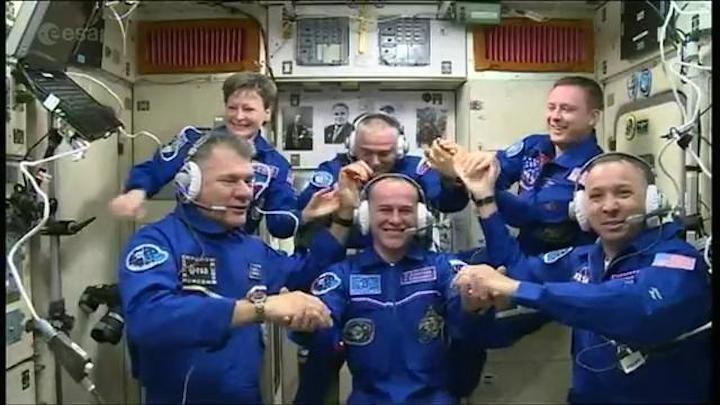 Quelle: ESA