At approximately 07:50 Beijing time Sunday, China's Shenzhou-11 spacecraft will liftoff from Jiuquan Satellite Launch Centre in the Gobi Desert. A Long March 2F rocket will send the vessel and its two astronauts into orbit where it will dock with the Tiangong-2 space lab, launched last month.
Learn more about the Tiangong-2 space lab
This will be the sixth manned mission for China's rapidly expanding space program. If all goes according to plan, the 30 day stay aboard the Tiangong-2 will more than double the national record for longest time in space for its astronauts.
While the previous two Shenzhou missions in 2012 and 2013 carried three astronauts, the crew size for this mission was reduced to extend duration upon the Tiangong-2. The identities of the two astronauts will most likely be revealed just before launch.
Shenzhou-11's mission to the Tiangong-2 will give astronauts an opportunity to test onboard systems aboard the space lab, including life support, computers, propulsion, and lab equipment. They will also commence experiments in the research section of the craft. These initial activities are designed to help China move toward its goal of a modular and much larger permanent space station, Tianhe-1, which is slated to be launched sometime in 2018.
"This is going to provide evidence of astronauts' long-term stay in space for the development of China's space station in the future," Lei Fanpei, chairman of the China Aerospace Science and Technology Corporation (CASC) told CCTV.
The Tiangong-2 is considered to be a working prototype for the upcoming modular space station, which aims to be China's most ambitious venture in orbital technology to date.
In March Zhou Jianping, chief designer of China's human space program stated the Chinese space station project will include three modules, two 30m solar panel 'wings', two robotic arms and a Hubble-class telescope. The Tianhe-1 will be the core module for that station, which will join with two other modules in the following years. The final orbital assenbly is expected to be complete by 2022.
Quelle: CCTV
-
Update: 16.10.2016
.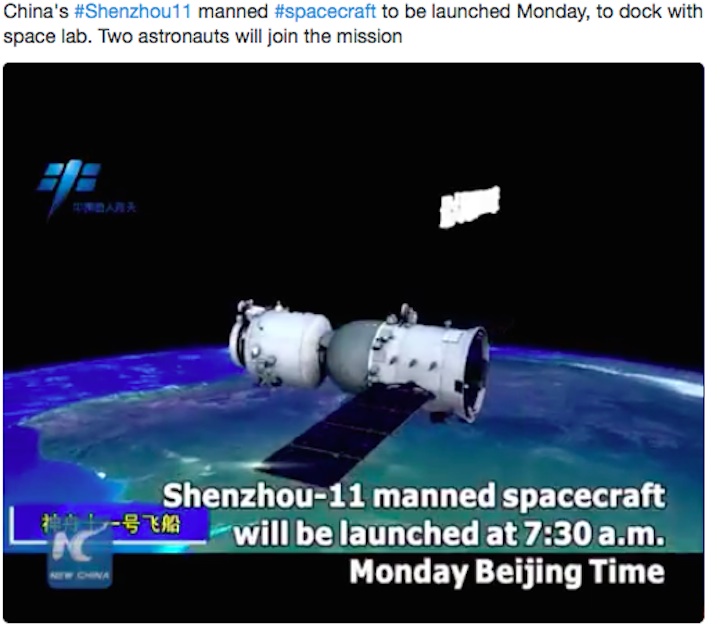 Quelle: CNTV