NASA Opens Media Accreditation, New Target Dates Set for Orbital ATK Resupply Launch from Virginia
Media accreditation now is open, with new launch dates, for the next NASA-contracted cargo resupply flight launching from Virginia to the International Space Station.
Orbital ATK is targeting no earlier than Oct. 9-13 for the launch of its Cygnus spacecraft on an Antares rocket from the Mid-Atlantic Regional Spaceport's Pad-0A at NASA's Wallops Flight Facility in Wallops Island, Virginia. A more specific date will be identified after completion of final operational milestones and technical reviews. Launch times range from 10:47 p.m. EDT Sunday, Oct. 9 to 9:13 p.m. Thursday, Oct. 13.
International media without U.S. citizenship must have previously applied for credentials to cover the prelaunch and launch activities at Wallops. The application deadline is Friday, Sept. 30 for media who are U.S. citizens. Media should send their accreditation request to Keith Koehler at keith.a.koehler@nasa.gov. For questions about accreditation or additional information, contact Koehler by email or at 757-824-1579.
This will be the sixth planned cargo resupply mission by Orbital ATK under NASA's Commercial Resupply Services contract with the company and the fourth launch from Virginia. Cargo resupply by U.S. companies enables a national capability to deliver critical science research to the space station, significantly increasing NASA's ability to conduct new science investigations aboard the world's only microgravity laboratory.
Quelle: NASA
-
Update: 5.10.2016
.
NASA TV Coverage Set for Orbital ATK Resupply Mission to Space Station
NASA commercial cargo provider Orbital ATK is scheduled to launch its sixth mission to the International Space Station at 9:13 p.m. EDT Thursday, Oct. 13. Live launch coverage will begin at 8:15 p.m. on NASA Television and the agency's website.
NASA TV also will air two prelaunch broadcasts Wednesday, Oct. 12. At 1 p.m., scientists and researchers will discuss some of the investigations to be delivered to the station, and at 3 p.m. mission managers will provide an overview and status of launch operations. The briefings also will be streamed live on the agency's website.
Cygnus will launch on Orbital ATK's upgraded Antares 230 rocket from Pad 0A of Virginia Space's Mid-Atlantic Regional Spaceport, located at NASA's Wallops Flight Facility in Virginia. Coverage of the spacecraft's solar array deployment will begin at 10:30 p.m., and a post-launch briefing from the launch site will begin approximately two hours after launch.
Under the agency's Commercial Resupply Services contract, Cygnus will carry to the space station more than 5,100 pounds of science and research in support of dozens of research investigations, as well as crew supplies and hardware.
The new experiments will include an investigation that looks at fuels that burn very hot at first, and then appear to go out, but actually continue to burn at a much lower temperature with no visible flames. A second planned large-scale fire inside Cygnus will be ignited after it leaves the space station to help researchers understand how fire grows in microgravity and design safeguards for future space missions. Cygnus also is carrying a new station research facility that will enable a new class of research experiments by allowing precise control of motion in the microgravity environment aboard the station.
The spacecraft will arrive at the station on Sunday, Oct. 16. Expedition 49 astronauts Kate Rubins of NASA and Takuya Onishi of the Japan Aerospace Exploration Agency will use the space station's robotic arm to grapple Cygnus about 6:45 a.m. NASA TV coverage of rendezvous and grapple will begin at 5:45 a.m.
After Canadarm2 captures Cygnus, ground commands will be sent to guide the station's robotic arm as it rotates and attaches the spacecraft to the bottom of the station's Unity module. Coverage of installation will begin at 8:45 a.m.
Cygnus will remain at the space station until Nov. 18, when the spacecraft will be used to dispose of several tons of trash during its fiery reentry into Earth's atmosphere, and conduct the spacecraft fire experiment.
This will be the first resupply mission to launch on the upgraded Antares 230 vehicle, and the first launch from Wallops since an Antares rocket and its Cygnus resupply vehicle were lost seconds after liftoff in October 2014. Since the accident, two Cygnus resupply missions launched on United Launch Alliance Atlas 5 rockets to the station from the Cape Canaveral Air Force Station in Florida.
Dubbed the S.S. Alan Poindexter, this Cygnus spacecraft is a tribute to a space shuttle veteran who flew on two missions to the International Space Station, one as a shuttle commander. Poindexter died in an accident in July 2012.
Quelle: NASA
---
Managers set Oct. 13 for first Antares launch in two years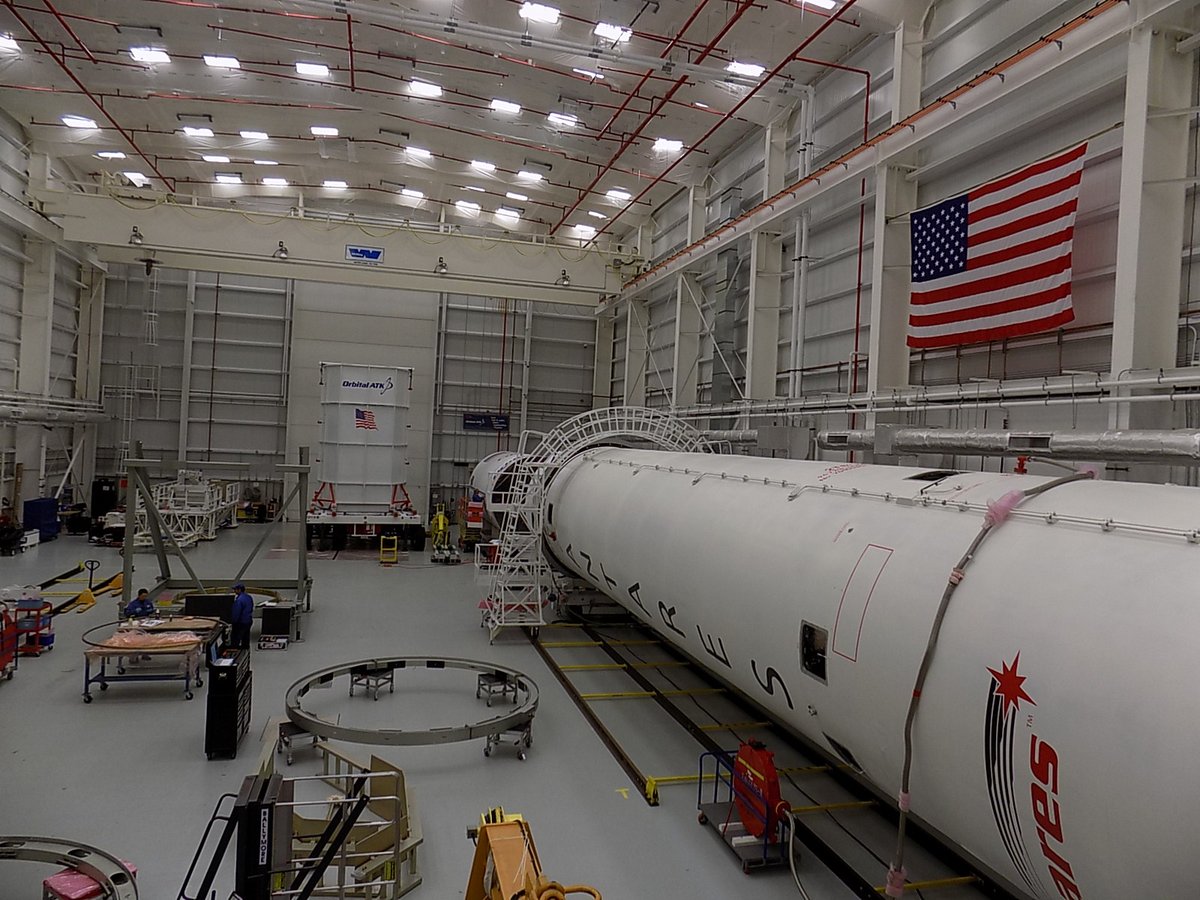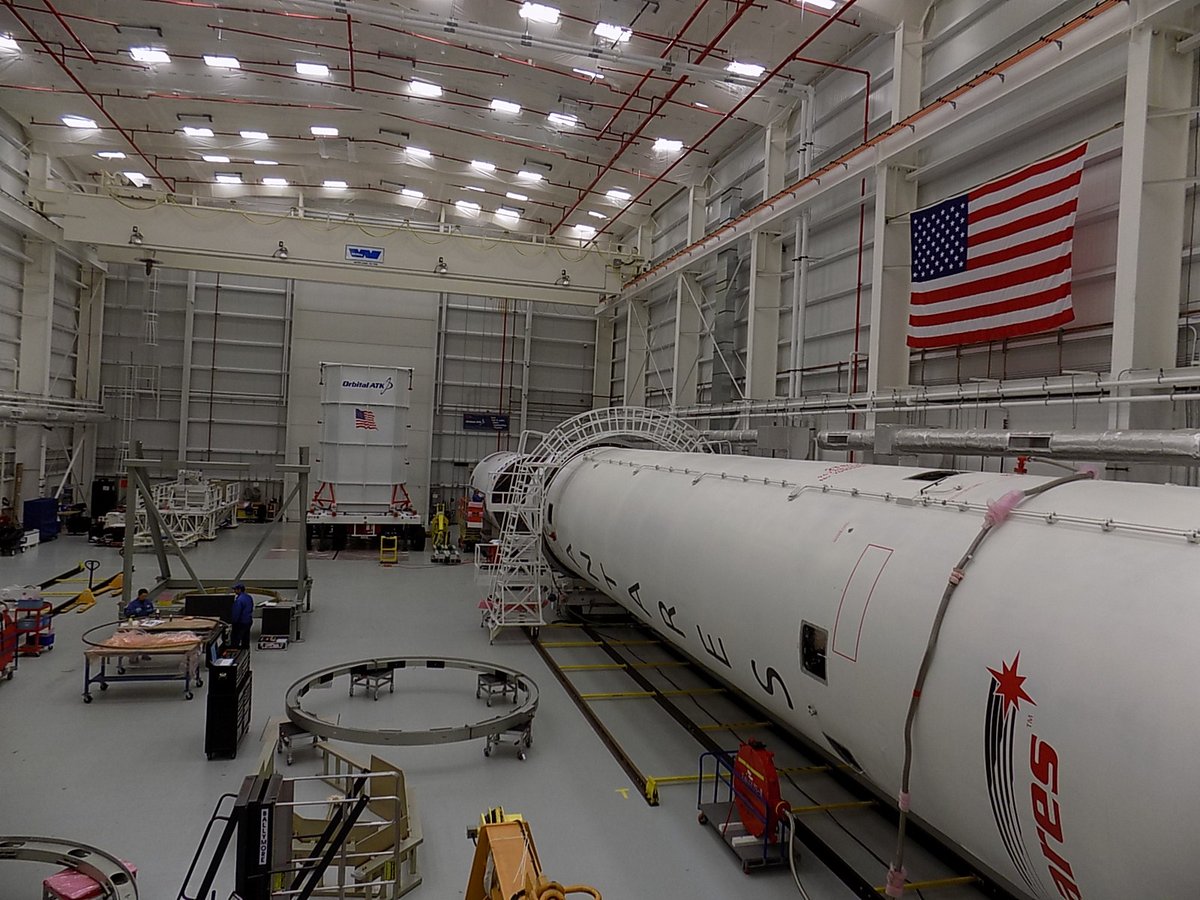 NASA and Orbital ATK officials have set Oct. 13 as the target date for the first Antares launch in nearly two years, giving approval for ground crews to load final cargo into the mission's Cygnus supply carrier heading for the International Space Station.
A flight readiness review Monday cleared the way for final launch preparations at Wallops Island, Virginia, leading up to liftoff Oct. 13 at 9:13 p.m. EDT (0113 GMT on Oct. 14).
"In preparation for the mission, final integration of the company's Cygnus spacecraft and Antares rocket is now underway, with roll out to the Mid-Atlantic Regional Spaceport's pad 0A anticipated to take place on Oct. 11," Orbital ATK said in a statement Tuesday.
This month's launch campaign is the first for Orbital ATK's Antares booster since a catastrophic launch failure on Oct. 28, 2014, destroyed a Cygnus supply ship loaded with equipment for the space station. The mishap also damaged the Antares launch pad at the Mid-Atlantic Regional Spaceport, a facility owned by the government of Virginia at NASA's Wallops Flight Facility.
The nighttime launch Oct. 13 could be visible along the U.S. East Coast, including from metropolitan areas such as Washington, D.C., and New York.
"This schedule is subject to completion of all remaining pre-launch integration and testing activities and acceptable weather conditions prior to and during launch operations," Orbital ATK said.
Officials are monitoring the track of Hurricane Matthew, a Category 4 storm forecast to move near the East Coast later this week. The 2 p.m. EDT (1800 GMT) outlook from the National Hurricane Center predicted the cyclone will be just offshore Cape Canaveral early Friday, then move northeast and perhaps brush by Wallops Island this weekend.
Workers inside Orbital ATK's Horizontal Integration Facility at Wallops are installing "late load" cargo into the Cygnus spaceship's pressurized module this week. The final items destined to fly to the space station will be packed Thursday, followed by the closure of the spacecraft's hatch.
The Cygnus cargo craft — already fueled with toxic maneuvering propellants — will be attached to the Antares rocket's second stage Sunday, an Orbital ATK spokesperson said, then the ground team will cover the supply freighter with the launcher's 12.8-foot-diameter (3.9-meter) payload fairing.
Once the launcher is fully assembled, a crane will lift the Antares rocket onto an erector structure and a self-propelled transporter. Orbital ATK plans to transfer the rocket about one mile (1.5 kilometers) down a two-lane road to pad 0A on Oct. 11.
The Cygnus cargo mission, named OA-5, will deliver more than 5,000 pounds of equipment, experiments and provisions to the space station. It is the sixth of 11 Orbital ATK space station cargo missions scheduled through 2018 under contract to NASA. Orbital ATK and NASA have a separate contract for at least six additional cargo flights from 2019 through 2024.
The last two Cygnus spacecraft flew on top of United Launch Alliance Atlas 5 rockets from Cape Canaveral as Orbital ATK modified already-built Antares booster stages for a new engine package.
Orbital ATK switched to a new type of engine — the RD-181 powerplant from Russia's NPO Energomash — in the aftermath of the 2014 launch failure, which the company blamed on a fault inside the liquid oxygen turbopump on one of the AJ26 engines that previously powered Antares launchers.
The AJ26 engines — known as NK-33s in Russia — were built in the 1970s for the Soviet Union's ill-fated N1 moon rocket, then imported to the United States by Aerojet Rocketdyne in the 1990s.
The RD-181 engine, based on the the RD-171 and RD-180 engines flying on Zenit and Atlas 5 rockets, is manufactured new and burns the same kerosene and liquid oxygen propellant mix as the AJ26. Both engines produce approximately the same level of thrust, minimizing changes to the Antares rocket's first stage structure to accommodate the new propulsion system.
The Antares rocket configuration with RD-181 engines and an upgraded U.S.-made Castor 30XL upper stage is known as the Antares 230.
While the space station has plenty of food, water, experiments and other provisions, NASA officials are eager for the Antares rocket to resume flights as all of the research outpost's other servicing vehicles are facing delays.
SpaceX's Falcon 9 rocket, which launches the company's Dragon cargo craft, is grounded after a launch pad explosion Sept. 1, and Dragon resupply missions to the space station may not start up again until early next year.
The Japanese HTV cargo freighter was supposed to blast off Sept. 30 with several tons of supplies, including new lithium-ion batteries for the space station's electrical system. But that launch has been delayed until at least December after Japanese engineers discovered a leak during an air tightness test in August.
And a Soyuz crew capsule that was supposed to launch Sept. 23 with three new space station residents will not lift off until at least Oct. 19 after Russian workers discovered a technical problem on the vehicle.
The Soyuz delay will likely push back the launch of Russia's next unpiloted Progress cargo freighter from Oct. 20 until late November or early December.
Quelle: SN
-
Update: 6.10.2016
.
Orbital CRS-5 launching hot and bright science to space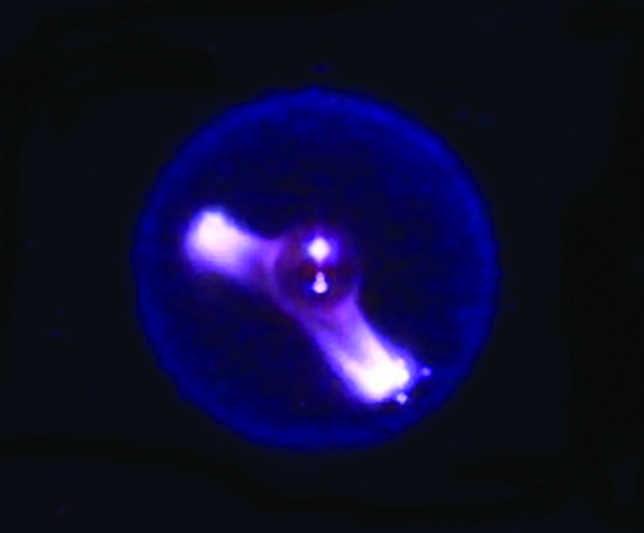 A burning heptane droplet during the Flame Extinguishing Experiments investigation on the International Space Station. Image courtesy NASA. For a larger version of this image please go

-
Orbital ATK is scheduled to send new science experiments to the International Space Station in early October on its sixth Commercial Resupply Services (CSR) mission. The Cygnus spacecraft will blast off from Wallops Island, Virginia atop an Antares rocket, carrying supplies for the crew along with dozens of experiments, including studies on fire in space, the effect of lighting on sleep and daily rhythms, collection of health-related data, and a new way to measure neutrons.
Low-temperature fires with no visible flames are known as cool flames. In previous combustion experiments aboard the space station, researchers observed cool flame burning behaviors not predicted by models or earlier investigations. Cool Flames examines low-temperature combustion of droplets of a variety of fuels and additives in low gravity.
This investigation employs the Combustion Integrated Rack (CIR), a general purpose system for combustion experiments aboard the space station with combustion chambers, fuel and oxidizer controls and cameras. The payload launching for Cool Flames includes enhancements to the CIR: a new camera system with filters designed to look at these invisible flames, upgraded hardware for image processing and storage, and a new radiometer package for measuring radiation produced by combustion.
Data from this investigation could help scientists develop more efficient advanced engines and new fuels for use in space and on Earth.
Light plays a powerful role in our daily, or circadian, rhythms. Astronauts aboard the space station experience multiple cycles of light and dark every 24 hours, which, along with night shifts and the stresses of spaceflight, can affect their sleep quality and quantity. Poor sleep impairs alertness, reaction time, and cognition and can increase risk of accidents.
The Lighting Effects investigation tests a new lighting system aboard the station designed to enhance crew health and keep their body clocks in proper sync with a more regular working and resting schedule. The system uses adjustable light-emitting diodes (LEDs) and a Dynamic Lighting Schedule (DLS) that varies intensity and spectrum of the LEDs in tune with sleep and wake schedules. Research has shown that enhancing certain types of light can improve alertness and performance while other types can promote better sleep.
Lighting manipulation has potential as a safe, non-pharmacological way to optimize sleep and circadian regulation on space missions. People on Earth, especially those who work night shifts, could also improve alertness and sleep by adjusting lighting for intensity and wavelength.
A user-friendly tablet app provides astronauts with a new and faster way to collect a wide variety of personal data. The EveryWear investigation tests use of this French-designed technology to record and transmit data on nutrition, sleep, exercise and medications.
Astronauts use the app to complete questionnaires and keep medical and clinical logs. They wear a Smartshirt during exercise that records heart activity and body position and transmits these data to the app, while a fingertip device records and transmits pulse and blood pressure. A sensor patch placed on the forearm records and transmits real-time skin temperature and activity level to assess sleep quality. Finally, rather than manually recording everything that they eat, crew members scan barcodes on food packets to collect real-time nutritional data.
EveryWear has potential for use in science experiments, biomedical support and technology demonstrations.
Outside the Earth's magnetic field, astronauts are exposed to space radiation that can reduce immune response, increase cancer risk, and interfere with electronics. The Fast Neutron Spectrometer (FNS) investigation will help scientists understand high-energy neutrons, part of the radiation exposure experienced by crews during spaceflight, by studying a new technique to measure electrically neutral neutron particles.
These particular particles pass through most measuring systems undetected, but the FNS uses a "gate and capture technique" that slows down neutrons and captures them in special glass fibers loaded with lithium.
That process produces a unique flash of light, which custom electronics in the FNS recognize and analyze to determine radiation level. This technology is less susceptible to false triggers from other forms of radiation and can significantly improve reliable identification of neutrons in the mixed radiation field found in deep space. This improved measurement will help protect crews on future exploration missions.
Because it experiences radiation from a variety of sources, the space station provides an ideal environment for evaluating the FNS.
The space station serves as an orbiting lab for a wide range of science investigations such as these, designed to benefit future space exploration as well as life on Earth.
Quelle: SD
-
Update: 11.10.2016
-
Critical Antares rocket launch set for Friday night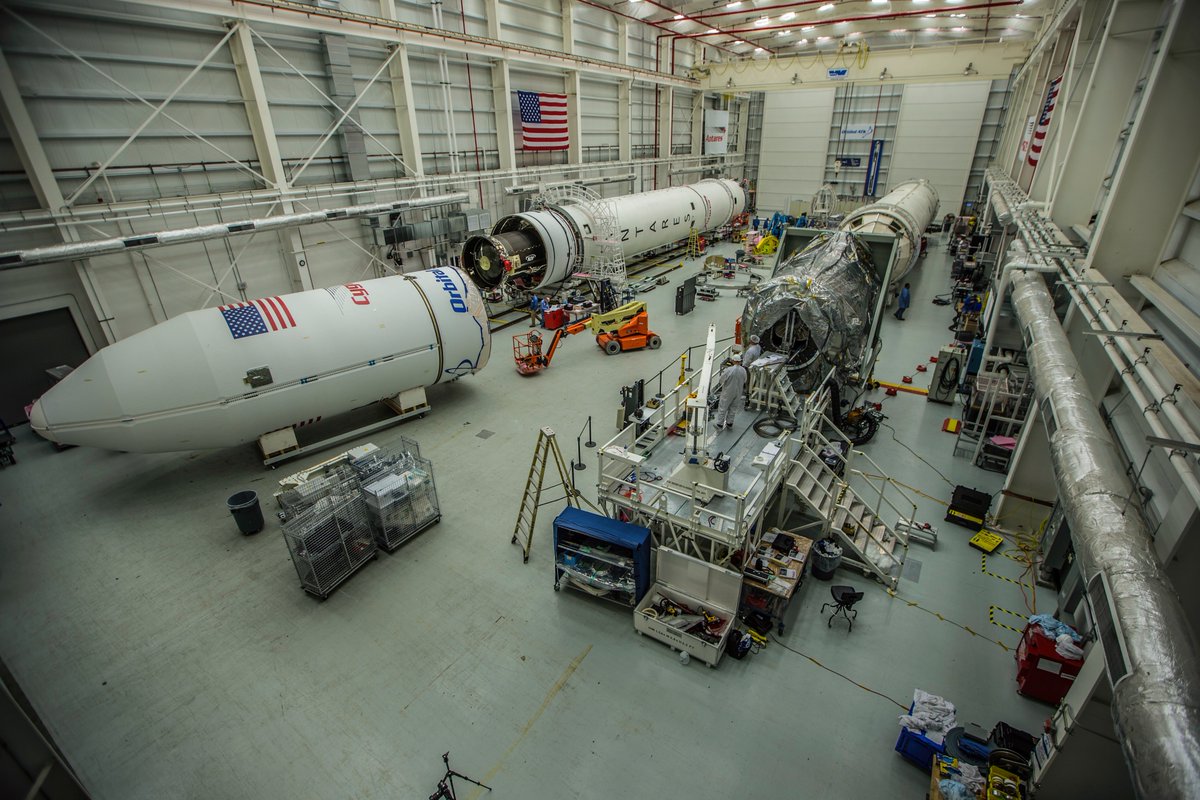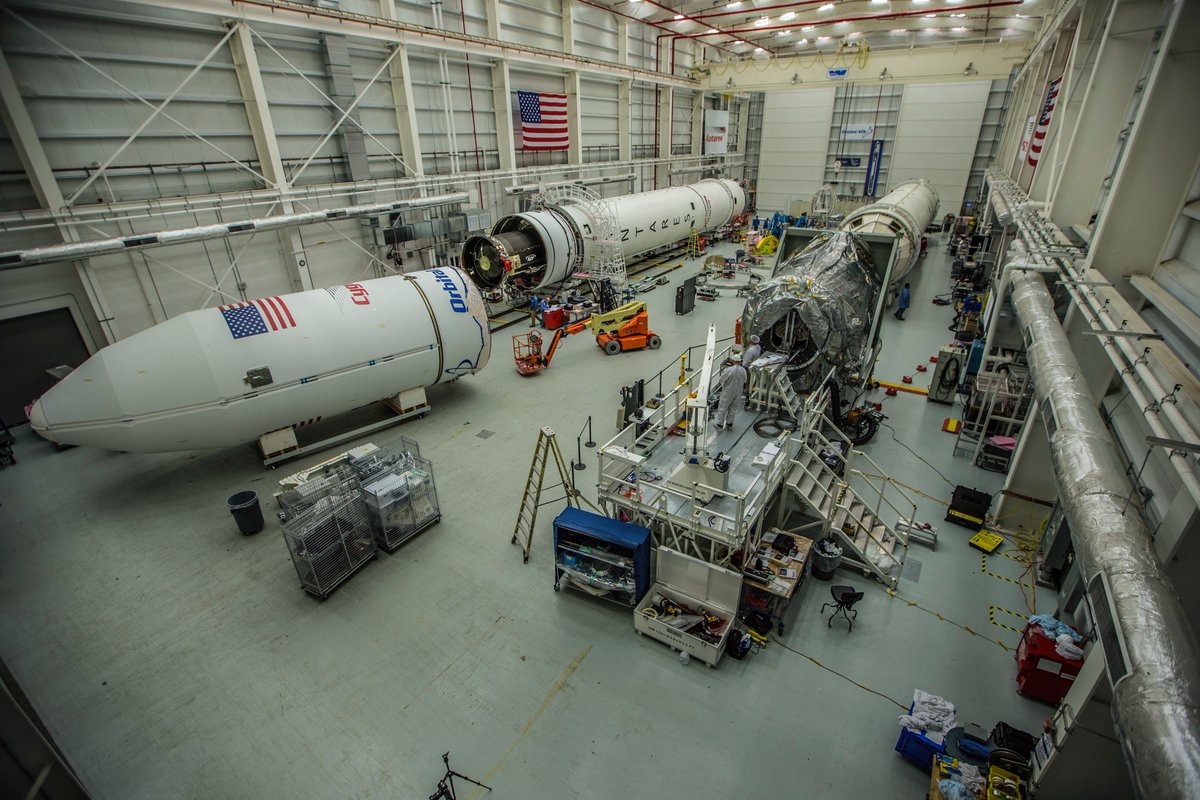 The debut launch of an upgraded version of Orbital ATK's Antares rocket has slipped to Friday after ground teams resolved a minor vehicle issue and made emergency preparations for Hurricane Matthew, which bypassed the Antares launch site on Virginia's Eastern Shore this weekend.
The two-stage booster, powered by new RD-181 engines from Russia, is set for blastoff from pad 0A at the Mid-Atlantic Regional Spaceport at 8:51 p.m. EDT Friday (0051 GMT Saturday), Orbital ATK said in an update Monday.
The launch was expected Thursday evening, but Orbital ATK said workers ran behind in preparations this weekend as technicians prepared to connect the Antares rocket with its payload, a Cygnus supply ship ferrying around 5,000 pounds of cargo to the International Space Station.
With the one-day slip, the Cygnus spaceship should reach the space station early Monday, instead of Sunday.
"The Antares and Cygnus team encountered and resolved a minor vehicle processing issue over the weekend which, together with time spent on contingency planning for Hurricane Matthew, necessitated the one-day slip," the statement said. "This updated schedule is still subject to the completion of all remaining pre-launch testing and operational activities, as well as acceptable weather conditions prior to and during launch operations."
The rocket is now set to roll out from its integration hangar at Wallops Island, Virginia, on Wednesday. The 133-foot-tall (40-meter) launcher will be lifted vertical on top of its launch mount after a one-mile journey from the Antares assembly building.
Forecasters were worried Hurricane Matthew would continue northeast up the U.S. East Coast after slamming Florida last week, but the storm dissipated and turned out to sea.
Ground crews finished loading all the cargo into the Cygnus spacecraft last week, and the schedule called for the supply freighter to be attached to the Antares rocket Sunday, followed by its encapsulation inside the Antares payload fairing.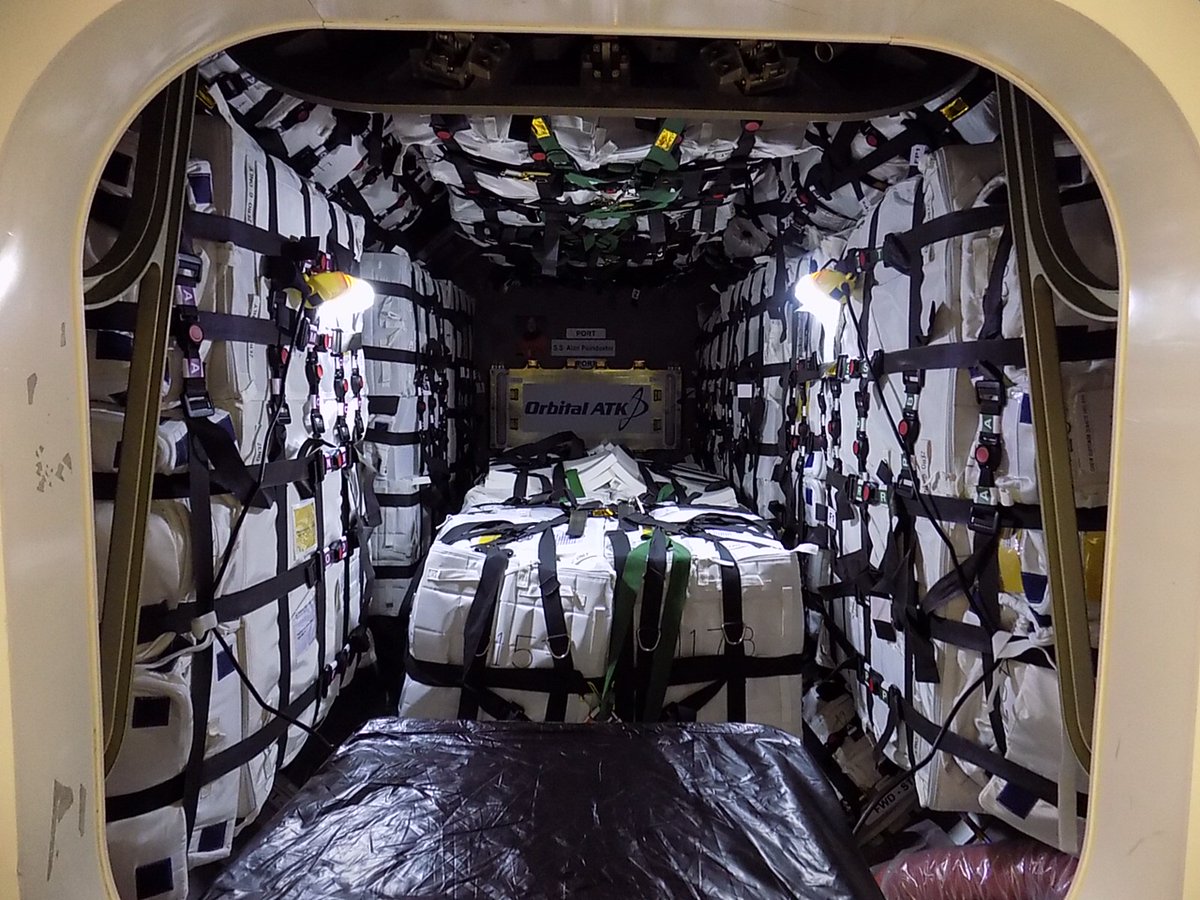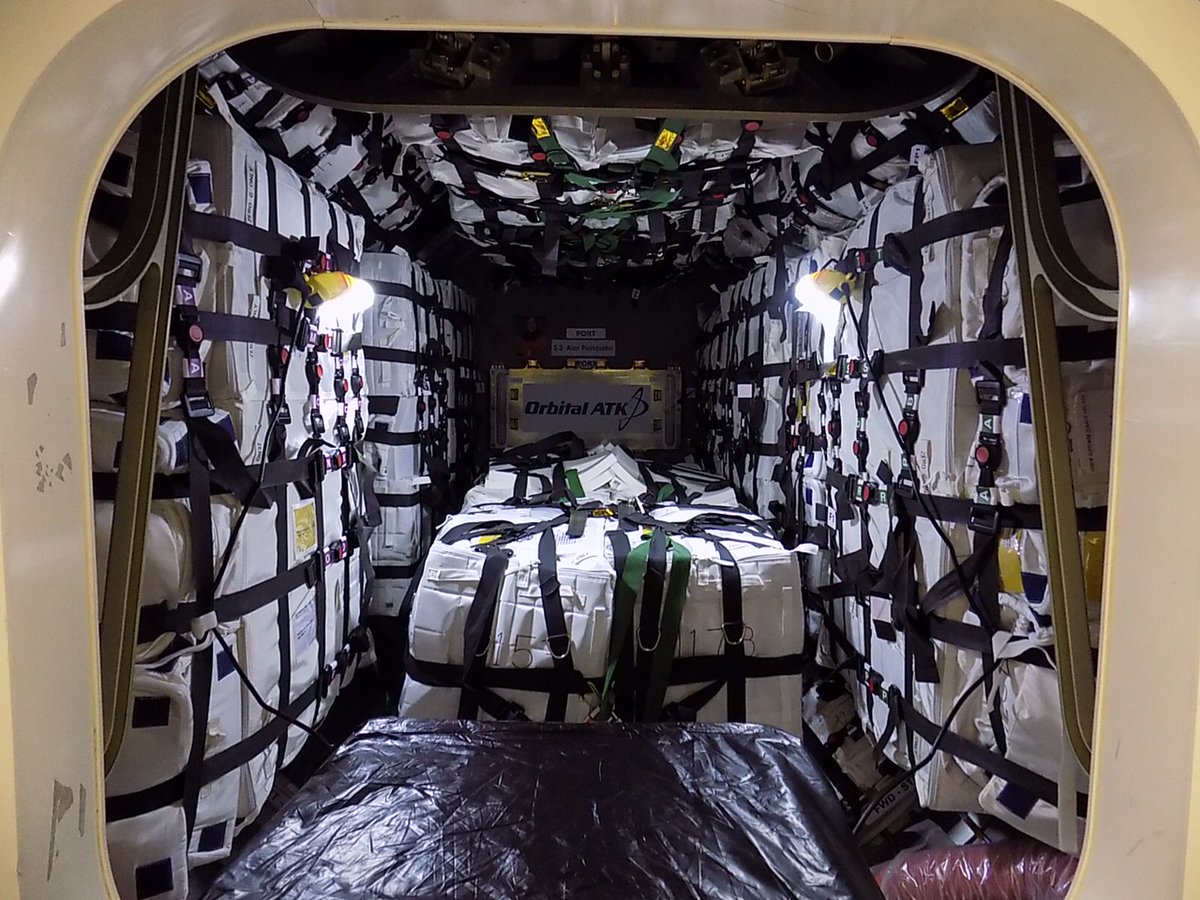 The upcoming flight will mark the maiden launch of the Antares 230 vehicle, a configuration that eliminates the use of AJ26 first stage engines, which Orbital ATK blamed for a fiery crash during the last Antares flight in October 2014.
Orbital ATK ordered newly-manufactured RD-181 engines from Russia's NPO Energomash, a rocket engine supplier for United Launch Alliance's Atlas 5 booster, to replace the AJ26 engines on the Antares first stage.
The AJ26 engines were built in the 1970s for the Soviet Union's N1 moon rocket. Once the Russian moon landing program was canceled, officials put the engines into storage until Aerojet Rocketdyne imported the powerplants to the United States in the 1990s, modified the engines to fly on U.S. rockets, then sold them to Orbital ATK — then known as Orbital Sciences — for the Antares launcher.
But the engines proved troublesome, with a failure on a ground test stand in May 2014 before causing the Antares rocket crash five months later.
Orbital ATK intended to move away from the AJ26 engine before the 2014 launch failure, but the accident accelerated the company's plans.
The RD-181 engine produces about the same level of thrust as the AJ26, burns the same mixture of RP-1 kerosene and liquid oxygen propellants, and is about the same size as the Antares rocket's previous propulsion system.
Besides the improvement in reliability expected by Orbital ATK, the RD-181 engines produce about 13 percent more thrust than the AJ26s, and they are more efficient.
"The combination of those two (improvements) give us a good 20 to 25 percent performance improvement to the orbit that we're flying to in low Earth orbit to inject the Cygnus for these cargo runs," said Kurt Eberly, Orbital ATK's deputy Antares program manager, in an interview with Spaceflight Now earlier this year.
The single-chamber RD-181 is similar to the dual-nozzle RD-180 engine flown on United Launch Alliance's Atlas 5, producing about the thrust of its larger cousin. NPO Energomash produces a nearly identical engine named the RD-191 for Russia's Angara rocket family.
Eberly said the new engines required a new type of thrust adapter, a structural component that mechanically connects the RD-181s to the first stage. Orbital ATK also built avionics systems for the engines, developing the new controllers in-house to replace the AJ26 controller sourced from an external supplier.
Orbital ATK has a multibillion-dollar contract with NASA to dispatch equipment, experiments and provisions to the space station. Friday's launch will start the sixth of at least 17 resupply missions under contract to Orbital ATK.
Quelle: SN
-
Update: 12.10.2016
.
Nighttime Launch of Private Cargo Ship Visible Along US East Coast on Sunday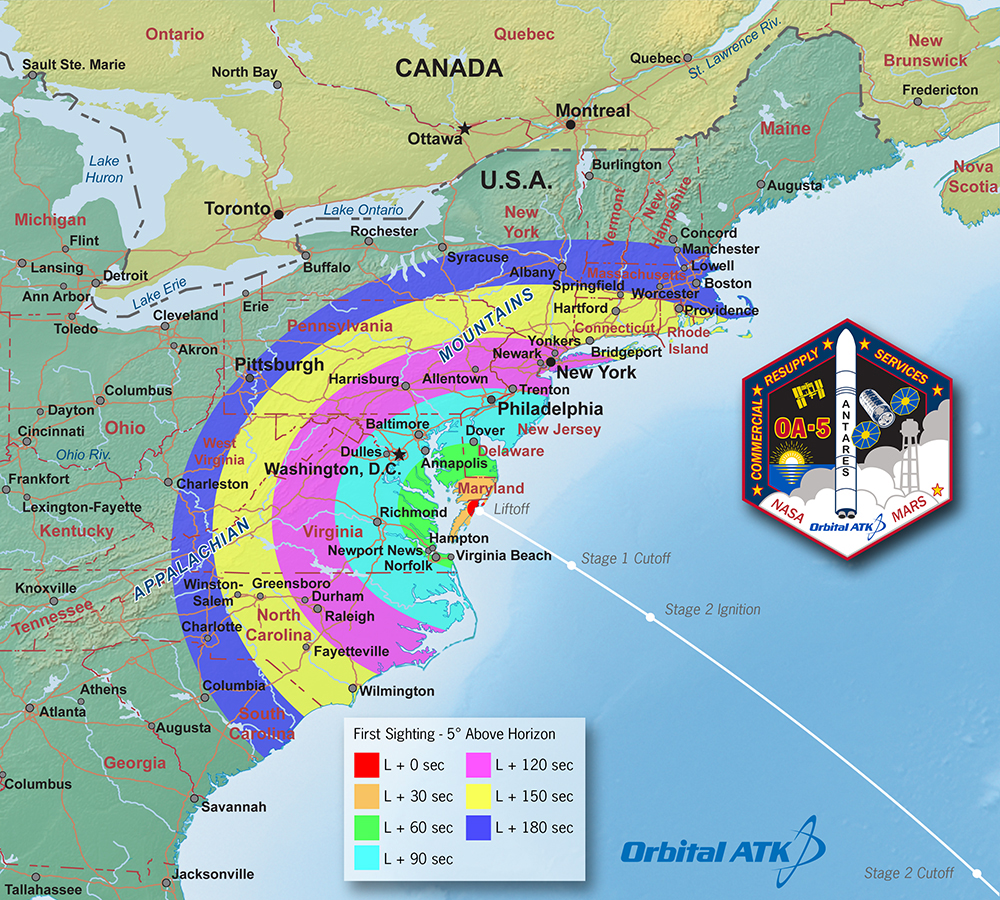 Update for 6 p.m. EDT: NASA and Orbtial ATK have delayed the Antares launch to no earlier than Sunday, Oct. 16 at 8:03 p.m. EDT (0003 Oct. 17 GMT) due to poor weather at a launch tracking site in Bermuda.
A private rocket launch from Virginia's Eastern Shore on Sunday night (Oct. 16) could be visible to potentially millions of skywatchers along the U.S. East Coast, weather permitting.
Observers who live near and along the Atlantic Seaboard, west to the Ohio Valley and the eastern Great Lakes have a great opportunity to see the launch. A two-stage Antares rocket developed by Orbital ATK will loft an uncrewed Cygnus cargo ship into orbit at 8:03 p.m. EDT on Sunday night. The rocket will launch from Pad 0A of the Mid-Atlantic Regional Spaceport (MARS) located on Wallops Island, Virginia.
This flight, called CRS OA-5, will be the seventh planned flight of the Orbital Sciences' uncrewed resupply spacecraft Cygnus and the vessel's sixth flight to the International Space Station (ISS) under a commercial resupply services contract with NASA. To reach the station, Antares must be launched when Earth's rotation carries the launch pad into the plane of the station's orbit. That comes at 8:03 p.m. EDT (0003 Oct. 17 GMT) on Sunday.
The launch flight path, h
5195 Views