As I move on after five and a half years on this tremendously important project, I am reflecting on our past accomplishments and our future at Space

port America.
I am very proud of the fact that we built a small city in the middle of nowhere, helped to shape the future of the commercial space industry, inspired thousands of young people to consider a career in engineering, science or math, commercialized a brand which has brought the State of New Mexico over $104 million in positive Earned Media in the past year – that means positive media exposure that we did not have to pay for – and are attracting and signing many new customers, resulting in increased economic development in New Mexico.
This year, we are covering 75 percent of our operational budget through revenue and, next year, we project that we will be covering 90 percent. This means we have almost reached our goal of being self-sustaining.
Spaceport America's strategic value proposition to the commercial space industry is our proximity to and close working relationship with the U.S. Army White Sands Missile Range, with its 6,000 square miles of protected airspace. Our remote and secure location provides aerospace companies a certain level of much-needed privacy to protect their proprietary technologies.
These attributes, paired with our extensive space launch experience, make Spaceport America a major player within the evolving commercial space industry.
As a founding member of the Commercial Spaceflight Federation, the commercial space industry association with over 70 leading members, Spaceport America has been instrumental over the past 10 years in shaping the future of commercial spaceflight law and regulation. I have also been a member of the FAA Commercial Space Transportation Advisory Committee for over four years.
Spaceport America's business development, aerospace and ground operations teams have worked tirelessly since our spaceport became operational in 2013 to take our offering to the market, and fill both our aerospace and non-aerospace business pipelines with new leads and opportunities.
We have conducted 28 launches to date and UP Aerospace, EXOS Aerospace Systems and Technologies, along with one other new customer, have planned six launches in the next few months.
We are also in discussions with three major companies for long-term flight testing; each requiring local support, technical services and construction. We are also very excited about the recent opportunity to partner with the U.S. Army White Sands Missile Range to assist with testing Boeing's Crew Space Transportation System at Spaceport America.
Last year, Spaceport America achieved another milestone – our first major motion picture was filmed when we turned part of the horizontal launch area into a Hollywood movie set that brought work to over 500 extras and hundreds of film professionals in New Mexico. "The Space Between Us" by STX Entertainment will premier in theaters across the country on December 21, 2016.
That same week, we were supporting an aerospace customer flight test campaign, while welcoming tourists from countries as far away as the UK and Australia – all part of a day in the life of our commercial spaceport.
Stay tuned for an announcement about four new very exciting recurring Annual Spaceport America Signature Events starting this fall, each bringing in hundreds of participants and attendees requiring services from hotel accommodations to food and equipment rentals.
We will have our third Public Open House Oct. 1 – free to the public. Registration will open Sept. 1. Please come.
One of our favorite activities is hosting students at Spaceport America – the seed corn of our future. We conducted sessions with over 2,000 6th-grade students last school year and will begin again in September. All free.
So, the next time you read an article or hear someone say something that gives you the impression that Spaceport America is not doing well or isn't taking the lead in the commercial space industry, don't believe it! And, if you are not getting our News bursts, please sign up on our website spaceportamerica.com/newsbursts so you can keep up to date on all of our happenings.
I am looking forward to watching the spaceport continue to grow and thrive. I have appreciated your support for our spaceport. Spaceport America is a real game-changer for New Mexico.
Quelle: Albuquerque Journal
---
Update: 1.11.2017
.
Great news that spaceport road work to begin
It is great news that the county has selected a contractor who will soon begin construction of the southern road to Spaceport America.
The project has been delayed for years by a lengthy BLM review, squabbling between Sierra and Doña Ana counties and funding shortages. Without it, visitors have to drive north all the way to Truth or Consequences, and then head back down southeast.
In past years, the Spaceport Authority had dipped into the road fund to pay for operations. Even now, the $13 million to $13.6 million that the Spaceport Authority says it has available is less than the $15.2 million originally projected for the cost of the road.
Interim County Manager Chuck McMahon said they would seek additional funding from the state to build the road as originally intended. But even if the state declines that request, they will still be able to complete the project with the money on hand, with a smaller base course for the roadway foundation.
The County Commission voted 4-1 to move ahead with the project. The lone "no" vote by County Commission member John Vasquez not to spend money already appropriated for this project makes no sense.
To be clear, no additional county money was approved with Tuesday's vote. Vasquez voted against spending money that had already been appropriated by the state.
"I don't know what we're doing up there, other than sending up rockets like we've always been doing from White Sands air space," Vasquez admitted in explaining his no vote. If the commissioner honestly doesn't understand the difference between WSMR and the spaceport, he needs to educate himself before the next vote comes up.
The southern road has always been a critical component for Las Cruces and Doña Ana County to be able to gain the full economic advantages of the spaceport. Delays in getting it built have coincided with delays in Virgin Galactic's development of the spaceships it will use to blast passengers into sub-orbital space from the spaceport.
But that process is coming to a conclusion. Speaking earlier this month at the Symposium for Personal and Commercial Spaceflight, Virgin Galactic Vice President Mike Moses said they "hope to be in space by the end of this year," though he added that they would launch until ready.
Once Virigin Galactic begins regular launches, wealthy space tourists will be coming to southern New Mexico to be among the first to have that experience. If there is a southern road in place, those wealthy tourists will most likely be staying in Las Cruces, eating in our restaurants and browsing in our shops. If the southern road is not in place, they will more likely be staying in Albuquerque, eating in their restaurants and browsing in their shops.
Quelle: Las Cruces Sun News
---
Update: 9.11.2017
.
'We know you've waited a long time,' Virgin Galactic says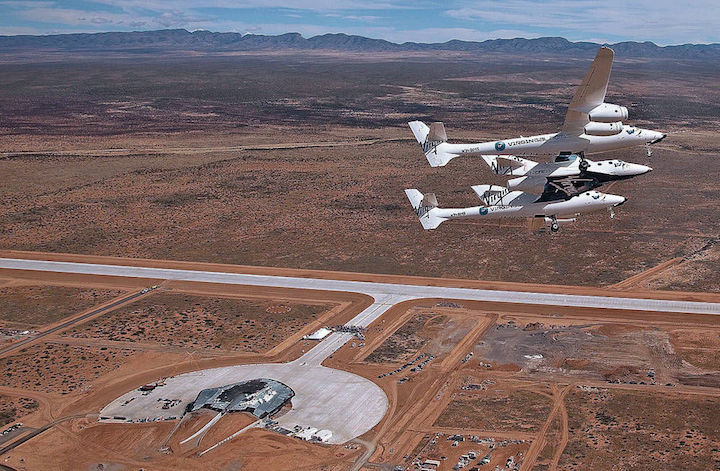 Officials from the company at the center of Spaceport America's hopes for success say they are getting ready for a 'big move,' with plans to base an additional 85 employees in the Las Cruces area over the next year. Courtesy photo
-
Virgin Galactic says to be patient, New Mexico. It is coming.
Officials from the company at the center of Spaceport America's hopes for success say they are getting ready for a "big move," with plans to base an additional 85 employees in the Las Cruces area over the next year.
With Virgin Galactic's leaders talking of starting full passenger spaceflight operations by the end of 2018, boosters of the publicly financed $220 million facility and even skeptical policymakers are hoping that New Mexico's bet on the commercial space industry will soon begin to pay off.
Spaceport America opened in late 2011, sold as a destination for wealthy adventurers willing to pay $250,000 for a ride into the heavens on Virgin Galactic's private spacecraft.
While the facility has been host to several dozen rocket launches since it opened, tourists are not taking flight from the facility yet, six years later. Much of Virgin Galactic's work remains concentrated at another spaceport in California's Mojave Desert. And while the spaceflight industry is growing, the focus has shifted from sending tourists into space toward research and other commercial missions, particularly now that NASA has ended its shuttle program.
Critics argue Spaceport America is a boondoggle. Shoppers in Doña Ana and Sierra counties still pay a special gross receipts tax on their purchases to help cover the cost of building the futuristic facility.
Meanwhile, plans to launch spacecraft from the site continue to move along.
Virgin Galactic's plans have suffered setbacks, particularly with the crash of a test flight over California in 2014 that killed a co-pilot.
And as recently as last month, Virgin Galactic's president said the company's billionaire founder, Richard Branson, won't be headed to space in the next six months despite his proclamation that he would be "very disappointed" otherwise.
Earlier this year, Branson told a conference in Hong Kong that Virgin Galactic was resuming test flights and aimed to launch full commercial passenger operations by the end of 2018.
"We think we're at the beginning of a very exciting period," Richard Dalbello, vice president of business development and government affairs at Virgin Galactic, told a legislative committee in Santa Fe on Wednesday. "We know you've waited a long time and we are coming."
Dalbello said the company's next steps are to continue testing of its SpaceShip Two vehicles in California, move staff to New Mexico and complete testing of the crafts here.
The SpaceShip Two is designed to carry people and cargo into suborbital space and back, with a crew of two pilots and up to six fare-paying astronauts or payloads for research. Another craft, the WhiteKnight Two, would carry the vehicle part of the way. The company has been testing the two together. The company also has tested SpaceShip Two gliding without an engine.
Space.com reported in October that Mike Moses, president of Virgin Galactic, said the company aims to get SpaceShip Two vehicles up to 50 miles above Earth's surface in the coming months.
Meanwhile, Virgin Galactic says it has added 10 full-time employees in New Mexico since this time last year and will have 30 full-time staff in the state by the end of 2017. If tests go according to plan, Dalbello said, another 85 employees will move to the Las Cruces area over the next year.
Local authorities are moving ahead with long-stalled plans to improve a road running south from Spaceport America through the desert toward Las Cruces. The road would make it easier to reach the facility from the south, without the need to drive over from Truth or Consequences. But that has worried some in Sierra County, who have been concerned they might be cut out of business drawn by the Spaceport.
The Spaceport Authority, the state agency that operates the facility, approved a budget request for the next year of about $1 million from the general fund, up $375,000 from this year with an eye toward more aggressively recruiting business to the site.
That might seem like a tough sell when the state's budget is still tight and lawmakers face pressure from constituents who view the project as a waste of money. Legislators on both sides of the aisle seem eager to see it take off.
"I think everyone here wants it up and running," Sen. Mark Moores, a Republican from Albuquerque, told Dalbello.