.
17.06.2015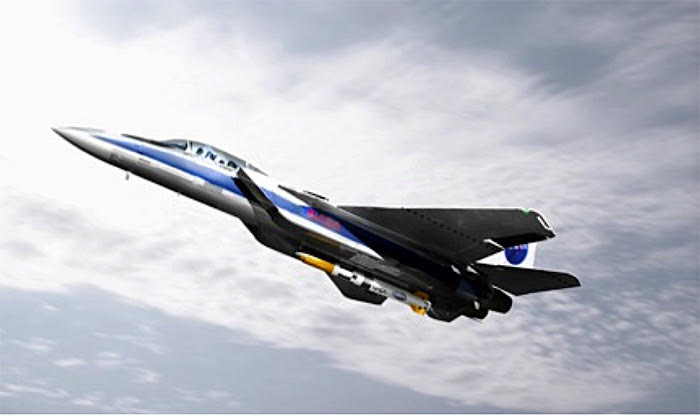 Artist concept depicts SALVO Cubesat launcher on belly of F-15. The liquid oxygen/kerosene powered rocket may already have begun secret launches off Cape Canaveral. Image Credit: DARPA
-
The Defense Advanced Research Projects Agency (DARPA) and the U.S. Air Force are poised to begin the Cape Canaveral launch of Cubesats on a new advanced technology rocket called SALVO, for Small Air Launch Vehicle to Orbit. SALVO launchers will be carried aloft for release from an Air Force F-15E fighter jet flying over the U.S Eastern Test Range.
It is possible that the actual launch to orbit of Cubesat spacecraft on SALVO rockets has already begun in secret to counter electronic and infrared intelligence gathering by Russia and China. The flight of a SALVO test article on a F-15 fighter actually began months ago, and likely involved earlier flights over the Eastern Range to checkout telemetry links.
.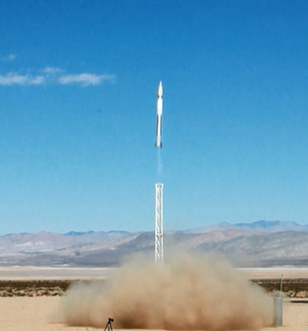 Ventions has launched sounding rockets to test SALVO electronics inexpensively. Image Credit Ventions LLC
.
The future air launch of increasingly capable small spacecraft and Cubesats will be especially important as the USAF moves to smaller, more survivable satellites instead of more vulnerable multi-ton spacecraft. The U.S. decades ago developed the F-117 Stealth fighter and the B-2 Stealth bomber, and now programs like SALVO and its ALASA follow on could also give the U.S. a "Stealth Launch Vehicle" capability.
The Orbital ATK Pegasus air launched rocket could be especially important in this Defense Dept. shift, but it is a large and easily detected rocket system requiring significant infrastructure, compared with future smaller air launched systems.
Neither DARPA, the Air Force nor the project's prime contractor, Ventions LLC of San Francisco, will discuss SALVO at this time – although in the past they have described it as a two stage system using liquid oxygen and kerosene propellants driven by cutting edge miniature electric turbo pumps.
Each SALVO rocket will be loaded onboard its twin seat F-15 at Eglin AFB, located on Florida's panhandle. Once fueled, it will be flown within a safety corridor across the state directly out over the Atlantic for launch down the highly instrumented Eastern Range.
SALVO can only launch a single 11-pound, three unit (3U) Cubesat at a time, and is designed initially to be only a three-flight operational pathfinder for the larger DARPA/Boeing Airborne Launch Assist Space Access rocket called ALASA.
ALASA is planned to launch 12 times also from an F-15 flying over the Eastern Range. The Boeing system is planned to carry a 100 lb. load of Cubesats or small satellites for just $1 million per flight.
ALASA is to be first launched in late 2015 without a payload, then launched on Cubesat missions starting by mid 2016. It will be powered by high energy monopropellant made up of nitrous oxide (aka laughing gas) and acetylene mixed together in the same tank, a key design aspect.
The two DARPA air launched programs could help spawn new commercial air launch ventures like one being developed by Generation Orbit with its GOLauncher 1 & 2 programs, which are set for first launch in 2017 from a Gulfstream business jet.
These will be able to compete in future NASA programs like the just issued NASA's Launch Services Program Request for Proposals (RFP) for new commercial Venture Class Launch Services (VCLS) for small satellites. The deadline for a response to the RFP is July 13, 2015.
NASA plans to award one or more firm fixed-price VCLS contracts to accommodate 132 pounds (60 kilograms) of CubeSats in a single launch or two launches carrying 66 pounds (30 kilograms) each. The launch provider will determine the launch location and date, but the launch must occur by April 15, 2018.
.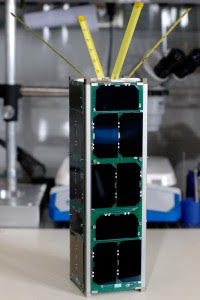 SALVO can launch 3U Cubesats like the Radio Aurora Explorer developed earlier by the University of Michigan and Southwest Research Institute. Photo Credit SRI
.
"This solicitation, and resulting contract or contracts, is intended to demonstrate a dedicated launch capability for smaller payloads that NASA anticipates it will require on a recurring basis for future science and CubeSat missions," the agency said.
"This will start to open up viable commercial opportunities," said Mark Wiese, chief of the flight projects office for the NASA Launch Services Program. "We [NASA KSC] hope to be one of the first customers for these companies, and once we get going, the regular launches will drive the costs down for everyone."
It is most likely this initial Cubesat launcher contract will be won by one of several traditional ground launch systems like those under development by the Texas based Firefly Space Systems rocket, the New Zealand based Rocket Lab Electron launch vehicle or other U.S. competitors.
Air launched systems, although initially carrying a smaller payload mass, would be especially important to the U.S. Defense Dept. because they can be launched from literally anywhere on Earth with minimal detection aloft or by ground infrastructure.
This is especially important now that China's ASAT anti satellite programs threaten large U.S. satellites. Launching the same type capabilities on multiple distributed satellites makes them harder to destroy and easier to reconstitute according to USAF Gen. John E. Hyten, who leads Air Force Space Command.
Although prime contractor personnel at Ventions declined to discuss the SALVO rocket the company's limited website does cite milestones toward its first SALVO flight, baselined for the current spring 2015 timeframe. The milestones are:
June 2015 – Completed acceptance testing of SALVO 1st stage engines.
April 2015 – Ventions begins cold-flow fill / drain and pressurization tests of SALVO 1st stage.
October 2014 – Ventions ships SALVO test article to Eglin AFB for integration and flight testing with F-15.
July 2014 – Completes aircraft form and fit checks of F-15 aircraft at Eglin AFB.
June 2014 – Completes initial qualification testing of flight-ready injectors for SALVO's upper stage engine and tests SALVO first stage engine in pump-fed configuration at Merced, Calif. test site.
April 2014 – Ventions tests thrust vector control gimbal for SALVO first stage engines at Merced test site. The company also tests 2nd generation of 1,000lbf regeneratively-cooled, LOX-RP1 engines for SALVO flight vehicle at Merced test site.
February 2014 – Ventions completes 1,000lbf injector screening tests for SALVO flight vehicle at Merced test site.
August 2013 – Ventions initiates hot-fire testing of SALVO injectors and engines using new test cell at Castle Airport in Merced County, CA.
March 2013 – Ventions hot-fire tests regeneratively-cooled engines in the 75lbf and 800lbf thrust-classes for launch vehicle applications under SALVO program.
February 2013 – Ventions hot-fire tests 75lbf and 800lbf LOX / RP-1 engine injectors for SALVO launch vehicle applications.
.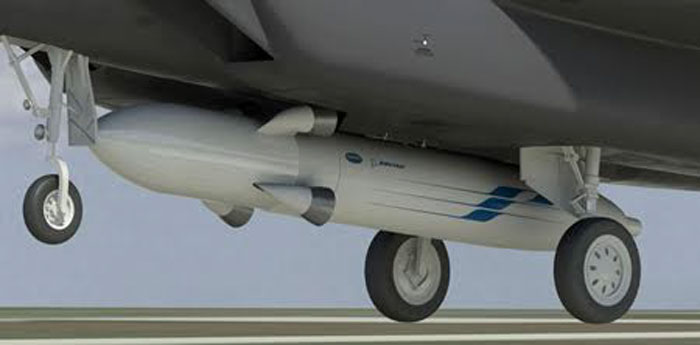 The ALASA air launched rocket follow on to SALVO is depicted under F-15. Note four rocket engine nozzles that power both the first and then second stage after first stage propellant tank separates. Photo Credit DARPA.
.
While DARPA is entering the SALVO flight test phase, Boeing is completing design details on the 24 ft. long ALASA air launched rocket toward an initial flight late this year.
It uses a unique design placing its four main engines at the front end of its first stage propellant tank.
That will enable the same engines used in the first stage to also power the second stage, after the first stage propellant tank is depleted and separated. A third stage with four smaller engines would complete the injection into low-Earth orbit
Quelle: AS
-
Update: 1.12.2015
.
DARPA Scraps Plan To Launch Small Sats from F-15 Fighter Jet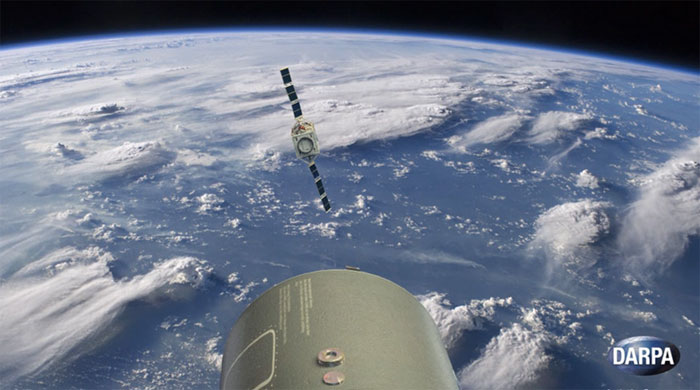 DARPA is hoping it can take elements of its ALASA program, shown in the rendering above, to industry to improve how quickly the military can launch small satellites into low earth orbit. Credit: DARPA
WASHINGTON – The U.S. Defense Advanced Research Projects Agency has scrapped plans to launch small satellites from a modified F-15 fighter jet after two tests of a new rocket fuel ended in explosions this year.
Instead DARPA will spend the next year studying how to harness the volatile nitrous oxide-acetylene propellant and, in parallel, modifications to existing small rockets that would enable the agency place small satellites on orbit on 24 hours notice at a cost of less than $1 million.
In March 2014, Boeing Defense Space and Security of Huntington Beach, California, won a contract potentially worth $104 million to build and demonstrate the Airborne Launch Assist Space Access (ALASA) system. The program was intended to demonstrate the capability to launch up to 45 kilograms of payload into low Earth orbit on short notice for as little as $1 million.
ALASA is one of a number of DARPA efforts to reduce the cost and turnaround time for launching national security satellites.
Boeing's design featured a small expendable rocket launching from underneath a modified combat aircraft that would take off from a standard airport runway. Such a system would allow the Defense Department to launch from almost anywhere, DARPA said.
"The magic" in Boeing's design, as DARPA officials described it, was the powerful nitrous oxide-acetylene propellant, also known as NA-7. The propellant would be "pre-mixed" to reduce the plumbing needed on the rocket, enabling it to carry more payload.
Boeing led two subsystem tests in Promontory, Utah – one in August and one in April – aimed at learning how the pre-mixed propellant reacted to different temperatures, pressures and atmospheric conditions. In both tests, the propellant exploded.
"It did not go as predicted," Brad Tousley, director of DARPA's tactical technology office, said in a Nov. 23 interview.
The "finicky" nature of the propellant led DARPA officials to believe it is too risky to store on piloted aircraft, Tousley said.
As a result, DARPA has abandoned plans, described in the agency's 2016 budget request, to conduct as many as a dozen ALASA test flights during the upcoming year.
"From a performance standpoint it's still great but from a safety standpoint you have to work that out," Tousley said. "As of present, we've stopped planning for any launches."
The NA-7 propellant represents a classic problem for an agency whose mission is to pursue high-risk, high-payoff technologies for the Pentagon. These development efforts are taken on with the understanding that many, if not most, will fail.
Boeing, subcontractor Orbital ATK of Dulles, Virginia, and DARPA nonetheless plan to continue developing the technology. A third propellant test is imminent.
"We hope to make it work," said Pam Melroy, deputy director of DARPA's tactical technology office. "Is all the proper handling of this affordable, reasonable operationally, especially under a manned aircraft? Maybe it turns out it's better suited for a ground-launch mission."
Additional tests also could help determine whether the propellant can be stored affordably, DARPA officials said.
Cheryl Sampson, a Boeing spokeswoman, said company executives were not available for an interview. In a Nov. 24 email, she said Boeing "has demonstrated and established procedures to mix, store, and transfer a significant amount of the nitrous oxide acetylene monopropellant safely and reliably. Each test in the plan assists us in gaining valuable information to assess the viability of the mix for use as a safe monopropellant."
DARPA has begun studying ways to apply ALASA technologies, including an autonomous flight termination system and improved ground-to-rocket communications, to its goal of fielding a launcher able to deploy small satellites for less than $1 million on 24 hours' notice.
One area to be examined is how DARPA might work with one or more of the companies that have emerged in recent years with plans to dramatically reduce the cost of launching small satellites.
"If the commercial small sat launch market can show rapid turnaround and affordable price points to orbit and we get a payload up on one of them, that might validate the goals of the program," Tousley said.
ALASA is the latest in a series of DARPA efforts to develop low-cost, responsive satellite launchers to run aground. Others include the Responsive Access Small Cargo Affordable Launch and Force Application and Launch from Continental United States programs, neither of which made it to flight testing.
The agency continues to fund the Experimental Spaceplane-1, or XS-1, program aimed at developing a reusable first stage for a small satellite launcher that would have an expendable upper stage. Boeing, Masten Space Systems and Northrop Grumman studying concepts under that program.
Quelle: SN
4484 Views