.
8.03.2014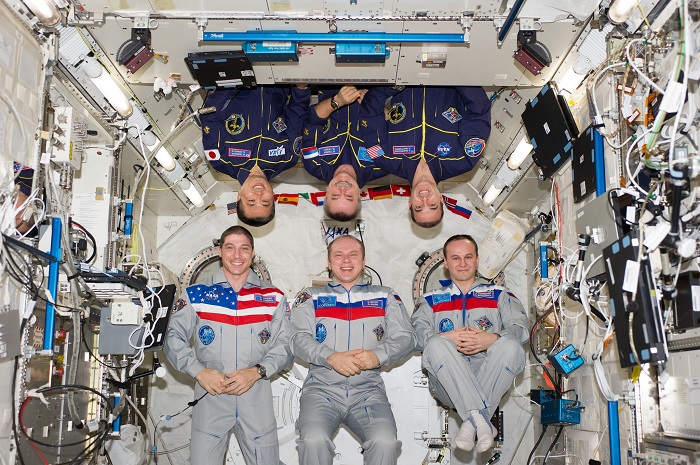 .
As diplomatic tensions flare over Russia's armed incursion into Ukraine, preparations for Monday's landing of two Russian cosmonauts and an American astronaut continue unabated as recovery crews converge on the Kazakhstan touchdown zone.
Nearly two dozen NASA officials and medical personnel are on the way to Kazakhstan to greet the three-man crew, led by veteran Russian commander Oleg Kotov, a native of the Crimea region at the center of a standoff between Russian forces and the Ukrainian government.
The NASA team joins the Russian-led recovery crew, which consists of a fleet of helicopters, fixed-wing surveillance aircraft, and all-terrain ground vehicles to quickly reach the Soyuz capsule after it parachutes to Earth.
Speaking in a conference call with reporters this week, NASA Administrator Charles Bolden said the space station program has been resilient to international crises since Russian formally joined the effort in 1993.
"I think people lose track of the fact that we have occupied the International Space Station now for 13 consecutive years uninterrupted, and that has been through multiple international crises," Bolden said. "I don't think it's an insignificant fact that we are starting to see a number of people with the idea that the International Space Station be nominated for the Nobel Peace Prize. It's not trivial."
Kotov will be accompanied by Russian cosmonaut Sergey Ryazanskiy and NASA astronaut Michael Hopkins, who are in the final weekend of a 166-day mission aboard the International Space Station.
The trio launched Sept. 25 from the Baikonur Cosmodrome in Kazakhstan and arrived at the 450-ton orbiting outpost six hours later.
Part of the space station's Expedition 37 and 38 crews, Kotov, Ryazanskiy and Hopkins presided over the arrivals and departures of Russian Progress resupply ships, Japanese and European cargo freighters, and two commercial logistics missions flown by Orbital Sciences Corp.
Kotov and Ryazanskiy teamed up for three spacewalks, including a Nov. 9 excursion with the Olympic torch in a high-flying photo opportunity ahead of Russia's Sochi games.
Hopkins logged two spacewalks with NASA astronaut Richard Mastracchio in December to replace a balky ammonia coolant pump on the space station's truss backbone.
In the last few days, the three-man crew completed fit checks with their Sokol re-entry spacesuits and a descent drill to practice procedures for the Soyuz spacecraft's undocking and landing.
Kotov and Ryazanskiy also tested the Soyuz spacecraft's motion control and navigation systems Friday.
The crew will enter their Soyuz TMA-10M capsule again Monday and close hatches between the spacecraft and the space station's Poisk module around 2045 GMT (4:45 p.m. EDT).
Undocking is set for 0002 GMT Tuesday (8:02 p.m. EDT), followed by a burn of the Soyuz rocket thrusters at 0230 GMT (10:30 p.m. EDT) to slow the craft's velocity enough to fall back into the atmosphere.
The spacecraft's propulsion and orbital habitation modules will jettison from the landing section, where the three-man crew will be positioned for re-entry, at 0258 GMT (10:58 p.m. EDT).
Touchdown southeast of the town of Dzhezkazgan in Kazakhstan is scheduled for 0324 GMT (11:24 p.m. EDT), or 9:24 a.m. Tuesday at the landing site.
Astronaut Koichi Wakata will take over command of the space station from Kotov, becoming the first Japanese astronaut to lead a crew aboard the complex.
Wakata, Mastracchio and Russian cosmonaut Mikhail Tyurin, set for return to Earth in mid-May, will be joined by three fresh residents March 25 to boost the station's crew complement back to six.
Veteran shuttle astronaut Steven Swanson and Russian cosmonauts Alexander Skvortsov and Oleg Artemyev will begin another six-month rotation on the space station.
Quelle: SN
.
Update: 10.03.2014
.
Frams: NASA-TV LIVE
.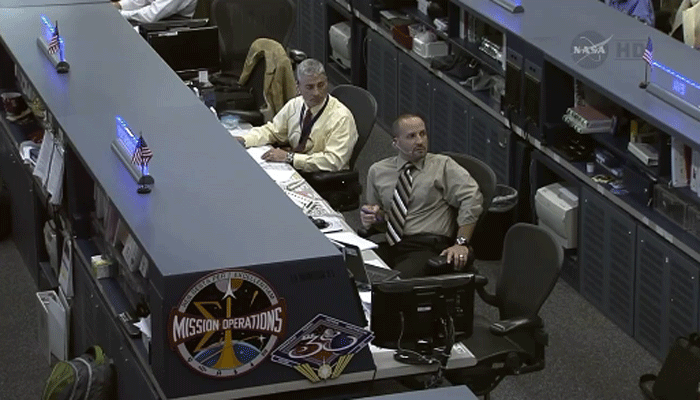 .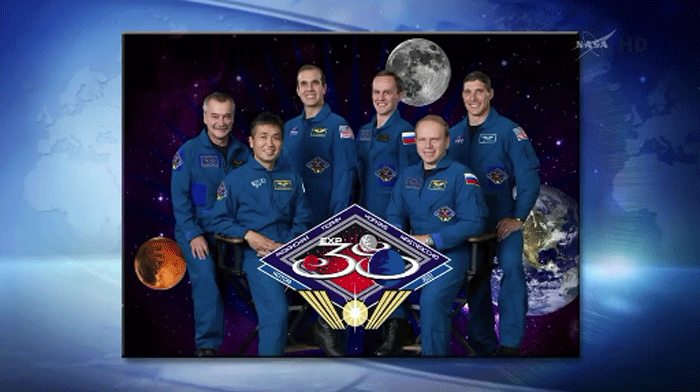 .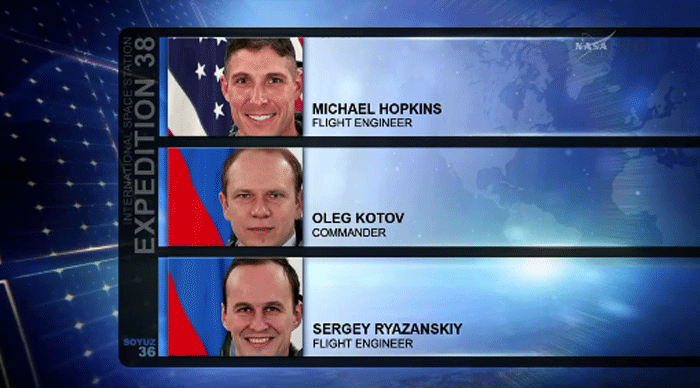 .
.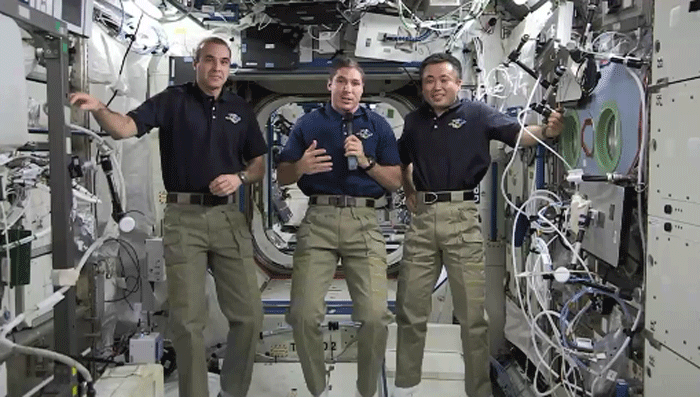 .
.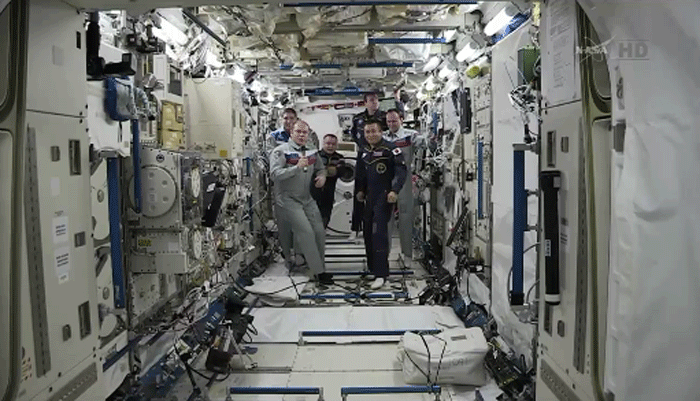 ...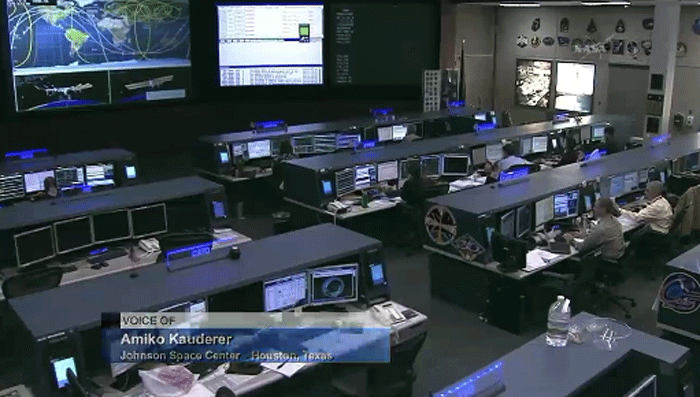 .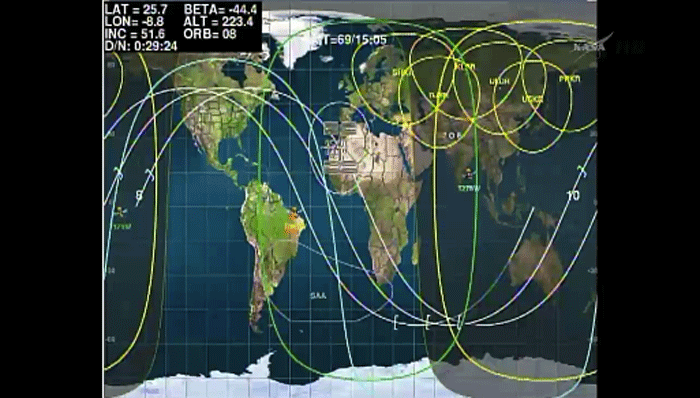 ...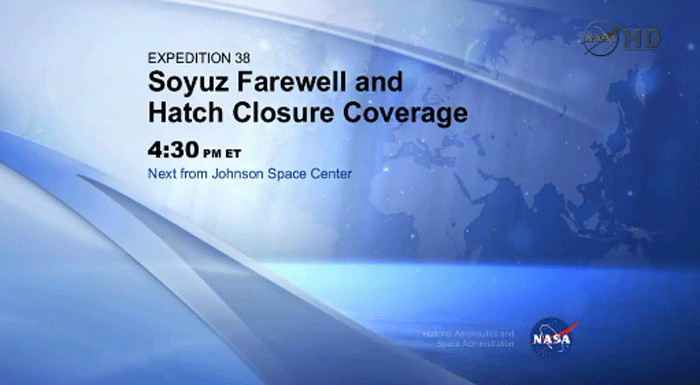 .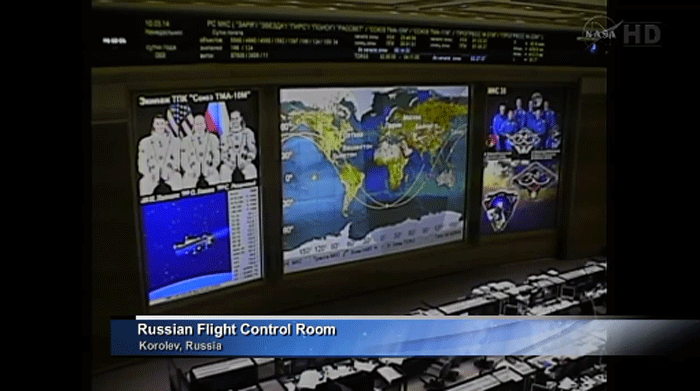 .
...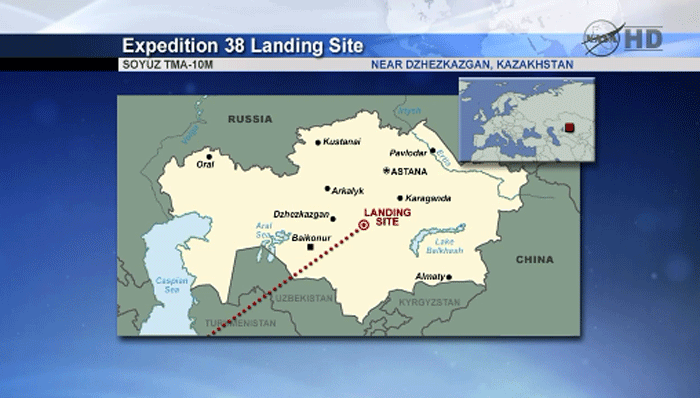 .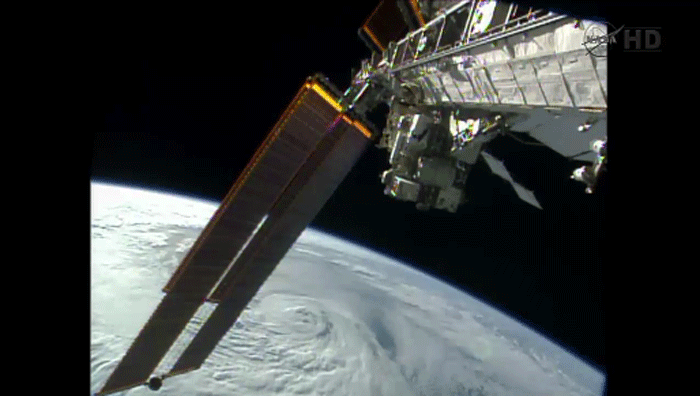 .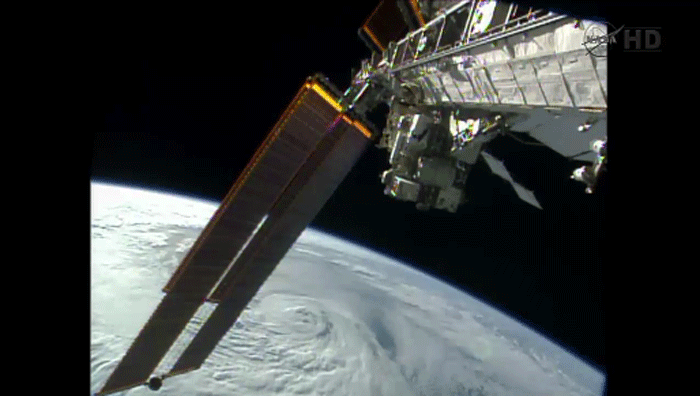 ...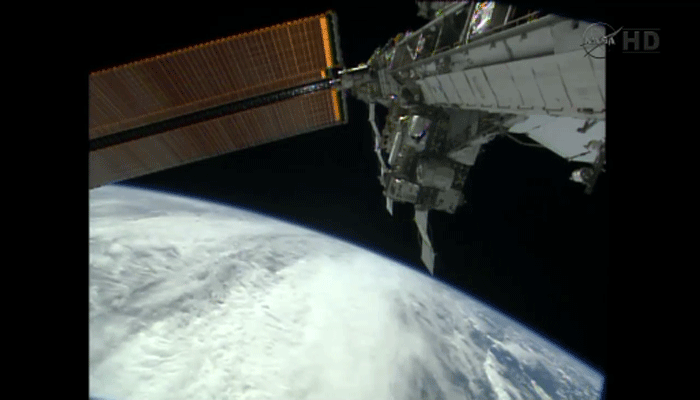 .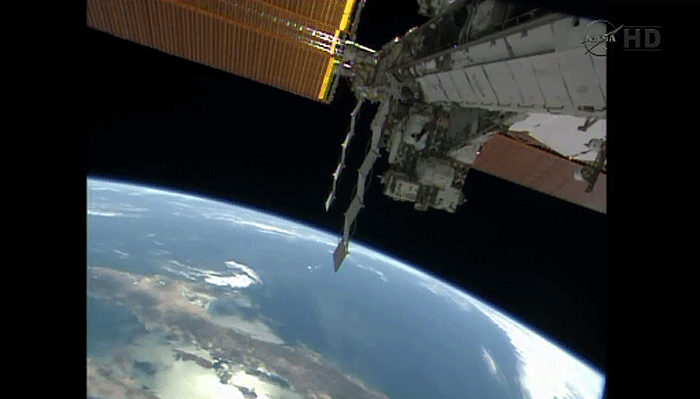 .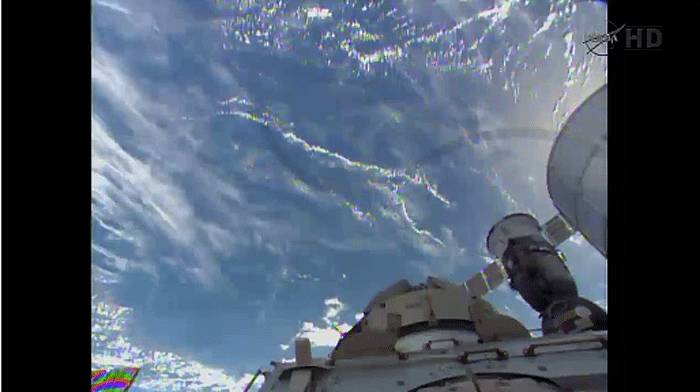 .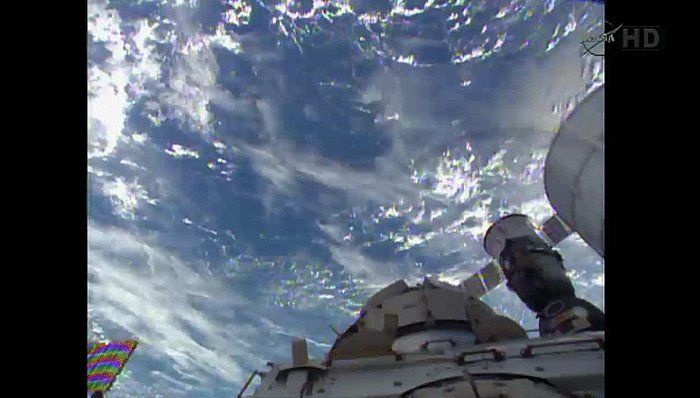 .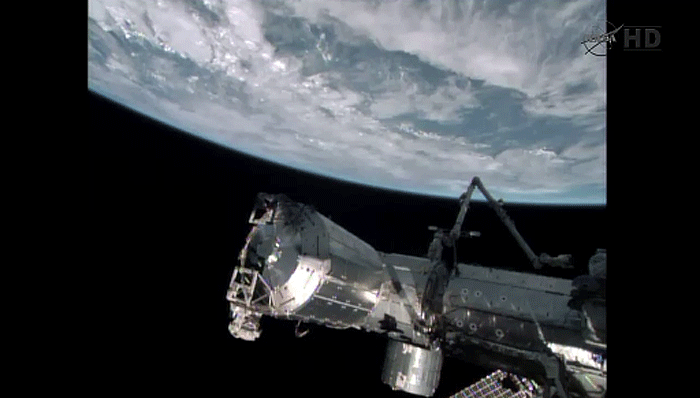 ...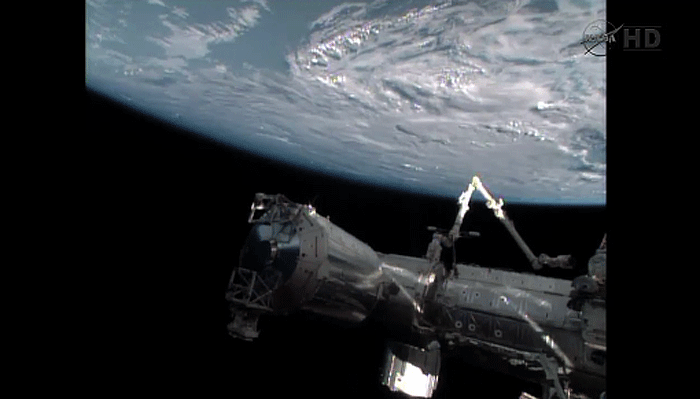 .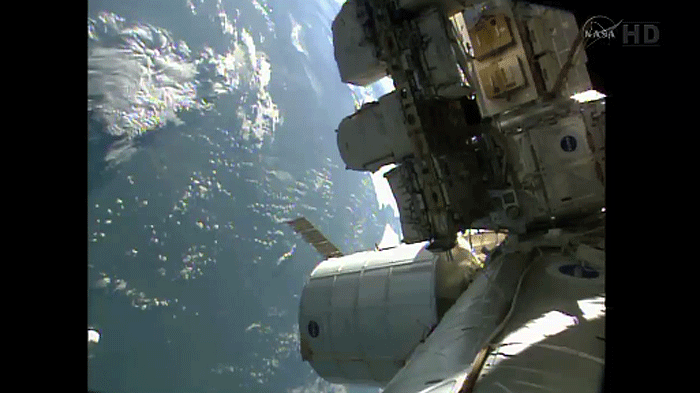 ...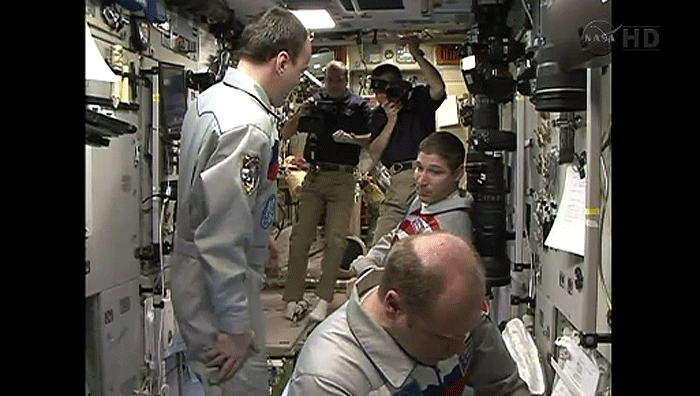 .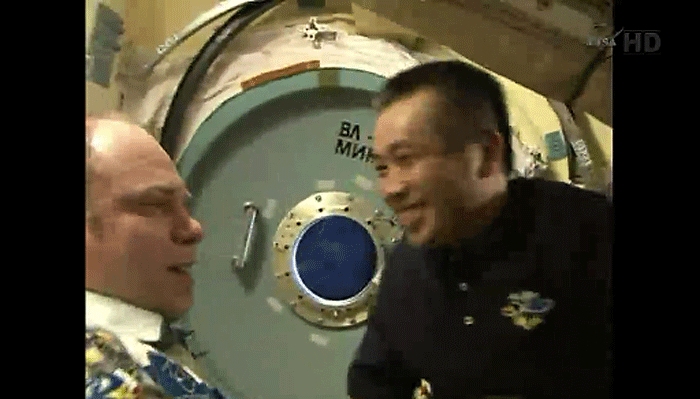 .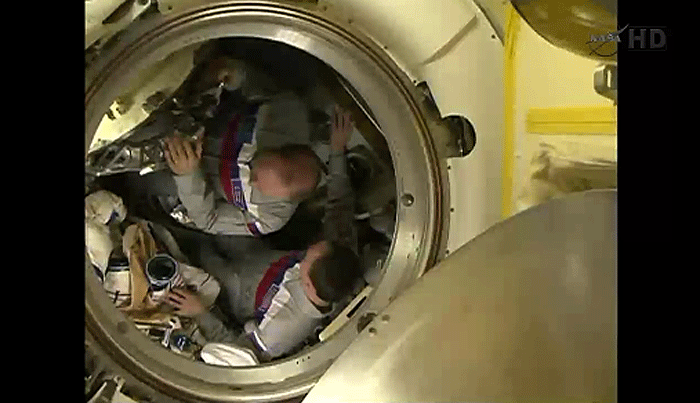 .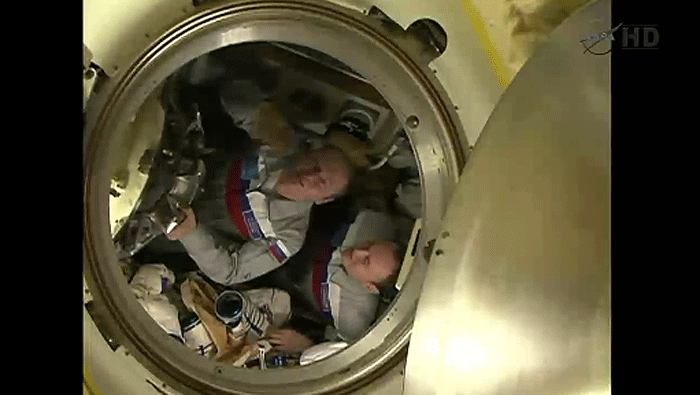 .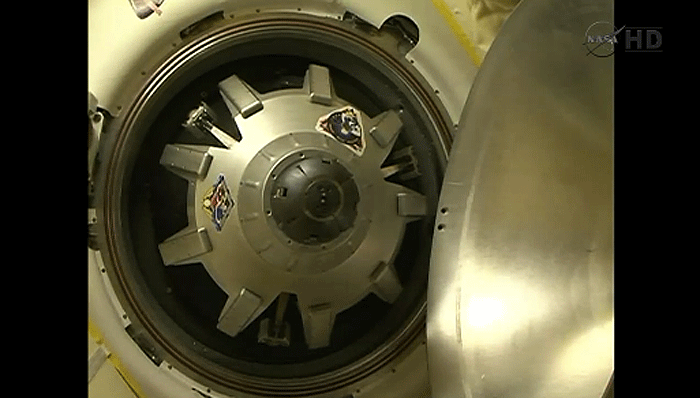 ...
Update: 11.03.2014
.
Expedition 38 Undocks from Station's Poisk Module
After spending 166 days aboard the International Space Station, Michael Hopkins, Oleg Kotov and Sergey Ryazanskiy undocked from the station's Poisk module at 8:02 p.m. EDT to begin their voyage home. Kotov, the Soyuz commander, is at the controls of the Soyuz TMA-10M spacecraft.
They will perform a separation burn to increase the distance from the station before executing a 4-minute, 50-second deorbit burn at 10:30 p.m. The crew is scheduled to land at 11:24 p.m. southeast of Dzhezkazgan, Kazakhstan.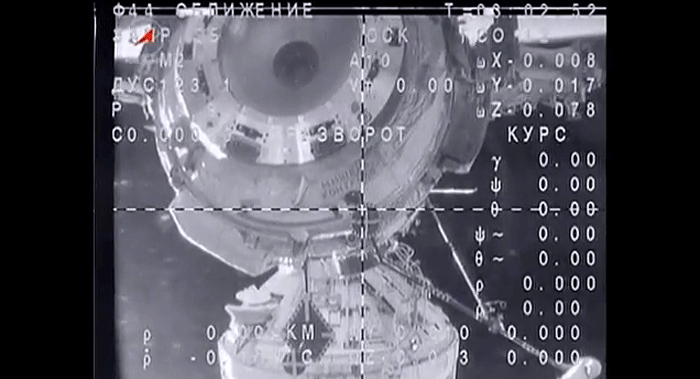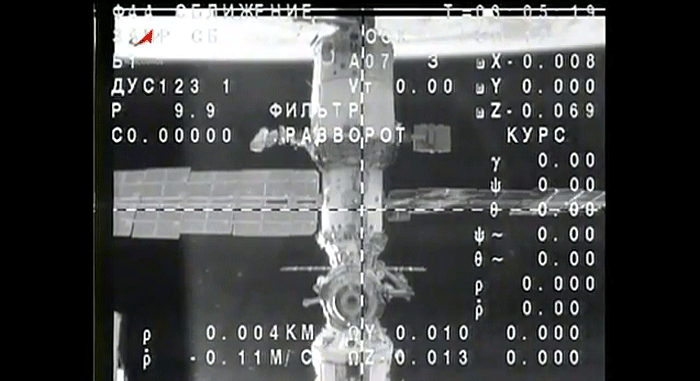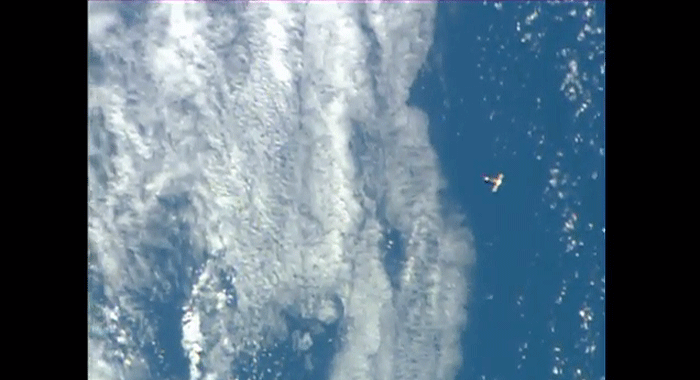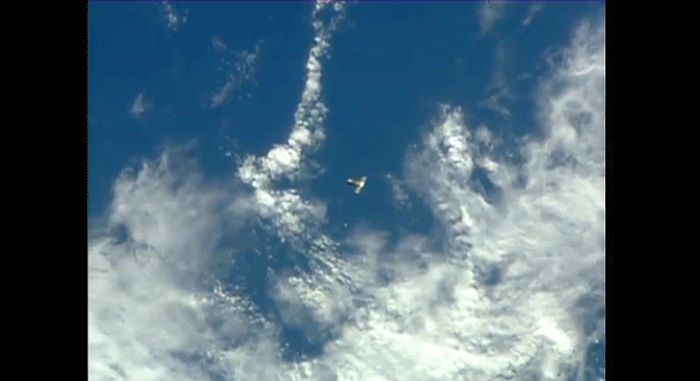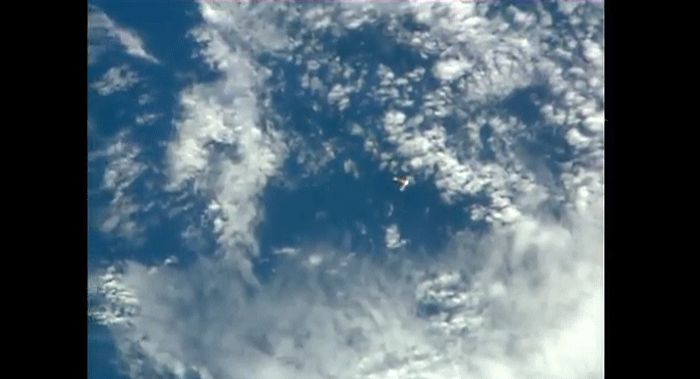 Quelle: NASA
...
Expedition 38 Lands In Kazakhstan Completing Mission
,
Soyuz Commander Oleg Kotov and Expedition 38 Flight Engineers Mike Hopkins and Sergey Ryazanskiy landed in Kazakhstan at 11:24 p.m. EDT. They landed inside the Soyuz TMA-10 spacecraft ending their mission after five-and-a-half months aboard the International Space Station. The trio undocked from the Poisk module at 8:02 p.m. EDT.
Staying behind are new Expedition 39 Commander Koichi Wakata and Flight Engineers Rick Mastracchio and Mikhail Tyurin. The crew members arrived at the station's Rassvet module Nov. 7 aboard a Soyuz TMA-11M spacecraft. They are scheduled to return home in mid-May. Wakata, a Japanese astronaut, is the Japan Aerospace Exploration Agency's first station commander.
Kotov is completing his third mission aboard the orbital laboratory for a total of 526 days in space. He served as a flight engineer during Expedition 15 in 2007. He then served for six months as an Expedition 22/23 crew member beginning in December 2009.
Hopkins and Ryazanskiy are wrapping up their first space mission each accumulating 166 days in space. During his stay aboard the orbital laboratory, Hopkins conducted a pair of U.S. spacewalks for a total 12 hours and 58 minutes. Ryazanskiy conducted three Russian spacewalks during his mission working outside the station for 20 hours and five minutes.
Hopkins joined NASA astronaut Rick Mastracchio for the first pair of Expedition 38 spacewalks installing a new ammonia pump module to restore the station's cooling system. The U.S. astronauts began the first spacewalk Dec. 21 exiting the Quest airlock to remove and stow a degraded pump module. They completed the installation of the new pump module during a second spacewalk on Dec. 24.
Shortly after those excursions, Ryazanskiy and Kotov exited the Pirs docking compartment Dec. 27 to install photographic gear, route cables, remove completed external experiments and install new scientific gear. The duo went out a second time Jan. 27 to complete the photographic installation work, retrieve more science gear and enable robotic arm operations on the station's Russian segment.
Kotov and Ryazanskiy's first spacewalk occurred Nov. 9 when the duo handed off the Olympic torch in its first ever outer space portion of the relay. The torch was returned to Earth the next day and used to light the Olympic flame Feb. 7 at the 2014 Winter Olympic Games in Sochi, Russia.
Kotov has completed six spacewalks over his cosmonaut career accumulating 36 hours and 51 minutes outside the space station in a Russian Orlan spacesuit.
Waiting to replace the returning trio are Expedition 39/40 crew members Steve Swanson, Alexander Skvortsov and Oleg Artemyev. They are in Star City, Russia, completing mission training and making final preparations for their March 25 launch aboard a Soyuz TMA-12 spacecraft from Baikonur Cosmodrome, Kazakhstan.
,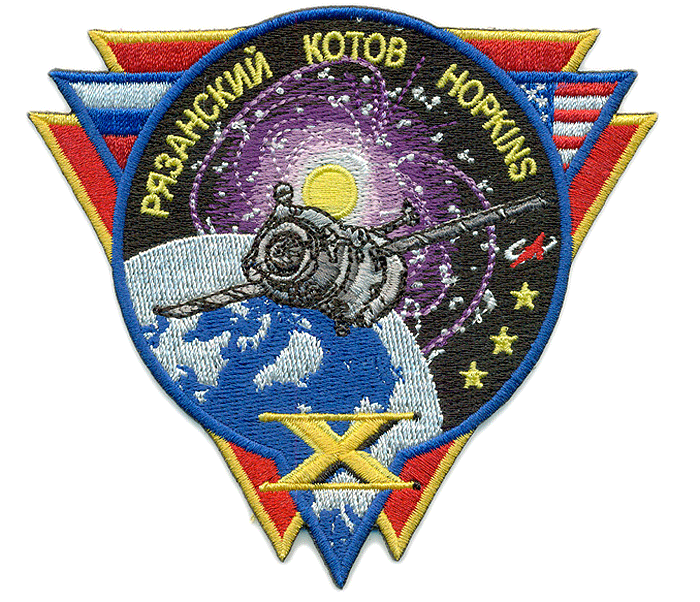 .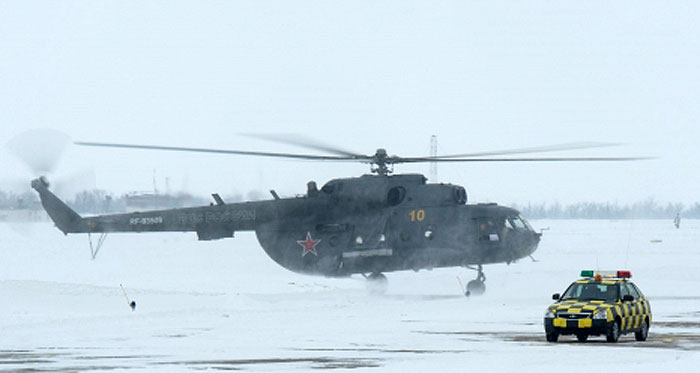 A Russian MI-8 helicopter is seen through the window of another helicopter at the Karaganda Airport shortly after poor weather forced the fleet of 12 helicopters to turn around from their flight to Zhezkazgan, Kazakhstan where they were to have pre-staged for the landing of the Soyuz TMA-10M spacecraft, Monday, March 10, 2014, Karaganda, Kazakhstan. Russian space officials and members of the search and recovery forces are currently meeting to discuss the current weather. Expedition 38 Commander Oleg Kotov of the Russian Federal Space Agency, Roscosmos, and Flight Engineers: Mike Hopkins of NASA, and, Sergey Ryazanskiy of Roscosmos, are scheduled to land early Tuesday morning near the town of Zhezkazgan. Photo credit: NASA/Bill Ingalls
.

.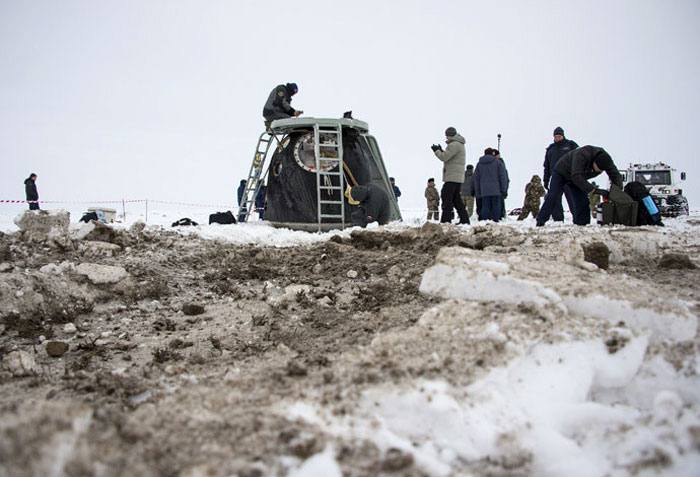 .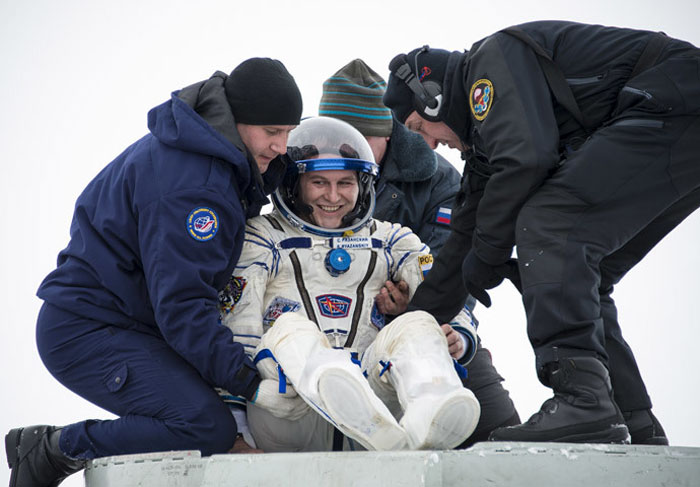 .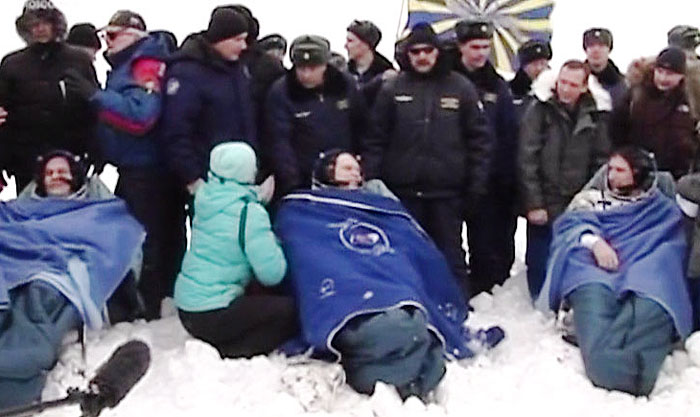 .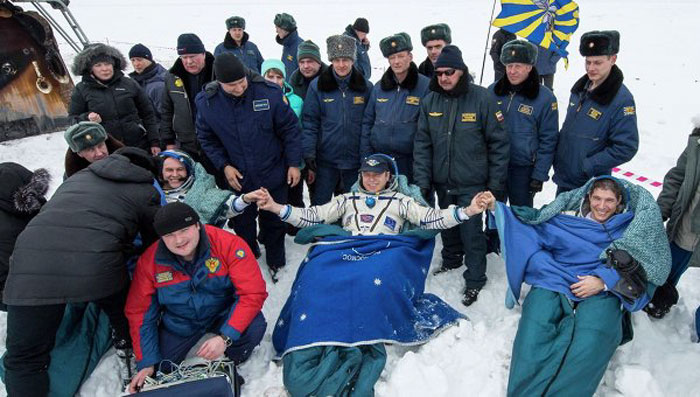 .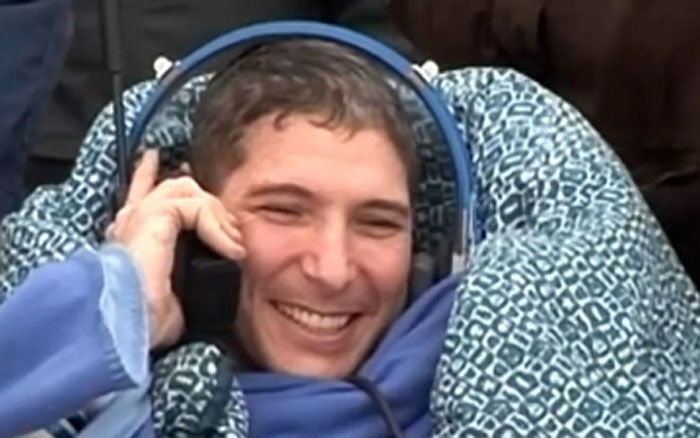 NASA Astronaut Mike Hopkins and his Expedition 38 crewmates Oleg Kotov and Sergey Ryazanskiy of the Russian Federal Space Agency are back on Earth after spending 166 days in orbit on the International Space Station.
The trio touched down in their Soyuz capsule at 11:24 p.m. EDT Monday on the snowy steppes of Kazakhstan.
.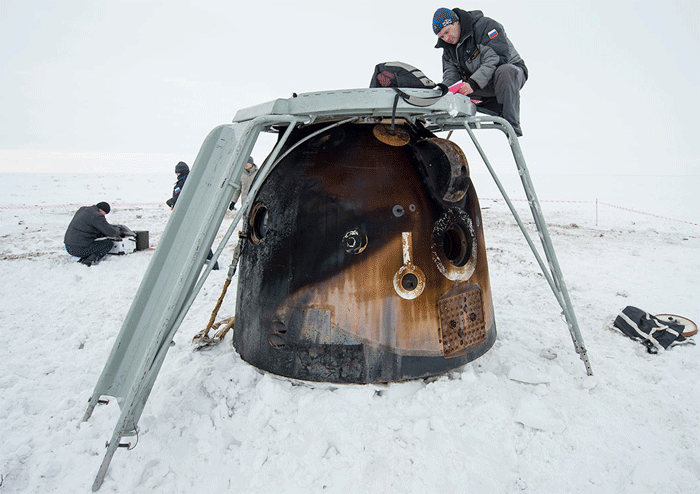 .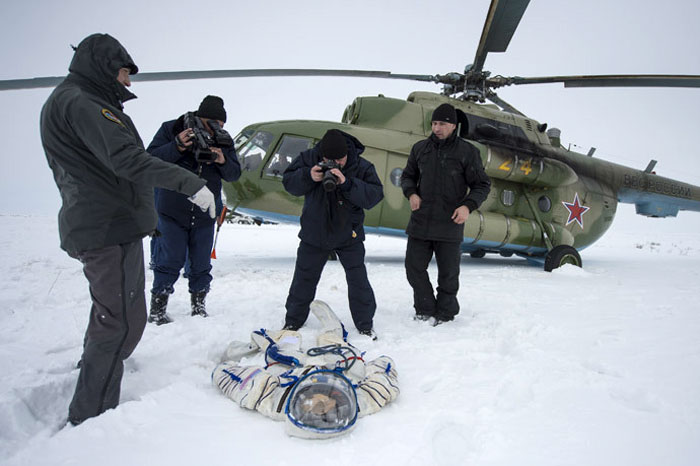 Quelle: NASA
4280 Views