15.03.2023
The Indian Space Research Organisation (ISRO) is likely to launch the second batch of OneWeb Satellites on March 26.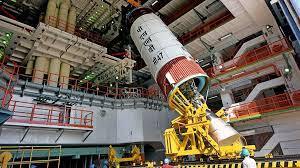 ISRO will launch 36 satellites belonging to OneWeb, the Low Earth Observation satellite (LEO) communications company which is backed by Bharati Enterprises.
The 36 satellites launched by ISRO's Launch Vehicle Mark-3 (LVM3) from the Satish Dhawan Space Centre in Sriharikota are the second batch of satellites to be launched from India.
In October last year, 36 OneWeb Gen-1 satellites were launched as part of a commercial agreement between NewSpace India Limited (NSIL) which is ISRO's commercial arm and OneWeb Ltd.
OneWeb on March 9 successfully deployed 40 satellites, which were launched by SpaceX from Cape Canaveral Space Force Station in Florida.
The recent launch was the penultimate mission to complete OneWeb's Gen 1 LEO satellite constellation.
"OneWeb's first-generation (Gen 1) LEO satellite constellation and enable global coverage in 2023. With 582 satellites now in orbit, OneWeb will complete its global footprint of the Gen 1 constellation with a launch scheduled for later this month with ISRO/NSIL," OneWeb said.
"Today's launch is an exciting milestone as we are now just one mission away from completing our Gen 1 constellation, which will activate global service in 2023," Neil Masterson, Chief Executive Officer of OneWeb had said after the successful launch.
Last year, NSIL signed two launch service contracts with Network Access Associated Limited (OneWeb) for launching OneWeb LEO Broadband Communication Satellites on-board LVM3.
NSIL said that this contract with OneWeb is a historic milestone for NSIL and ISRO, as LVM3, is making its entry into the global commercial launch service market.
Quelle: The Hindu
----
Upte: 25.03.2023
.
Isro to launch final batch of OneWeb satellites on Sunday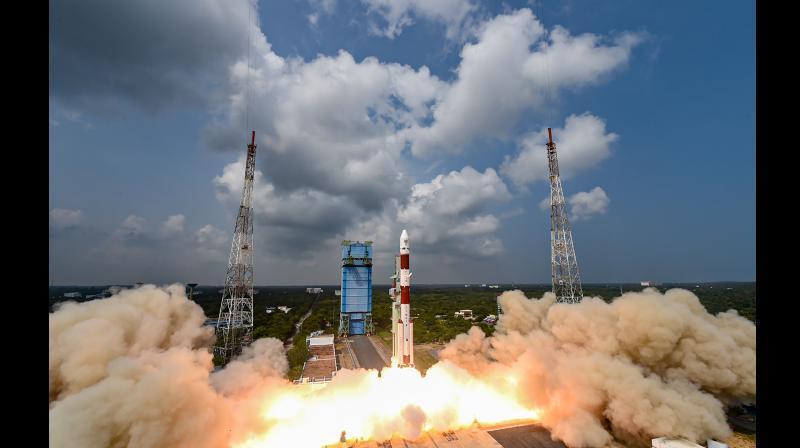 Tirupati: The Indian Space Research Organization (Isro) is gearing up for launch of LVM3 (Launch Vehicle Mark-3)-M3/OneWeb India-2 mission from the Satish Dhawan Space Centre in Sriharikota on Sunday.
This is the second mission for the private entity Network Access Associates Ltd, UK, a part of the OneWeb Group) under a commercial agreement with Isro's commercial arm - M/s. NewSpace India Ltd (NSIL). The agreement is to launch 72 satellites to Low-Earth Orbits.
While the first batch of 36 satellites were successfully launched by the Isro on October 23, 2022, the second and final batch of OneWeb's 36 more satellites under the LVM3-M3/OneWeb India-2 mission will be launched from the SDSC-SHAR at 9 am on Sunday.
Isro's NSIL released the LVM3-M3 OneWeb India-2 mission brochure on Thursday. It said the integration-related activities were under way at the second launchpad at SDSC-SHAR. In this mission, the LVM3 would place 36 OneWeb Gen-1 satellites totalling about 5,805 kg into a 450 km circular orbit with an inclination of 87.4 degrees.
This is the sixth flight of LVM3, the heavy lift launch vehicle of Isro, for achieving a 4000kg spacecraft launch capability to GTO (geosynchronous transfer orbit) in a cost-effective manner. The heavy lift Isro launcher has a track record of five successive launches, including the Chandrayaan-2 mission.
LVM3 is a three-stage launch vehicle consisting of two solid propellant S200 (solid) straps-on and core stages consisting of L110 liquid stage, C25 cryogenic stage, equipment bay and encapsulated assembly (EA).
EA comprises spacecraft, payload adaptor and payload fairing. With a lift-off mass of 643 tonnes, this 43.5metre-tall three-stage launch vehicle gives the ISRO full self-reliance in launching heavier communication satellites that weigh up to 4000kg in GTO. The vehicle takes off with the simultaneous ignition of the two S200 boosters.
The core stage (L110) is ignited at about 111 seconds through the flight, during the firing of the S200 stages. Both S200 motors burn for about 134 seconds and the separation occurs at 138.20 seconds. The payload fairing is separated at an altitude of 115.76km and at about 187.16seconds during L110 firing.
The L110 separation, C25 ignition and C25 shut-off occur at 308.48 seconds, 310.88 seconds and 942.70 seconds respectively. The satellite separation event-I occurs at 455.538km and at about 1,182.70 seconds.
Isro said the UK-based OneWeb is a global communication network powered from space, enabling connectivity for governments, businesses, and communities. It is implementing a constellation of 648 low earth orbit satellites. Its Gen-1 satellites utilize a bent-pipe technology approach to offer communication in Ku-band and Ku-bands.
Quelle: DECCAN CHRONICLE
----
Update: 27.03.2023
.
OneWeb launch completes space internet project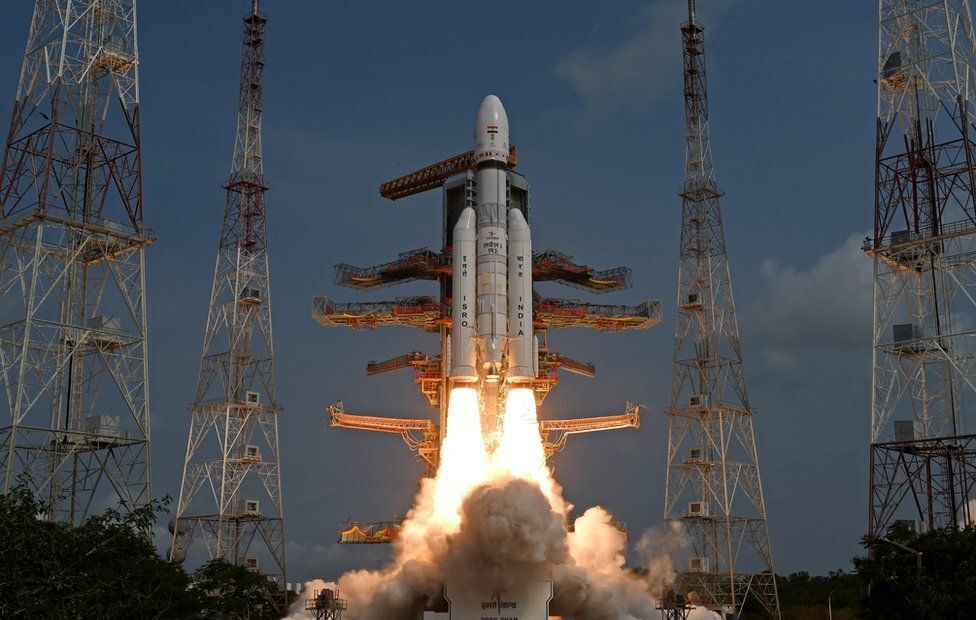 London-based company OneWeb has launched the final set of satellites it needs to deliver a broadband internet connection anywhere on Earth.
The 36 spacecraft went up on an Indian LVM3 rocket from the Sriharikota spaceport in Andhra Pradesh.
Their deployment 450km above the planet takes OneWeb's total in-orbit constellation to 618.
It's less than three years ago that the UK government took the decision to buy OneWeb out of bankruptcy.
At the time, it was seen as controversial; arguments raged about whether it was a sound use of taxpayer money.
But since the purchase, OneWeb has managed to attract significant additional investment, and is even now planning a next generation of satellites.
"This is the most significant milestone in the history of OneWeb, as we reach the satellites needed for global coverage. Over several years we have remained focused on our commitment to deliver a network that will provide connectivity for our customers and communities that need it most," said OneWeb CEO, Neil Masterson.
It will take some months for the Sunday's batch of satellites to be tested and to get into the right part of the sky (at an altitude of 1,200km), but when they are in position OneWeb will have the facility to deliver a global communications service.
Only one other organisation in the world is flying more satellites in space today - and that's OneWeb's chief competitor: the Starlink system operated by Elon Musk.
Unlike the US entrepreneur's network, OneWeb is not selling broadband connections direct to the individual user. Its clients, principally, are the telecoms companies that provide this internet service. They might also be employing the connectivity to supplement, or expand, the infrastructure in their mobile phone networks.
The OneWeb system will require the necessary ground infrastructure to command and control all the satellites and link them to the internet, but this too should be fully up and running come the end of 2023.
The satellite enterprise has been a decade in gestation. Projected as a $6bn project, it ran into money woes in early 2020 and sought the protection of US bankruptcy laws until a buyer could be found. At the time, it had lofted just 74 satellites.
With its debts wiped out, OneWeb then moved quickly to build out the network and secure wider investment. It's currently working through a merger plan with Paris-based Eutelsat, best known for distributing thousands of TV channels around the world.
UK Secretary of State for Science, Innovation and Technology, Michelle Donelan, said: "The completion of the low-Earth orbit constellation is hugely significant both for OneWeb and the UK's wider sector.
"We invested in OneWeb's vision to bridge the global digital divide, and our burgeoning space sector is transforming the UK into the perfect base for likeminded companies to realise their stratospheric potential."
OneWeb has made the UK a major space player.
The number of satellites in the constellation has demanded a big commitment from the UK's Civil Aviation Authority, which is Britain's licensing agency for space activity.
"We undertake a significant oversight role, to make sure that their satellites are all healthy, and they they're operating within the limits that OneWeb have set out and that we agreed to," explained Colin Macleod, the authority's head of space regulation.
"Our team has regular meetings at OneWeb's White City headquarters. All their engineers sit in a room where they present what they're doing, and if they have any risks or issues - they will talk us through the solutions so that our engineers will be comfortable with their actions," he told BBC News.
Safety is paramount. The region in the sky where OneWeb spacecraft are moving - from 450km in altitude up to 1,200km - is becoming ever more congested, and the CAA wants assurance that the constellation is being flown in a responsible manner.
Much of the operation necessarily has to be automated, and the command and control software has had to scale rapidly over the past three years.
Sunday's launch took the number of satellites in space from 582 to 618.
In May, another 15 will go up to act as in-orbit spares. These will be joined by a demonstration spacecraft that will trial future technologies.
OneWeb plans to expand its network in the coming years to include bigger, more powerful spacecraft. But contrary to earlier suggestions, the constellation will probably now be kept under 1,000 individual satellites.
The next generation will, though, provide ancillary services, such as signals that allow users to fix their position on the surface of the Earth or know the precise time (a service akin to those currently provided by satellite-navigation systems like GPS and Galileo).
he core business will remain connectivity.
OneWeb has a series of flat-panel antennas coming on to the market for its customers very soon.
In contrast to traditional steerable dishes, these units electronically track satellites across the sky to maintain the data links.
One of these antennas, produced by Kymeta, was trialled recently on Mount Snowdon in Wales to provide mountain rescue teams with stable broadband communications where previously there was no network availability.
Quelle: BBC
203 Views