26.03.2018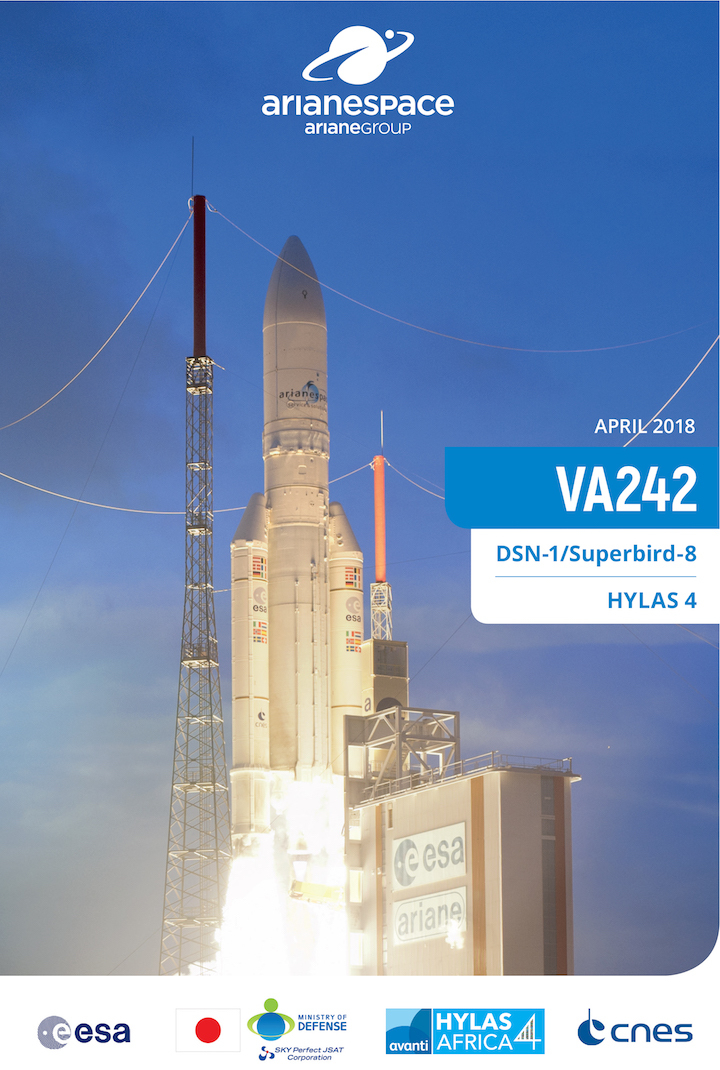 Flight VA242 – Arianespace to launch DSN-1/Superbird-8 for Sky Perfect JSAT and HYLAS 4 for Avanti on April 5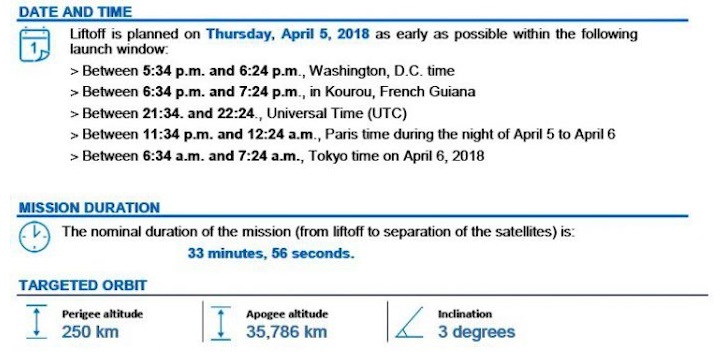 For its third launch of 2018, Arianespace will use an Ariane 5 from the Guiana Space Center (CSG) in French Guiana to launch the DSN-1/Superbird-8 and HYLAS 4 satellites.
With this 242nd mission utilizing an Ariane launcher, and the second this year with the Ariane 5 heavy launch vehicle, Arianespace once again serves the ambitions of two long-lasting partners: the Japanese operator SKY Perfect JSAT and the British operator Avanti Communications.
The launch will be from the Ariane Launch Complex (ELA) in Kourou, French Guiana.
The Launch Readiness Review (LRR) will take place on Tuesday, April 3, 2018 in Kourou, to authorize the start of operations for the final countdown.
DSN-1/Superbird-8 is the 19th SKY Perfect JSAT satellite assigned to Arianespace for launch. The most recent Arianespace launch for this operator was with JCSAT-15 in December 2016.
On this dual-use satellite, the Superbird-8 payload is composed of high-performance Ku and Ka transponders and will provide satellite communications services mainly in the Japanese market. Located at 162 degrees East Longitude, it will replace the Superbird-B2 satellite launched in 2000 by Arianespace.
The DSN-1 (X-Band Defense Communications Satellite-1) payload is associated with the Program to Upgrade and Operate X-Band Satellite Communications Function, for which the DSN Corporation – a subsidiary of SKY Perfect JSAT – has concluded a program contract with Japan's Ministry of Defense.
DSN-1/Superbird-8 was built by MELCO (Mitsubishi Electric Corporation), with manufacturing management by NEC Corporation, using a DS2000 platform.
HYLAS 4 is Avanti's third satellite launch, and marks its third with Arianespace from the Spaceport in French Guiana.
HYLAS 4 will deliver high speed, reliable and secure satellite communications to Internet Service Providers (ISPs), Mobile Network Operators (MNOs), governments and satellite operators across Europe, through its Ka-band capacity. The high throughput satellite will also provide services in regions such as West and Central Africa, and with its steerable beams that provide services in Europe, South America, the Caribbean, and the Middle East.
It is the 28th Orbital ATK-built satellite to be launched by Arianespace, a series that started with the TOPEX-Poseidon mission in 1992.
Quelle: arianespace
---
Update: 6.04.2018
.
Ariane 5 lofts two long-awaited telecom satellites
Arianespace on April 5 launched two satellites for telecom operators that for separate reasons were both more than a year behind their original launch schedules.
An Ariane 5 rocket took off at 5:34 p.m. Eastern from the European spaceport in French Guiana, delivering Japanese operator Sky Perfect Jsat's DSN-1/Superbird-8 satellite into a geostationary transfer orbit 28 minutes after liftoff. British fleet operator Avanti's Hylas-4 satellite separated another six minutes later.
The launch is the 98th launch of an Ariane 5 rocket, and the first since the implementation of more rigorous mission data checking after incorrect inclination data caused a January mission to place two satellites in the wrong orbits.
DSN-1/Superbird-8 was originally scheduled to launch in 2016, but was damaged during transport to the Guiana Space Center, requiring repairs. Japanese satellite manufacturer Mitsubishi Electric built the satellite on its DS2000 platform, with NEC Corp. managing manufacturing.
Sky Perfect Jsat's Superbird-8 replaces the 18-year-old Superbird-B2 satellite at 162 degrees east. The satellite carries Ku- and Ka-band capacity for the operator's commercial communications services in Japan, and the X-band DSN-1 payload for Japan's Ministry of Defense.
Hylas-4 was initially planned for a launch in early 2017, but ran into manufacturing delays concurrent with deepening financial troubles for Avanti. The operator in 2016 opted to forgo a company sale in favor of a refinancing deal to preserve Hylas-4, a satellite with three times more capacity than the rest of Avanti's fleet.
Built by Orbital ATK on its GEOStar-3 platform, Hylas-4 carries 64 Ka-band spot beams covering Europe and Africa, and four steerable Ka-band beams that can reach out to South America and over to the Middle East.
Avanti expects Hylas-4 will give the company a competitive edge since its two operational satellites, Hylas-1 and Hylas-2, are both struggling to compete against newer high-throughput satellites. In the next few years, several operators have plans to add large amounts of high-throughput capacity over Europe, the Middle East and Africa — Avanti's core markets. Eutelsat, Spacecom, Global IP, and others will all make for an even more competitive market as operators strive to capture lucrative broadband business.
Both Avanti and Sky Perfect Jsat had to wait so long for this launch that they inverted the launch order for other missions both had underway. Japan's DSN-2 satellite, intended to be the second of three X-band defense satellites, launched first in January 2017 on an H2A rocket from Mitsubishi Heavy Industries. Avanti is still awaiting the launch of Hylas-3, a mission first expected in 2015, but now is planned for this year, though it could slip further. The European Space Agency's European Data Relay Satellite-C satellite from OHB Systems of Bremen, Germany is carrying Hylas-3 as a hosted payload.
Quelle: SN
+++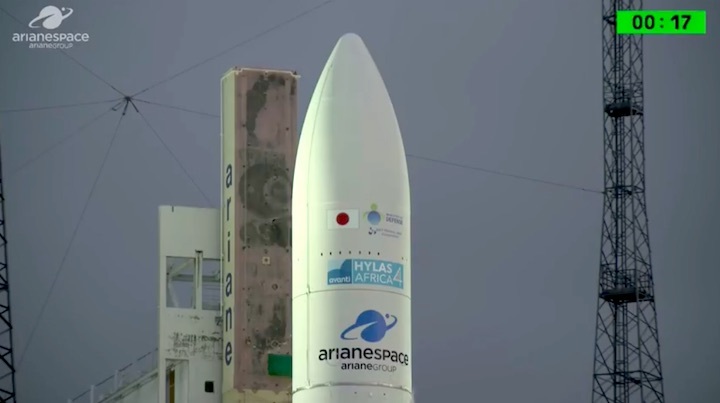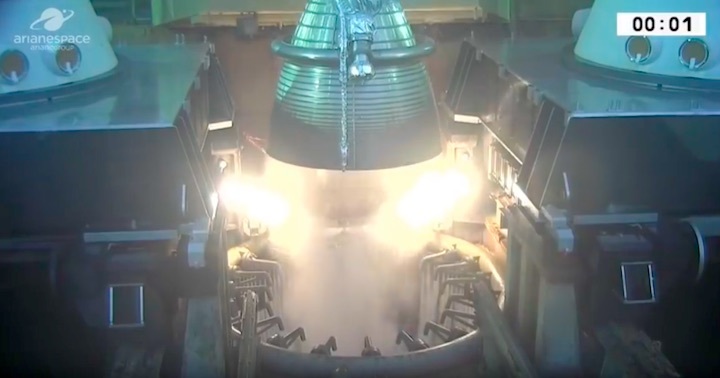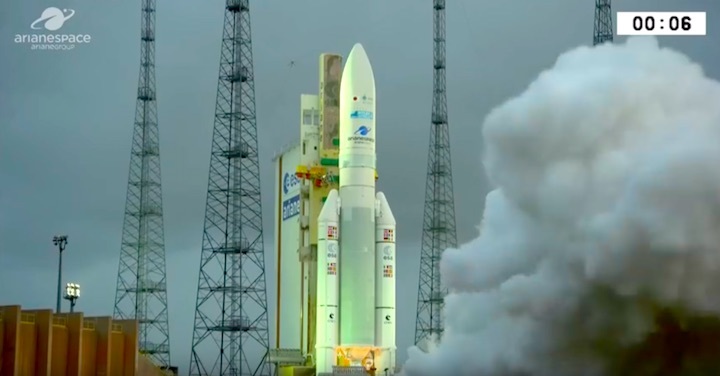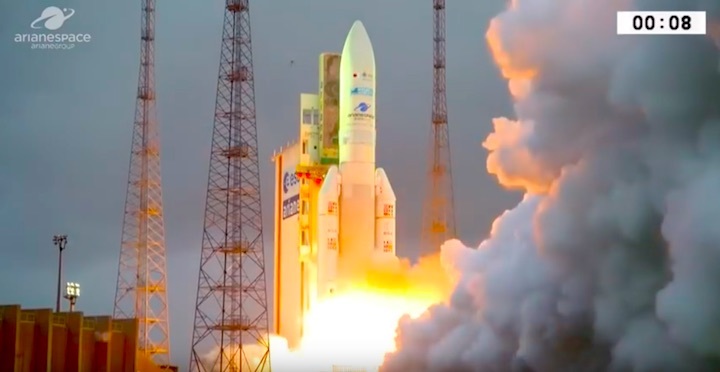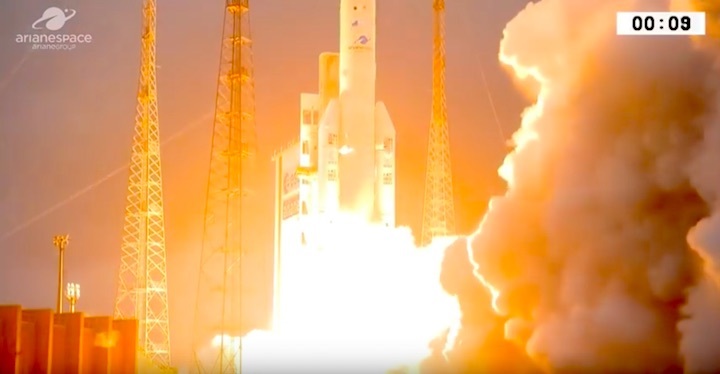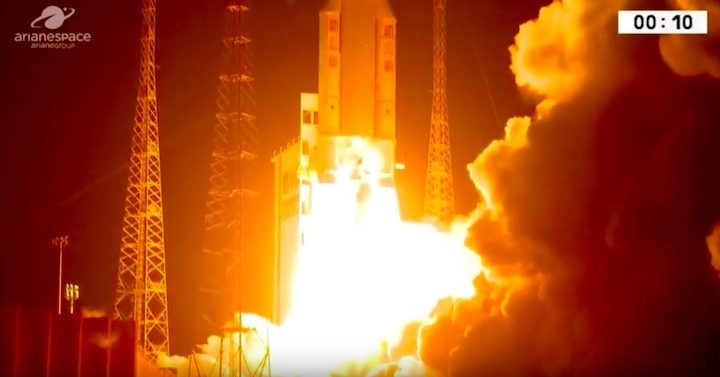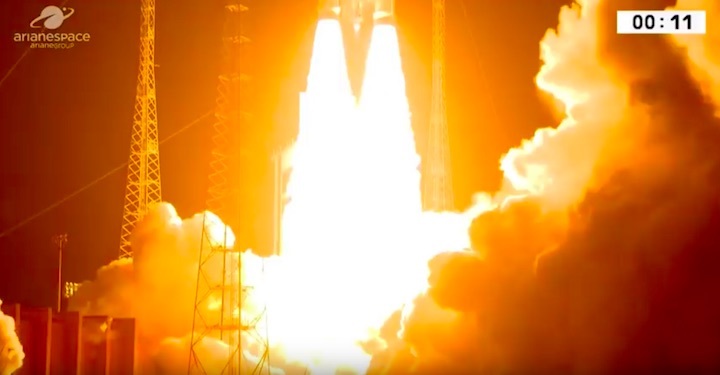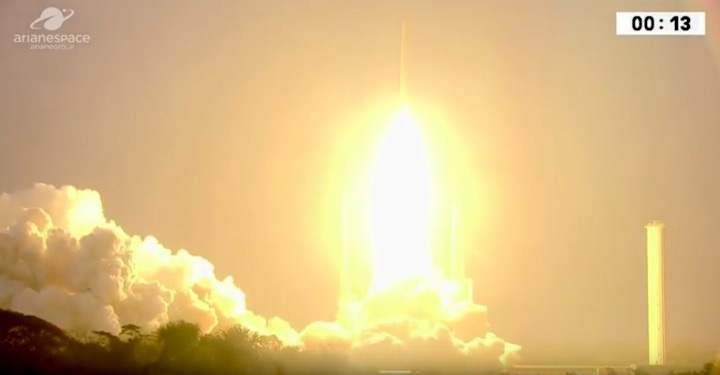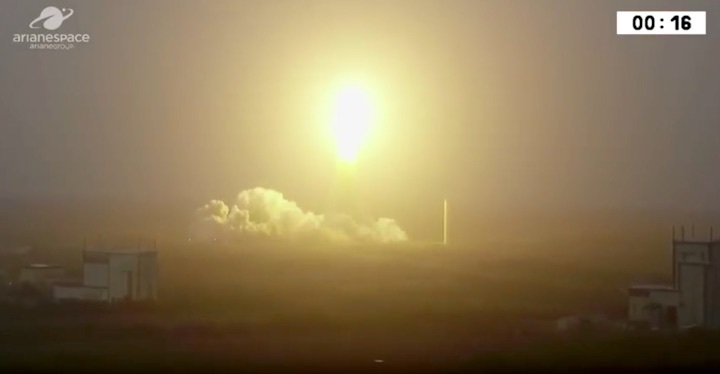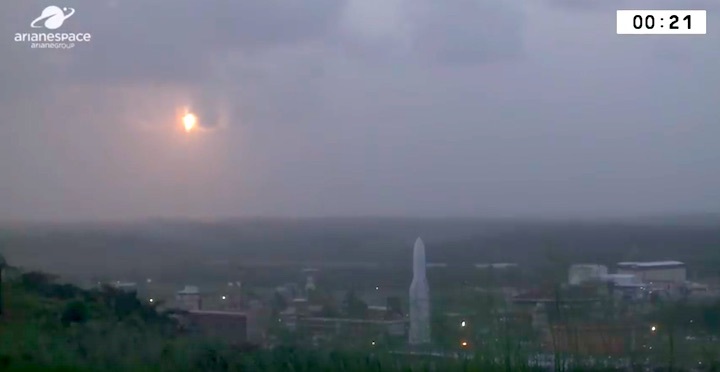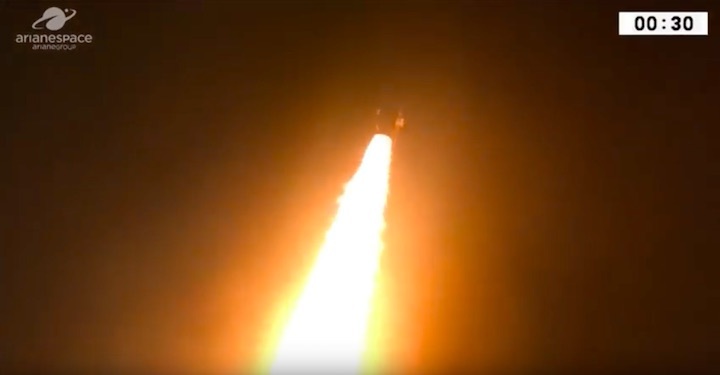 Quelle: arianespace
1552 Views