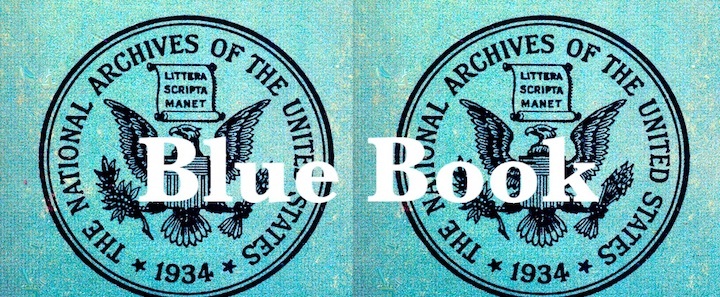 The 701 club: Case 7417: Tyndall AFB, May 22, 1961
Don Berlinner's describes the case as follows:
May 22, 1961; Tyndall AFB, Florida. 4:30 p.m. Witnesses: Mrs. A.J. Jones and Mrs. R.F. Davis. One big silver dollar disc hovered and revolved, then suddenly disappeared after 15 minutes.
Sparks mirrors Berlinner's comments with a few added values of elevation angles:
May 22, 1961. Tyndall AFB, Florida. 4:30 p.m. (CST). AF wives Mrs. A. J. Jones and Mrs. R. F. Davis saw revolving silver-dollar disc hover at about 3.5° elevation in the SE, rise to 35° elevation then suddenly disappear. No sound, no trail, no exhaust. (Sparks; BB files; Castner/CUFOS; Berliner; NICAP)
The Blue Book file
The Blue Book file does not contain very much. It contains only a basic investigation conducted by the assistant UFO officer, MSGT Henry J. Lacour. It says a lot that this job had been assigned to a non-commissioned officer. As a retired senior enlisted, I understand that sometimes these things happen but it seems that the Master Sergeant might have been somewhat out of his element in making any evaluation. While he appeared to try and conduct a serious investigation, what he reported was very limited in scope3:
The time of the event was 1630 CST and it was visible for 15 minutes
It was visible in the southeast.
It was first seen at an elevation at 3.5 degrees and last seen at an elevation of 35 degrees.
The witnesses stated that it was stationary and revolving in place. After fifteen minutes, it suddenly disappeared.
It was considered a bright object that was reflecting the light of the sun.
Weather was listed as a ceiling of 10,000 feet, visibility was 10 miles, winds from the south and southwest.
Analysis
One issue I had with the Master Sergeant's report was his description of the weather. It really did not describe the cloud conditions other than the ceiling of the clouds. Therefore, I tried to verify the percentage of sky covered by clouds. Weather underground did not have any data for Panama City. Tallahassee (80 miles to the ENE) reported that it varied between partly to mostly cloudy during the afternoon.4 Weather maps for the date in question did not show completely cloudy conditions in the Florida Panhandle but did show clouds in the Tallahassee area.5 There was no rainfall detected in nearby Apalachicola and Wewahitchka.6 Weather forecasts for the Florida panhandle indicated partly cloudy skies in the news papers.7 This indicates that while the ceiling was described as 10,000 feet, it does not mean that it was overcast. More than likely, sky conditions were partly to mostly cloudy with a chance of a thunderstorm/rain shower. Having grown up and lived in Florida, this is the usual weather pattern in Florida
during the summer months of May to September.
There was also conflicting information in the report. That being the report stated the initial elevation was 3.5 degrees and final elevation was 35 degrees. However, the witnesses stated the object was stationary the entire time they observed it. One would think they would have mentioned it rocketing up in altitude. I suspect the 3.5 degrees was actually 35 degrees and the decimal point is a typographical error. For the purpose of analysis, I have made this assumption.
One possibility I considered was that it was a rocket launch. The direction was towards Cape Canaveral. However, there were no launches on that date.
This brings us to the possibility of it being a weather balloon. However, the stationary nature indicates a weather balloon would have had to been some distance away and, as a result, would have been a small object.
Thinking it might have been a high altitude research balloon, I examined Stratocat. Goodfellow Air Force base had launched an Ashcan balloon on May 22 but stratospheric winds in the summer usually blew westward. It seems unlikely that, in late May, a balloon would have traveled towards Florida.
Wondering if this might have been a daylight sighting of a possible astronomical object, I checked Stellarium. I was surprised to see that a first quarter moon was at azimuth 127 degrees 60 degrees at 1630 CST. This is in the direction the witnesses were looking. If sky conditions were partly to mostly cloudy, the moon could have been visible and, maybe, confused as a hovering object.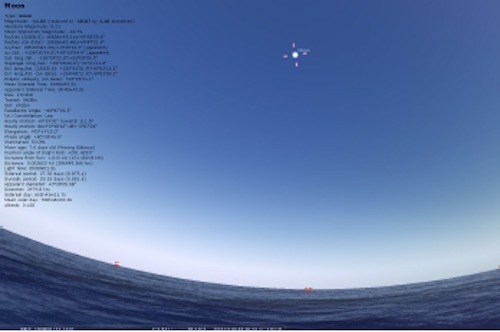 Conclusion
To me this case is missing some important information about the weather. Rather than giving us the percentage cloud cover, the report only lists the cloud ceiling. Weather data indicates it was not overcast so what was the percentage of cloud cover? If the weather was partly to mostly cloudy and the witnesses were looking into a clear patch of sky, this could have been a daylight sighting of the moon. A certain percentage of the population is unaware one can see the moon during daytime and it seems possible that this was the case here.
I found the investigation to be inadequate. The witnesses were looking in the direction of a military operating area, where military aircraft would be present. There is no mention of looking into any activities from the base that might have produced the report. It seems that this was not a very thorough investigation. I will list this as "possible moon" and it is my opinion that it be removed from the unidentified list.
Quelle: SUNlite 3/2021
1011 Views