15.05.2021
SpaceX outlines plans for Starship orbital test flight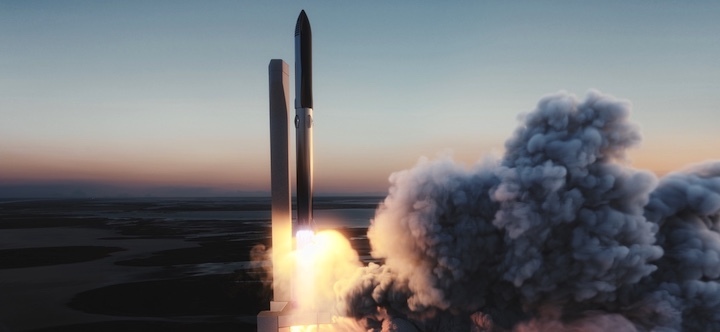 SpaceX has revealed the flight plan for the first orbital test launch of the company's huge stainless steel Starship rocket, a 90-minute, around-the-world mission that will originate from South Texas and culminate with a controlled re-entry and splashdown in the Pacific Ocean near Hawaii.
SpaceX included an exhibit outlining the flight plan in a filing posted on the Federal Communications Commission's website Thursday.
The test flight — without any passengers on-board — will take off from SpaceX's Starship development facility at Boca Chica Beach in South Texas, just north of the U.S.-Mexico border. The Starship launch site, which SpaceX calls Starbase, is the same location where technicians are rapidly building new prototpes for the giant next-generation rocket.
When fully assembled, the gigantic reusable rocket will stand nearly 400 feet (120 meters) tall, making the Starship stack the largest launcher ever built.
The booster stage, called the Super Heavy, will have as many as 28 methane-burning Raptor engines on operational flights, producing some 16 million pounds of thrust, twice the power of NASA's Apollo-era Saturn 5 rocket. Six Raptor engines will be fixed to the bottom of the rocket's upper stage, which is itself also named the Starship.
The Starship vehicle doubles as an upper stage and a refillable transporter to ferry people and cargo through space to destinations in Earth orbit, the moon, Mars, and other distant locations.
SpaceX is developing the Starship vehicle as a fully reusable launch and space transportation system capable of ferrying more than 100 metric tons of cargo into low Earth orbit, more than any other rocket in the world.
During an orbital launch attempt, a reusable Super Heavy first stage booster will detach from the Starship and come back to Earth for a vertical landing. Eventually, SpaceX wants to use catcher arms on the launch tower to capture the descending first stage, making it easier to configure and refuel for another mission.
The Starship will continue into orbit and deploy its payloads or travel to its deep space destination, and finally return to Earth to be flown again.
The Starship's first orbital test flight, though audacious in scale, will aim to prove out the rocket's basic launch and re-entry capabilities without fully testing out the complicated landing and recovery systems, according to SpaceX's filing with the FCC.
The rocket's Super Heavy booster will fire its cluster of up to 28 Raptor engines for around 2 minute, 49 seconds, on a track toward the east from the Starbase launch site.
About two seconds later, the 230-foot-tall (70-meter) Super Heavy booster will jettison to begin a descent to a landing in the Gulf of Mexico around 8 minutes, 15 seconds, after launch. The giant booster will aim to land about 12 miles, (20 kilometers) from shore, according to SpaceX.
Meanwhile, the Starship orbital stage will ignite its Raptor engines at T+plus 3 minutes, 56 seconds, and accelerate into orbit, heading east over the Gulf of Mexico and following a track passing between South Florida and Cuba. Cutoff of the Raptor engines is expected about 8 minutes, 41 seconds, into the mission, SpaceX said, once the rocket achieves the required orbital velocity of around 17,000 mph (more than 27,000 kilometers per hour)
"The Orbital Starship will continue on flying between the Florida Straits. It will achieve orbit until performing a powered, targeted landing approximately 100 kilometers (about 62 miles) off the northwest coast of Kauai in a soft ocean landing," SpaceX said.
The entire flight — from liftoff in Texas to splashdown near Hawaii — will last around 90 minutes.
"SpaceX intends to collect as much data as possible during flight to quantify entry dynamics and better understand what the vehicle experiences in a flight regime that is extremely difficult to accurately predict or replicate computationally," SpaceX said. "This data will anchor any changes in vehicle design or CONOPs (concept of operations) after the first flight and build better models for us to use in our internal simulations."
The company did not identify a target date for the Starship program's first orbital test launch, but SpaceX chief executive Elon Musk has said the Starship's first shot into space could happen before the end of the year.
SpaceX's request for authority from the FCC to operate communications equipment on the orbital Starship test flight suggests the company expects the demonstration mission to occur some time between June 20 and Dec. 20.
The first Starship orbital test flight, which Musk suggested earlier this year might happen as soon as July, will follow a series of ongoing atmospheric flights intended to validate the rocket's performance at relatively low altitudes.
The five Starship prototypes launched since December have each used three Raptor engines to power the 16-story test rockets to altitudes of more than 30,000 feet (about 10 kilometers) over South Texas. Four test rockets exploded during or soon after landing, but the most recent Starship prototype — Serial No. 15 — nailed its vertical, propulsive touchdown back at the Starbase facility.
The Starship stage, like the Super Heavy booster and SpaceX's partially reusable Falcon 9 rocket currently in operation, will use variable thrust from its main engines to slow down for landing.
SpaceX plans more atmospheric test flights of Starship prototypes to fine-tune the rocket's takeoff and landing. The company also plans a first "hop" test of a full-size Super Heavy booster, presumably before pressing ahead with an orbital launch attempt.
Engineers have tested coupon samples of heat shield material on the Starship's stainless steel skin, but the orbital-class rocket will require a more extensive thermal barrier to withstand the super-hot temperatures of atmospheric re-entry.
The SN15 prototype that successfully launched and landed May 5 debuted several upgrades to the Starship rocket. The changes "will allow more speed and efficiency throughout production and flight," SpaceX said.
The upgrades on SN15 include "a new enhanced avionics suite, updated propellant architecture in the aft skirt, and a new Raptor engine design and configuration," SpaceX said.
The next jump in capability for the Starship rocket will come with SN20, which will be outfitted for an orbital test flight.
Musk tweeted earlier this year that the Super Heavy/Starship combination will initially have a high probability of achieving a successful launch into orbit, but it will likely take many attempts before SpaceX perfects the Starship's re-entry and landing maneuvers from orbit.
Last month, SpaceX won a $2.9 billion contract from NASA to develop a derivative of the Starship vehicle to land astronauts on the Moon through the space agency's Artemis program. SpaceX bested bids from Blue Origin and Dynetics to win the contract for NASA's next human-rated lunar lander.
According to NASA's plans, astronauts will depart Earth on the agency's government-owned Space Launch System rocket and Orion crew capsule, then rendezvous with a Starship pre-positioned in lunar orbit. The Starship would launch from Earth without anyone on-board.
After landing on the moon, the astronauts will exit the Starship and ride an elevator down to the surface. Once their work is complete, the crew members will launch on the Starship back into lunar orbit, meet up with the Orion capsule, and return to Earth.
Last month, SpaceX won a $2.9 billion contract from NASA to develop a derivative of the Starship vehicle to land astronauts on the moon through the space agency's Artemis program. SpaceX bested bids from Blue Origin and Dynetics to win the contract for NASA's next human-rated lunar lander.
According to NASA's plans, astronauts will depart Earth on the agency's government-owned Space Launch System rocket and Orion crew capsule, then rendezvous with a Starship pre-positioned in lunar orbit. The Starship would launch from Earth without anyone on-board.
After landing on the moon, the astronauts will exit the Starship and ride an elevator down to the surface. Once their work is complete, the crew members will launch on the Starship back into lunar orbit, meet up with the Orion capsule, and return to Earth.
SpaceX has succeeded in cutting launch costs with the Falcon 9 rocket, which has a reusable first stage and payload shroud. But neither part is rapidly reusable, and the Falcon 9's second stage is brand new for every mission.
"With Starship, we'll hopefully reuse the whole thing," Musk said last month. "This is a hard problem for rockets, that's for sure. It's taken us, we're like 19 years in now. I think the Starship design can work. It's just, it's a hard thing to solve, and the support of NASA is very much appreciated in this regard. I think it's going to work."
Musk eventually wants to have a fleet of ocean-going platforms to recover and re-launch Super Heavy boosters and Starship rockets.
"It's intended to be such that the booster can be used, I don't know, a dozen times a day, basically every couple of hours," Musk said in an X PRIZE webcast last month. "And that mostly is about reloading propellant and mounting the ship. and then the ship can probably be used, in theory, every three hours … But certainly every, say, six to nine hours. We'll call it twice a day for the ship. And we'll make more ships than there are boosters."
SpaceX officials have suggested that Starships could be tasked with high-speed point-to-point intercontinental travel on Earth.
"Once we have the floating space platforms, we can position them such that the ship can come back in a single orbit," Musk said. "So then it can be, let's say we have three ship launches per day, that's 1,000 flights a year, each with 100 to 150 tonnes of payload to orbit."
"I'd say it's only recently though that I feel that full and rapid reusability can be accomplished," Musk said. "I wasn't sure for a long time, but I am sure now."
Quelle: SN
+++
SpaceX begins work on Starship orbital propellant transfer test for NASA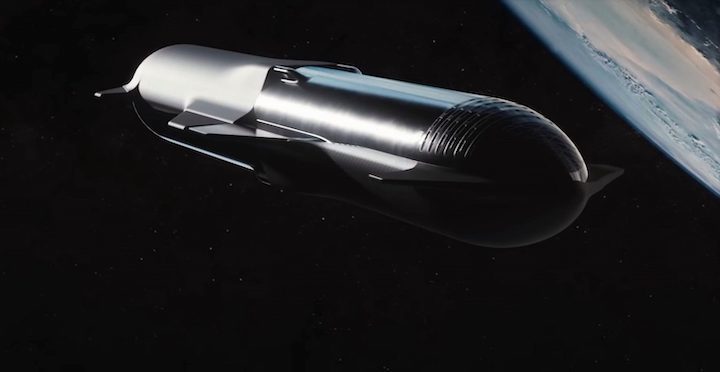 More than six months after SpaceX won a NASA 'Tipping Point' award to demonstrate a large-scale cryogenic propellant transfer in orbit with Starship, the agency has begun disbursing funds, officially kicking off work on the mission.
Back in October 2020, NASA awarded 15 different companies more than $370 million for research and development projects related to managing cryogenic propellant in space, lunar surface operations, and autonomous landing technology. More than two-thirds of that funding went to four real in-space demonstrations of cryogenic propellant management and storage from Lockheed Martin, United Launch Alliance (ULA), SpaceX, and little-known startup Eta Space.
What isn't up in the air is the fact that SpaceX will need to all but fully assemble and test Super Heavy booster BN3 and Starship SN20 before any potential space shot. Along those lines, SpaceX still has a huge amount of work to do. Per Twitter user Brendan Lewis' accounting, SpaceX has at least six BN3 sections – amounting to 22 rings and two of three tank domes – either completed or awaiting integration. The process of stacking BN3 began sometime in the last 7-10 days when SpaceX joined two four-ring sections – including the booster's common dome, likely pictured above.
SpaceX has mostly completed BN3's engine section, including a thrust dome with plumbing cutouts for a full 28 Raptor engines. Most recently, what looks like a Super Heavy fuel manifold appeared in Boca Chica. That manifold will attach to the end of a supersized Super Heavy transfer tube – also spotted in work – used to route methane through the liquid oxygen tank to fuel its Raptor engines. Fueling 28 large, high-performance Raptors is no mean feat and requires a rat's nest of plumbing to feed them more than 15 metric tons (~30,000 lb) of propellant every second at full throttle.
Put simply, a majority of Super Heavy booster BN3's hardware appears to be ready or almost ready for integration. The eight rings now stacked represent approximately 20% of the rocket's full height, leaving another 30 or so rings – 54m (~180 ft) – to go. Given how long BN1 assembly took SpaceX, the company has its work cut out for it to fully integrate BN3 by June 20th, and the first operational Super Heavy prototype will almost certainly need to complete several major tests before being cleared for flight. As such, an inaugural space launch attempt in June or July is wildly implausible, but it's far from out of the question that Starship and Super Heavy could be ready for their first "orbital test flight" before summer turns to fall.
Quelle: TESLARATI
----
Update: 28.05.2021
.
SpaceX's first flight-proven Starship rolled back to factory for likely retirement
While SpaceX has spent the better part of three weeks inspecting the first flight-proven Starship to survive a high-altitude launch and landing, the company appears to have decided to retire the rocket instead of flying it again.
On May 25th, four days after Starship serial number 15 (SN15) was reinstalled on one of SpaceX's two suborbital launch mounts, a crane was attached to its nose and a transporter staged beside it. One day later, the historic Starship prototype was lifted off of Mount B, installed on that transporter, and rolled away from the launch pad and back towards SpaceX's Boca Chica, Texas Starship factory.
The day after Starship SN15 was reinstalled on a launch mount, giving SpaceX unrestricted access to its aft, all three of the rocket's flight-proven Raptor engines – the first of their kind to survive the flight profile intact – were removed. Given the significant value of tearing down and inspecting the first flight-proven high-altitude Raptors, that removal was likely guaranteed regardless of the future of SN15, though it certainly left the Starship at a crossroads.
Having already had its six used landing legs removed, Starship SN15 was left more or less declawed on the launch mount as fans watched with bated breath to see if new legs or engines would be installed. For better or worse, while CEO Elon Musk did indicate that SpaceX "might try to refly SN15 soon" less than two days after its historic landing, it quickly became clear that the company had decided against reuse.
To a degree, especially if SN15's flight-proven Raptor engines were rendered unusable – as they appear to have been – by exposure to water immediately after touchdown, "reusing" the Starship would be more symbolic than anything. With a thorough inspection, it would be easy enough to determine that the Starship's structures and mechanical/hydraulic systems would be up for a second launch, but the slow ~10 km (6.2 mi) flight profile ships SN8 through SN11 and SN15 completed was already only relevant for testing Starship's exotic, unproven method of landing.
In that sense, another fully successful ~10-km launch and landing would only benefit Starship development insofar as it would increase confidence in the landing profile by proving that the first success wasn't a fluke – however incredibly unlikely that might be. Of note, SpaceX also has not plans to recover the first space-proven Starship, instead (nominally) performing a soft-landing in the Pacific Ocean if the prototype makes it through its inaugural spaceflight without issue.
If that "Orbital Test Flight" is a perfect success, SpaceX will likely have enough confidence – and regulators enough data – to proceed to the first attempt to recover an orbital Starship on land. In the meantime, with orbital launch site buildup now moving at a breakneck pace and tens of millions of dollars of custom pad hardware, giant cranes, and months of work sitting a few hundred feet away from the landing pad, attempting to push the envelope with SN15 likely just isn't worth the risk.
SN15 is also a historic piece of hardware after its successful landing and there are signs – namely the location SpaceX has moved the rocket to – that the Starship will be put on permanent display beside the factory that built it. There's a limited possibility that Starship SN16 – all but finished – could be sent to the launch site instead of heading straight to the scrapyard, but any testing would necessarily delay orbital pad construction and any flight activity would likely have to expend SN16 in the ocean rather than risk a land landing.
Ultimately, it's looking more and more likely that SpaceX would rather go all-in on Starship's inaugural orbital launch attempt, even if that means little to no ground or flight test availability for a few months.
Quelle: TESLARATI
1694 Views