6.05.2021
Starship flight attempt for Tuesday afternoon is scrubbed [Updated]
After four failures, SpaceX is really hoping to stick the landing this time.
Update, 12:15pm ET: It is not clear whether the decision was made due to a technical issue or concerns about winds at the launch site, but the Boca Chica Highway road closures for Tuesday have been canceled. This means there will be no Starship launch attempt.
Road closures remain in effect for Wednesday around SpaceX's South Texas launch site, but with similar weather conditions expected then, the attempt may slip into Thursday. SpaceX has not yet publicly cited a launch date.
Original post: The vehicle is ready, its paperwork is in order, and weather conditions should be reasonably good in south Texas Tuesday. All of this points toward SpaceX attempting to launch its newest Starship prototype—SN15—later this afternoon.
Local officials have authorized a road closure from noon (17:00 UTC) on Tuesday through 8 pm local time (01:00 UTC Wednesday). The end of this closure coincides with sunset at the launch site, which will come shortly after 8 pm. In addition, in its daily operations plan, the Federal Aviation Administration confirmed that the launch is scheduled for Tuesday.
This is an important mission for SpaceX. Already, as part of this experimental test campaign, SpaceX has lost four full-scale Starship prototypes—SN8, SN9, SN10, and SN11—in flights since December. Just one of these four vehicles has made a soft landing, SN10 in early March, but due to a fuel line problem, it exploded about 10 minutes after touchdown.
Engineers have learned from each of these failures, however. And SpaceX has made "hundreds" of upgrades to the current Starship prototype on the launch pad, according to company founder Elon Musk. These include design improvements to the vehicle's structure, its onboard flight computers, and flight software.
The goal for SN15, as with its predecessors, is to demonstrate the capability to fly to about 10 km and land successfully. If this attempt fails as well, the company has already stacked SN16 in a high-bay building a few kilometers from the launch site, and the prototype is nearly ready to roll to pad.
After demonstrating the ability to land Starship after a high-altitude flight, the next major goal will be to boost the vehicle into orbit. Accordingly, Musk has said the next major upgrade to Starship will come with SN20, which will have a separation system and a heat shield designed to withstand the heating from Earth orbit.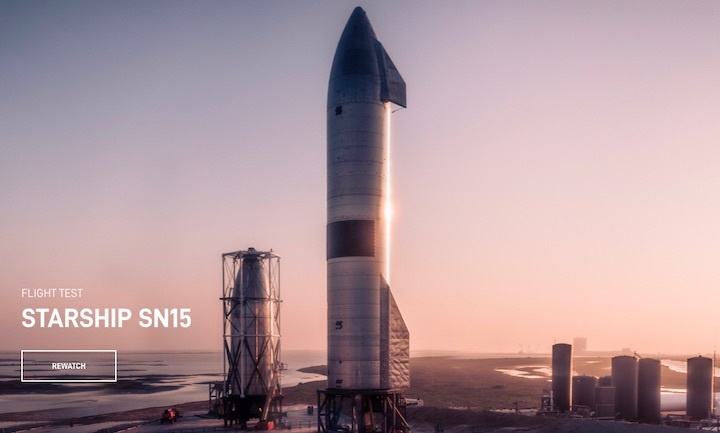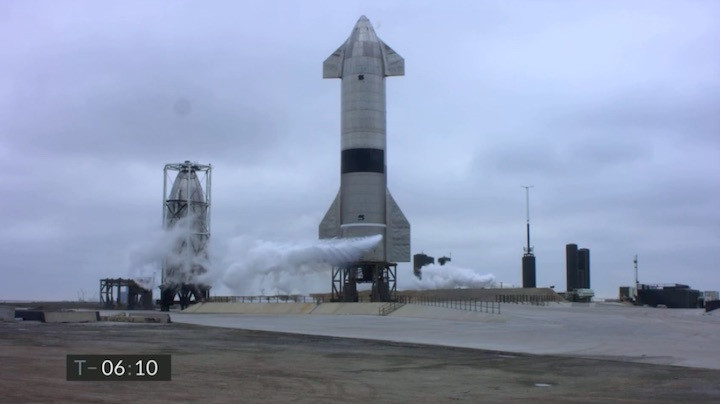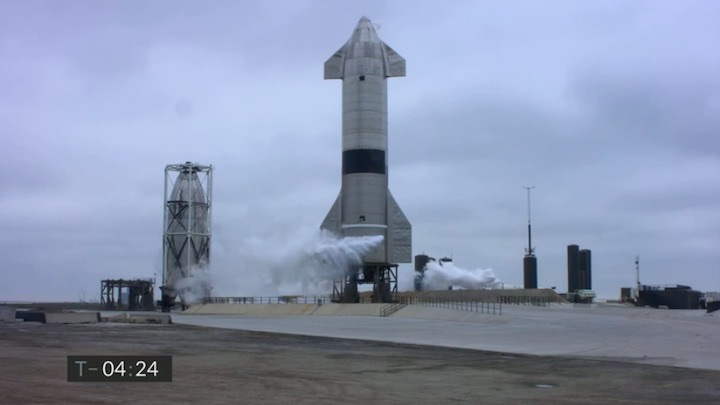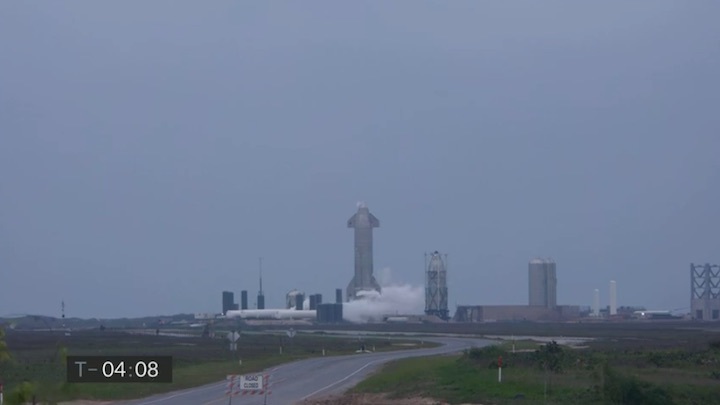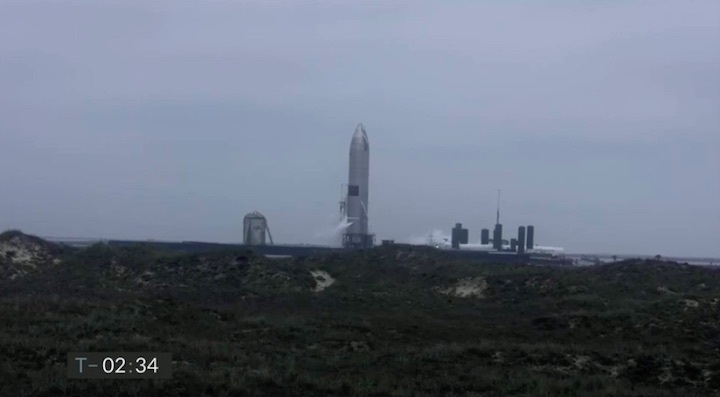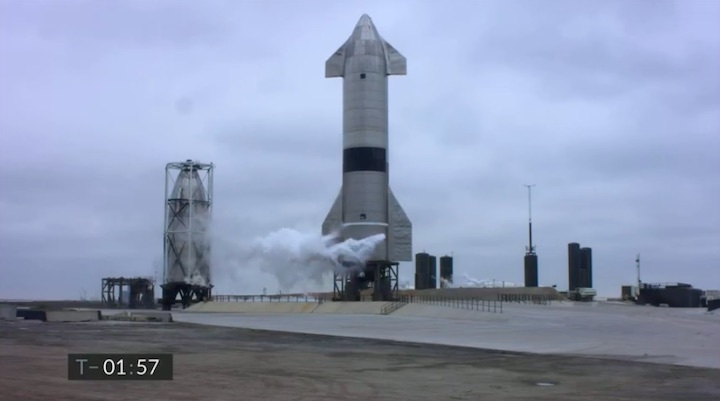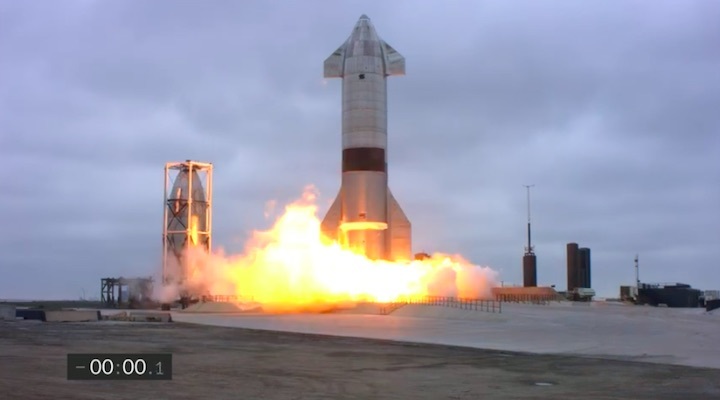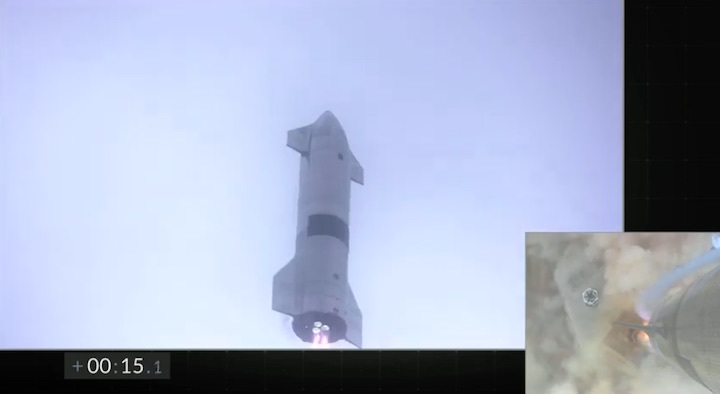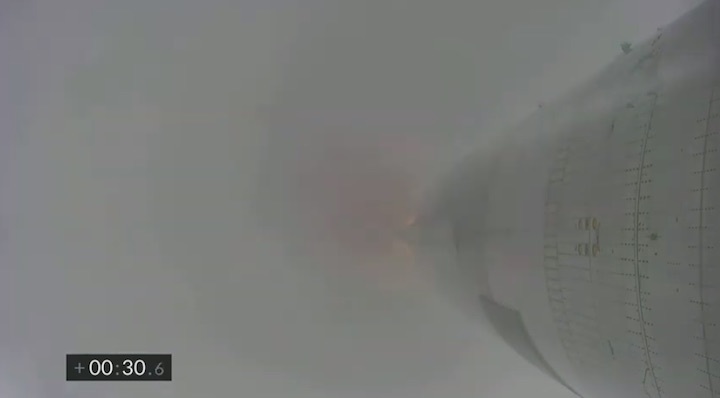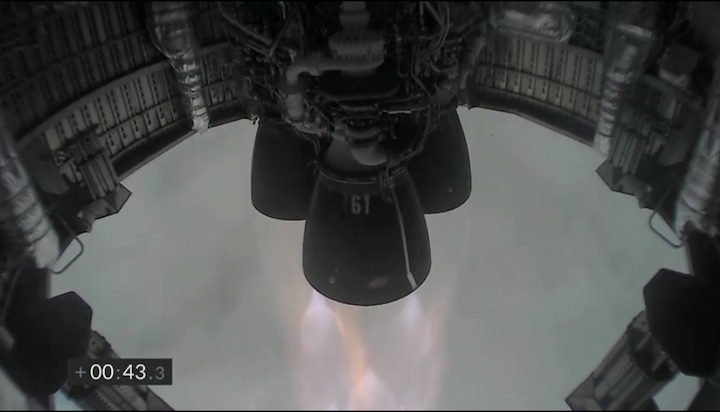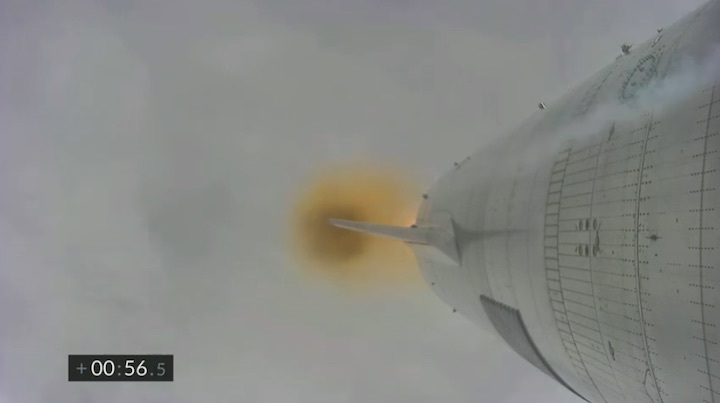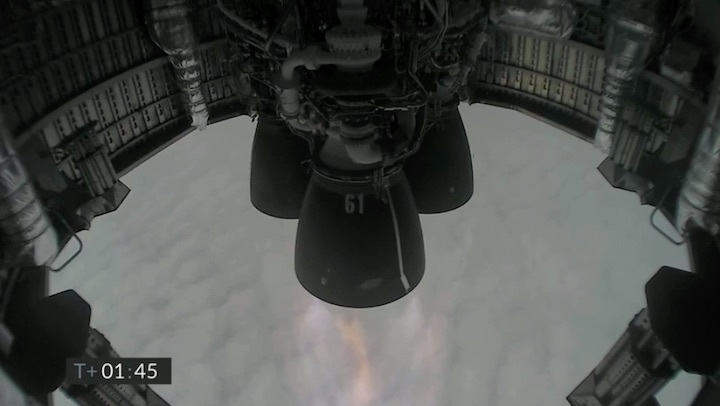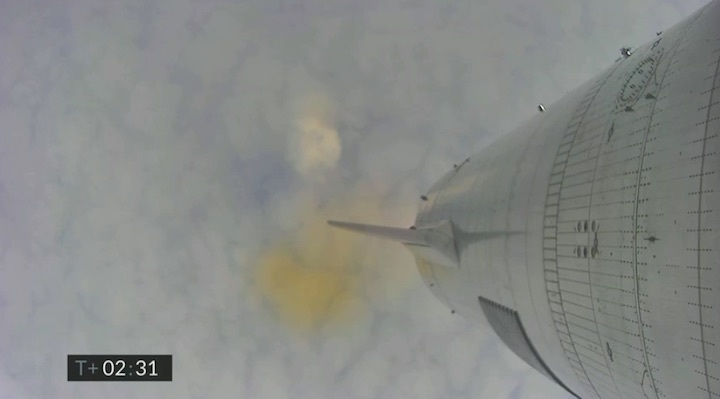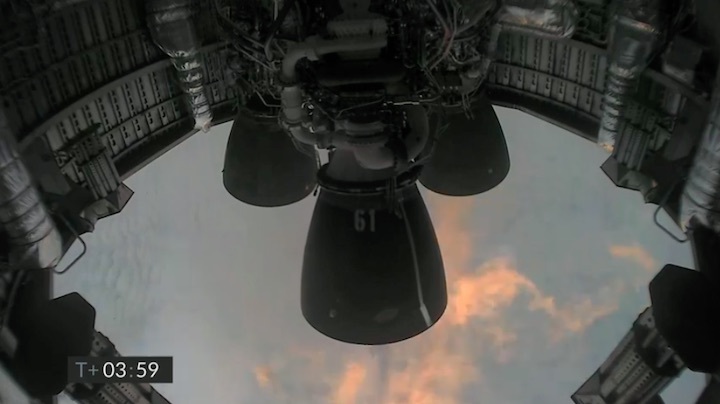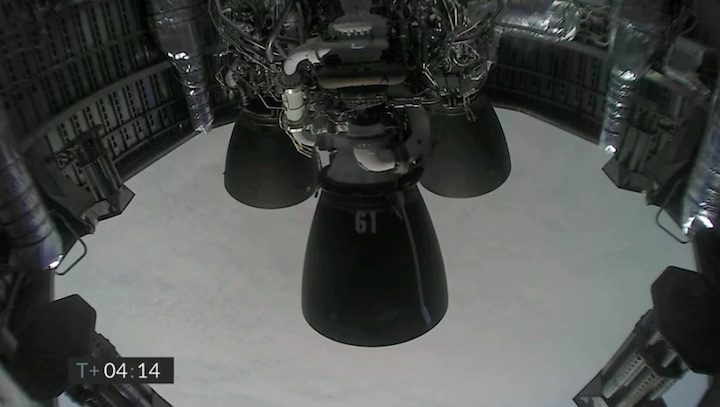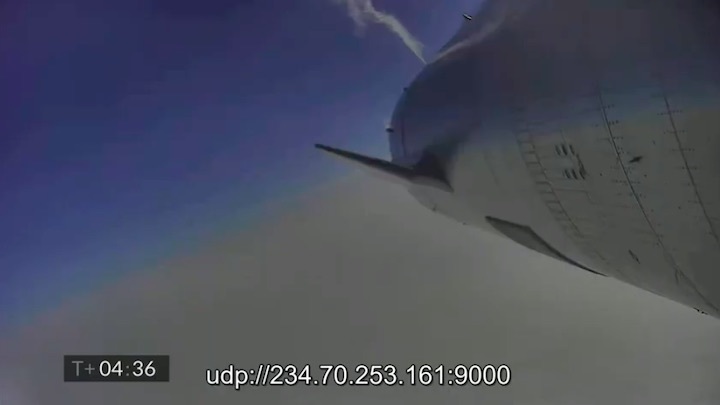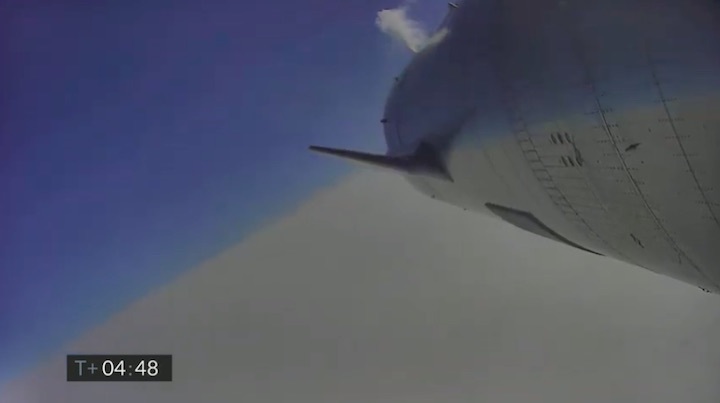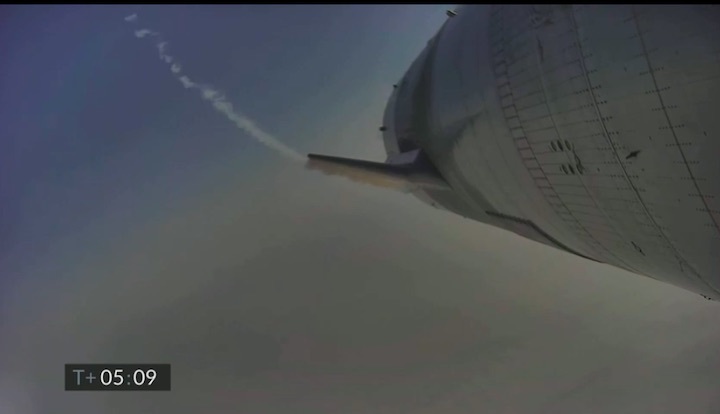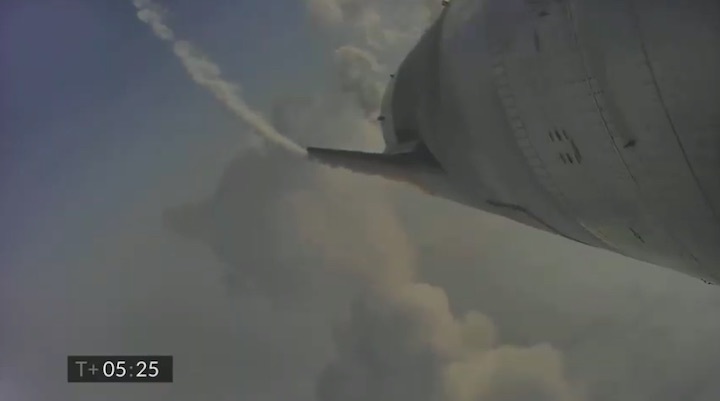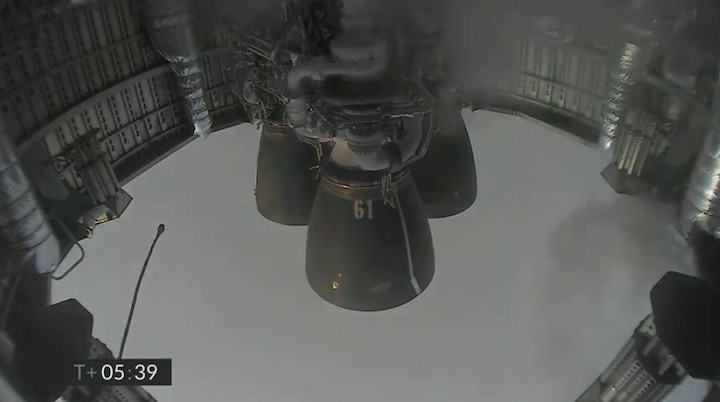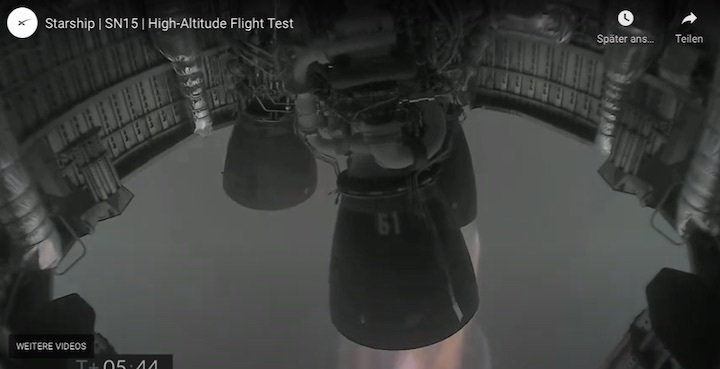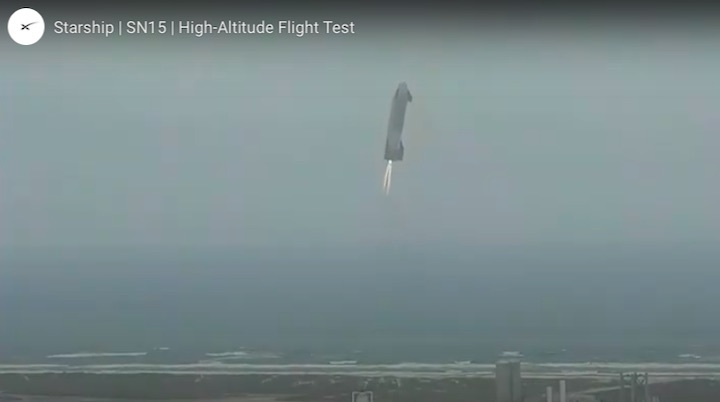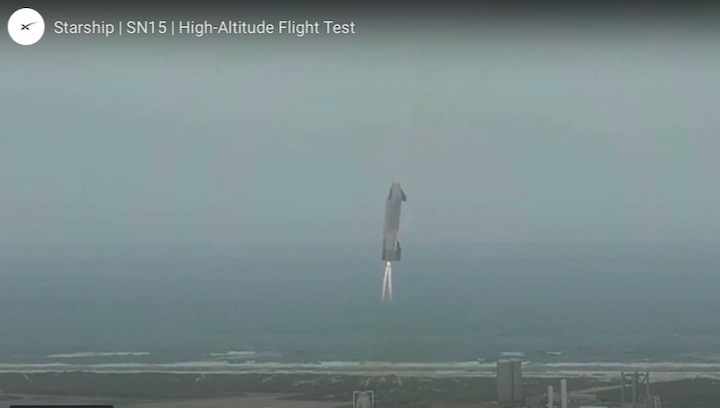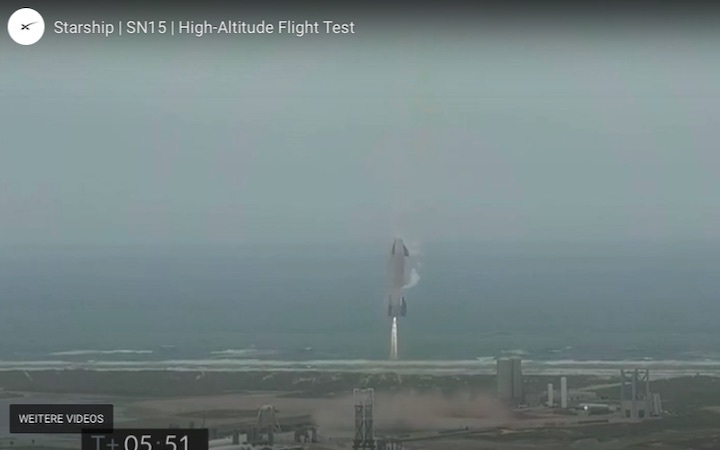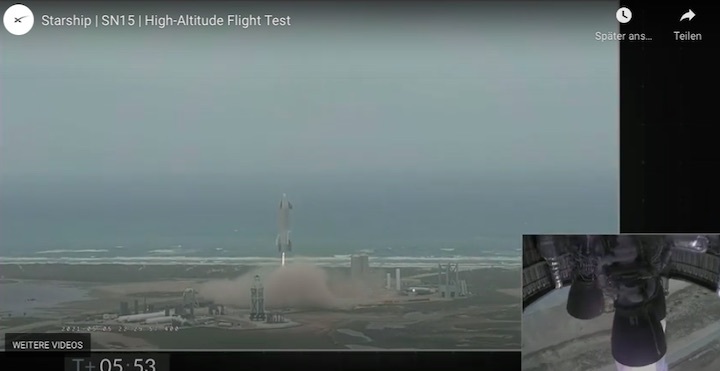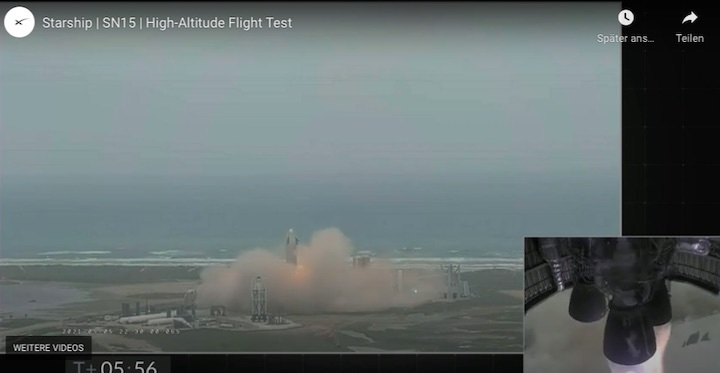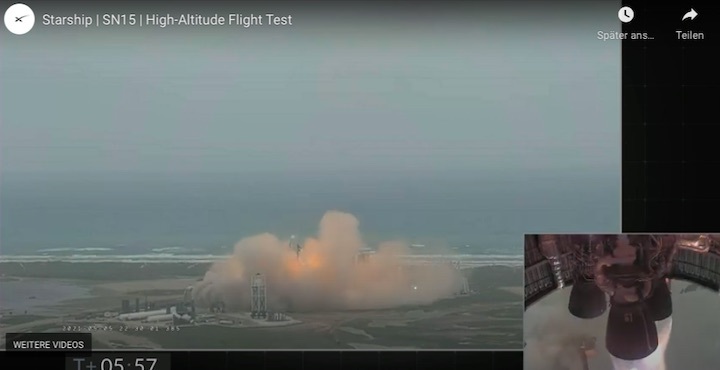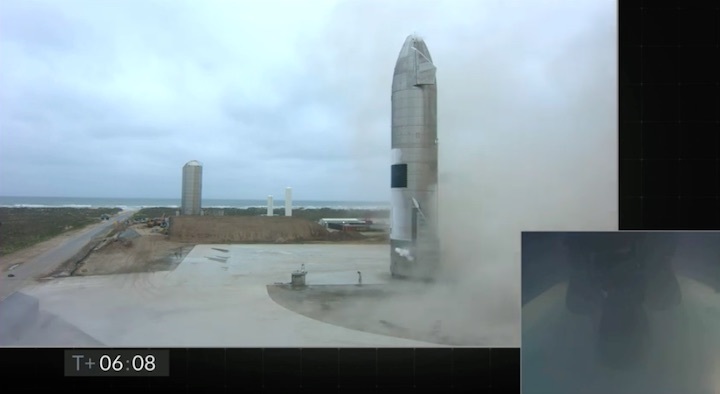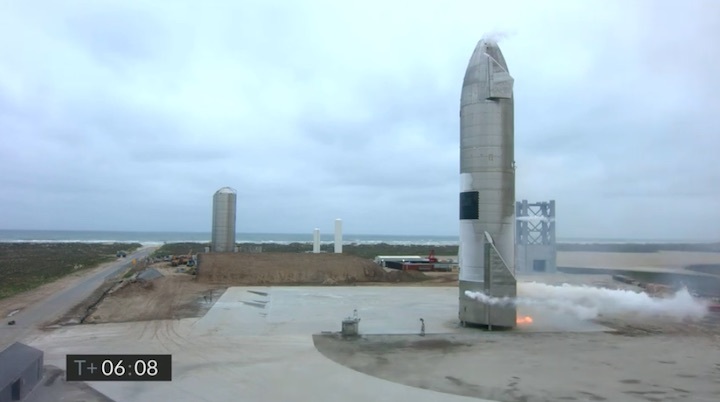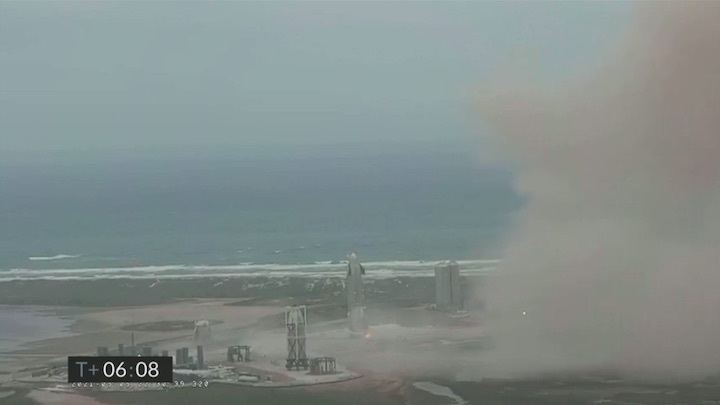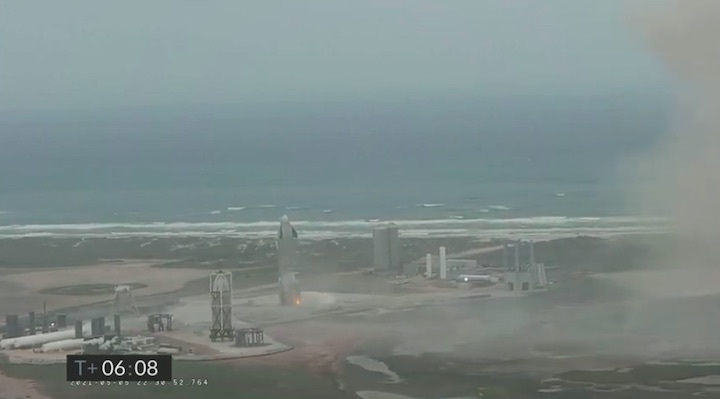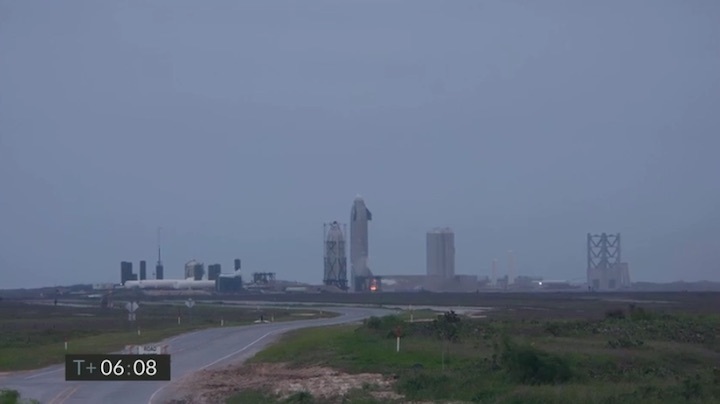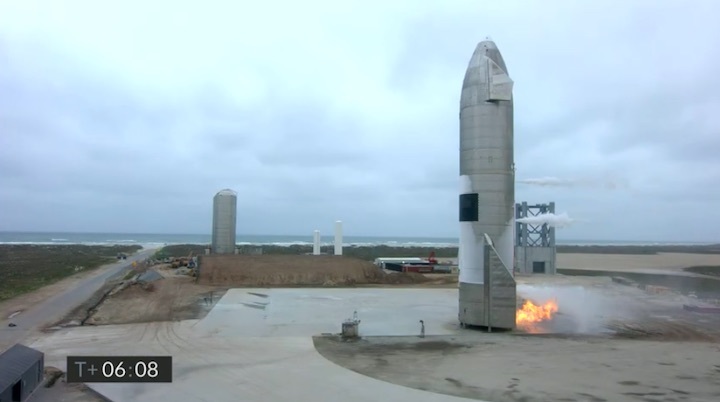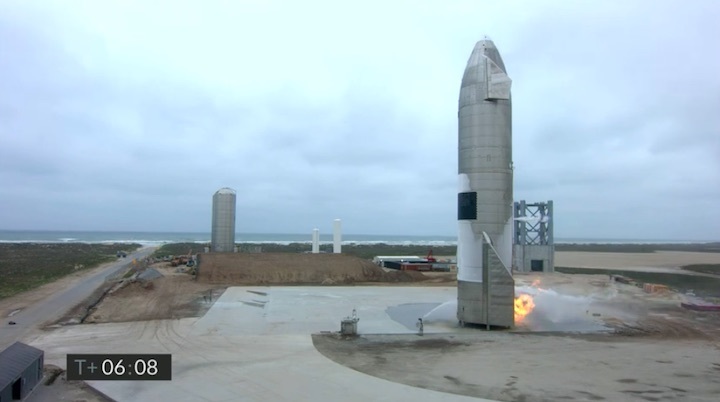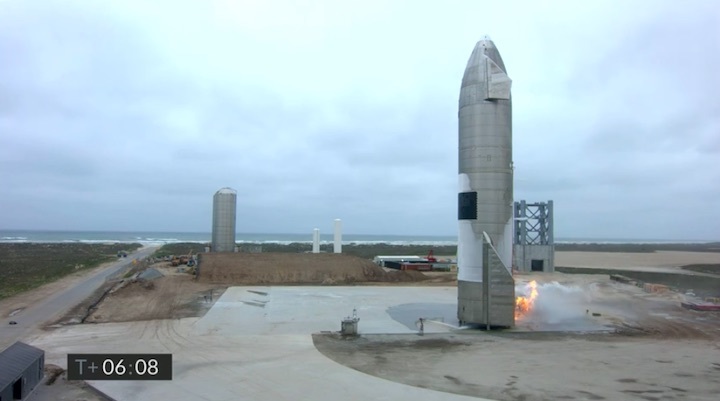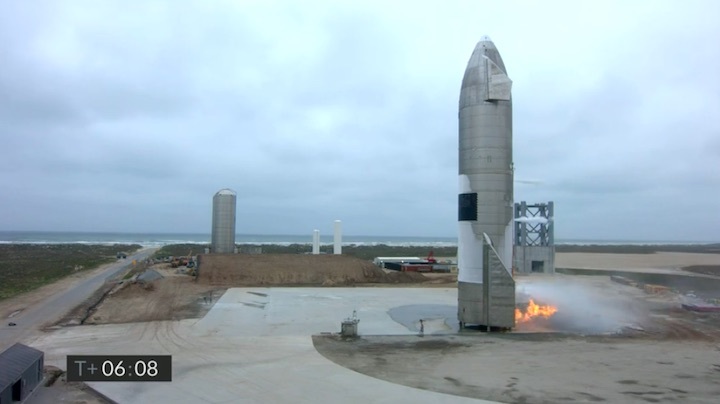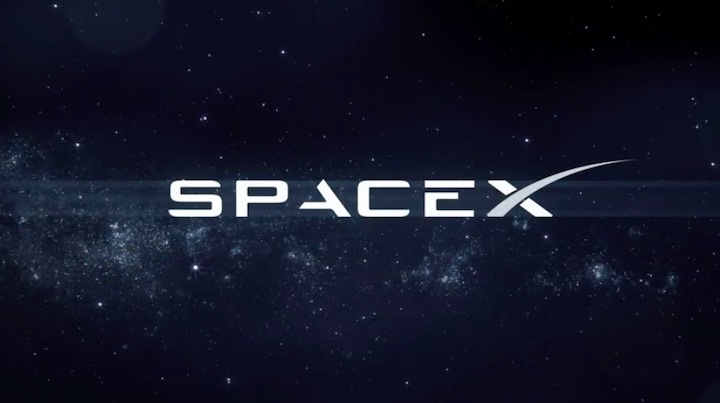 Quelle: SpaceX
+++
Starship survives test flight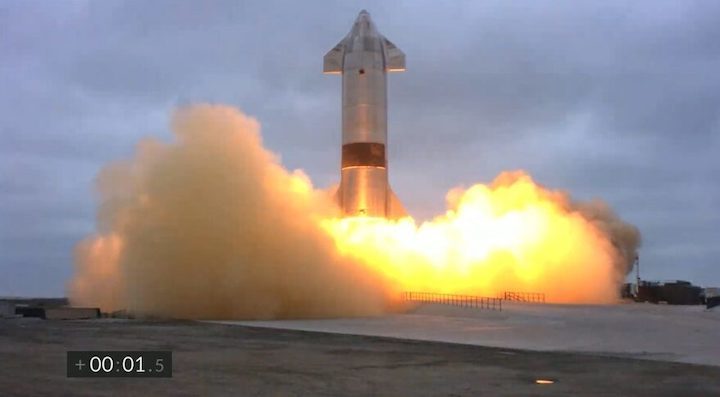 WASHINGTON — A SpaceX Starship prototype successfully carried out a brief suborbital flight May 5 after four previous vehicles were destroyed during or shortly after landing.
The Starship SN15 vehicle lifted off from SpaceX's Boca Chica, Texas, test site at 6:24 p.m. Eastern. The vehicle flew to an altitude of approximately 10 kilometers before descending and landing back at the test site six minutes after liftoff.
There was a fire at the base of the vehicle after landing, similar to what happened with the flight of the Starship SN10 vehicle March 3. That vehicle exploded less than 10 minutes later. On this flight, remotely-operated fire suppression systems appeared to extinguish the fire within several minutes.
SN10 was one of four Starship prototypes destroyed in test flights between December and March. The most recent vehicle, SN11, exploded when a Raptor engine suffered a "hard start" as it reigniting for its landing burn on a March 30 flight.
The SN15 Starship prototype "has vehicle improvements across structures, avionics and software, and the engines that will allow more speed and efficiency throughout production and flight," SpaceX said on its website. Those changes included a new enhanced avionics suite, updated propellant architecture in the aft skirt and a new Raptor engine design and configuration.
"This flight includes multiple upgrades and improvements to address the findings from the rapid unplanned disassembly that we experienced on the last flight," SpaceX's John Insprucker said on the SpaceX webcast of the test flight. "The vehicle also incorporates changes to get us closer to the orbital configuration."
SpaceX Chief Executive Elon Musk seemed satisfied with the flight. "Starship landing nominal!" he tweeted shortly after landing.
The company has not disclosed if it plans to fly SN15 again. A new prototype, SN16, is nearing completion at the SpaceX facilities in Boca Chica.
Starship serves as the upper stage of SpaceX's next-generation launch system. On orbital flights Starship will be launched atop a large booster called Super Heavy, which is still under development.
SpaceX is also developing a version of Starship that will serve as a lunar lander. NASA selected Starship in its Human Landing System (HLS) competition April 16, awarding it a $2.9 billion contractto fund development of the lander version of Starship and one flight to the lunar surface with astronauts on board. That contract is on hold, however, after the two losing bidders, Blue Origin and Dynetics, filed protests with the Government Accountability Office.
"It's definitely going to be really helpful," Musk said at an April 23 NASA press conference after the Crew-2 commercial crew launch, when asked how that HLS contract would help Starship development. "It's mostly been funded internally thus far, and it's pretty expensive."
"As you can tell if you've been watching the videos, we've blown up a few of them," he added. "Excitement guaranteed, one way or another."
"It's a tough vehicle to build because we're trying to crack this nut of a fully and rapidly reusable rocket," he said, emphasizing the importance of such reusability to lowering launch costs and increasing flight rates. "If you have rapid reusability, then that is the gateway to the heavens. That's what we're trying to get done."
"The Starship design can work. It's just a hard thing to solve, and the support of NASA is very much appreciated in this regard," he said later in the briefing. "I think it's going to work."
Quelle: SN
997 Views