.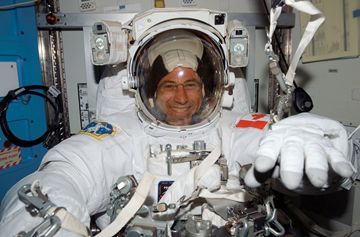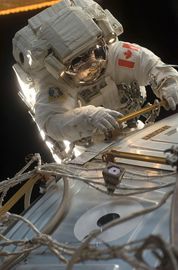 Dr. Dave Williams
Canadian Space Agency astronaut Dave Williams aboard the International Space Station.

On Aug. 18, 2007 Canadian Space Agency astronaut Dave Williams takes his work outisde as construction and maintenance continue on the International Space Station.
.
Retired astronaut Dr. Dave Williams has been appointed to the Order of Canada for his contributions to space exploration, which saw him leave the planet twice.
Governor General David Johnston named Williams an Officer of the Order of Canada on Friday, after a special advisory council made the recommendation.
A short citation said Williams was also being recognized because of his leadership in enhancing astronaut health and welfare.
"I'm really honoured," said Williams, a Saskatchewan native. "This is an amazing honour to receive and I'm very, very proud."
Williams said he could trace his desire to become an astronaut back to age 6 when he witnessed the shuttle carrying Alan Shepard blast off into space.
However, his inspiration soon turned to dismay because, at the time, Canada did not have an astronaut program.
With his dream dashed, Williams focused on underwater exploration. He began scuba diving at age 12.
"To do that, you have to learn a lot about physiology and things. I found it was interesting learning about how humans adapt to unique environments," said Williams.
"That's when I decided to become a doctor."
Williams attended McGill University in Montreal, earning degrees in science and medicine. He worked as an emergency physician in Kitchener and Toronto.
In June 1992, Williams' two passions of medicine and space exploration collided when the Canadian Space Agency selected him as one of four successful candidates from a field of 5,330 applicants to begin training as an astronaut.
The married and a father of two completed his training and in 1998 flew aboard the space shuttle Columbia as a mission specialist.
The 16-day space flight saw Williams and the other crew members serve as both the subjects and operators for 26 life science experiments.
The tests were dedicated to the advancement of neuroscience research and focused on the effects of microgravity on the brain and the nervous system.
"I was really surprised I was picked to be a part of the new astronaut group hired in 1992 and really honoured and proud to be able to represent Canada in this unique environment," said Williams.
"It is very competitive selecting the science for these missions and we had some experiments from York University that were selected to go. So that was a real thrill doing Canadian science in space."
Williams said the research carried out during this mission increased human understanding of certain aspects of the brain and nervous system, which may one day help people suffering from strokes or other nervous system ailments.
When Williams returned to Earth he was made Director of the Space and Life Sciences Directorate at the Johnson Space Centre in Houston, Texas.
This made him the first non-American to hold a senior management position at NASA.
During that time he served as the crew commander of the NEEMO 9 underwater training mission, which assessed methods of delivering medical care to a remote location, much like what would have to be done on a long flight in space.
In 2007, Williams returned to space in the space shuttle Endeavour to carry out additional research, but also helped install a truss system, an external stowage platform, and gyroscope on the International Space Station.
Williams would perform three space walks during this flight, a record for a Canadian astronaut — totalling 17 hours and 47 minutes in duration.
"It's a pretty remarkable feeling because you're travelling at eight kilometres a second, which is about eight times faster than a rifle bullet, and you are looking down at the Earth about 300 kilometres below you," said Williams.
"It's an amazing sensation, especially when you are riding on the end of the (Canada) Arm. If you are doing that, the space station is behind you so you don't see the space shuttle and the space station so it feels like you are just perched up there 300 kilometres away from the Earth. It's pretty spectacular."
Williams described being in a space shuttle and on the International Space Station to driving down the highway on a bus — but doing a space walk was more like driving down the highway on a motorcycle.
"When you are doing a space walk, you are in your own space suit, which is a spacecraft in and of itself and you realize it is just you and your space walking partner out there and a pretty amazing view of the Earth," said Williams.
He retired from active astronaut status in 2008, moved to Oakville and is president and CEO of Newmarket's Southlake Regional Health Centre.
"When I was director of Life Sciences, my job was to understand the medical consequences of sending people into space for six months onboard the International Space Station. What we learned was you suffer from bone loss, your muscles lose strength, you have changes in the regulation of your blood pressure and you tend to lose your balance when you come back.
"All of these are very similar to the types of change we see to elderly patients who have been admitted to the hospital for long periods. Now, as a hospital CEO, we're very passionate in understanding what we used to do in the space program and are preconditioning patients, optimizing levels of activity and making sure people are mobile to decrease some of these changes."
Quelle:Brampton Guardian
5337 Views