With less than six weeks to go before its scheduled launch atop a Falcon 9 booster out of Vandenberg Air Force Base, Calif.—the first SpaceX mission from the West Coast in more than a year—the Sentinel-6A Michael Freilich ocean-monitoring satellite is ready for its long-awaited shipment to the United States. Prime contractor Airbus Defence and Space recently announced that the 2,600-pound (1,190 kg) spacecraft will be loaded aboard a cargo aircraft at Germany's Munich Airport later this week to begin its transcontinental journey across ten time-zones to reach Vandenberg on the Pacific Coast. Liftoff of the mission, which forms a constituent part of Europe's Copernicus Earth observation program, is currently targeted for 11:31 a.m. PST (2:31 p.m. EST) on 10 November.
Part of a collaborative effort between NASA, the National Oceanic and Atmospheric Administration (NOAA), the Centre national d'études spatiales (CNES, the French national space agency) and the European Space Agency (ESA), together with the European Organisation for the Exploitation of Meteorological Satellites (EUMETSAT) and the European Commission, Sentinel-6A is one of two identical oceanography missions to be launched over the next five years.
Its twin, Sentinel-6B, is targeted to fly in 2026. Equipped with radar altimeters and microwave radiometers and supported by Global Navigation Satellite System (GNSS) precise-orbit determination receivers, Doppler tracking antennas, laser reflector arrays and radio-occultation instruments, the twins will examine changes in sea-level, weather and ocean circulation, as well as climatic variability manifested through such phenomena as El Niño and La Niña.
"Global sea-level rise is, in a way, the most complete measure of how humans are changing the climate," said Dr. Josh Willis, the mission's project scientist at NASA's Jet Propulsion Laboratory (JPL) in Pasadena, Calif. "If you think about it, global sea-level rise means that 70 percent of Earth's surface is getting taller: 70 percent of the planet is changing its shape and growing. It's the whole planet changing."
Originally designated Jason-CS ("Continuity of Service"), the Sentinel-6 twins follow in the footsteps of four U.S./European oceanography missions stretching back almost three decades. First was TOPEX/Poseidon, a collaborative U.S/French endeavor, launched in August 1992, which remained operational for over 13 years and was described by one scientist as the most successful ocean experiment ever conducted.
Next came Jason-1, launched in December 2001 and deactivated in July 2013. More recently, Jason-2 rose from Earth in June 2008 and was decommissioned last fall. And currently in active service, Jason-3—which roared aloft atop a SpaceX Falcon 9 booster in January 2016—is approaching the end of its minimum five-year lifespan.
Decades of space-based and ground-based observations have revealed that Earth's surface temperature continues to rise at an alarming rate, according to NASA. Our oceans play a key role in stabilizing the climate by absorbing 90 percent of trapped heat from excess "greenhouse gases", like carbon dioxide, which have been emitted into the atmosphere in copious quantities since the start of the Industrial Revolution. As the oceans heat up, their volume expands, increasing the volume of water and also melting ice sheets and glaciers, which contributes further to sea-level rises.
This has continued unabated for over a quarter-century and TOPEX/Poseidon and the three Jasons demonstrated that Earth's oceans are rising by an average of 0.1 inches (3.2 mm) annually, with evidence in the last few years of a global increase to almost 0.2 inches (4.8 mm). This has forced humanity to face the inevitable consequences: from the effects of flooding to coastal erosion and storm hazards to negative impacts upon marine wildlife. The Sentinel-6 twins will continue these ongoing measurements, examining the oceans down to scales on the order of millimeters, through at least 2030, to afford scientists a 40-year continuous "set" of data.
But the mission's emphasis is not solely upon sea-level measurements. The twins will also assist with weather predictions, assess atmospheric change and collect high-resolution vertical profiles of temperature and humidity. Their radar altimeters will map up to 95 percent of Earth's ice-free oceans every ten days, examining currents, wind speeds and wave heights for maritime safety and the protection and management of increasingly busy coastal regions. And they will afford scientists the capability to understand smaller oceanic features (such as complex currents), which carry important benefits for navigation and worldwide fishing communities.
Airbus Defence and Space received the 177-million-euro ($208 million) contract to build Sentinel-6A back in December 2014, with an expectation that the spacecraft would be inserted into a near-polar orbit some 825 miles (1,330 km) high. By September 2019, Sentinel-6A was structurally complete at Airbus' facility in Friedrichshafen, Germany, and was despatched to the IABG analysis and test center in Ottobrunn, near Munich, for several months of mechanical, thermal and acoustic testing.
For the spacecraft, the acoustic tests were particularly jarring. Four 60-second blasts of sound were fired by huge loudspeakers with increasing intensity. At their peak, they reached 140 decibels, significantly higher than the ear-splitting level of 110 decibels produced by a pneumatic drill or chainsaw.
The spacecraft's final months on Earth have been further complicated by the worldwide march of the COVID-19 coronavirus pandemic, which meant far fewer engineers were present in the IABG "clean room" and most of the mission personnel were forced to follow the progress of the testing remotely. "Remarkably, we have reached an important milestone completing the acoustic vibration tests, which simulate the noisy environment of liftoff and ascent through the atmosphere," said Pierrik Vuilleumier, ESA's Copernicus Sentinel-6 mission project manager. "This just shows how the team is determined to meet the launch date in November, despite the difficult circumstances."
Last January, Sentinel-6A was officially renamed in honor of ocean physicist Dr. Michael Freilich, who retired in August 2019 as head of NASA's Earth Science Division. In a touching tribute, NASA Administrator Jim Bridenstine related the heartache of learning of Dr. Freilich's cancer diagnosis. "We've got to do something quickly," he remembered telling Associate Administrator of the Science Mission Directorate, Dr. Thomas Zurbuchen. "I want him to know that all the work he's done is extremely meaningful." Although Dr. Freilich lived long enough to learn that Sentinel-6A would be named for him, he sadly died in August.
"This honor demonstrates the global reach of Mike's legacy," said Mr. Bridenstine in January. "We are grateful for ESA and the European partners' generosity in recognizing Mike's lifelong dedication to understanding our planet and improving life for everyone on it. Mike's contributions to NASA and to Earth science, worldwide, have been invaluable and we are thrilled that this satellite bearing his name will uncover new knowledge about the oceans for which he has such an abiding passion."
"It would be an honor if we could name that spacecraft after you," Dr. Zurbuchen recalled asking Dr. Freilich. "Would you accept that?"
"I'll be selfish," replied Dr. Freilich, undoubtedly with a glint in his eye. "Absolutely!"
Quelle:AS
----
Update: 5.10.2020
.
Monitoring Sea Level Rise: Sentinel 6A in Final Processing at Vandenberg for Nov 10 Launch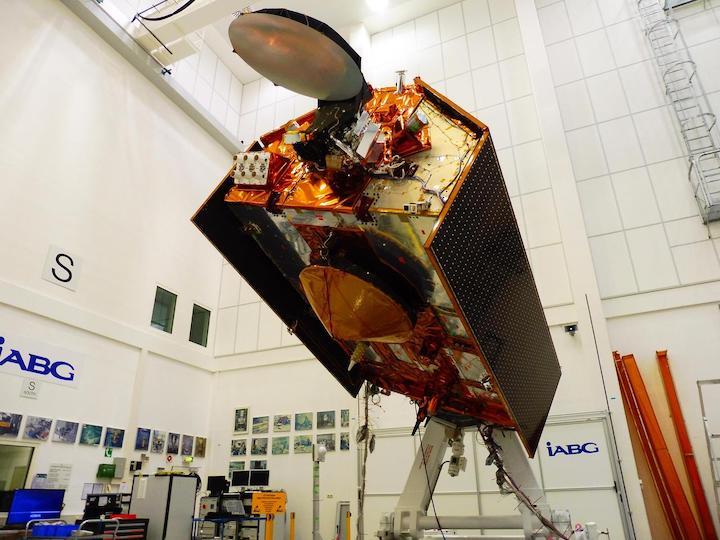 NASA and ESA's next Earth Observing science mission aims to better understand sea level rise and how it changes over time, as coastal communities around the world see more and more the affects of the Earth's global climate warming. The joint U.S.-European Sentinel-6 'Michael Freilich' satellite intends to collect the most accurate data thus far on how climate change is affecting the oceans, with millimeter-scale precision, and is now in the final stretch for launch next month from Vandenberg AFB, CA.
The spacecraft, named after Dr. Michael Freilich, former director of NASA's Earth Science Division who was instrumental in advancing ocean observations from space, recently arrived at Vandenberg courtesy of an Antonov 124 cargo aircraft, following a two-day journey from an IABG engineering facility near Munich, Germany. It's now into final checkouts and processing for integration atop a SpaceX Falcon 9 rocket, slated for launch no sooner than Nov 10 at 11:31 a.m. PST from Space Launch Complex 4E.
The spacecraft is part of Sentinel-6/Jason-CS, a 10-year mission by U.S and European agencies to continue studying rising sea levels across more than 90% of the world's oceans, and actually consists of two identical satellites launching five years apart, Sentinel 6A (launching in Nov) and Sentinel 6B in 2025. They follow four other joint U.S.-European missions — TOPEX/Poseidon and Jason-1, Ocean Surface Topography/Jason-2, and Jason-3 — that over the past thirty years have documented Earth's oceans rising by an average of 0.13 inches (3.3 millimeters) per year, more than twice the rate at the start of the 20th century (source NASA).
"As more and more people move to coastal regions, and coastal megacities continue to develop, the impact of sea level change will be more profound on those societies," said Craig Donlon, mission project scientist at the European Space Agency.
"Some of the long-term datasets climate scientists rely on, like ocean temperature or the height of tides, have gaps or major changes in how data was collected (like before and after satellite records began) that make understanding the long-term climate signal challenging," says NASA. "Researchers must account for these variations to ensure that their results are truly representative of the phenomena they're looking at."
Continuity is key to the dataset's success, which is why each of the previous satellites all launched into the same orbits, and before the older one was decommissioned. Sentinel 6A for example, will orbit at an altitude of 1,300km (800 miles) and be inclined over the equator, following 30 seconds behind the Jason-3 satellite, which launched in 2016 atop another SpaceX Falcon 9 from Vandenberg. Being inclined to the equator will allow Sentinel-6 to cover 2/3 of the entire planet every 10 days
Scientists will then spend a year cross-calibrating the data collected by Jason-3 and Sentinel 6A, ensuring the continuity of measurements from one mission to the next, and they'll do the same again once Sentinel 6B launches in 2025.
"This new earth observing satellite will give us the ability to track and understand sea level rise like never before," says Josh Willis, the missions's Project Scientist from NASA JPL. "It will extend the record of sea level rise for another decade, past the 30 years we already have, and allow us to see how sea levels are not only rising, but how it's accelerating."
"Sea levels are rising at a faster and faster rate every decade," he adds. "We need these measurements to predict how quickly flooding will increase across the planet."
But Sentinel-6/Jason-CS won't just study sea level change; it will also record changes in ocean circulation, climate variability such as El Niño and La Niña, and weather patterns such as hurricanes and storms, providing atmospheric data that will improve weather forecasts and bolster climate models. The mission will also collect measurements at higher resolution than any of the previous satellites, and measure smaller sea level variations near coastlines; something none of the previous missions could do.
Understanding weather phenomena such as El Niño and La Niña are critically important to people around the world, as each have very significant impacts across every continent. An El Niño, for example, can shift ocean currents and global weather patterns, bringing torrential rain to the Southwestern U.S. and triggering droughts in Asia and Australia. La Niña, meanwhile, has the opposite effect.
"In 2010, there was a massive La Niña and it essentially flooded huge parts of Australia and Southeast Asia. It rained so much on land, it dropped global sea levels by one centimeter [0.4 inches]," said Willis. "We had no idea it could have such a massive impact on global sea level."
"The Sentinel-6 Michael Freilich satellite will advance our understanding of the Earth as a system, and inform decision-makers, from federal to local levels, who must manage the risks associated with rising sea levels," said Karen St. Germain, director of NASA's Earth Science Division in Washington.
It's being jointly developed by the European Space Agency (ESA), the European Organisation for the Exploitation of Meteorological Satellite (EUMETSAT), NASA and the National Oceanic and Atmospheric Administration (NOAA), with funding support from the European Commission and support from France's National Centre for Space Studies (CNES).
A Ku/C Radar Altimeter called POSEIDON-4 will be the primary measurement system, capable of acquiring "phase coherent measurements of a surface allowing synthetic-aperture processing to improve along-track sampling and reducing range and Significant Wave Height (SWH) noise as a function of SWH," according to ESA.
From ESA:
The main characteristics of the POSEIDON-4 (SENTINEL-6 Ku/C radar altimeter) are:
Radar measurement modes: Interleaved mode (simultaneous LRM and SAR, plus reduced-data-rate-SAR RMC
Ku-band central frequency of 13.575 GHz, total bandwidth of 320 MHz
C-band secondary frequency, used for ionosphere corrections, central frequency of 5.41 GHz, total bandwidth of 320 MHz
Tracking modes: closed and open-loop
Pulse repetition frequency: approximately 9 kHz (variable from 9.076 to 9.280 kHz)
With the current POSEIDON-4 design theoretical performances have been assessed which demonstrates that SENTINEL-6 will improve on its required performances for both LRM and SAR processing.
NASA meanwhile is providing three science instruments for both satellites: an Advanced Microwave Radiometer, a Global Navigation Satellite System – Radio Occultation instrument which will use radio occultation to measure the physical properties of Earth's atmosphere (another big key piece to the climate change puzzle), and a Laser Retroreflector Array.
NASA's Launch Services Program is responsible for launch management. The agency is also providing the ground systems supporting the science instruments operations and giving support for the international Ocean Surface Topography Science Team.
Quelle: AS
----
Update: 27.10.2020
.
Ramping up to launch sea-level charting satellite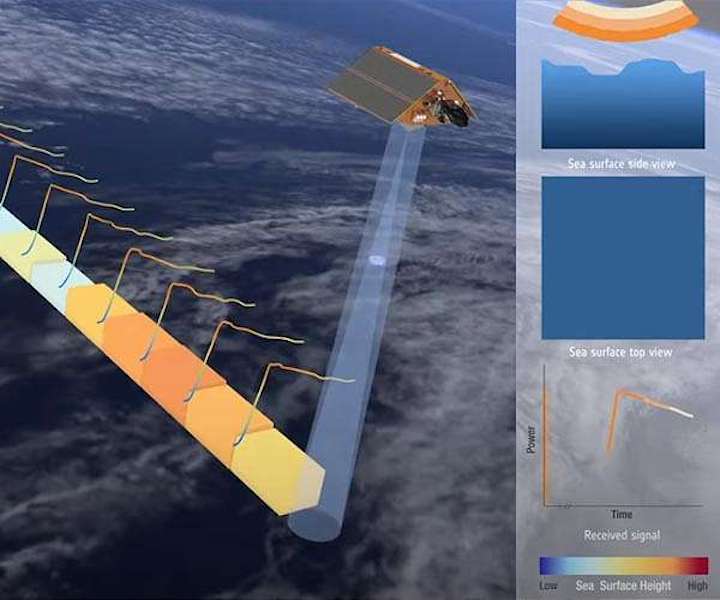 The Copernicus Sentinel-6 Poseidon-4 dual-frequency (C- and Ku-band) radar altimeter uses an innovative interleaved mode that has improved performance compared to previous satellite altimeter designs. A radar altimeter derives the height of the satellite above Earth by accurately and precisely measuring the time it takes for a transmitted radar pulse to reflect Earth's surface. The returned echo pulse from the sea surface provides a waveform that is processed to determine sea-surface height (from the radar range), the significant wave height (from the slope of the waveform leading edge) and the surface wind speed from the ocean roughness (determined from the strength of the power returns).
With less than a month to go before a SpaceX Falcon 9 takes Copernicus Sentinel-6 Michael Freilich into orbit to chart sea-level rise, preparations are forging ahead at the launch site.
Since the satellite arrived at Vandenberg in California on 24 September, it has been transferred to the SpaceX Payload Processing Facility, unpacked and undergone a series of tests to make sure that nothing had been damaged during transportation and the satellite is ready for the rigours of liftoff and its five-plus years in orbit around Earth.
Tasks still to tick off the 'to do' list before Sentinel-6's 10 November launch date include the hazardous job of fuelling the satellite, as well as encapsulating it in the rocket fairing and rolling it out to the launch pad.
Once safely in orbit, Copernicus Sentinel-6 will continue the long-term record of reference sea-surface height measurements that were started in 1992 by the French-US Topex Poseidon satellite and then by the Jason series of satellite missions.
The mission comprises two identical satellites launched five years apart. Firstly, Copernicus Sentinel-6 Michael Freilich launching in few weeks, and then Copernicus Sentinel-6B in 2025 to supply measurements until at least 2030.
Since sea-level rise is a key indicator of climate change, accurately monitoring the changing height of the sea surface over decades is essential for climate science, for policy-making and, ultimately, for protecting those in low-lying regions at risk.
Satellites tracking the changing height of the ocean surface show that global mean sea level has risen, on average, by just over 3 mm every year since 1993. Even more worryingly, this rate of rise has increased in recent years. The role of Copernicus Sentinel-6 is not only to continue this critical 'gold standard' record for climate studies, but also to measure sea-surface height with greater precision than before.
To do this, Sentinel-6 brings, for the first time, synthetic aperture radar into the altimetry reference mission time series. To ensure that no bias is introduced into the time series data, the radar instrument delivers simultaneous conventional low-resolution mode measurements as well as the improved performance of synthetic aperture radar processing that yields high-resolution along-track measurements.
The satellites' instrument package also includes an advanced microwave radiometer provided by NASA. Water vapour in the atmosphere affects the speed of the altimeter's radar pulses - and therefore estimates of sea-surface height. The advanced microwave radiometer accounts this water vapour to ensure that measurements are accurate.
As well as mapping the height of the sea surface to understand long-term change, Copernicus Sentinel-6 also provides data for practical 'operational' applications. For example, the mission measures significant wave height and wind speed, data that are used for near-real time ocean forecasting. In fact, satellite altimetry provides the most comprehensive ocean sea-state measurements available today.
ESA's Director of Earth Observation Programmes, Josef Aschbacher, said, "Sea-level rise is a major global concern so having a continuous precise record of change is critical for policy-making. We are extremely proud to be part of this important mission, which is truly international and epitomises the value of cooperation between the different organisations of ESA, the EC, EUMETSAT, NASA, NOAA and CNES."
At a NASA press conference held on 16 October, Thomas Zurbuchen, Associate Administrator of NASA's Science Mission Directorate, said, "This is the first European partnership of this type for NASA with ESA and we couldn't be more excited. We work together as an international community and we do so because together we learn best. Together we can provide best the information to all decision-makers that need to make critical decisions for our future."
Pierre Delsaux, European Commission's Deputy Director General for Defence Industry and Space, also recognised the value of international cooperation that has led to the mission as well as the fact that the first Sentinel-6 satellite was renamed to honour the contribution that Michael Freilich has made to science and space and a sign of the corporation between the US and Europe. He added, "The mission is also part of Europe's Copernicus programme, which has also been built on cooperation between the European Commission, ESA, and Eumetsat and of course industry."
Alain Ratier, Director General of Eumetsat, added, "Sentinel-6 Michael Freilich will continue a unique climate record and will be in exactly the same orbit as the previous Topex Poseidon and Jason missions to deliver the most accurate measurements of sea-surface height. Sentinel-6 is also part of a global constellation including the two Copernicus Sentinel-3 satellites flying in complementary orbits, both operated from Eumetsat's headquarters in Darmstadt."
Quelle: SD
----
Update: 6.11.2020
.
Sentinel-6 Michael Freilich Prepared for Launch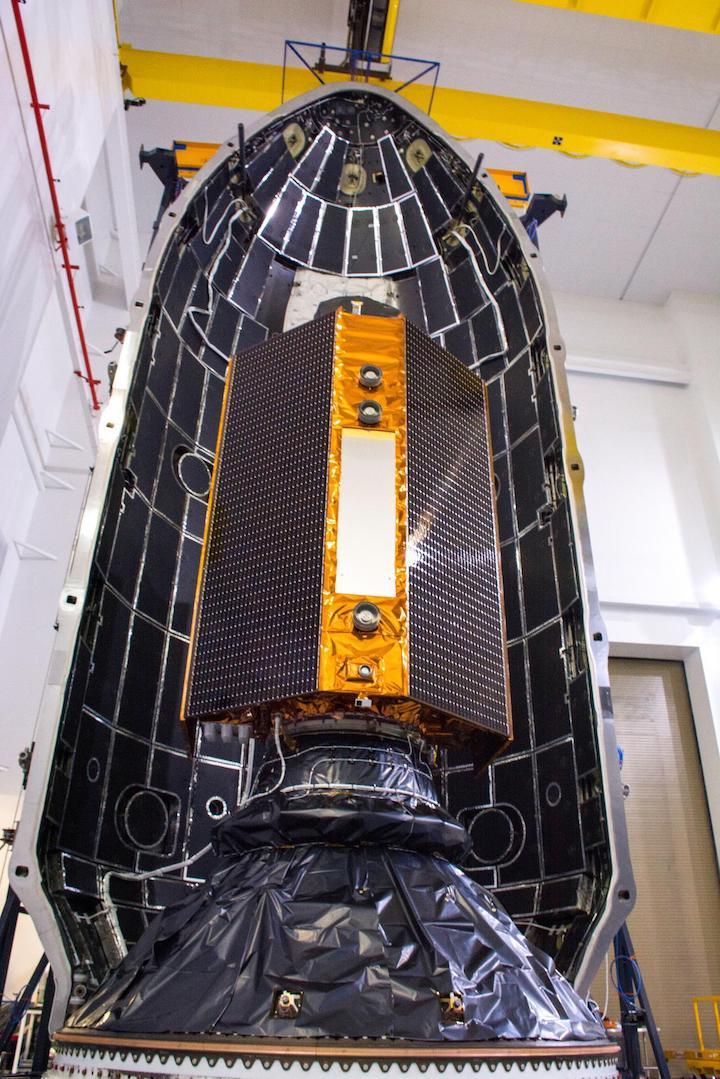 The Sentinel-6 Michael Freilich satellite is encapsulated in a protective nosecone, or payload fairing, at Vandenberg Air Force Base in California. The fairing will sit atop a SpaceX Falcon 9 rocket that will launch the satellite into Earth orbit in the late-November 2020. Image Credit: NASA/Randy Beaudoin
With a little over two weeks to go until its California launch, the Sentinel-6 Michael Freilich spacecraft is undergoing final preparations. Technicians and engineers have encapsulated the satellite in the payload fairing - the protective nosecone that will ride atop the SpaceX Falcon 9 rocket. The launch is targeted for Nov. 21.
"We're almost there," said project manager Parag Vaze of NASA's Jet Propulsion Laboratory in Southern California. "Soon, we'll be watching the satellite on its journey into Earth orbit 830 miles above our planet." Project manager Pierrik Vuilleumier of ESA (European Space Agency) echoed the sentiment.
About the size of a small pickup truck, Sentinel-6 Michael Freilich will play a central role in efforts to track sea level rise caused by climate change. What's more, the data that it collects on sea level variations near coastlines will provide information to support coastal management and with planning for floods, while its atmospheric measurements will enhance weather and hurricane forecasts.
Sentinel-6 Michael Freilich is one of two identical satellites that are a part of the Sentinel-6/Jason-CS (Continuity of Service) mission, a U.S.-European collaboration. The mission is part of Copernicus, the European Union's Earth observation program managed by the European Commission. Continuing the legacy of the Jason series missions, Sentinel-6/Jason-CS will extend the records of sea level into their fourth decade, collecting accurate measurements of sea surface height for more than 90% of the world's oceans, and providing crucial information for operational oceanography, marine meteorology, and climate studies. Sentinel-6 Michael Freilich's twin, Sentinel-6B, is scheduled to launch in 2025.
More About the Mission
Sentinel-6/Jason-CS is being jointly developed by ESA, the European Organisation for the Exploitation of Meteorological Satellites, NASA, and the National Oceanic and Atmospheric Administration, with funding support from the European Commission and technical support from France's National Centre for Space Studies.
JPL, a division of Caltech in Pasadena, is contributing three science instruments for each Sentinel-6 satellite: the Advanced Microwave Radiometer, the Global Navigation Satellite System - Radio Occultation, and the Laser Retroreflector Array. NASA is also contributing launch services, ground systems supporting operation of the NASA science instruments, the science data processors for two of these instruments, and support for the U.S. members of the international Ocean Surface Topography Science Team.
Quelle: NASA
----
Update: 21.11.2020 / 14.50 MEZ
.
Sentinel-6A, Starlink Missions Primed for Weekend Launch Double-Header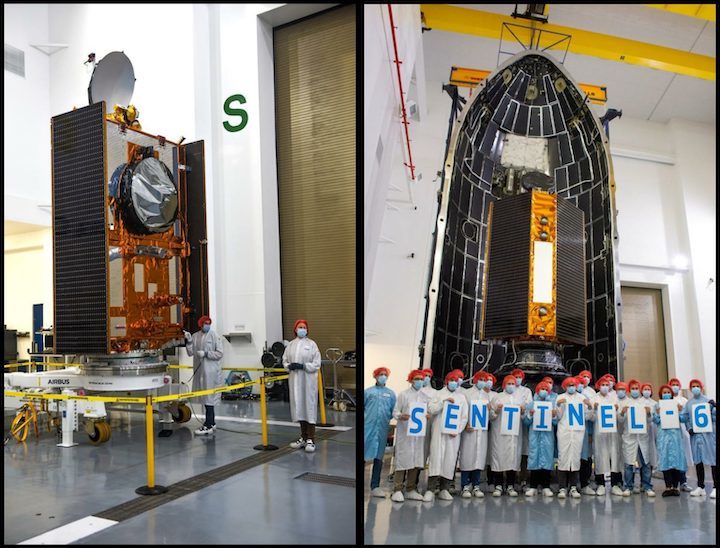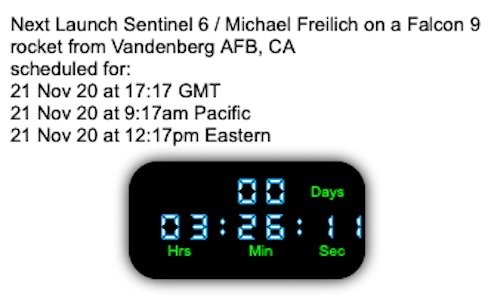 SpaceX stands ready to make personal-best-beating history this coming weekend, with a pair of back-to-back missions from the West Coast at Vandenberg Air Force Base, Calif., and the East Coast at Cape Canaveral Air Force Station, Fla. NASA's long-awaited Sentinel-6A Michael Freilich ocean-monitoring satellite is set to launch atop a brand-new Falcon 9 from Space Launch Complex (SLC)-4E at Vandenberg at 9:17 a.m. PST (12:17 p.m. EST) on Saturday, with another batch of 60 Starlink low-orbiting internet communications satellites due to follow on a seven-times-flown core from SLC-40 at the Cape just ten hours later at 10:17 p.m. EST.
Quelle: AS
+++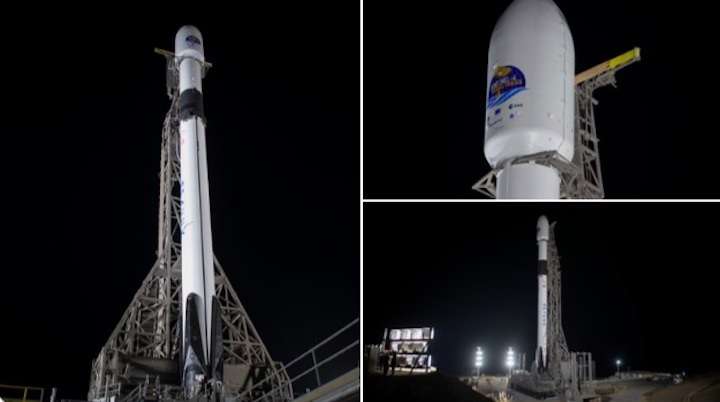 Quelle: ESA
+++
Start von SpaceX Falcon 9 mit Sentinel-6 Michael Freilich Satelliten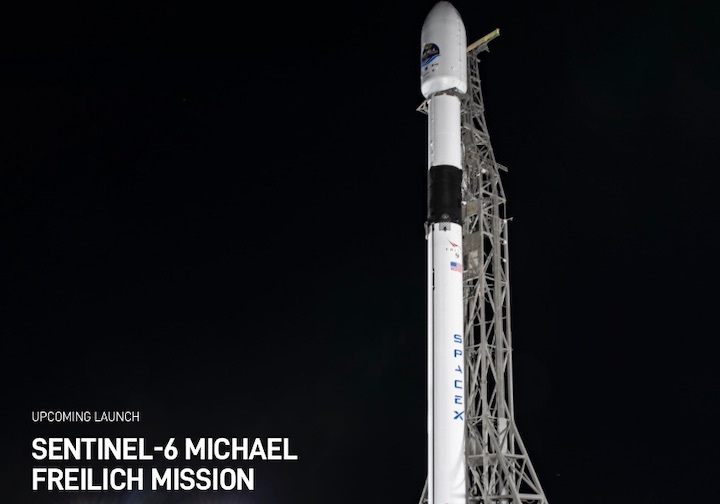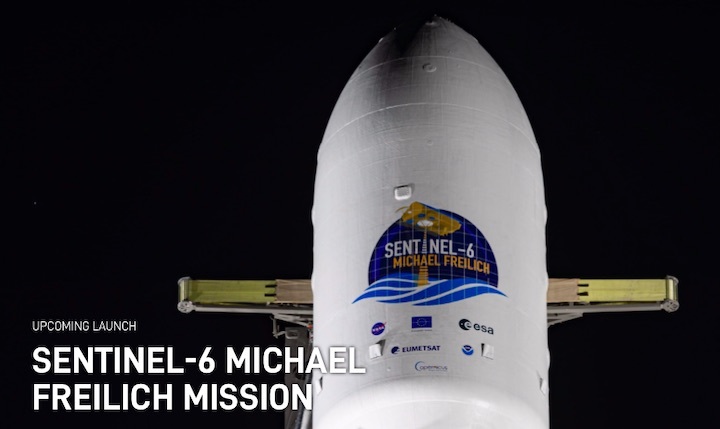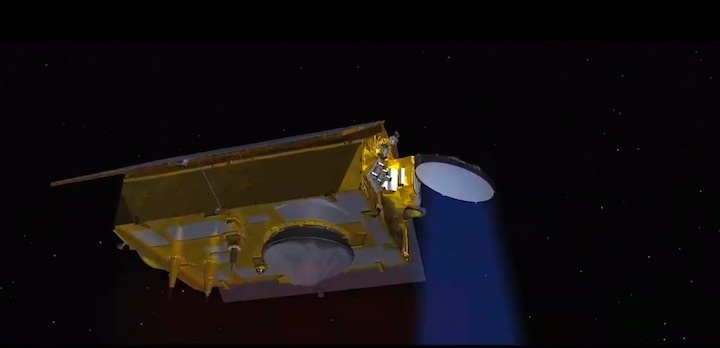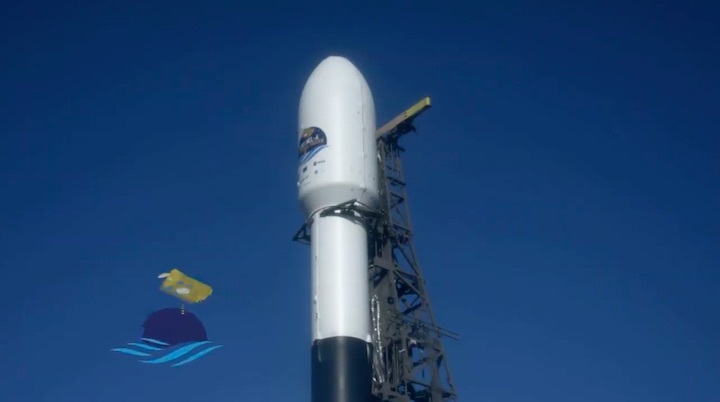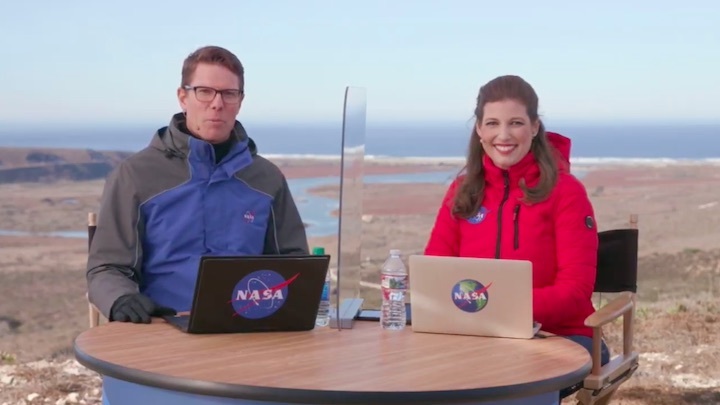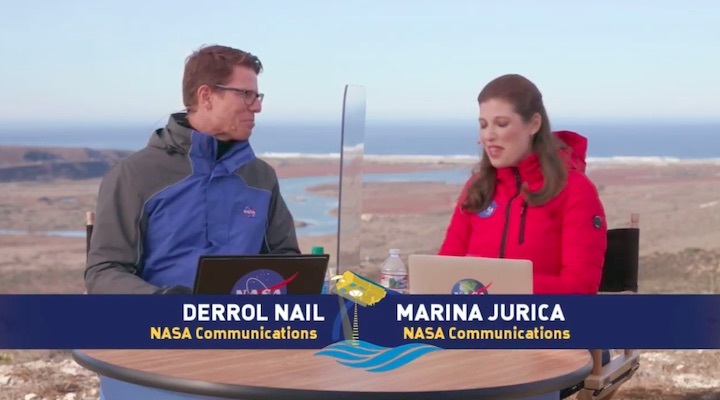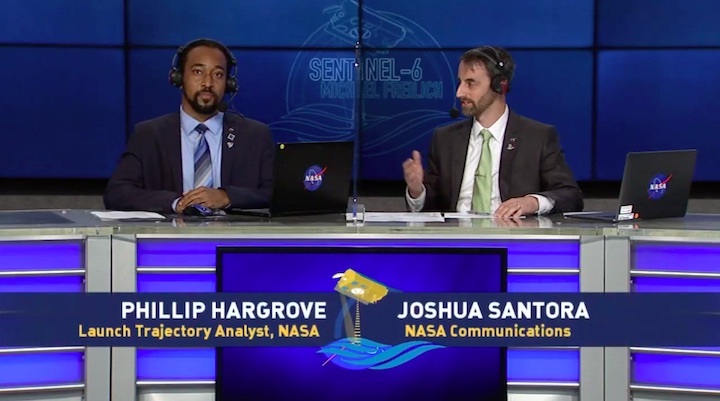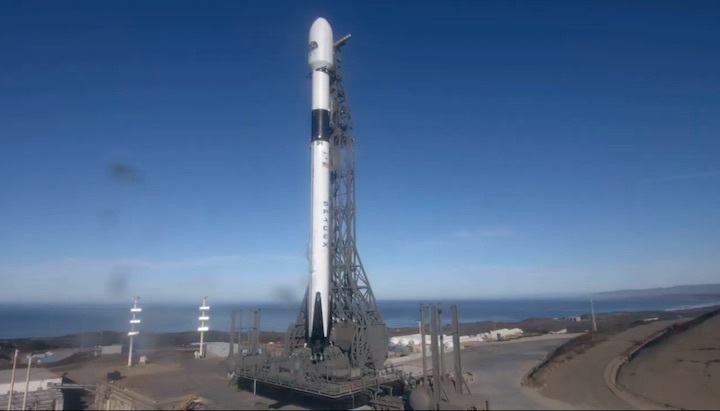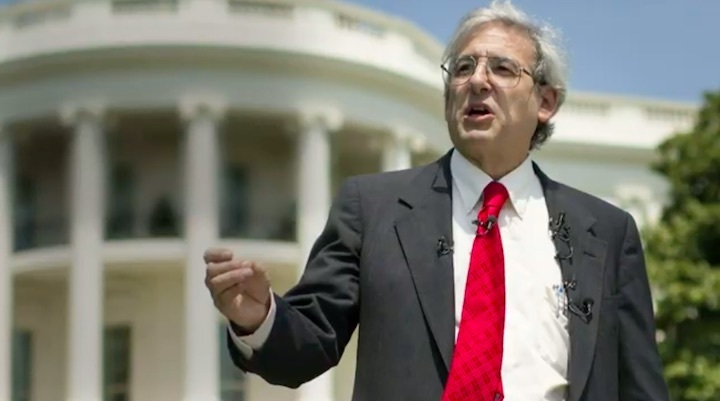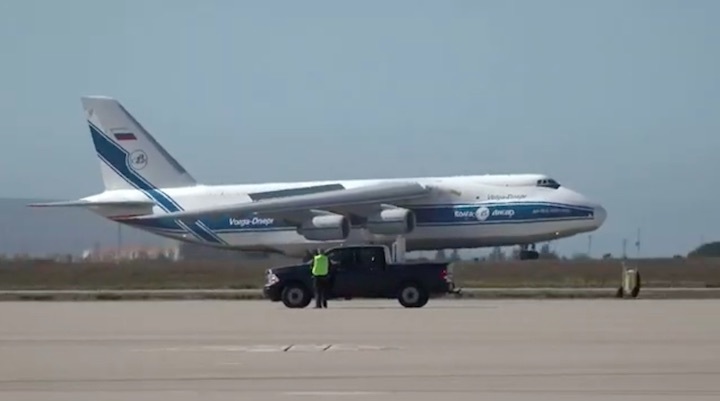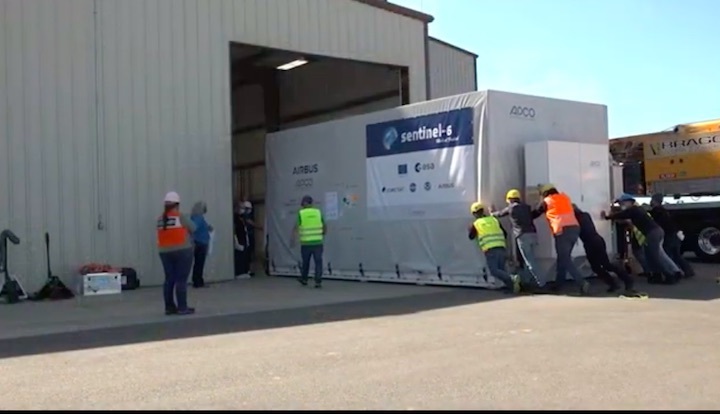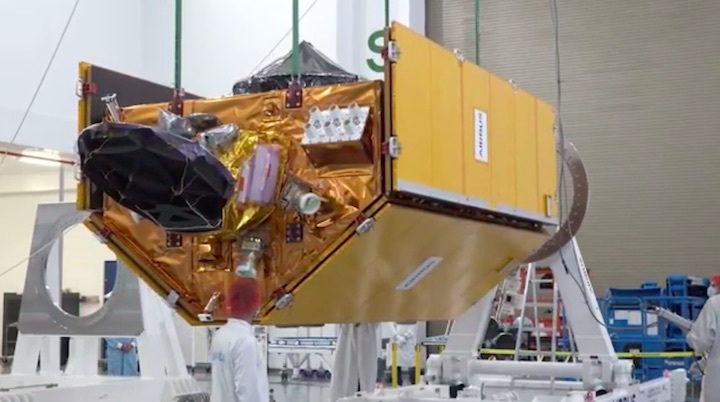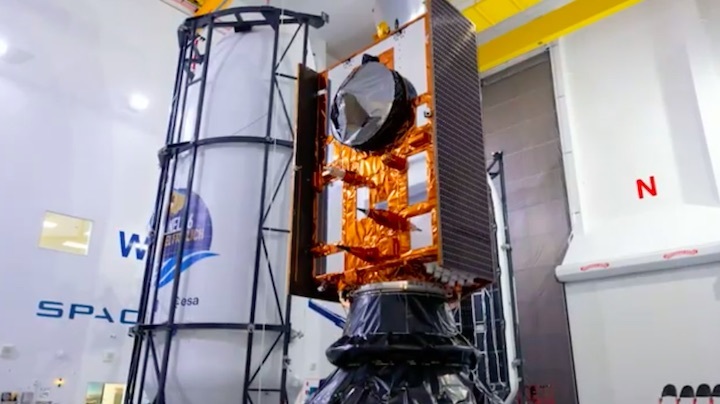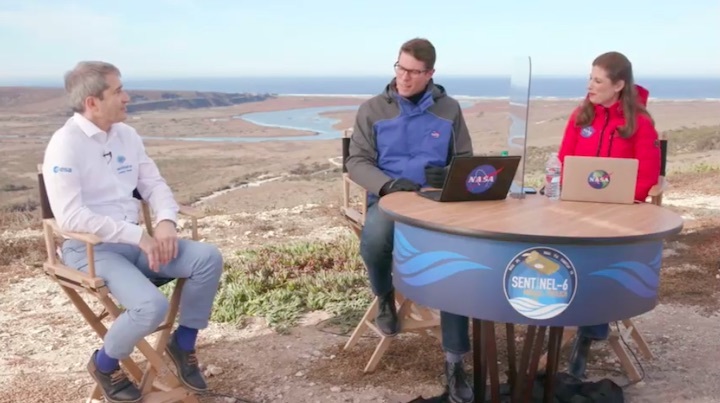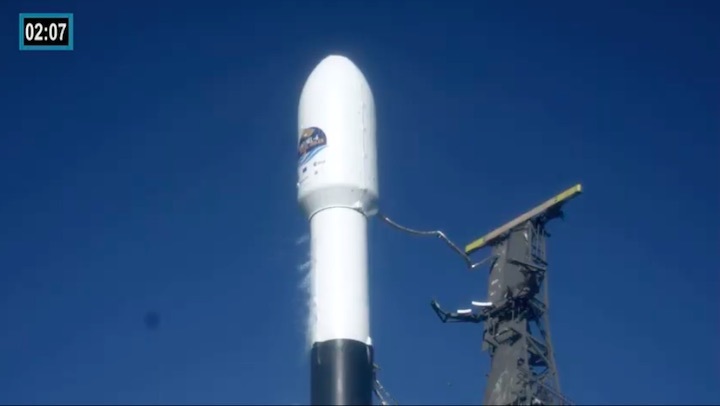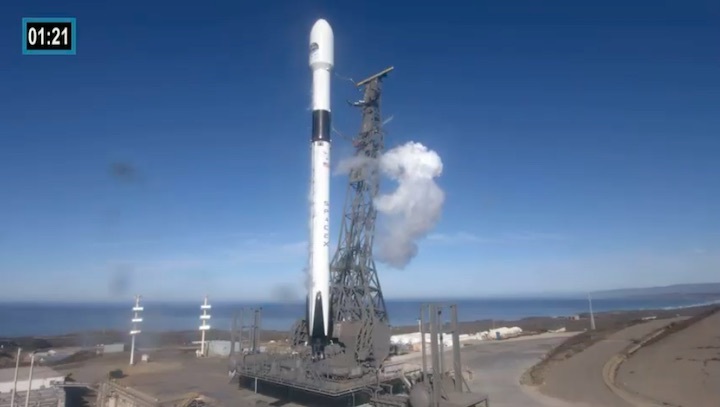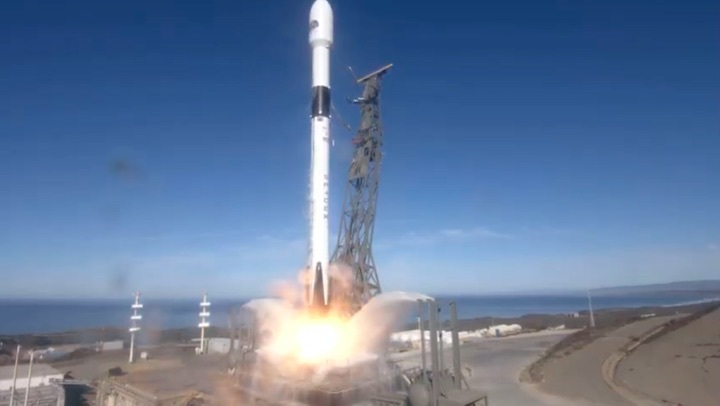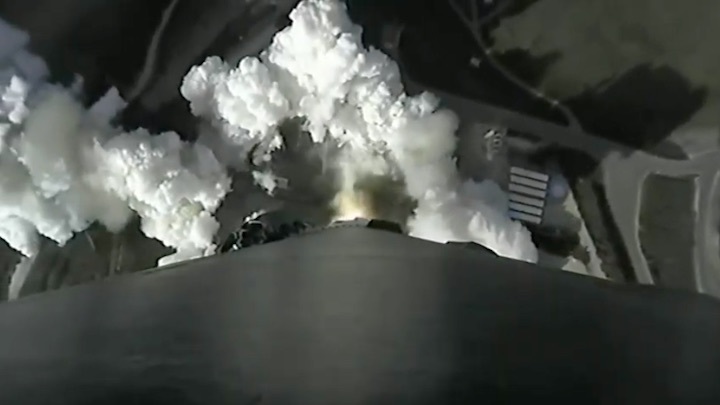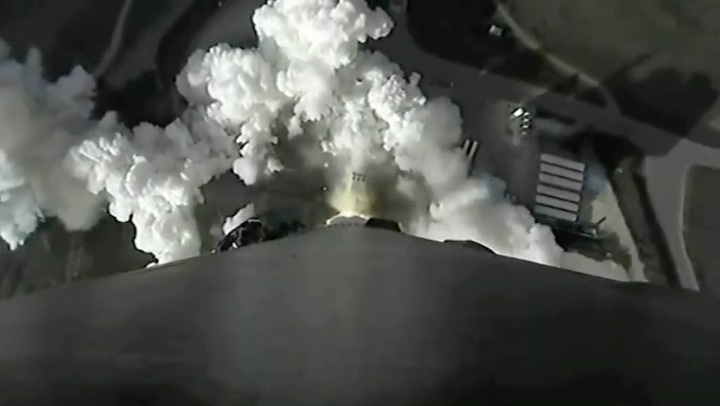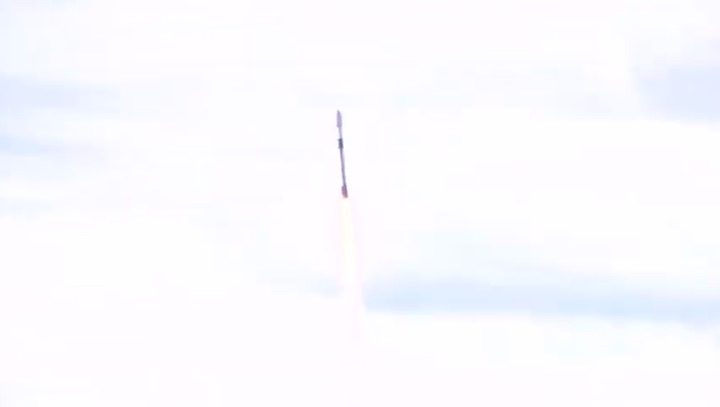 Fortsetzung Update-2