18.01.2020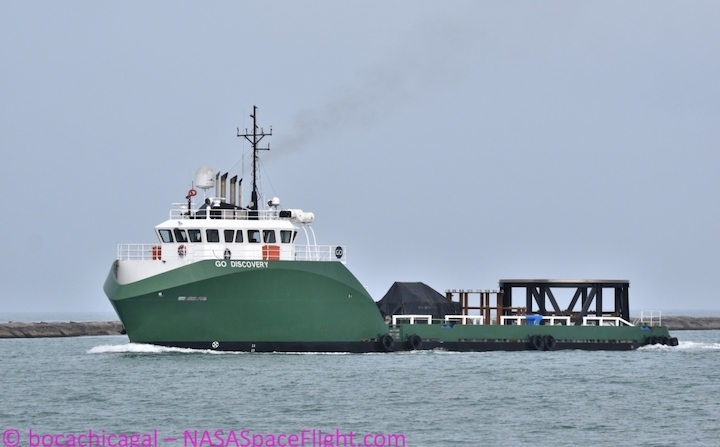 Following changes in the development plan of their next generation Starship launch vehicle, SpaceX is in the process of completing deliveries of several Starship components from Florida to Texas using a vessel named GO Discovery, a new addition to SpaceX's ever-growing fleet of ships.

SpaceX has stopped construction of hardware at its Cocoa Beach, Florida facility and has shifted their primary focus to their site in Boca Chica, Texas.
In order to expedite construction of Starship SN1 in Boca Chica, SpaceX chartered the services of GO Discovery. She is owned and operated by Guice Offshore. Guice owns most of the ships used by SpaceX, except for both autonomous spaceport drone ships and their tugs. It is not clear how many supply runs will be made by GO Discovery, but two have been completed as of January 16.
GO Discovery is a platform supply vessel, a type of ship designed to resupply oil rigs and other offshore platforms. This type of ship has proven useful to SpaceX, as it is the same type of ship SpaceX currently uses to support Crew and Cargo Dragon recovery as well as ASDS operations at sea.
The large rear deck of these ships allows SpaceX to modify them for various uses—mount a helipad on the deck, hold telemetry and communications equipment, install an A-frame for Crew Dragon and fairing recovery, etc. Despite the fact that these ships are not as well known or distinctive as the two fairing catcher ships, they are the workhorses of the fleet.
GO Discovery was built in 2014 by New Generation Shipbuilding in Louisiana. She is 170 feet long, 36 feet wide, and sits 12 feet low in the water. The ship's 2 Cummins diesel engines provide a combined 2,000 horsepower making for an average cruising speed of about 10 knots. She is equipped with a dynamic positioning system—a system that adjusts a vessel's heading to counter waves, wind, and other deterrents to its course.
Specifically, she is a 170 Class DP-1 Supply Vessel like most of the other ships used by SpaceX (save for the fairing recovery ships), and is easily identified due to her larger and slightly different bow shape than her sisters GO Searcher, GO Navigator, and GO Quest.
GO Discovery first arrived at Port Canaveral on November 28, 2019. Around the same time, local photographers noted that several pieces of hardware were missing from the Cocoa Beach Starship facility, and were later spotted on a pier in Port Canaveral adjacent to SpaceX's droneship Of Course I Still Love You.
On December 3, GO Discovery left Port Canaveral bound for the Port of Brownsville, Texas with two lattice stands used to support parts of the vehicle during construction and a stainless steel bulkhead dome aboard its deck. The ship arrived in the morning on December 8, quickly unloaded her cargo, and left by the afternoon. These parts were then moved by road to SpaceX's Boca Chica complex.
Several weeks later on January 4, GO Discovery found herself back at Port Canaveral. The ship was loaded with more Starship parts and supplies, including another large construction stand, some metal plating, a Conex shipping container, a rig used to support a bulkhead dome during fabrication, and other miscellaneous objects.
GO Discovery departed Port Canaveral again on January 7. After a several days long stop at Port Everglades, Florida to wait for calmer sea conditions in the Gulf of Mexico, she arrived in Brownsville on January 16.
Whether or not she is sailing straight back to Port Canaveral is unclear at the moment. Last trip, she returned to her home base in Port Fourchon, Louisiana before eventually sailing to Port Canaveral.
Currently, it is not confirmed whether GO Discovery will be joining SpaceX's fleet permanently, or if this is just a one-off charter to ferry Starship parts. However, with the droneship Just Read the Instructions joining the east coast fleet and the planned fast-paced cadence of upcoming Starlink missions, there could be a need for an additional support vessel such as GO Discovery.
Quelle: NASASpaceflight.com
2416 Views