18.11.2019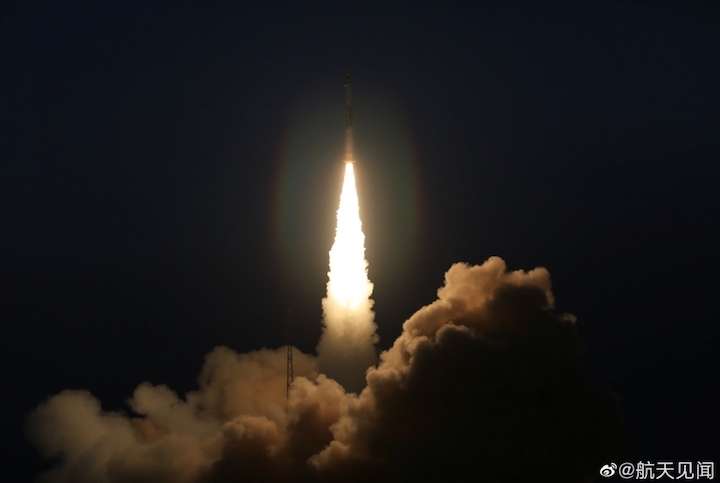 n just a little more than a four day period, from the very same pad, with the very same launch team and launch truck, China has launched yet another Kuaizhou-1A rocket carrying satellites into orbit.
This flight, fresh on the heels of yet another flight with the Jilin-1 Gaofen-2A satellite on November 13, lifted off from the mobile launch pad at the Jiuquan Satellite Launch Center in northwestern China today at 10:00 UTC. Chinese media has later declared the launch a success.

The Kuaizhou-1A is a 4 stage, mostly solid fuel powered launch vehicle developed by China Aerospace Science and Technology Corporation (CASIC) and commercialized by the China Space Sanjiang Group Corporation (also known as Expace Corporation).
Promoted by CASIC as being high reliability, high precision and low cost, the launch vehicle can send a 200 kg payload into a 700 km altitude sun-synchronous orbit.
The vehicle is possibly based on the road-mobile DF-21 missile, with two additional solid fuel upper stages and a re-startable liquid fuel upper stage. It was designed with the goal to provide an easy to operate quick-reaction launch vehicle, that can remain in storage for long periods and to provide launch missions on short notice.
The Kuaizhou-1A is based on the Kuaizhou-1 rocket, first launched on 25 September 2013 and made two flights in 2013 and 2014 with imaging Kuaizhou series satellites designated for quick-launch-on-demand missions.
The Kuaizhou-1A commercialized version (first launched on 9 January 2017) has the upper stage decoupled from the payload and features a wider payload fairing. The whole launch vehicle is launched from a Transporter-Erector-Launcher (TEL) truck that transports the launch vehicle to the launch site.
The KZ-1A launch vehicle is 20 meters long, with a lift-off mass of 30 ton and a maximum diameter of 1.4 meters. The first stage motor is 1.40 meters in diameter, with a total mass of 16,621 kg, a burn time of 65 seconds and a specific impulse of 2,352 N.s/kg.
The second stage motor is 1.40 meters in diameter, with a total mass of 8,686 kg, a burn time of 62 seconds and a specific impulse of 2,810 N.s/kg. The third stage motor is 1.20 meters in diameter, with a total mass of 3,183 kg, a burn time of 55 seconds and a specific impulse of 2,850 N.s/kg.
The vehicle can be used with two types of fairings, with diameters of 1.2 and 1.4 meters respectively according to the space demand of cargo to be orbited.
The mission deployed 2 satellites into Low Earth Orbit (one to a circular 1050 km orbit, another to a 1050 x 1425 km orbit, both inclined 86 degrees), collectively known as KL-Alpha.
The two satellites, built by the Shanghai Institute for Microsatellite Innovation of the Chinese Academy of Sciences (CAS), are designed to test Ka-Band communication techniques. According to Chinese reports, the satellite operator is a Germany based company; however, its identity is unknown at this time.
The Jiuquan Satellite Launch Center, named after the city in Gansu Province but is actually located in Ejin-Banner, Alashan League, Inner Mongolia Autonomous Region – is China's first satellite launch center, used for the launch of China's first satellite Dongfanghong-1 on April 24, 1970.
Currently, all launch operations are located at Area 43 (also known as the South Launch Area), built for the Shenzhou human spaceflight program in the 1990s. The area contains two fixed launch pads – Launch Pad 91 for the Long March 2F rocket for launches of the Shenzhou and Tiangong spacecraft, and Launch Pad 94 for satellite launches using the Long March 2C, 2D, 4B and 4C launch vehicles.
Today's launch is from one of two mobile launch pad sites used for all small solid fueled launch vehicle launches originating from Jiuquan, located to the east of Pad 91.
According to CASIC, while only 5 KZ-1A flights have flown so far and 3 in 2019, several more are planned before the end of the year.
The next known Chinese satellite launch will be on November 23, when a Long March 3B rocket will launch two Medium Earth Orbit navigation satellites for the Beidou Satellite Navigation System from the Xichang Satellite Launch Center.
Quelle: NS
+++
China sends two global multimedia satellites into planned orbit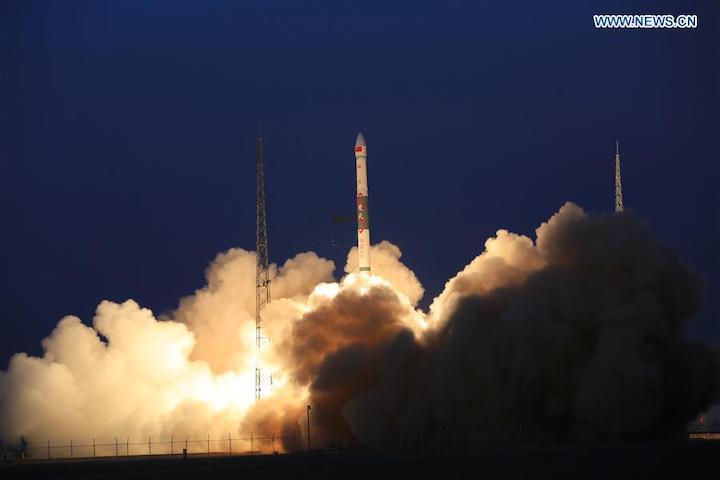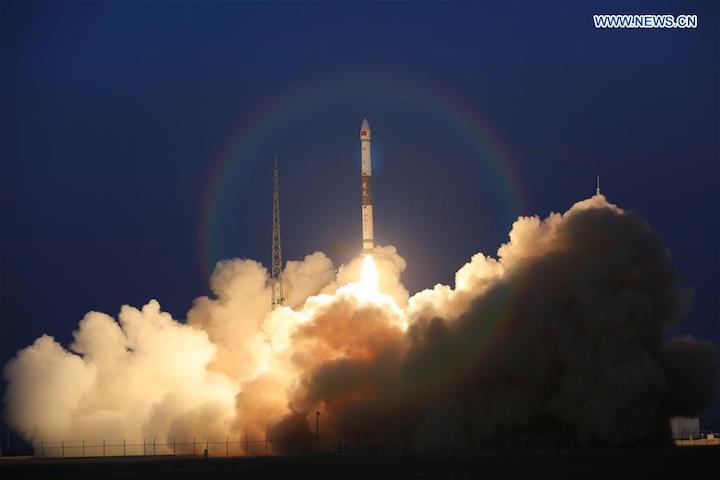 Two global multimedia satellites, KL-a-A and KL-a-B, are launched by a Kuaizhou-1A (KZ-1A) carrier rocket from the Jiuquan Satellite Launch Center in Jiuquan, northwest China's Gansu Province, Nov. 17, 2019. (Photo by Ma Chongpeng/Xinhua)
Two global multimedia satellites were sent into planned orbit from the Jiuquan Satellite Launch Center in northwest China on Sunday.
The two global multimedia satellites, KL-a-A and KL-a-B, was launched by Kuaizhou-1A (KZ-1A), a carrier rocket at 6:00 p.m. (Beijing Time).
The two satellites are international cooperative commercial projects delivered by the Innovation Academy for Microsatellites of the Chinese Academy of Sciences. They are mainly used for the Ka-band communication technology test, and the user is a German company.
KZ-1A is a low-cost solid-fuel carrier rocket with high reliability and a short preparation period. The rocket, developed by a company under the China Aerospace Science and Industry Corporation, is mainly used to launch low-orbit microsatellites.
Sunday's launch was the third mission for KZ-1A this year.
Quelle: Xinhua
1942 Views