13.08.2019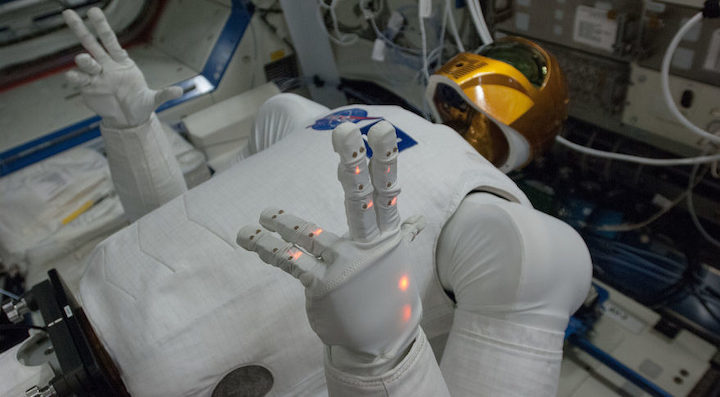 ATLANTA — As Russia prepares to launch an experimental humanoid robot to the International Space Station later this month, a similar NASA robot is being readied for a return to the station after repairs on Earth.
In an Aug. 1 presentation at the ISS Research and Development Conference here, Jonathan Rogers, deputy project manager for Robonaut at NASA's Johnson Space Center, said the robot will likely be flown back to the station late this year on either a Cygnus or Dragon cargo spacecraft.
"We are on the path to returning to ISS ops," he said, with final verifications of the robot underway. A specific mission that Robonaut will be flown on hasn't been selected, he said, noting that the robot is "subject to prioritization" with other cargo destined for the station.
Robonaut 2, as the robot is formally known, flew to the station in 2011 on one of the final shuttle missions. The robot performed a series of tests to demonstrate how a robot could work alongside astronauts on the station. However, Robonaut 2 started to experience problems in 2014, shortly after astronauts added a pair of legs to the robot's torso.
"Our processor stopped responding during a software upgrade session," Rogers said. Rebooting the robot fixed the problem temporarily, but the problem kept occurring. "Eventually we got to the point where these processors wouldn't boot at all."
NASA initially attempted to fix the robot in orbit, with several astronauts performing repair work like replacing suspect components with spares on the station. That work traced the problem to a degraded 24-volt power cable. While the project considered sending up a replacement cable to the station, he said, ISS management "made the big-picture decision to bring Robonaut home and allow us to do a proper repair."
Robonaut was sent home on the SpaceX CRS-14 Dragon cargo spacecraft, arriving back at the Johnson Space Center in May 2018. Once in the lab, engineers found that the root cause of the problem was a missing return wire in the power supply for the robot's computer chassis. Current was instead using a "sneak circuit" that overheated a connector in Robonaut's backpack.
"These on-orbit troubleshooting sessions gave us a great start for a quick confirmation once we got it home," he said. "This would have been very difficult to repair on orbit."
That fault existed since Robonaut 2 was first developed, he added, but didn't manifest itself until legs were added to the robot. "It was not present to us until we asked more of the power system."
Engineers overhauled Robotnaut's electrical system, work that identified three more potential sneak circuits that could have posed problems for the robot. They also performed other upgrades to the robot's hardware and software.
Once Robonaut returns to the station, engineers have an extensive checkout planned that will involve both astronauts and Russian cosmonauts. "We have discussed doing this as a Russian joint research activity," Rogers said, because Russian officials have expressed interest in being involved with the project.
After that checkout, Rogers said NASA will conduct additional experiments with Robonaut. "We feel that Robonaut offers a very unique platform for [technology readiness level] advancement," he said. "We have already made a large investment in this robot. We have the hardware, we have the control system."
One area of interest is how robots like Robonaut could be used on the lunar Gateway, which will have astronauts on board for only short periods of time. A test planned for later next year on the ISS will have Robonaut work together with Astrobee, another robot on the station, to locate and then fetch specific cargo bags.
"One of the ways we're learning from this is ways that we can influence the Gateway design to make things more robotically operable," he said.
Robonaut, though, won't be the first humanoid robot to visit the ISS this year. The Russian state space corporation Roscosmos is making final preparations for the launch of the Soyuz MS-14 spacecraft Aug. 21 that will confirm the ability to use the upgraded Soyuz-2.1a rocket for future Soyuz missions. While Soyuz MS-14 will not carry any humans, it will have on board a Russian-built humanoid robot called Skybot F-850, or FEDOR.
Roscosmos, in preparations for the launch of FEDOR, even created a Twitter account for the robot, where it posts first-person updates about its launch preparations. That included one tweet Aug. 2 where it referenced Robonaut. "NASA colleagues are preparing a partner for me," it stated, including an image of Robonaut 2 from its earlier time on the station. "Would love to meet him."
Such a meeting appears unlikely. FEDOR is expected to return to Earth with the Soyuz MS-14 spacecraft when it leaves the station in early September.
Quelle: SN
2949 Views