28.09.2018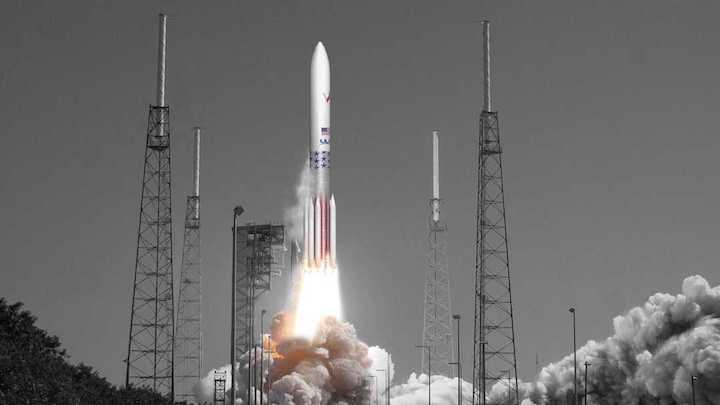 Engines developed by Blue Origin, the private space company backed by Amazon.com billionaire Jeff Bezos, will power United Launch Alliance's next rocket, ULA announced Thursday.
The deal further establishes Blue Origin as a critical player in the rocket fleets expected to launch military, NASA and commercial satellites, as well as astronauts, from Cape Canaveral over the next decade and beyond.
In addition to providing the main propulsion for ULA's new Vulcan rocket, Blue Origin's BE-4 engine will boost its own New Glenn rocket, whose stages will be built in a massive factory nearing completion at Kennedy Space Center's Exploration Park.
"We are pleased to enter into this partnership with Blue Origin and look forward to a successful first flight of our next-generation launch vehicle," said ULA CEO Tory Bruno.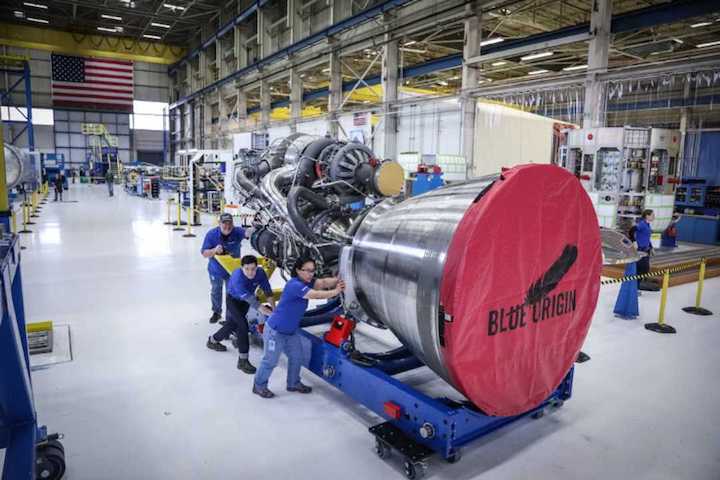 Both rockets are targeting first launches around 2020. They are potential competitors for many missions, but Blue Origin CEO Bob Smith on Thursday acknowledged ULA's longstanding service to the Pentagon.
"United Launch Alliance is the premier launch service provider for national security missions, and we're thrilled to be part of their team and that mission," said Smith.
ULA had long identified Blue Origin's BE-4 as the front-runner in a competition with legacy engine provider Aerojet Rocketdyne's AR1 engine, which was started later and could not be ready as fast.
Aerojet Rocketdyne's RL-10 engine will continue power the Centaur upper stage on Atlas V rockets and the first version of the Vulcan.
ULA, a Boeing-Lockheed Martin joint venture formed in 2006, is developing the Vulcan to replace its workhorse Atlas V rocket, while also phasing out the Delta IV rocket.
The Atlas V booster relies on RD-180 main engines provided by Russia, a highly successful partnership that turned into a liability after Russia's 2014 annexation of Crimea and, more recently, alleged interference in U.S. elections.
The Department of Defense won't allow military launches using the RD-180 beyond 2022. NASA is not subject to the same restrictions and expects astronauts to launch to the International Space Station on the Atlas V through 2024.
The Atlas V first flew in 2002 and is preparing for its 79th flight on Oct. 17, of a military satellite flying from Cape Canaveral Air Force Station's Launch Complex 41, which will also host the Vulcan.
In addition to ending its reliance on Russian engines, ULA's hopes the Vulcan offers a lower-cost launcher — less than $100 million — that can compete with SpaceX's Falcon 9 and Blue Origin's New Glenn, as well as international rockets.
"Our new rocket will be superior in reliability, cost and capability — one system for all missions," said Bruno. "We have been working closely with the U.S. Air Force, and our certification plan is in place."
The Air Force is close to announcing a new round of launch contracts that could be spread across each of those companies, with Northrop Grumman's proposed Omega rocket also bidding for some of the action.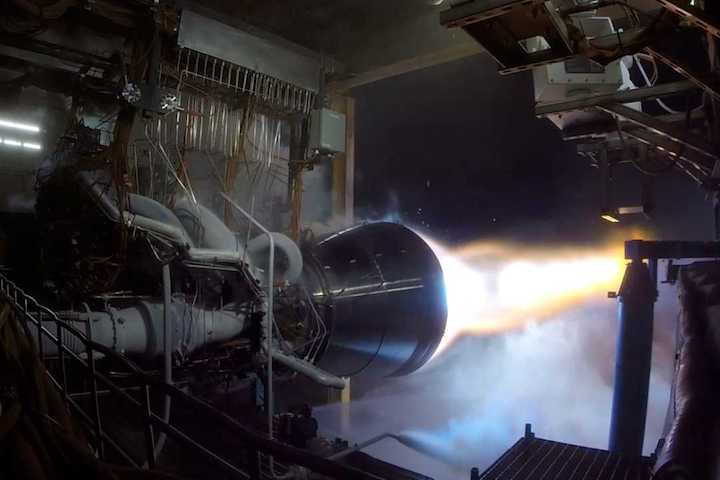 Seattle-based Blue Origin last year announced plans to manufacture BE-4 engines in Huntsville, Alabama, about a half-hour from ULA's rocket factory in Decatur.
The company began developing the BE-4 engine in 2011, and has funded the work almost entirely on its own. Bezos, the world's wealthiest person according to Forbes, says he is pumping $1 billion a year into Blue Origin.
The liquid natural gas-fueled BE-4 will produce 550,000 pounds of thrust and is designed to be reusable. Vulcan boosters will carry a pair of BE-4s, while New Glenn's first stage will fire seven, and one on the upper stage.
Blue Origin plans to land New Glenn boosters on a ship at sea. ULA has a longer-term plan to drop the Vulcan's main engines at altitude for a mid-air capture by a helicopter.
"These engines and components will ensure ULA continues to lead the way in space exploration, maintain our record of success and remain America's launch vehicle for our nation's most vital missions," said Bruno.
Contact Dean at 321-917-4534 or jdean@floridatoday.com. And follow on Twitter at @flatoday_jdean and on Facebook at https://www.facebook.com/FlameTrench.
Support local journalism: Subscribe at floridatoday.com/subscribe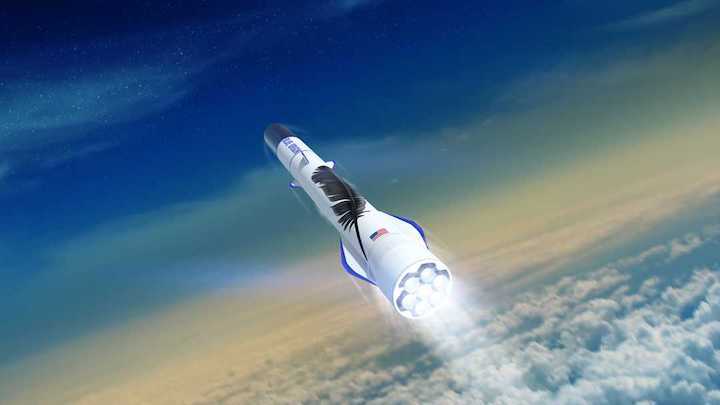 Blue Origin
Quelle: Florida Today
---
Update: 26.10.2018
.
ULA now planning first launch of Vulcan in 2021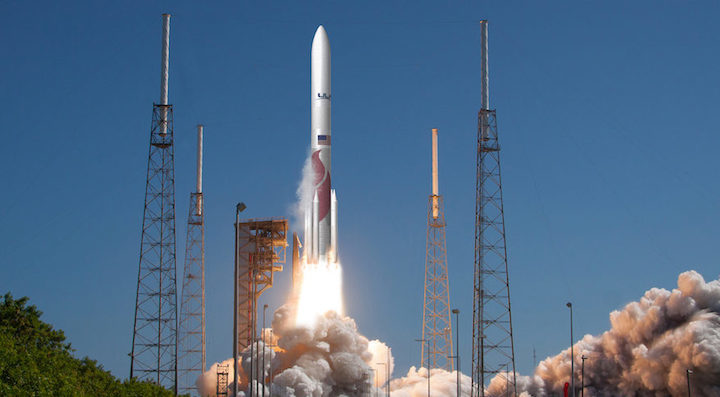 HUNTSVILLE, Ala. — United Launch Alliance now expects to perform the first launch of its next-generation Vulcan rocket in the spring of 2021, a slip of nearly a year that the company says is due to requirements of a recent Air Force award.
During a panel discussion at the American Astronautical Society's Wernher von Braun Symposium here Oct. 24, John Elbon, chief operating officer of ULA, said the company was making "good progress" on the vehicle, an effort aided by winning one of three Launch Service Agreement (LSA) awards from the U.S. Air Force Oct. 10.
"We're making good progress on the development" of Vulcan, he said. "Our first certification flight is targeted for April of '21. We were really excited about the results of the Air Force's LSA procurement. We're off and marching."
As recently as last month, though, ULA said the first Vulcan launch was scheduled for 2020, a date the company had bene holding for some time. In a Sept. 27 release about its selection of Blue Origin's BE-4 engine for Vulcan's first stage, the company said the vehicle "is on track for its initial flight in mid-2020."
Asked during a panel at the World Satellite Business Week conference in Paris Sept. 11 if Vulcan was still scheduled for a first launch in 2020, Tory Bruno, president and chief executive of ULA, offered a one-word response: "Yes."
In an interview after the panel, Elbon said the shift in the first launch to April 2021 is linked to the requirements of the LSA award from the Air Force. "As the procurement schedule was laid out, the Air Force schedule changed, and we synced up with that," he said, adding that the company was moving ahead with more aggressive internal schedules for Vulcan's development.
"While ULA was on schedule from a technical standpoint to meet 2020 target, once we reviewed the Air Force's timeline in the LSA proposals & incorporated [additional] requirements into our plan, we aligned #VulcanCentaur launch dates to meet the Air Force schedule," the company tweeted.
That initial April 2021 launch will be followed by a second in August 2021, Elbon said. Those launches are needed to win certification by the Air Force for military payloads. "Then we'll be ready shortly after that for national security missions," he said.
ULA is not alone in slipping schedules for launch vehicles. Blue Origin had previously planned to introduce its New Glenn orbital vehicle in 2020, but company executives have in recent weeks said the vehicle — which, like Vulcan, uses the BE-4 engine in its first stage — is now likely to enter service in 2021.
"We are moving at a very quick speed so that we can get to a launch in 2021," said Clay Mowry, vice president of sales, marketing and customer experience at Blue Origin, during an Oct. 19 Washington Space Business Roundtable luncheon speech. "We were hoping actually to pull that forward to 2020, but right now we are thinking 2021 will be when we first fly."
Northrop Grumman, who, like Blue Origin and ULA received an LSA award this month, has been sticking to a 2021 first launch for its OmegA vehicle. "The vehicle is well into development," said John Steinmeyer, director of space launch business development at Northrop Grumman Innovation Systems (formerly Orbital ATK), during the von Braun Symposium panel. The company is on schedule for a static-fire test of solid rocket booster segments that will be used by OmegA in the second quarter of 2019, he said, "and initial launch capability in 2021."
SpaceX did not receive an LSA award, to the surprise of many in the industry. The company has not disclosed details of its proposal or even confirmed that it bid on the competition, although industry sources believe the company did compete.
Lars Hoffman, senior director of government sales at SpaceX, declined to directly address the LSA competition when asked about it during the panel, emphasizing instead the company's ongoing business performing launches for the Air Force as well as an earlier agreement with the Air Force to help fund development of SpaceX's Raptor engine, which the company plans to use in its Big Falcon Rocket vehicle.
"We are diversified across multiple markets," he said, including commercial, civil and national security. "We expect that partnership with the Air Force to continue into the future."
Quelle: SN
----
Update: 14.08.2019
.
Vulcan Centaur Rocket on Schedule for First Flight in 2021
ULA Submits Proposal for U.S. Air Force's Launch Services Competition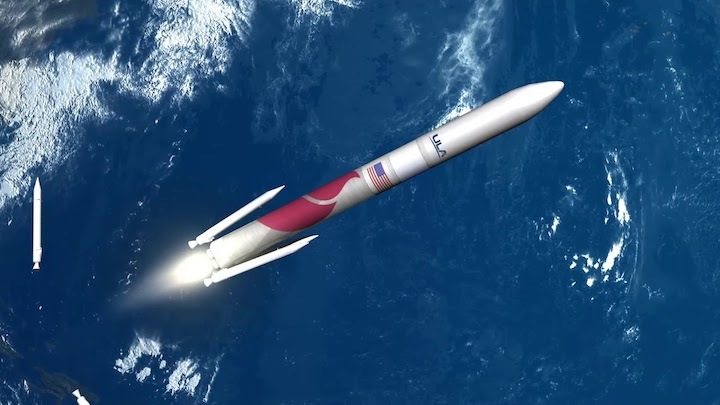 Centennial, Colo., Aug. 12, 2019
– At the United Launch Alliance (ULA) factory in Decatur, Alabama, production of the first Vulcan Centaur rocket continues, with shipment to the launch site at Cape Canaveral Air Force Station in Florida scheduled for late next year for processing in preparation for its first launch in 2021.
"Atlas and Delta rockets have been the backbone of national security space launch for decades, building on a progressive history of technology development and advancement -- Vulcan Centaur will advance this rich heritage," said Tory Bruno, ULA's president and CEO. "Following the successful launch of our 134th mission just last week on our Atlas rocket, we submitted our purpose-built Vulcan Centaur rocket for the U.S. Air Force's Phase 2 Launch Services competition. It is so exciting to see the first flight vehicle coming together at our factory."
The Department of Defense has established a selection strategy to ensure a smooth transition to a U.S. engine, while introducing competition, driving down costs and safeguarding continued assured access to space by preventing any capability gaps. Nearly one year ago, the Air Force held a competition and awarded three Launch Services Agreements for public-private partnerships to develop launch vehicles. Phase 2 is the next procurement in the Air Force's strategy.
"The nation is facing a contested space environment, and we are unleashing the energy of American ingenuity by developing Vulcan Centaur to meet our nation's need for expanding space missions," said Bruno. "Vulcan Centaur's flight proven design, coupled with innovative technology, is transforming the future of space launch and will advance America's superiority in space."
ULA is the nation's only full-range national security space launch provider and is the most experienced, with more than 130 launches and 100 percent mission success. Additionally, ULA and the heritage companies are the nation's only firms who have ever flown the exquisite Category C heavy-class national security missions, thus providing the country with extreme confidence of continued low-risk mission performance.
"Vulcan Centaur will provide higher performance and greater affordability while continuing to deliver our unmatched reliability and orbital accuracy precision from our treasured cryogenic Centaur upper stage," said Bruno. "ULA is the best partner for national security space launch, and we are the only provider to demonstrate experience flying to all orbits including the most challenging heavy-class missions, providing the bedrock foundation for the lowest risk portfolio of two launch service providers for the U.S. Air Force."
In the factory, the fabrication of the structure for the first Vulcan Centaur rocket continues, and the team recently completed the booster structural test article in Decatur. In Florida, assembly of the new Mobile Launch Platform has begun in preparation for the first launch.
With more than a century of combined heritage, ULA is the world's most experienced and reliable launch service provider. ULA has successfully delivered more than 130 satellites to orbit that provide Earth observation capabilities, enable global communications, unlock the mysteries of our solar system and support life-saving technology.
Quelle: ULA
4536 Views