6.03.2019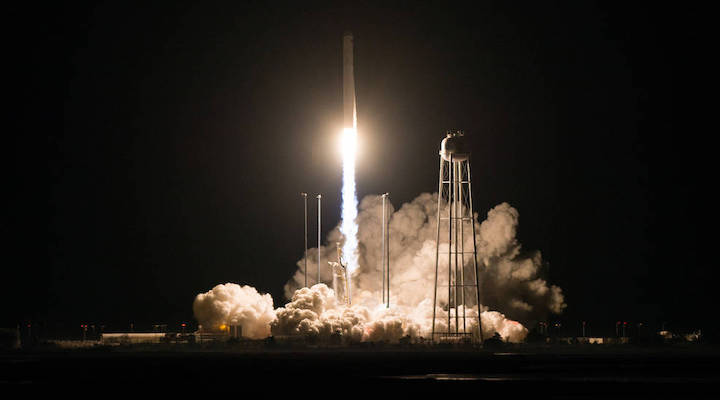 Credits: NASA/Joel Kowsky
Media accreditation is open for the launch of Northrop Grumman's next delivery of NASA science investigations, supplies and equipment to the International Space Station on April 17.
Northrop Grumman's Cygnus spacecraft is targeted to launch on the company's Antares rocket at 4:46 p.m. EDT from Pad-0A of the Mid-Atlantic Regional Spaceport (MARS) at NASA's Wallops Flight Facility on Wallops Island in Virginia.
To cover prelaunch and launch activities at Wallops, international media without U.S. citizenship must apply for credentials by Friday, March 15. The application deadline for media who are U.S. citizens is Wednesday, April 10. All accreditation requests must be sent to Keith Koehler at keith.a.koehler@nasa.gov.
On this mission, Northrop Grumman will use a new late load capability. Previously, all cargo had to be loaded about four days prior to launch. This new capability will allow time-sensitive science experiments to be loaded into Cygnus just 24 hours before liftoff.
This is the 11th and final Cygnus mission under Northrop's Commercial Resupply Services (CRS)-1 contract with NASA. The CRS-2 contract begins with a cargo launch in the fall.
Each resupply mission to the station delivers scientific investigations in the areas of biology and biotechnology, Earth and space science, physical sciences, and technology development and demonstrations. Cargo resupply from U.S. companies ensures a national capability to deliver critical science research to the space station, significantly increasing NASA's ability to conduct new investigations at the only laboratory in space.
NASA leads human space exploration in low-Earth orbit with commercial and international partners to enable missions to the Moon and Mars. International Space Station missions are a catalyst for economic development and the advancement of scientific knowledge and new technologies that improve our lives.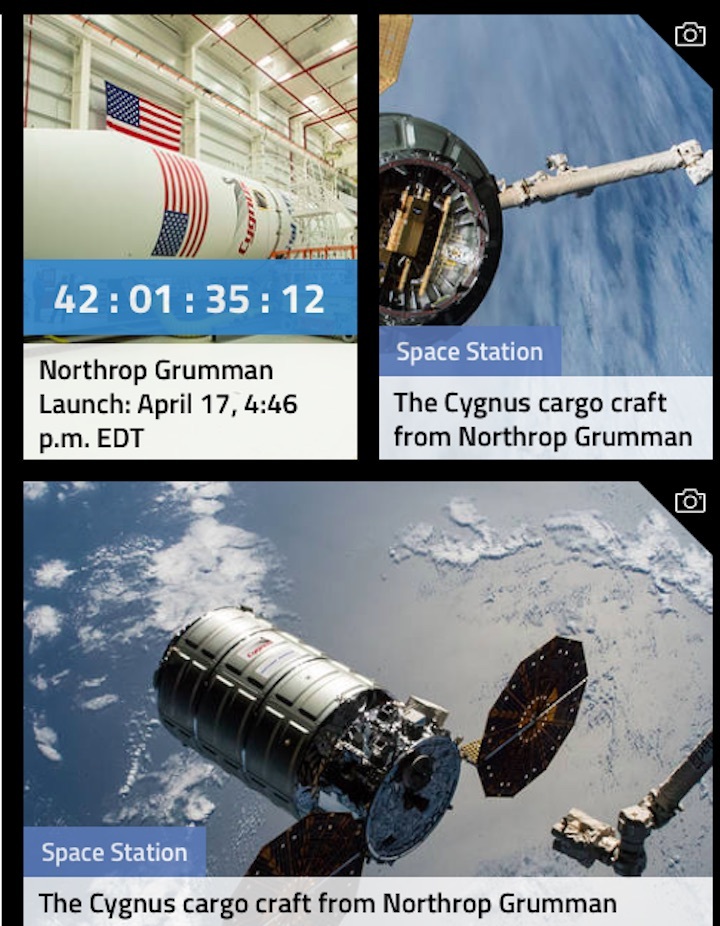 Quelle: NASA
----
Update: 6.04.2019
.
NASA Highlights Science on Next Northrop Grumman Mission to Space Station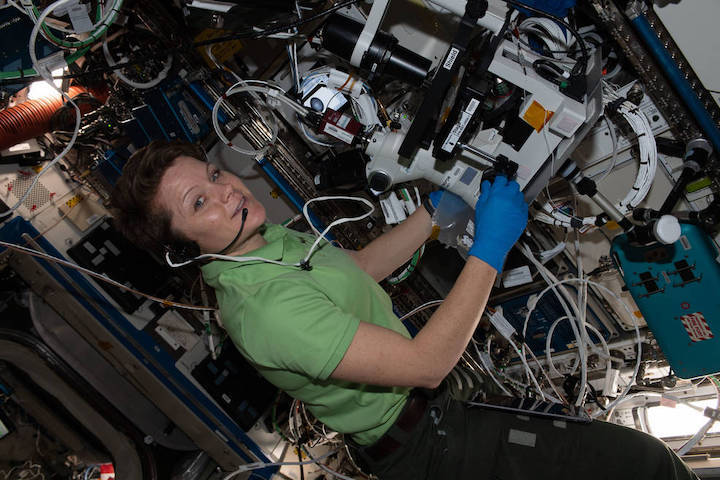 Credits: NASA/Anne McClain
NASA will host a media teleconference at 1 p.m. EDT Wednesday, April 10, to discuss select science investigations and technology demonstrations launching on the next Northrop Grumman commercial resupply mission to the International Space Station.
Audio of the teleconference will be streamed live online at:
Northrop Grumman is targeting Wednesday, April 17, for the launch of its Cygnus spacecraft on an Antares rocket from pad 0A at NASA's Wallops Flight Facility in Wallops Island, Virginia.
Pete Hasbrook, associate program scientist for the International Space Station Program at NASA's Johnson Space Center in Houston, and Patrick O'Neill, senior manager of marketing and communications for the station's National Lab, will provide an overview of the research and technology aboard Northrop Grumman's Cygnus spacecraft.
Also participating in Wednesday's briefing are:
To participate in the teleconference, media must contact Gina Anderson at 202-358-1160 or gina.n.anderson@nasa.gov by 10 a.m. Tuesday, for dial-in information.
The Cygnus spacecraft will carry crew supplies, scientific research and hardware to the orbiting laboratory to support the Expedition 59 and 60 crews for the 11th contracted mission by Northrop Grumman under NASA's Commercial Resupply Services contract.
Quelle: NASA
----
Update: 11.04.2019
.
Northrop Grumman Carries Technology, Scientific Investigations on Mission to Space Station
s
Credits: NASA
A Northrop Grumman Cygnus spacecraft scheduled to liftoff on April 17 carries supplies and scientific experiments to the International Space Station. It uses a new late load capability that allows time-sensitive experiments to be loaded just 24 hours before liftoff. Previously, all cargo had to be loaded about four days prior to launch, creating challenges for some types of experiments.
The launch on the company's Antares rocket departs from Pad-0A of the Mid-Atlantic Regional Spaceport (MARS) at NASA's Wallops Flight Facility on Wallops Island, Virginia. This Cygnus mission is the 11th and final under Northrop's Commercial Resupply Services (CRS)-1 contract with NASA; a CRS-2 contract begins with a cargo launch in the fall. Resupply missions from U.S. companies ensure NASA's capability to deliver critical science research to the space station and significantly increase its ability to conduct new investigations in the only laboratory in space.
Here are some of the scientific investigations Cygnus delivers to the space station:
Models for growing increasingly complex materials
Advanced Colloids Experiment-Temperature-10 (ACE-T-10) investigates the growth, microscopic dynamics, and restructuring processes in ordered and disordered structures such as colloidal crystals, glasses, and gels.
Colloids provide ideal models for researching the fundamental principles of internal organization in such structures because their particles are small enough to engage in relevant phenomena, yet large enough for detailed study. Colloidal system interactions vary precisely with temperature and undergo a variety of transitions including crystallization and glass formation. Conducting the study in microgravity removes the effects of gravitational stresses.
Better life science research in a few drops
Bio-Analyzer, a Canadian Space Agency (CSA) instrument, enhances life sciences research capabilities on the space station. It performs on-orbit detection and quantification of cell surface molecules on a per cell basis, including blood cell counts, and assesses soluble molecule concentration in a liquid sample such as blood, saliva, or urine. Part of the Life Science Research System (LSRS), the Bio-Analyzer uses just a few drops of liquid – a finger prick versus a standard blood draw, for example – and eliminates the need for freezing and storing samples.
Analyzing aging of the arteries in astronauts
Recent research suggest links between cardiovascular health risk, carotid artery aging, bone metabolism and blood biomarkers, insulin resistance, and radiation. Data also indicate accelerated aging-like changes in many astronauts on the space station, including changes to their arteries. The Space Environment Causes Acceleration of Vascular Aging: Roles of Hypogravity, Nutrition, and Radiation (Vascular Aging) looks at these changes using artery ultrasounds, blood samples, oral glucose tolerance tests, and wearable sensors. It is one of three related Canadian experiments studying the effects of weightlessness on the blood vessels and heart.
Testing immune response in space
Tetanus Antibody Response by B cells in Space (RR-12) examines the effects of spaceflight on the function of antibody production and immune memory. Spaceflight has a dramatic influence on human immune response, but there is little research on how that affects the body's immune system response to an actual challenge. Using a mouse model makes it possible to examine this question since the mouse immune system closely parallels that of humans.
Big buzz for new robot
A small robot takes on big jobs aboard the space station. The free-flying Astrobee can help scientists and engineers develop and test technologies for use in microgravity, give astronauts a hand with routine chores, and provide additional eyes and ears for flight controllers in Houston.
Building on the success of SPHERES, NASA's first-generation free-flyer, Astrobee, operates either in fully automated mode or under remote control from the ground. It can run longer and requires no supervision from the crew, freeing up more astronaut time for research. It also opens up more opportunities to experiment and test capabilities with lower risk. Astrobee is a product of the NASA Game Changing Development Program.
These are just a few of the hundreds of investigations currently happening aboard the orbiting laboratory. For daily updates, follow @ISS_Research, Space Station Research and Technology News or our Facebook. For opportunities to see the space station pass over your town, check out Spot the Station.
Credits: NASA
Credits: CSA
Credits: NASA
Melissa Gaskill
International Space Station Program Science Office
Johnson Space Center
Quelle: NASA
----
Update: 12.04.2019
.
NASA TV Coverage Set for April 17 Cygnus Launch to International Space Station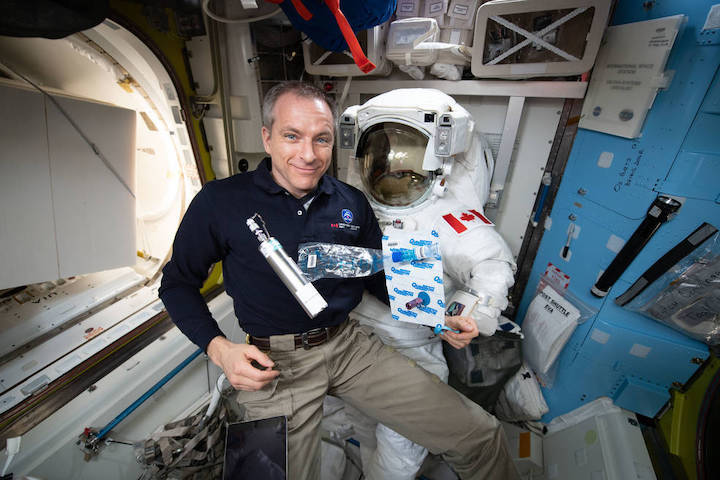 Credits: NASA/Anne McClain
NASA's commercial partner Northrop Grumman is scheduled to launch its Antares rocket carrying its Cygnus cargo spacecraft to the international Space Station at 4:46 p.m. EDT Wednesday, April 17. The launch, as well as briefings preceding and following liftoff, will air live on NASA Television and the agency's website.
Loaded with 7,500 pounds of research, crew supplies and hardware, this Northrop Grumman's 11th commercial resupply NASA-contracted mission. It will launch from Virginia Space's Mid-Atlantic Regional Spaceport at NASA's Wallops Flight Facility.
About two-and-a-half hours after launch, an automated command will initiate deployment of the spacecraft's solar arrays. Full deployment will take approximately 30 minutes.
The Cygnus spacecraft, dubbed the SS Roger Chaffee, will arrive at the space station Friday, April 19. At about 5:30 a.m., Expedition 59 NASA astronaut Anne McClain will grapple the spacecraft using the station's robotic arm. She will be backed up by David Saint-Jacques of the Canadian Space Agency. NASA astronaut Nick Hague will monitor Cygnus systems during its approach. After capture, ground controllers will command the station's arm to rotate and install Cygnus on the bottom of the station's Unity module.
Complete NASA TV coverage of launch activities is as follows:
Tuesday, April 16:
1 p.m. – What's on Board science briefing

Pete Hasbrook, manager, International Space Station Program Science Office
Liz Warren, associate program scientist, International Space Station National Lab
Andrew Zarechnak, Cygnus vehicle manager, Northrop Grumman
Maria G. Bualat, Astrobee Facility, Facility Deputy Group Lead, Intelligent Robotics Group at Ames Research Center
Dmitry Starodubov, Chief Scientist, Space Fibers
Trisha Rettig, post-doctoral fellow, and Nina Nishiyama, research associate, Rodent Research-12
Bob Twiggs, professor of Astronautics and Space Science at Morehead State University/Co-Inventor of the CubeSat, Twiggs Space Lab; Marty Estep, Antares program operations manager at Northrop Grumman; and Chris Hale, program manager for Virginia Space ThinSat Program
4 p.m. – Prelaunch news conference

Pete Hasbrook, manager, International Space Station Program Science Office
Joel Montalbano, deputy manager, International Space Station Program deputy manager
Doug Voss, deputy chief of the Wallops Range and Mission Management Office
Frank DeMauro, vice president and general manager, Space Systems, Northrop Grumman
Kurt Eberly, Antares vice president, Northrop Grumman
Wednesday, April 17:
4:15 p.m. – Launch coverage begins
7 p.m. – Cygnus solar array deployment coverage begins
8:15 p.m. – Postlaunch news conference

Joel Montalbano
Frank DeMauro
Kurt Eberly
Pete Hasbrook
Friday, April 19
4 a.m. – Coverage of Rendezvous and capture of Cygnus
7 a.m. – Coverage of Cygnus installation operations
Media registration for the launch and associated activities is closed. However, media may participate via phone in the What's on Board briefing and prelaunch and postlaunch news conferences. Media interested in participating must contact Gina Anderson at gina.n.anderson@nasa.gov for call details.
Media already registered to attend launch activities at Wallops can get more information on schedules, facility hours of operation, remote camera setup, and more at:
The Cygnus spacecraft is scheduled to remain at the space station until July 23, when it will depart, deploy NanoRacks customer CubeSats, and then have an extended mission in orbit until December before it will dispose of several tons of trash during a scheduled fiery reentry and destruction in Earth's atmosphere.
This will be the final mission under Northrop Grumman's Commercial Resupply Services (CRS-1) contract with NASA before starting the CRS-2 contract missions this fall. Under Northrop Grumman's contract, the company will fly 11 missions.
Quelle: NASA
----
Update: 14.04.2019
.
NASA Wallops: Here's what you need to know about the NG-11 Antares rocket launch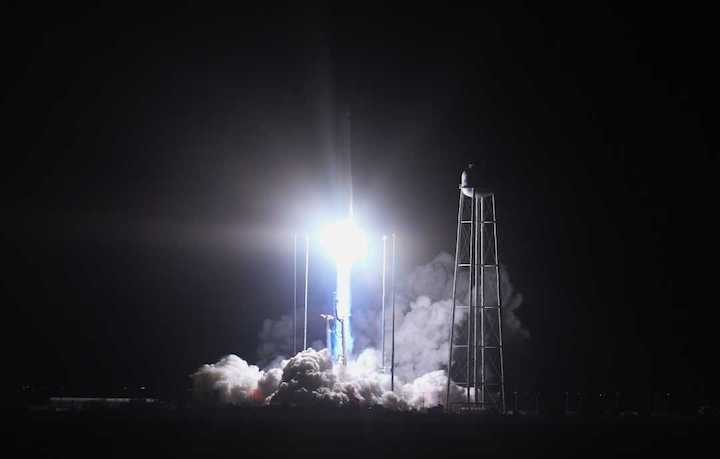 The NASA Wallops Flight Facility will soon launch another rocket into space.
The NG-11 mission, part of Northrop Grumman's Antares program, is scheduled to lift off at 4:46 p.m. April 17 at the Virginia Eastern Shore facility.
The rocket will transport the Cygnus cargo spacecraft, which will deliver routine supplies to the International Space Station. It will also help conduct some science experiments along the way.
If you're not a rocket scientist, here's what to know before liftoff.
Cool! Will I be able to see it?
If you live on Delmarva, chances are you'll see it jetting through the sky.
You can also get an up-close look of the launch at the official viewing site, which is several miles from the launch pad at the Wallops visitor center. If you go, you're encouraged to be there a few hours in advance, especially since this blastoff is slated for a Wednesday afternoon.
"We really expect a big crowd to show up," said Keith Koehler, a spokesperson for NASA Wallops.
But if you can't make it to the viewing site, you might still be able to see it from your backyard, depending on where you live.
People from as far away as Pennsylvania have reported seeing Wallops rockets launch, Koehler said. But because this launch is during the daytime, you might have a harder time spotting it if you don't live on Delmarva or atthe Virginia beaches.
If you live in southern New Jersey, Washington, D.C., or Baltimore, you could also see it.
And if you're in Chincoteague, you should also be able to hear the rumbles of the launch.
"You kind of need to be down there to get the full impact, the full effect of it," Koehler said.
So why is NASA launching this rocket, again?
The Cygnus spacecrafts carry cargo to the ISS, which orbits about 200 to 250 miles from Earth. The spacecraft will bring food, clothing and equipment to the station, along with some science experiments.
This rocket will also bring satellites, many through different school and college programs, into space. One school program includes Delmarva middle and high schools, while others include universities in Virginia and the Midwest. Their organizers say it gives students hands-on experience in building and piloting satellites, as well as interpreting the data they will collect.
The missions also hope to help better understand how satellites fare in space, including during atmospheric re-entry. Organizers say this knowledge is more imperative than ever, since more satellites are traveling through space in recent years.
Wait, this launch is in the afternoon. Aren't they usually at night?
Recently, yes. The last Antares launch, NG-10, was Nov. 17 at 4:01 a.m.
But when the rocket is launched is actually based on where the space station is in its orbit. The last several have just happened to be at night, Koehler said.
It's not that we prefer to launch at night, or prefer to launch in the day," he said.
Should this launch date bring bad weather, the backup date is April 18 at about 4:20 p.m.
I don't follow this stuff. How often do rocket launches happen?
At NASA Wallops, the Antares rockets are normally launched twice a year, depending on when the ISS needs the cargo. This is the 11th mission under Northrop Grumman's Antares program, which has been active since 2013.
Antares rockets are the only ones at Wallops that deliver cargo to the space station, but they are not the only ones launched at the Wallops Flight Facility.
The Eastern Shore facility also flies U.S. Air Force rockets prepared by Northrop Grumman, for example. One of those rockets, called Minotaurs, is scheduled to launch in the fall.
Rocket Lab, a private aerospace company, also plans to start launching its rockets at its new Wallops launch site this fall.
Quelle: delmarva now
----
Update: 17.04.2019 / 7.45 MESZ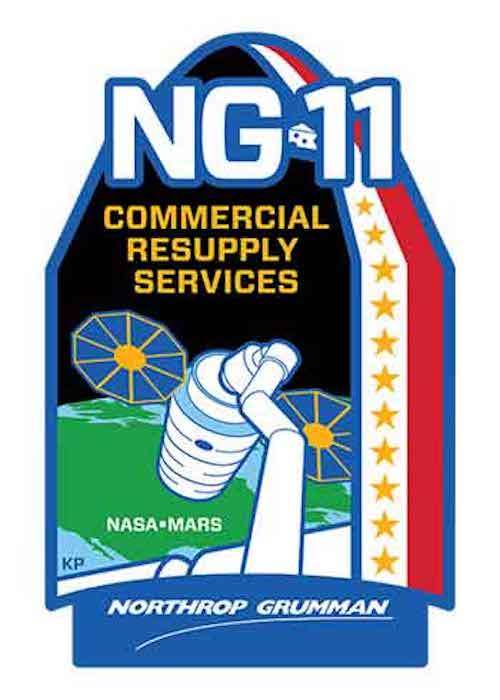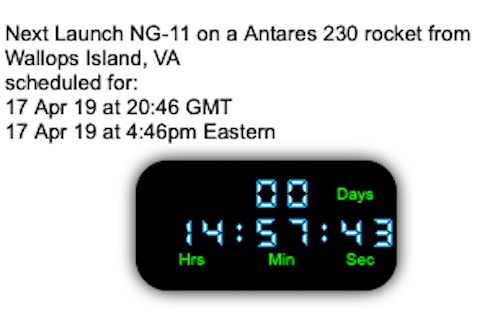 Quelle: AS
+++
Update: 21.00 MESZ
Antares to Launch NG-11 Cygnus from VA April 17, Honors Apollo 1 Hero Roger Chaffee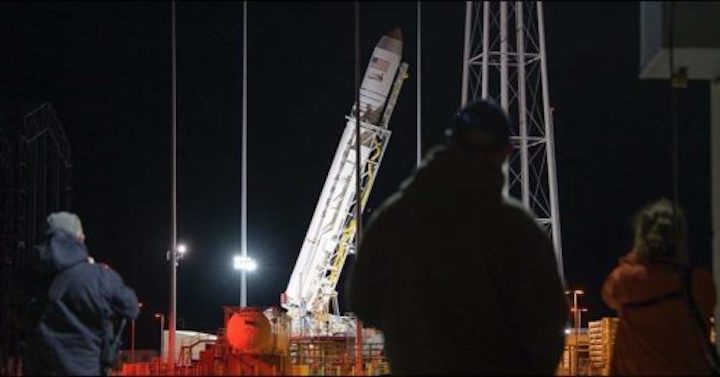 Roger Chaffee never got to fly in space. Selected by NASA as a member of the space agency's third group of astronauts—alongside future Moonwalkers Al Bean, Buzz Aldrin, Dave Scott and Gene Cernan—he was the youngest of his class and in March 1966 drew his first plum flight assignment as pilot of the first manned Apollo mission. Sadly, ten months later, on the evening of 27 January 1967, he and crewmates Virgil "Gus" Grissom and America's first spacewalker, Ed White, were killed in a flash fire aboard their Apollo 1 command module. Chaffee was three weeks shy of his 32nd birthday.
More than a half-century later, on Wednesday, 17 April, the Navy lieutenant-commander will fly in name at least to the International Space Station (ISS), when Northrop Grumman Innovation Systems—formerly Orbital ATK and, before that, Orbital Sciences Corp.—launches the NG-11 Cygnus cargo ship atop an Antares 230 booster from Pad 0A at the Mid-Atlantic Regional Spaceport (MARS) on Wallops Island, Va. Laden with 7,500 pounds (3,400 kg) of experiments, equipment and supplies for the incumbent Expedition 59 crew, the "Spaceship (SS) Roger Chaffee" will approach and berth at the space station early Friday, 19 April, with astronauts Anne McClain of NASA and David Saint-Jacques of the Canadian Space Agency (CSA) at the controls of the 57.7-foot-long (17.6-meter) Canadarm2. Monitoring Cygnus' systems during the approach will be fellow Expedition 59 crewman Nick Hague. According to the schedule, McClain will grapple the cargo ship at 5:30 a.m. EDT, whereupon ground controllers will command Canadarm2 to rotate and install Cygnus onto the Earth-facing (or "nadir") port of the station's Unity node.
Follow our LAUNCH TRACKER for regular updates and LIVE COVERAGE on launch day!
.
Roger Chaffee became the youngest person ever selected by NASA for astronaut training in October 1963. Photo Credit: NASA
NG-11 will demonstrate, for the first time, the ability to "late-load" cargo aboard the spacecraft, just 24 hours prior to launch. This will allow for time-sensitive payloads, including the live rodents aboard NG-11, to be safely transported to the ISS. Under the processing regime for previous Cygnus missions, the last cargo was loaded about four days before launch, with the vehicle rolled out to the pad at L-2. On 11 April, Northrop Grumman announced that Cygnus was fueled and its initial cargo load had been completed, ahead of encapsulation in the Antares payload fairing and rollout to Pad 0A at MARS.
"An area of high pressure will press down from the Northeast states Wednesday morning, forcing a backdoor cold front through the Wallops Region to shift surface winds out to a northeasterly component for the launch window," noted Wallops' L-2 weather briefing on Monday. "A weak upper-level disturbance within the northwesterly upper-level flow will track towards the Mid-Atlantic Wednesday to increase upper-level cloudiness." All told, this presents an 85 percent probability of acceptable conditions for an on-time launch on Wednesday, 17 April, tempered by a risk of excessive ground winds and thick clouds.
As detailed by Northrop Grumman, the late-load capability is made possible via a specialized removable nose cone—nicknamed a "pop-top"—and mobile payload processing facility. "For late-load operations, Antares will roll to the pad four days before launch and mate all connections needed for launch, except for the liquid oxygen loading line," the company explained. "The team will then raise Antares to its vertical launch position and perform a full combined systems test to verify all systems are working properly. Once all the pre-launch testing is complete, operators will lower Antares to a horizontal position, maneuver the mobile payload processing facility over the front of the fairing and seal the opening to provide a cleanroom environment. The team will then put platforms in place, remove the pop-top from the nose cone, open the Cygnus hatch and load the final time-sensitive cargo. After completing the late-load, operators will close the hatch, remove the mobile payload processing facility, raise Antares to vertical again and make all final ground connections in preparation for launch."
In comments provided to AmericaSpace by Northrop Grumman's Vicki Cox, it has become traditional to name each Cygnus "after an individual who has made a significant impact on the aerospace industry". The eleven previous Cygnus missions—ten "operational" flights and the ORD-D shakedown test, back in September 2013—all honored a variety of spaceflight luminaries: former shuttle flyers G. David Low, Janice Voss, Alan "Dex" Poindexter, Rick Husband and Gordon Fullerton; Moonwalkers John Young and Gene Cernan; and Project Mercury astronauts Deke Slayton and John Glenn. However, Chaffee and former NASA Deputy Administrator James "J.R." Thompson are the only Cygnus honorees who never flew to space.
The NG-11 spacecraft will be the eighth outing of the Enhanced Cygnus vehicle. Photo Credit: Northrop Grumman Innovation Systems/Twitter
"Although Chaffee never made it to space, his sacrifice inspired fellow and future astronauts to push the boundaries of spaceflight," the Northrop Grumman comments continued. "In the 50 years since the Apollo 1 crew's tragedy, Americans have visited the Moon, built a home on the International Space Station and begun to plan extended trips through deep space to Mars."
Wednesday's flight of NG-11 will be the eighth mission by an "Enhanced" Cygnus, which first flew back in December 2015. It benefits from a "stretched" Pressurized Cargo Module (PCM), which is capable of carrying a 60-percent larger haul of payloads than its predecessor, the Standard Cygnus, which flew the initial missions until October 2014. Combined with its service module, the Enhanced Cygnus stands 15.9 feet (4.86 meters) tall and 10.1 feet (3.07 meters) in diameter and can house a payload volume of 950 cubic feet (27 cubic meters). It is visually distinctive from the Standard Cygnus in that the enhanced version boasts fan-shaped low-mass Ultraflex gallium arsenide solar arrays. It can also support up to 90 days of berthed operations at the ISS and up to a year in space.
Assuming an on-time launch Wednesday, the NG-11 Space Ship Roger Chaffee will arrive at the International Space Station (ISS) early Friday morning. Photo Credit: NASA/Astronaut Ricky Arnold, via Twitter
Indeed, this extended-duration independent-flight capability will be trialed for the first time on NG-11, for Space Ship Roger Chaffee is scheduled to unberth from the station in July and conduct several months in free flight, before it is destructively deorbited in December. Although several previous Cygnuses have loitered in low-Earth orbit for up to a couple of weeks after departing the ISS—to conduct autonomous investigations, including the Spacecraft Fire Experiment, or Saffire—NG-11 will do so for much longer.
Assuming it berths at the station as scheduled on Friday, 19 April and unberths as scheduled on 23 July, the mechanized Roger Chaffee will log a record-setting 95 days attached to the ISS, eclipsing the previous record-holder, the NG-10 SS John Young, which ended its mission in February after 81 days' berthed time. It remains to be seen exactly how long NG-11 will remain in autonomous free-flight, but it seems probable that it will eclipse the 100 days' total time in space recorded by its immediate predecessor, NG-10.
The Apollo 1 crew consisted of (from left) Command Pilot Virgil "Gus" Grissom, Senior Pilot Ed White and Pilot Roger Chaffee. Photo Credit: NASA
The NG-11 mission will close out the first phase of the Commercial Resupply Services (CRS1) contract, signed between NASA and Orbital Sciences Corp., way back in December 2008. This initially called for eight dedicated Cygnus missions, but with the increased uplift afforded by a pair of Atlas V launches and the larger payload envelope of the Enhanced Cygnus, this target was surpassed sooner than intended. Following the completion of an "extension" program, bridging the gap between the end of CRS1 and the beginning of the CRS2 phase—for which contracts were signed back in January 2016—it is expected that the NG-12 Cygnus mission, slated to launch late in 2019, will kick off the second phase of Commercial Resupply Services, lasting through 2024.
The choice of Roger Chaffee as this mission's namesake is particularly timely. "In terms of the Chaffee choice, we tied it to the 50th anniversary of the Apollo 11 Moon landing this year," Ms. Cox told AmericaSpace. "Chaffee had died just two years earlier in 1967—tragically—during that simulated launch of the Apollo 1 mission. Although his teammates had flown in space earlier, he never got the chance. We see Cygnus as a visible reminder of all that he did to pave the way for his fellow astronauts on that epic voyage to the Moon and all of the milestones that came after that. He made the ultimate sacrifice and we are proud to fly in his honor."
For as Chaffee himself once remarked: "There's a lot of unknowns and a lot of problems that could develop and have to be solved. And that's what we're there for. This is our business."
Quelle: AS
+++
Update: 22.55 MESZ
.
LIVE-Launch-Frams: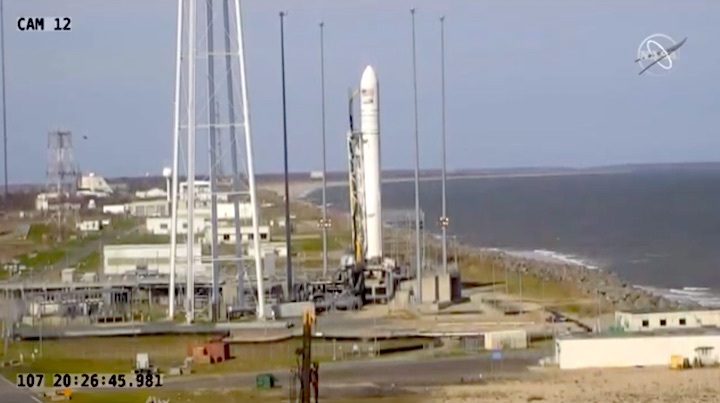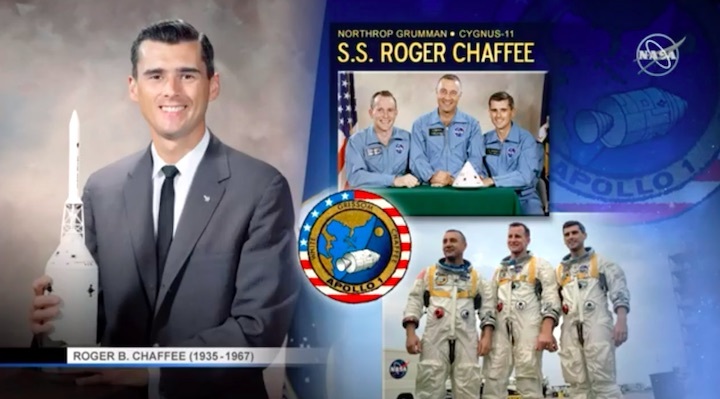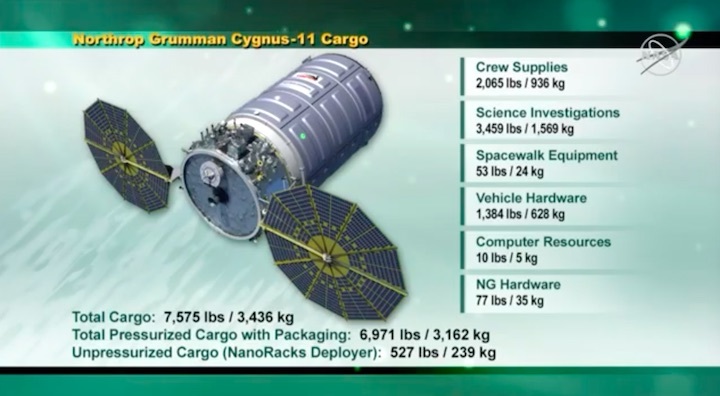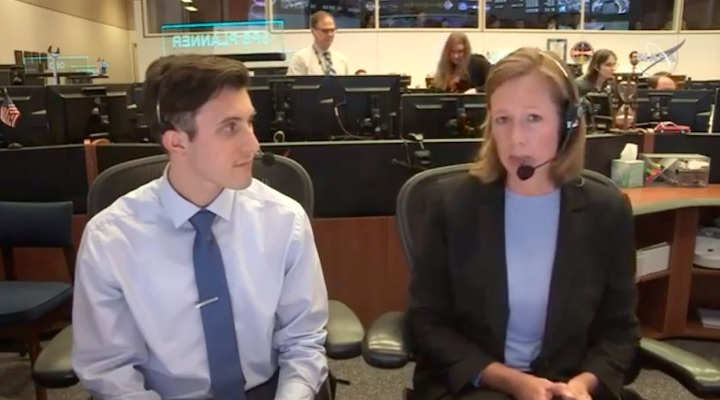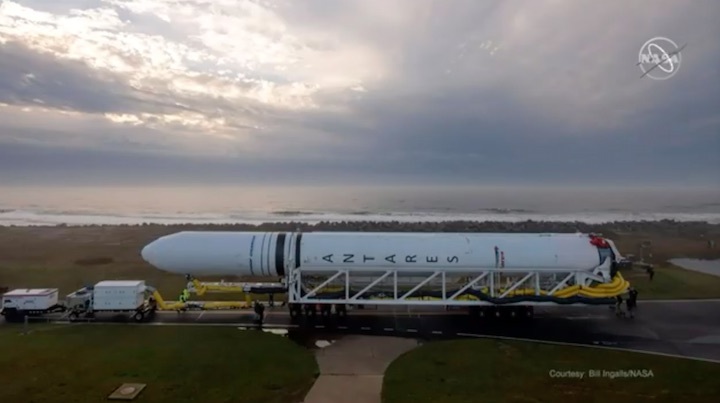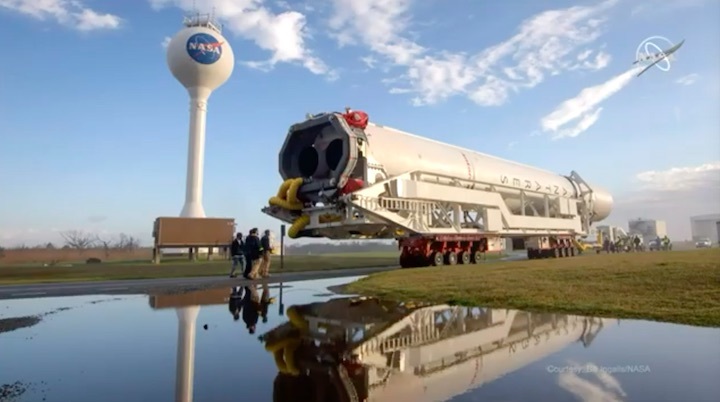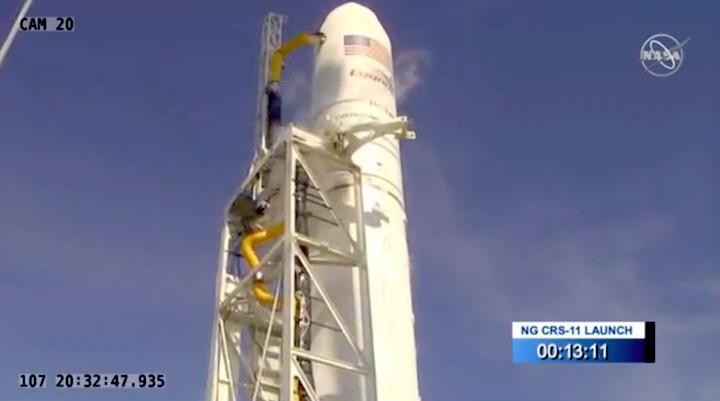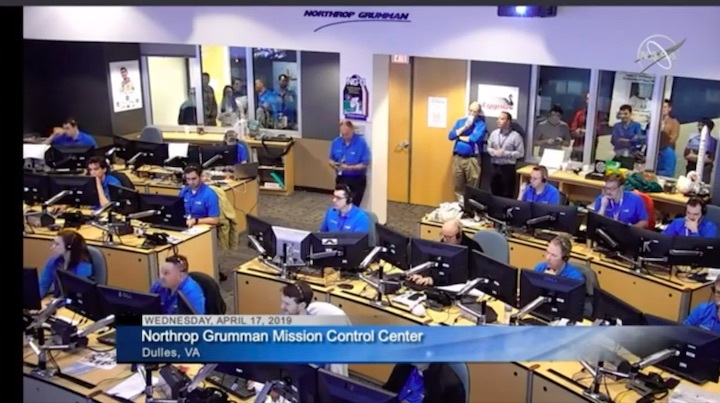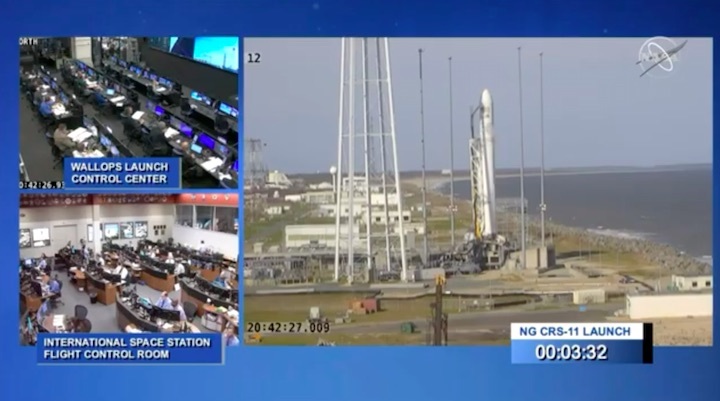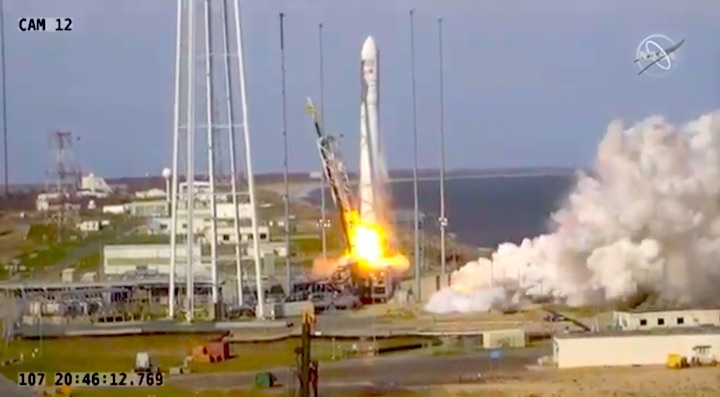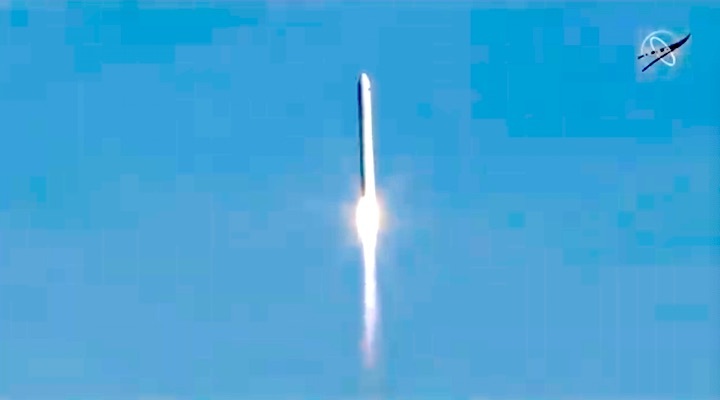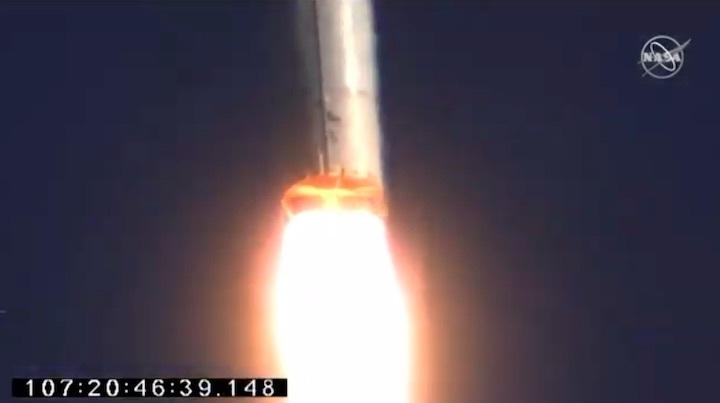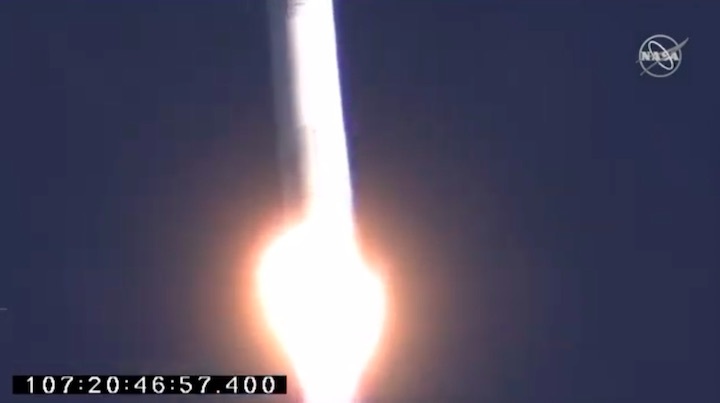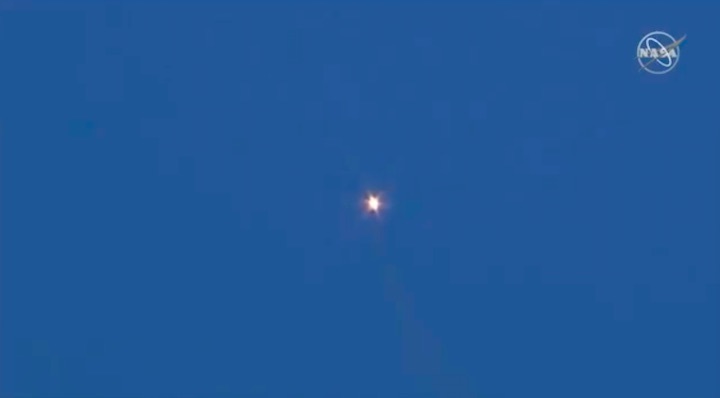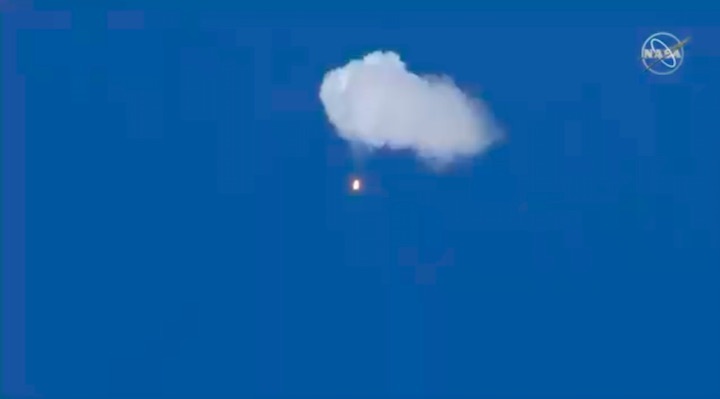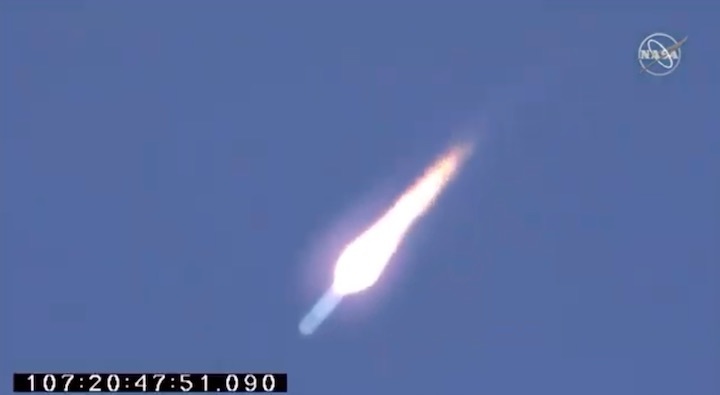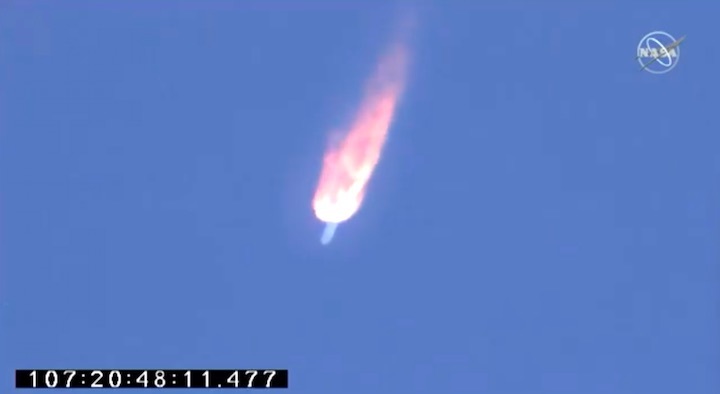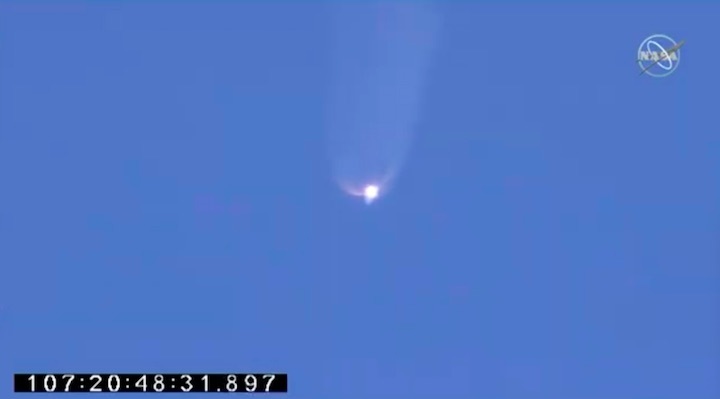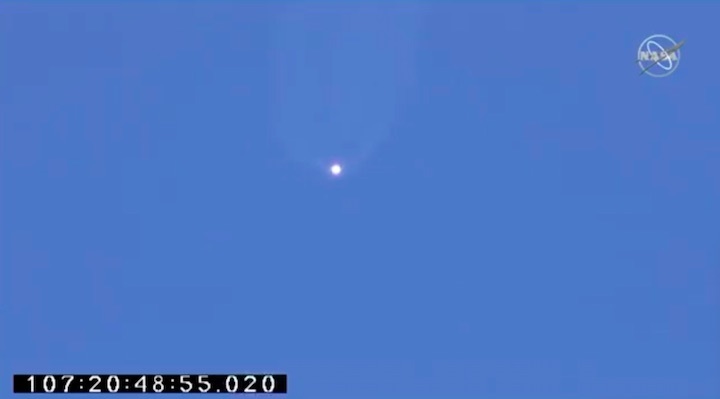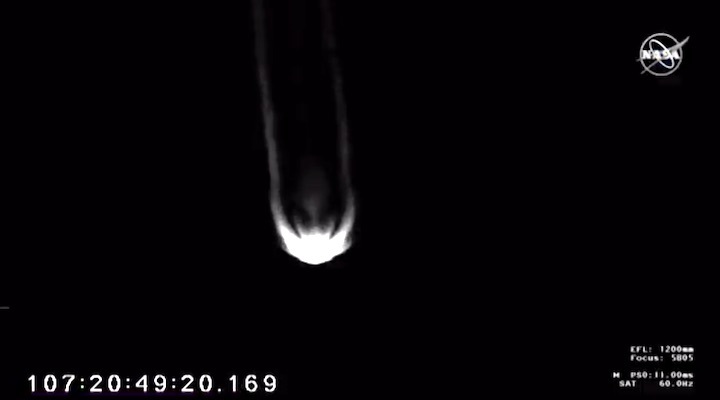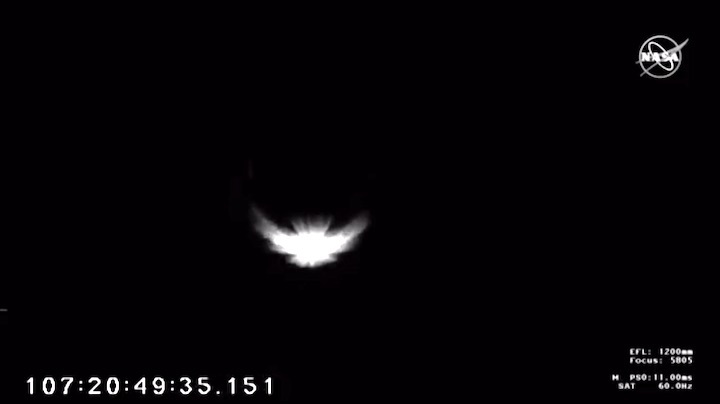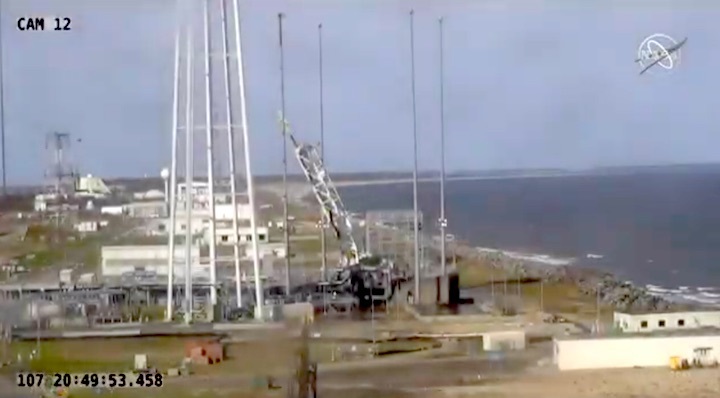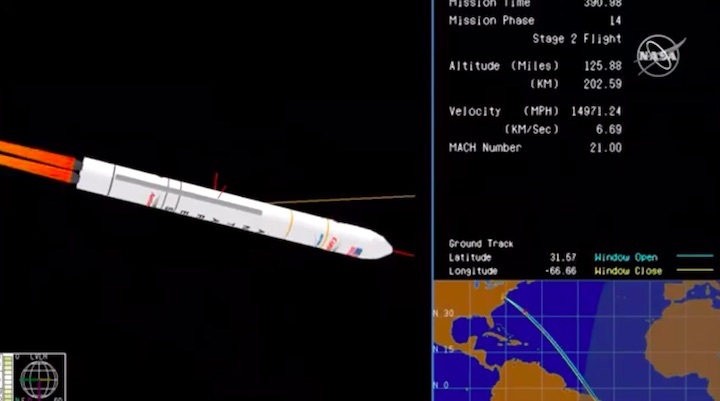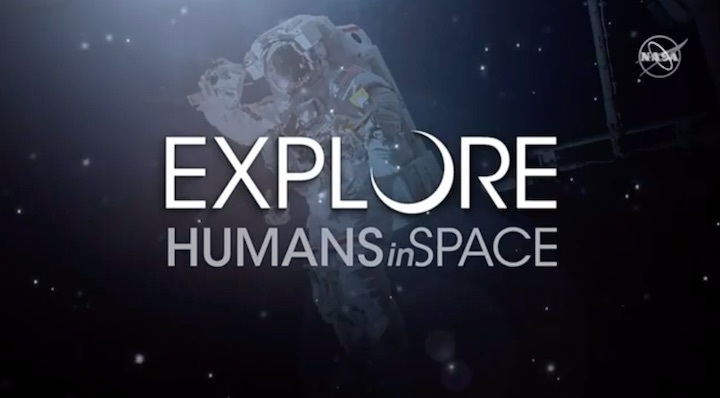 Quelle: NASA
8848 Views