19.04.2019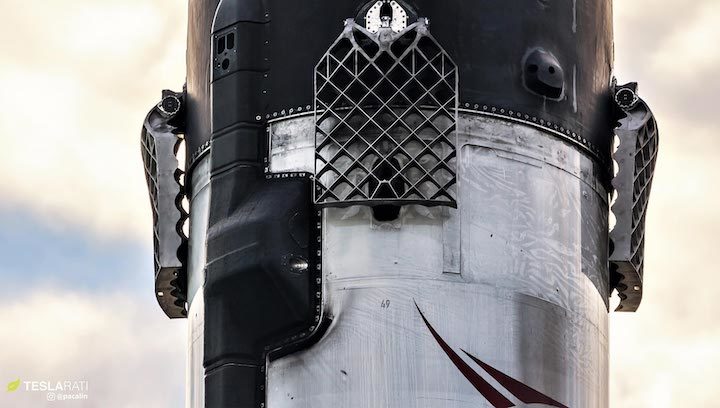 Two days before the first attempted launch of Falcon Heavy Block 5, a Florida local caught a separate Falcon booster crossing the state border on its way to one of SpaceX's two Cape Canaveral launch pads.

Soon after, a separate Falcon booster was tracked heading East through Arizona, Louisiana, and Florida, a rare back-to-back rocket shipment bringing to an end two months of little visible activity. Prelude to a busy spring and early summer manifest, these Falcon booster arrivals signify a new influx of rocket hardware as SpaceX prepares for several upcoming missions. Ranging from Falcon Heavy Flight 3 to Crew Dragon's critical in-flight abort test, SpaceX has no less than seven launches planned between now and the end of July.
CORE SPOTTING – EPISODE 74
This brings us to another episode of analysis of SpaceX's ever-changing fleet of Falcon 9 and Falcon Heavy boosters. The cast of flightworthy Block 5 rockets now includes either seven or eight flight-proven boosters and perhaps 2-3 unflown boosters. The new center core believed to be assigned to Falcon Heavy's third launch (B1057) is reportedly already in Florida, while both flight-proven Falcon Heavy side boosters (B1052 and B1053) were transported to SpaceX's Pad 39A hangar for refurbishment less than a week after their first launch and landing.

Of the above fleet, B1047, B1048, B1050, B1051, B1052, and B1053 are already known to be located at SpaceX's Florida facilities, all of which launched from Cape Canaveral within the last five months. After successfully supporting Crew Dragon's orbital launch debut in March, B1051 is currently assigned to SpaceX's second West Coast launch of the year and will likely be shipped to California in the next few weeks. B1057, believed to be the next new Falcon Heavy center core, is likely already in Florida to prepare for its a launch as early as late June.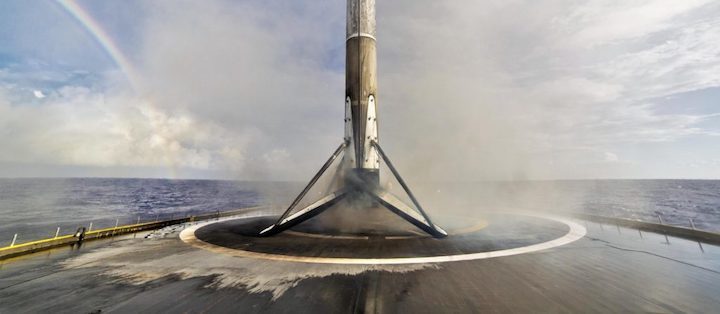 Falcon 9 B1047 seen aboard SpaceX drone ship Of Course I Still Love You after its second launch and landing. (SpaceX)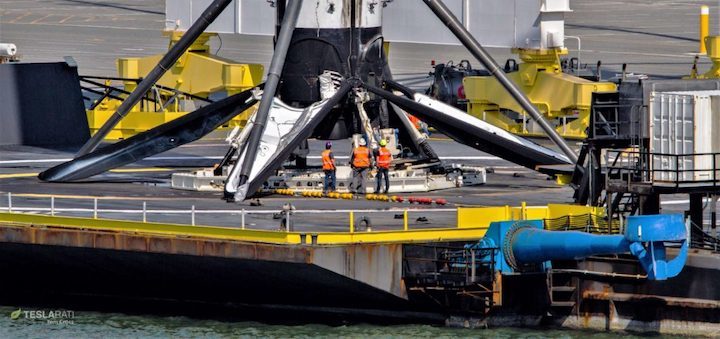 Falcon 9 B1048 returned to Port Canaveral on Feb. 24 after the rocket's third successful launch and landing. (Tom Cross)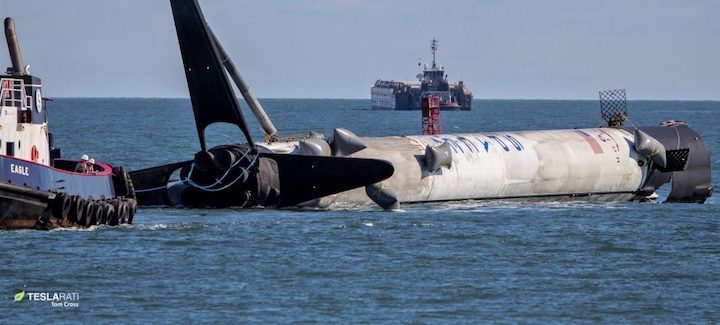 B1050 may be unsalvageable after an accidental water landing in December 2018. (Tom Cross)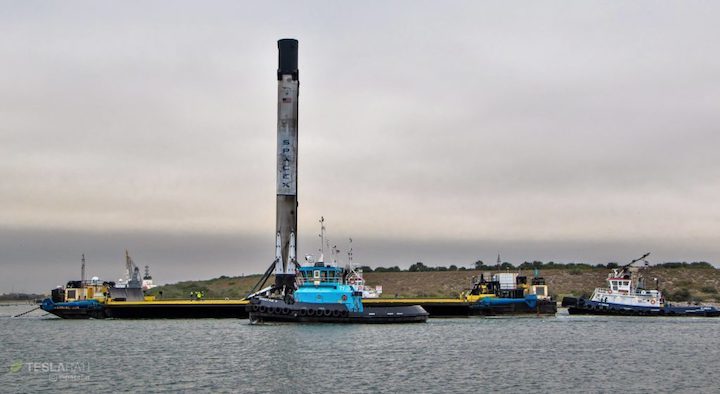 Falcon 9 B1051 returns to Port Canaveral after supporting Crew Dragon's flawless launch debut. (Pauline Acalin)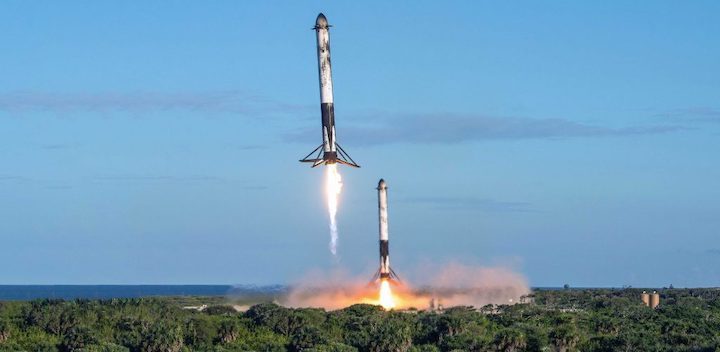 USAF photographer James Rainier's remote camera captured this spectacular view of Falcon Heavy Block 5 side boosters B1052 and B1053 returning to SpaceX Landing Zones 1 and 2. (USAF – James Rainier)
This leaves either two known flight-proven boosters or new Falcon boosters as the likely suspects captured in a duo of April core spottings, one on April 8th and another on April 17th. SpaceX has two flightworthy Falcon 9 Block 5 boosters – B1047 and B1048 – at its Florida facilities, so it's not out of the question that both spotted cores are new. They could also be B1046 and B1049, both of which recently completed launches from SpaceX's Vandenberg pad and have been undergoing refurbishment in California. SpaceX's West Coast manifest could have just two launches for the rest of 2019, meaning that there is no practical reason to keep unassigned boosters nearby.

Meanwhile, SpaceX has plans to begin operational Starlink constellation launches as early as mid-May and likely has more than one planned for 2019. The launch-hungry venture will need as many Falcon 9 boosters as it can get – the more, the merrier. Heading into Q3 2019, SpaceX's first crewed launch of Crew Dragon (DM-2) is in need of a new Falcon 9 Block 5 rocket and is reportedly scheduled no earlier than (NET) October. One of the cores spotted in the last week or so could be that very rocket, arriving early due to the gravity of DM-2 and the need to double, triple, and quadruple-check the hardware to best ensure mission success.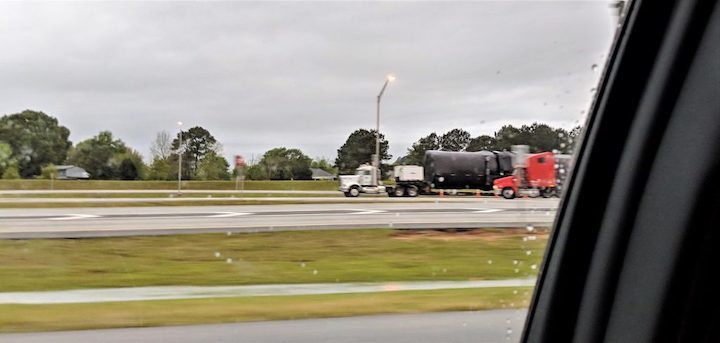 The first Falcon booster of April was spotted entering Florida on the 8th by Reddit user Ferret_Bastard. (Reddit /u/ferret_bastard)

Nine days later (April 17th), Facebook SpaceX group member Joshua Murrah spotted a separate Falcon booster entering Florida. (Joshua Murrah)
At the end of the day, the most likely explanation is that one of the boosters spotted is new, while one is B1046 or B1049. This is supported by the fact that the second instance was coincidentally tracked throughout its journey, with fans in California, Tuscon, Louisiana, and Florida all catching glimpses between April 12th and April 17th. SpaceX static fires all unflown boosters in McGregor, Texas before they are delivered to a launch site, a procedure that typically takes no less than two weeks from arrival to departure. The booster spotted entering Florida on April 8th, however, does not seem to have been spotted by the same unofficial network of SpaceX fans.

Finally, there is a chance that one of these boosters is a new Falcon 9 assigned to SpaceX's next Cargo Dragon mission to the International Space Station. CRS-17 is scheduled for launch on April 26th, cutting it extremely close for the booster to be arriving just two weeks before its static fire test.
Quelle: TESLARATI
3526 Views