30.12.2018
RADARSAT Constellation Mission Launch Likely Delayed Again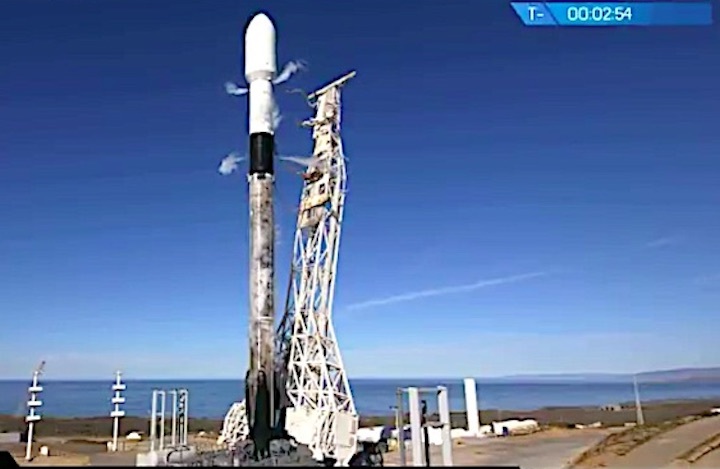 It would seem getting the RADARSAT Constellation Mission (RCM) launched is an exercise in patience as the hoped for mid-February launch is "likely" delayed again.
SpaceQ spoke with Michel Doyon, Manager, Flight Operations at the Canadian Space Agency about another expected delay in the launch of RCM.
RCM is scheduled to launch on a SpaceX Falcon 9 rocket with a targeted launch scheduled between February 18-24. According to Doyon "due to what happened, you know, there will likely be a delay, we can not confirm at this point what the date is."
The "what happened" was the soft ocean landing of the Falcon 9 first stage booster (1050) on December 5th while SpaceX was successfully launching the NASA Commercial Resupply Mission to the International Space Station. The booster was intended to land at the SpaceX landing pad at the Cape.
According to Elon Musk, the CEO of SpaceX, a "grid fin hydraulic pump stalled, so Falcon landed just out to sea. Appears to be undamaged & is transmitting data. Recovery ship dispatched."
Unfortunately for the RCM mission, booster 1050 was supposed to be refurbished and used for the RCM launch. That is unlikely to happen as the booster may or my not be refurbished.
That's puts RCM into a scheduling quandary. MDA who procured the launch has paid for the use of a previously used booster, or as SpaceX describes it, a flight proven booster.
SpaceX has retired the block 4 boosters meaning it is only using the newer block 5 boosters for reuse. At the moment there are no block 5 boosters available that have only flown once and are ready to use. There are two boosters, 1047 and 1048, which have both flown twice and there's 1046 which has flown three times. How far along they are in their refurbishment process is unknown.
There are also two known boosters possibly available that haven't flown yet, 1052 and 1053, that may not have been assigned to a flight.
So the question for the MDA and the CSA is, do you fly a booster that's already flown twice or three times even if they're available? Or do you wait for a booster that's only flown once.
It's expected that the upcoming January 7th launch of the Iridium Next mission will use the once used booster 1049. Then later in January NASA is expected to launch the SpaceX Crew Dragon Demo 1 mission with a new booster (1051). It would be a couple of months before that booster is refurbished and ready to go. Which leaves the RCM mission in a scheduling quandary.
In the meantime Doyon says MDA and SpaceX are talking and looking for a solution.
Quelle: SpaceQ
3961 Views