08.09.2018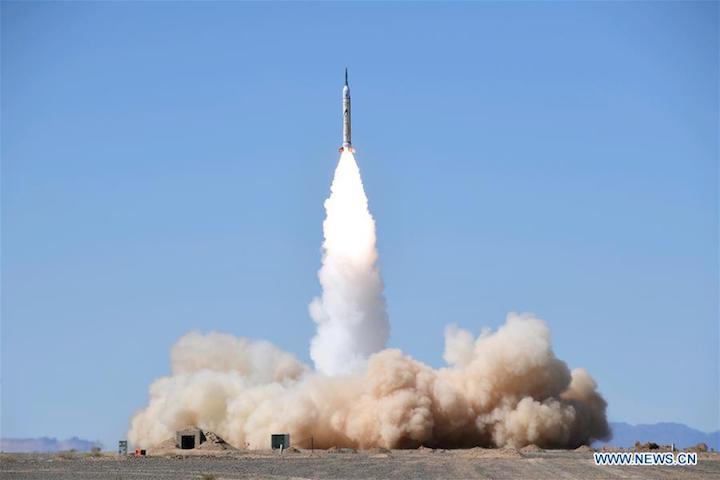 The OS-X1, a suborbital rocket developed and produced by Chinese private company One Space, is successfully launched from the Jiuquan Satellite Launch Center in northwest China, Sept. 7, 2018. The OS-X1 can reach a speed of Mach 4.5 in load flight. This was the company's second launch this year. (Xinhua/Wang Jiangbo)
JIUQUAN, Sept. 7 A suborbital rocket developed by a private Chinese company was successfully launched at 12:10 p.m. Friday from the Jiuquan Satellite Launch Center in northwest China.
The OS-X1, developed and produced by One Space, can reach a speed of Mach 4.5 in load flight.
Suborbital rockets usually have a flight path of less than one complete orbit of the Earth. They can reach an altitude of more than 100 km above sea level and then fall back to Earth. Suborbital rockets or satellites are primarily used for scientific experiments.
This was the company's second launch this year.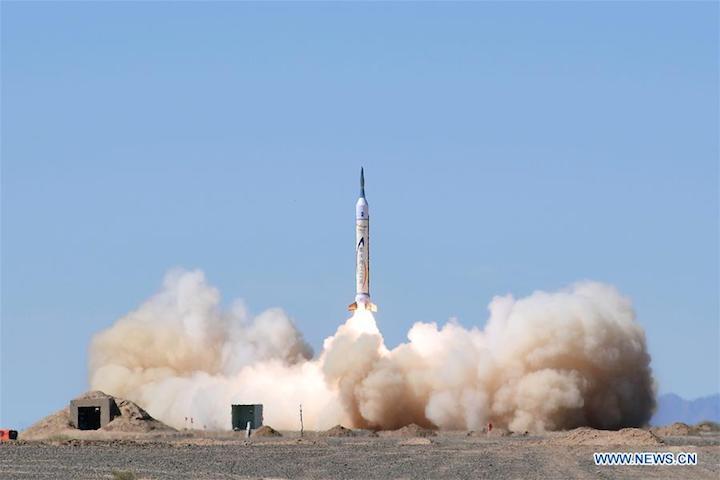 The OS-X1, a suborbital rocket developed and produced by Chinese private company One Space, is successfully launched from the Jiuquan Satellite Launch Center in northwest China, Sept. 7, 2018. The OS-X1 can reach a speed of Mach 4.5 in load flight. This was the company's second launch this year. (Xinhua/Wang Jiangbo)
Quelle: Xinhua
+++
China launches new marine satellite
China sent a new marine satellite into orbit Friday to help improve understanding of maritime waters and climate change.
A Long March-2C rocket carrying the HY-1C satellite took off at 11:15 a.m. from the Taiyuan Satellite Launch Center in north China's Shanxi Province.
The satellite HY-1C will help monitor ocean color and water temperatures, providing basic data for research on the global oceanic environment, according to the State Administration of Science, Technology and Industry for National Defense.
Its data will also be used in the survey of the resources and environment of China's offshore waters, islands and coastal zones, marine disaster relief and the sustainable utilization of ocean resources, said the administration.
With a design life of five years, it was developed by the China Spacesat Co., Ltd. under the China Academy of Space Technology.
China launched its first marine satellite, HY-1A, in May 2002, laying the foundation for a ocean monitoring system. Then the HY-1B satellite was launched in April 2007.
HY-1C is expected to improve China's ocean remote sensing capability, along with HY-1D, which is planned to be launched in 2019.
HY-1C can detect chlorophyll and suspended sediment concentrations and dissolved organic matter, which can affect ocean color, as well as temperatures on the sea surface, said Wang Lili, chief designer of the satellite.
The data will help survey fishery and aquaculture resources and environments, offering a scientific basis for reasonable exploitation and utilization of marine resources, experts said.
Scientists will also use the data to study global environmental changes, the role of the oceans in the global carbon cycle and the El-Nino phenomenon.
Friday's launch was the 284th by the Long March rocket series.
Quelle: Xinhua
---
Update: 9.09.2018
.
Amazing footage of Chinese rocket launch captured by orbiting Chinese video satellite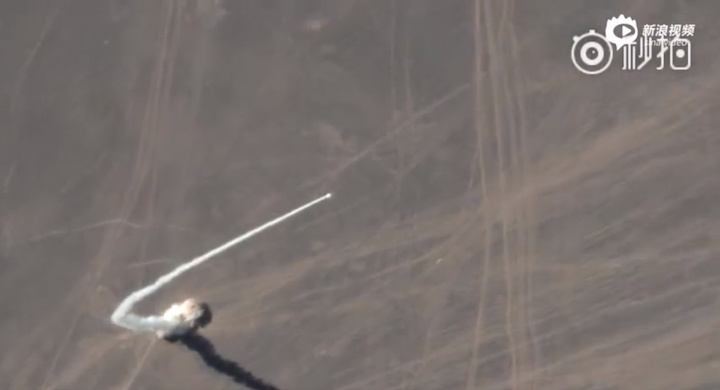 A Chinese remote sensing satellite has captured stunning footage of a suborbital rocket launch taking place at the Jiuquan Satellite Launch Centre in the Gobi Desert.
The Jilin-1 satellite was orbiting at around 535 kilometres above the Earth as the OS-X1 rocket lifted off from Jiuquan at 12:10 local time (04:10 UTC) on Friday.
The video satellite managed to capture the early moments of the 200-second flight, which reached an altitude of around 35 kilometers, showing the solid-fuelled rocket quickly climbing.
The footage was posted on Chinese social media and shared on Twitter by Dafeng Cao.
The launch was the second for OneSpace, which is developing a number of suborbital and orbital solid-fuelled rockets to provide commercial launch services.
The Jilin-1 satellite, one of seven in orbit, were developed by Chinese commercial satellite maker Chang Guang Satellite (CGST), an offshoot of Changchun Institute of Optics, Fine Mechanics and Physics (CIOMP), based in the northeastern province of Jilin, for which the satellites are named.
The company aims to establish a large constellation of Earth observation satellites to offer high-resolution imaging, video, multispectral coverage of the ground, providing remote-sensing data support to areas including land resources monitoring, land surveying, mineral resources development, agriculture yield estimation, environmental monitoring, disaster prevention and other areas.
Like OneSpace, the company emerged following a 2014 government decision to allow private investment in space companies.
OneSpace is aiming to launch its first orbital rocket, the OS-M, by the end 2018.
Launch of the OneSpace OX-S1 'Chongqing Liangjiang Star' suborbital rocket from Jiuquan Satellite Launch Centre on September 7, 2018.
Quelle: gbtimes
1962 Views