7.09.2018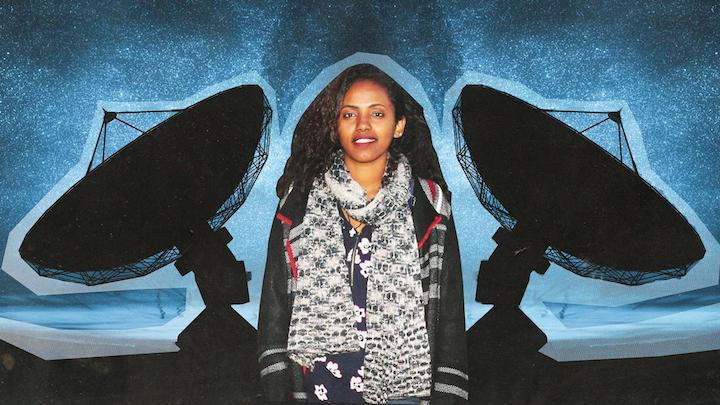 Beza Tasfaye is leading efforts to put her country's space science program on the map.
Beza Tesfaye has been eyeing the stars since she was 6 years old, her curiosity sparked by a book about UFOs. And the youngest of 11 children from a poor family in Addis Ababa refused to let her circumstances — or being schooled within a restrictive national education system — keep her grounded.
Now she's the general manager of the Ethiopian Space Science Society (ESSS), where she coordinates educational programming for more than 20 branches and 100 schools across the world's most populous landlocked country. Tesfaye's goal is to push a nation known mostly for poverty and war into the stratosphere, but it's not easy. "She's very humble, polite and energetic," says Tulu Besha Bedada, an ESSS board member and head of the Earth observation division of the Entoto Observatory and Research Center. "She'll never give up."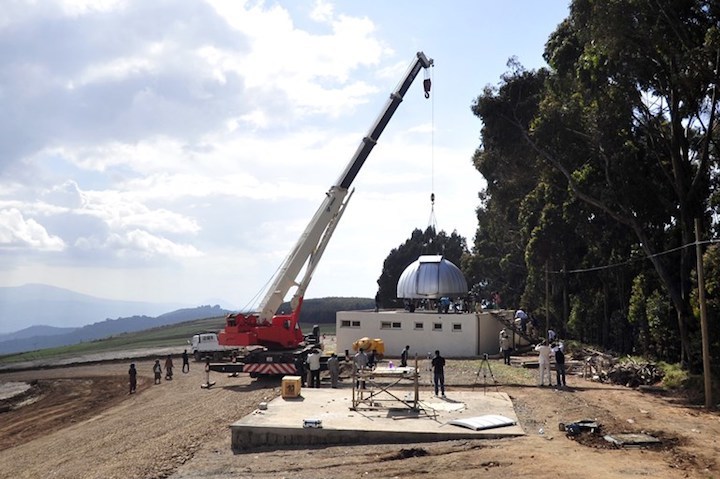 Workers install a dome at the Entoto Observatory in Addis Ababa, Ethiopia, on October 24, 2013. The observatory, located 3,200 meters above sea level, will boast two telescopes, each one over three feet wide, to see planets, stars and other galaxies.
-
Tesfaye, 30, says the internet wasn't available when she was a child, so it was hard to access information about space. This all changed, though, after attending an early ESSS event at Kokebe Tsibah High School. Without permission, she stayed for the stargazing program, landing her in hot water with her mother when she got home late. But after seeing the moon through a telescope for the first time, she was hooked. "That was the most exciting experience," she says. University was the next obvious step, but those plans were foiled.
The government uses a lottery system to decide what people study, so her application to the astronomy program at Addis Ababa University was turned down, and she was assigned to chemical engineering — which gutted her. Tesfaye eventually quit the program, taking a gap year in search of different avenues into space studies. She decided if she couldn't study astronomy, she could at least influence policy to ensure future stargazers access to the opportunities denied her.
SPACE IS NOT ONLY ABOUT ASTRONOMY. NOWADAYS IT'S DIVERSE. YOU CAN DO SPACE POLICY. YOU CAN DO SPACE SECURITY.

BEZA TESFAYE
This decision led her to New Generation University College, where in 2012 she completed a bachelor's in global studies and international relations. Now she's back at Addis completing a master's in international relations and diplomacy. In between all of this, she's been crusading for space science — both at home and abroad.
Since September 2010, Tesfaye has been an active volunteer for the nonprofit Space Generation Advisory Council (SGAC) for students and young professionals, in support of the United Nations Program on Space Applications. She was her country's national point of contact and then the regional coordinator for Africa, linking Ethiopian youth with an international network. "Space is not only about astronomy," she notes. "Nowadays it's diverse. You can do space policy. You can do space security. … We try to create awareness about different careers and space programs." And in the process, Tesfaye has become an important role model.
Established in 2004, ESSS is a 10,000-member civic organization that evangelizes space science, holding education programming nationwide. Tesfaye started at the organization in 2016 doing public relations and was tapped as its leader in May — especially impressive given Ethiopia's underrepresentation of women in science. In 2013, according to UNESCO, only 13 percent of the country's researchers were women.
Working alongside Tesfaye to coordinate events such as Yuri's Night (celebrated annually to commemorate Yuri Gagarin, the first human to launch into space on April 12, 1961), Cosmo Day, Space Day and other programs, is 21-year-old Dagmawi Mekonnen, Ethiopia's new point of contact for SGAC. "I believe our country is full of minds that are capable of achieving great things," he says, "and … needs people like Beza, people who dedicate their life to inspiring and guiding others into becoming better versions of themselves."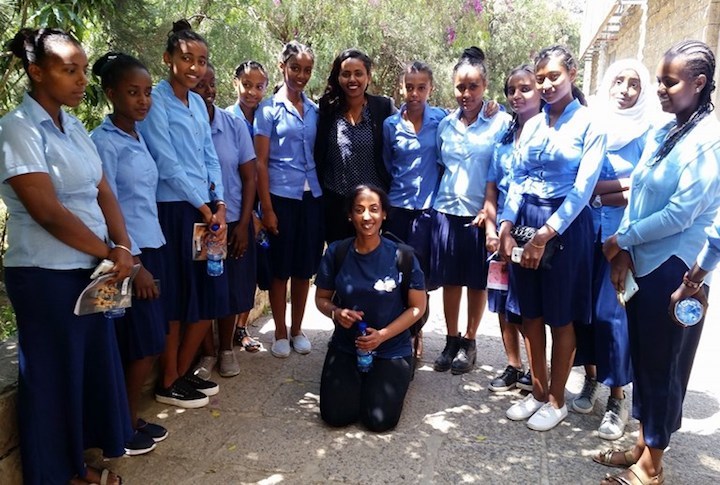 Once a starstruck student herself, Beza poses with high school girls at the Adama Science and Technology University as part of the Ethiopian Space Science Society school outreach program.
-
Still, being a space wonk in Ethiopia does invite controversy. In 2013, Sheikh Mohammed Hussein Al Amoudi — a Saudi businessman and philanthropist — sponsored a $3.4 million observatory in Ethiopia. Located 10,500 feet above sea level in the Entoto mountains, it is East Africa's largest observatory. But in a country where the IMF reports some 23.5 percent of the population lives below the poverty line, critics questioned what was considered to be a lofty expense. The Economist, in 2017, suggested that developing human capital is the "best argument for a modest space program," and yet an "odd priority" given that 5.6 million Ethiopians need emergency food aid.
Tesfaye still encounters this mindset. Yet, in tandem with the government, which now runs the observatory, ESSS is gradually demonstrating the industry's earthly benefits. Take agriculture, essential to feeding the poor. "In order to have good agricultural products, you need to have the right data," she says. The observatory helps collect information about rainfall and weather patterns, so farmers can better monitor their crops.
When Tesfaye graduated from high school, she says, there were only two universities in the country that offered space programs. Now there are six. Though she's not alone in her work and would never claim all the credit, the starstruck girl from a poor family has come a long way. Of her eight brothers and two sisters, only one supported her dreams. Everyone else, including her housewife mother and teacher father, thought she was "crazy."
What's next? Within three years, she and a host of other stakeholders hope to launch Ethiopia's very own satellite into orbit.
Quelle: BREAKING BIG
1873 Views