Ein Feuerball hat gestern den Nachthimmel in Nordfinnland für einen kurzen Moment taghell werden lassen: Wahrscheinlich handelte es sich dabei um einen Meteorit.
Und plötzlich wurde es in der Nacht taghell. Ein Feuerball am Himmel über Lappland hat zahlreiche Menschen zum Staunen gebracht.
Quelle: ZDF
+++
Meteori ei saanut inarilaisia liikekannalle - huoltoaseman kahvilassa rauhallista: "Kiviä piisaa muutenkin"
Perjantai 17.11.2017 klo 21.20
Tulipallo, väläys ja jysäys sähköistivät tunnelman koko Inarissa, ja meteori oli perjantain polttavin puheenaihe
Sveitsiläisen Patrick Albrechtin vapaa-ajan asuntonsa kuvaavaa videokameraa tallensi Lapin meteorin.
Inarin Nellimin kylän iltataivas oli perjantaina pimeä, mikä on harvinaista, sillä yleensä siellä näkyy revontulia ja tähtiä. Torstaina kuitenkin nähtiin vielä harvinaisempi ilmiö, kun ilmeisesti meteori valaisi koko taivaan ja talvisen maiseman. Ensin näkyi kirkas tulipallo, sitten tuli kirkkaus, ja kolmantena kuului voimakas jyrähdys. Sitä seurasi jyrinä.
Nellimin erähotellissa työskentelevät Lotta Hämäläinen ja Katariina Turunen luulivat, että hotelli räjähti.
- Kuului kauhea pasaus ja hirsiseinät notkuivat, Hämäläinen kertoo. Hän soitti heti Turuselle toiseen rakennukseen.
Turunen puolestaan juoksi pitkin käytävää tarkistamaan, että rakennuksen toinen pääty on edelleen ehjä.
Järkytyksestä selvittyään Hämäläinen ja Turunen pitävät meteoria hienona kokemuksena. Pohjoisimmassa Lapissa ei pelätä luonnonilmiöitä.
Lotta Hämäläinen (vasemmalla) ja Katariina Turunen luulivat työpaikkansa eli Nellimin erähotellin räjähtäneen.
(TUIJA SORJANEN)
- Jos tämä oli luonnon aiheuttama juttu, niin sehän on vain mielenkiintoista. Kuinka moni saa kokea tällaista, Turunen sanoo.
Turunen sai tyttäreltään heti torstaina viestin, että äidin pitäisi lähteä etsimään avaruuskiviä. Turunen ja Hämäläinen vitsailivatkin, että he menevät etsimään meteorin jäänteitä viikonloppuna, tai että kenties erähotelliin tulevat turistit ovat houkuteltavissa viihtymään luonnossa tavallista pidempään mahdollisen meteorilöydön avulla.
- Oletamme, että matkailijat ovat tästä innoissaan, Turunen sanoo.
Taivaalta putoavia asioita on nähty ennenkin
Tulipallo, väläys ja jysäys sähköistivät tunnelman koko Inarissa, ja meteori oli perjantain polttavin puheenaihe. Vuorokautta myöhemmin keskustaajama Ivalossa ei kuitenkaan ollut sen vilkkaampaa tai hiljaisempaa kuin tavanomaisenakaan perjantaina.
Huoltoasema ST1:n pöydässä istuivat Timo Wiik, Reijo Leivo ja Väinö Turunen. Kukaan heistä ei ollut nähnyt mahdollista meteoria kunnolla, osa tuntenut jysäyksen kylläkin, mutta Wiikillä oli mukanaan muistikortti rakennustarvikefirmansa valvovasta videokamerasta.
- Tähän se on tallentunut, Wiik kertoi.
Wiik, Leivo tai Turunen eivät uskoneet, että mahdollinen meteori koskaan löytyy. Turunen arveli, että mitä taivaalta sitten putosikaan, se hajosi jo pudotessaan pieneksi muruksi tai saattoi laskeutua vaikka Jäämereen.
- Kiviä piisaa muutenkin, hän sanoi.
Inariin on pudonnut taivaalta asioita ennenkin. 1980-luvulla Inarijärveen iskeytyi venäläinen ohjus. Senkin aiheuttaman epäuskon Wiik, Leivo ja Turunen muistavat.
Inarijärvi ei ole vielä jäätynyt siinä määrin, että sinne olisi mahdollista ajaa moottorikelkalla meteoria etsimään. Ja vaikka olisi, se on kooltaan jättiläismäinen. Inarin kunta ja Utsjoen kunnat, joiden alueelle mahdollisen meteorin ounastellaan pudonneen, ovat suurimmilta osin erämaata.
Ei kutsumattomia vieraita vaan pelkkä meteori
Inarilaisessa sosiaalisessa mediassa ehti torstai-iltana seitsemän maissa kiertää huhu, että leimauksen ja jysäyksen olisi aiheuttanut lento-onnettomuus. Pelastuslaitoskin teki hälytyksen keskisuuresta ilmaliikenneonnettomuudesta. Ivalossa on lentokenttä, joten jotkut pelkäsivät jopa matkustajakoneen pudonneen.
Useat kertoivat luulleensa kirkkautta pihaan tulleiden vieraiden ajovaloiksi. Joku kirjoitti helpottuneensa, kun kyseessä eivät olleetkaan vieraat, vaan pelkkä mahdollinen meteori.
Quelle:
+++
ARCTIC METEOR TURNS NIGHT INTO DAY: On the evening of Nov. 16th, aurora tour guide Tony Bateman of northern Finland was indoors, warming up between auroras, when his surroundings began to vibrate. "There was a huge bang and the cottage shook violently," he reports. "At first I thought it was an earthquake. Or maybe a tree fell on the cottage roof! I walked outside and inspected the trees. Everything looked okay." A quick replay of his aurora webcam solved the mystery. "It was an incredible meteor," he says.
"It gave me goosebumps to see the night sky turn blue as the meteor exploded," he says. "Auroras and a fireball--what a night!"

This week Earth has been moving through a stream of debris from Comet Encke, source of the annual Taurid meteor shower. Taurids are rich in fireballs. However, the trajectory of this meteor suggests it was no Taurid.

It appears to have been a sporadic--that is, a random meteor from no particular comet. Every day, Earth is peppered with sporadic meteors from a diffuse swarm filling the inner solar system. NASA statistics show that sporadic fireballs as bright as Venus appear somewhere on Earth more than 100 times daily. Fireballs as bright as a quarter Moon occur once every ten days, and fireballs as bright as a full Moon once every few months or so. The Arctic fireball of Nov. 16th belongs in the rarest of those three categories--a lucky catch, indeed.
Quelle: Spaceweather
---
Update: 19.11.2017.
Such nach Fragmenten des Boliden von Finnland soll beginnen: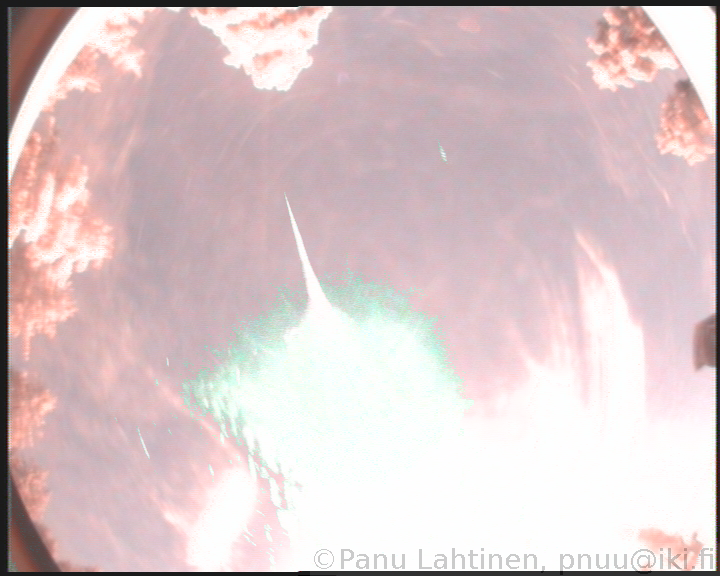 Raju's Feuerball in Lappland, weitere Beobachtungen sind nötig
16.11. Gegen 18.40 Uhr wurde ein seltener Feuerball in Nordfinnland beobachtet. Fallout wurde auch mit akustischen Alarmen und Vibrationen an Fenstern und Gebäuden, insbesondere im Inar-Bereich, in Verbindung gebracht. Nach der vorläufigen Schätzung ist der Feuerball südlich von Inarinjärvi verloschen. Die Feuerball-Arbeitsgruppe untersucht den Fall, zusätzliche Beobachtungen sind erforderlich.
Quelle: URSA
+++
Experts have calculated that parts of the Finnish Inari-meteorite have
spread east of Lake Inari on an area of abt. 10-15 kilometers.
Many Northern Light-cameras caught the meteor on film and with the help
of these pictures the experts try to find parts of the meteorite.
Search will start in the beginning of next week and will be carried out
on skis because it is forbidden to use snowmobiles in that terrain..
Quelle: URSA
---
Update: 24.11.2017
.
The Finnish Astronomical Society URSA has made some calculations about
this meteorite:
-The meteorite crashed in the wilderness Vätsäri northeast of Lake
Inari, near the Norwegian border.
-It was a meteoroid from the beginning.
-Time:18:40
-The shockwave caused windows and houses to vibrate and a big bang.
-Speed in the beginning 13 km/sec.
-It started to glow at an altitude of 91 km when southwest of Ivalo
-The flight over North- Lapland lasted for 9,5 sec.
-The light turned the landscape as light as daylight for a while
-The speed in the atmosphere was many tens of times that of the sound
-The diameter of the meteorite was originally abt. half a meter and the
weight before entering the atmosphere abt. 100-300 kg.
Quelle: URSA