-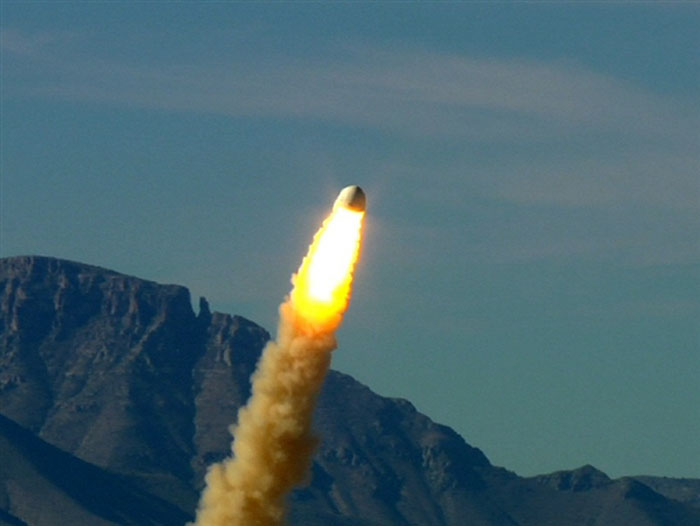 Blue Origin's pusher escape system rockets the company's prototype crew capsule away from the launch pad, demonstrating a key safety system for both suborbital and orbital flights.
-
Amazon.com billionaire Jeff Bezos' Blue Origin rocket venture notched a blazing success last week when it tested a NASA-backed launch pad escape system for its crew capsule.
The Oct. 19 demonstration flight at Blue Origin's West Texas spaceport marked the final milestone for NASA's $22 million agreement with Blue Origin, which was aimed at promoting the development of next-generation spaceships capable of resupplying the International Space Station. Blue Origin, which is based in Kent, Wash., decided not to compete for the next phase of NASA's orbital program — but in a news release issued today, Bezos said his company would make use of the "pusher" pad escape system in its suborbital spaceship.
"The first test of our suborbital Crew Capsule is a big step on the way to safe, affordable space travel," he said. "This wouldn't have been possible without NASA's help, and the Blue Origin team worked hard and smart to design this system, build it, and pull off this test. Lots of smiles around here today. Gradatim Ferociter!"
That last phrase is Blue Origin's motto, which is Latin for "Step by Step, Courageously."
The latest step
The pad-escape test was the latest step in Bezos' decade-long effort to create a launch system suitable for space tourists as well as researchers and, eventually, orbit-bound astronauts. The 48-year-old Amazon.com founder, whose net worth is estimated at more than $23 billion, created Blue Origin in 2000 to follow through on his childhood dream of space travel.
"Blue Origin's goal is to work steadily toward developing human spaceflight capabilities," Brett Alexander, the company's director of business development and strategy, told me today. "Our goal is to lower the cost and increase the safety of human spaceflight to enable more people to fly."
-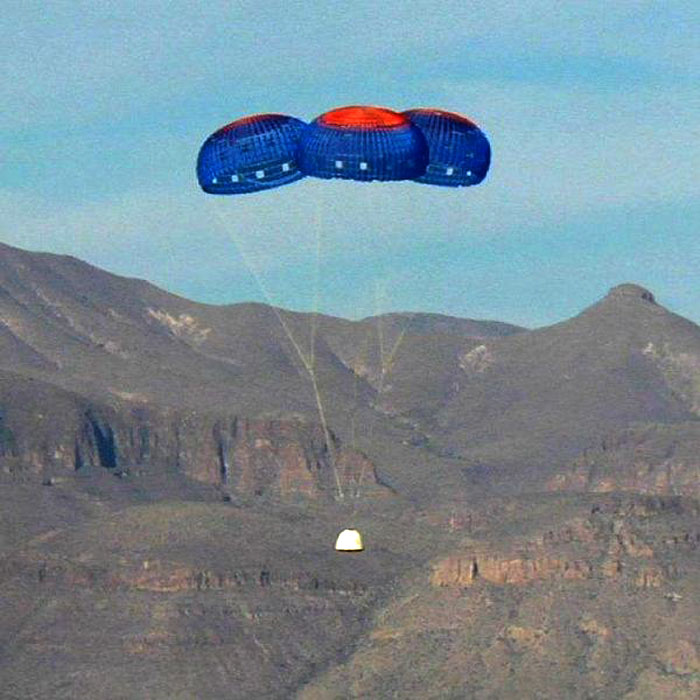 Blue Origin's New Shepard crew capsule rose to a height of 2,307 feet before deploying its parachutes for a safe descent.
-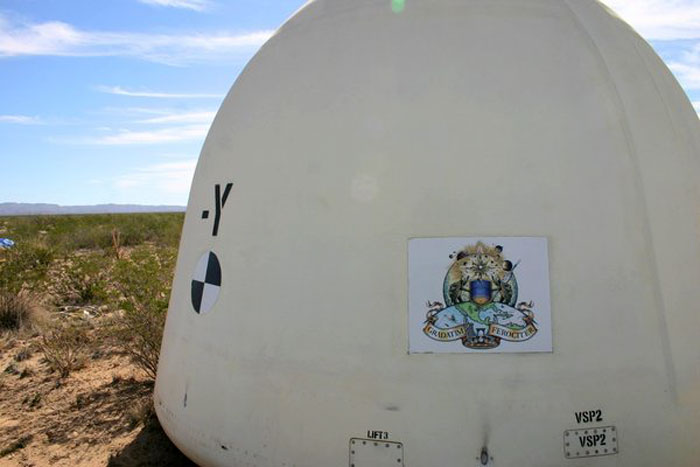 The gumdrop-shaped crew capsule set down 1,630 feet from the launch pad. This closeup view focuses on Blue Origin's logo and motto: "Gradatim Ferociter."
-
Alexander said last week's pad-escape test in Texas and this month's successful test firing of Blue Origin's BE-3 liquid-hydrogen rocket engine at NASA's Stennis Space Center in Mississippi ranked among the biggest steps taken to date toward the company's goal. "This is a very big deal. ... Propulsion and crew escape are two of the fundamental building blocks of our system," Alexander said. "Those are the cornerstones, if you will."
Blue Origin is working toward the development of a New Shepard suborbital launch system with a propulsion module that can launch the crew capsule to an altitude beyond the 100-kilometer (62-mile) boundary of outer space. From that height, passengers can get a few minutes of weightlessness amid a view of the black sky above a curving Earth, while researchers can conduct useful experiments on the effects of the space environment.
Blue Origin hasn't laid out a specific schedule for commercial operations — nor has the company said anything about its pricing plan for spaceflights. But in order to be financially viable, the venture would probably have to be competitive with other suborbital spaceship companies, such as Space Adventures, Virgin Galactic and XCOR Aerospace. Those companies are offering flights in the range of $95,000 to $200,000 per seat.
Alexander said "the key to both safety and affordability is reusability of the launch vehicle and a lot of practice — a high flight rate."
End-to-end tryout
The pad-escape test served as an end-to-end tryout for Blue Origin's crew capsule: A center-mounted solid-rocket engine from Aerojet lofted the capsule to a height of 2,307 feet (703 meters) under active thrust vector control. Then the capsule descended by parachute to a soft landing 1,630 feet (496 meters) downrange, at the company's test facility on ranchland owned by Bezos, near Van Horn, Texas.
Blue Origin showed the blastoff and landing in a video lasting a minute and 45 seconds.
Ed Mango, the manager of NASA's Commercial Crew Program, said in a space agency statement that "it was awesome to see a spacecraft NASA played a role in developing take flight."
"The progress Blue Origin has made on its suborbital and orbital capabilities really is encouraging for the overall future of human spaceflight," Mango said.
In an actual flight scenario, the escape system would be lit up only if Blue Origin's propulsion module experienced a problem serious enough to abort the flight. The passengers inside the crew capsule would be rocketed away to safety. If the flight proceeded normally, the crew capsule would separate from the propulsion module, coast to the edge of space, re-enter the atmosphere and descend to a parachute landing. The propulsion module, meanwhile, would autonomously perform its own rocket-powered vertical landing.
In August 2011, a prototype propulsion module went supersonic and rose to an altitude of 45,000 feet during a test flight — but when the vehicle became unstable, the flight had to be aborted and the rocket ship crashed to its doom. That's the kind of scenario that would bring the pad-escape system into play.
Alexander said Blue Origin was still working on the next version of the propulsion module. The old version used five kerosene-fueled engines, but the next-generation propulsion module will use a single hydrogen-fueled engine, he said. "It'll look a little different, but it's essentially the same size," he said.
In the past, Blue Origin has been somewhat reticent to talk about its activities but in light of the past month's successes, Alexander seemed to emphasize the sentiment behind the company's motto: step by step, courageously.
"Our overall development path certainly doesn't stop with suborbital," he said.
Quelle: NBC
-
NASA Commercial Crew Partner Blue Origin Completes Pad Escape Test
VAN HORN, Texas -- NASA's Commercial Crew Program (CCP) partner Blue Origin conducted a successful pad escape test Friday at the company's West Texas launch site, firing its pusher-escape motor and launching a full-scale suborbital crew capsule from a simulated propulsion module.
The test was part of Blue Origin's work supporting its funded Space Act Agreement with NASA during Commercial Crew Development Round 2 (CCDev2). Through initiatives like CCDev2, NASA is fostering the development of a U.S. commercial crew space transportation capability with the goal of achieving safe, reliable and cost-effective access to and from the International Space Station and low-Earth orbit. After the capability is matured and available to the government and other customers, NASA could contract to purchase commercial services to meet its station crew transportation needs.
"The progress Blue Origin has made on its suborbital and orbital capabilities really is encouraging for the overall future of human spaceflight," CCP Manager Ed Mango said. "It was awesome to see a spacecraft NASA played a role in developing take flight."
The suborbital crew capsule traveled to an altitude of 2,307 feet (703 meters) during the flight test before descending safely by parachute to a soft landing 1,630 feet (497 meters) away.
The pusher escape system was designed and developed by Blue Origin to allow crew escape in the event of an emergency during any phase of ascent for its suborbital New Shepard system. As part of an incremental development program, the results of this test will shape the design of the escape system for the company's orbital biconic-shaped Space Vehicle. The system is expected to enable full reusability of the launch vehicle, which is different from NASA's previous launch escape systems that would pull a spacecraft away from its rocket before reaching orbit.
"The use of a pusher configuration marks a significant departure from the traditional towed-tractor escape tower concepts of Mercury and Apollo," said Rob Meyerson, president and program manager of Blue Origin. "Providing crew escape without the need to jettison the unused escape system gets us closer to our goal of safe and affordable human spaceflight."
All of NASA's industry partners, including Blue Origin, continue to meet their established milestones in developing commercial crew transportation capabilities.
While NASA works with U.S. industry partners to develop commercial spaceflight capabilities, the agency also is developing the Orion spacecraft and the Space Launch System (SLS), a crew capsule and heavy-lift rocket to provide an entirely new capability for human exploration. Designed to be flexible for launching spacecraft for crew and cargo missions, SLS and Orion will expand human presence beyond low-Earth orbit and enable new missions of exploration into the solar system.
Quelle: NASA
4884 Views