The successful launch of the first 10 Iridium Next satellites by SpaceX removes a major risk to Iridium's business, which relies on a first-generation constellation whose satellites were scheduled to retire years ago. Iridium Chief Executive Matt Desch said the new satellites will fill a hole in Iridium's coverage. A second SpaceX Iridium Next launch, scheduled for April, will fill another hole and add more in-orbit redudancy. Credit: https://upload.wikimedia.org/wikipedia/commons/9/90/Iridium_Coverage_Animation.gif
PARIS — The successful Jan. 14 launchof SpaceX's Falcon 9 rocket captured the headlines as one of the world's principal commercial launch-service providers returned to business after a Sept. 1 on-pad failure — and successfully returned the Falcon 9 first stage to an offshore barge to boot.
But perhaps the higher drama was that, for this launch, SpaceX was carrying a customer whose business was hanging in the balance.
Mobile satellite service provider Iridium Communications' aging first-generation constellation has been kept viable an unheralded team from Iridium and Boeing operating from Leesburg, Virginia, that has kept the low-Earth-orbit constellation operational years after the satellites' "sell-by" date.
Satellites this old can fail at any time and some of the Iridium craft already have. Holes have developed in the coverage, although nothing to cripple the business.
Ten new satellites and a lot more breathing room
Adding 10 Iridium Next satellites will go a long way toward removing the sword of Damocles that has been hanging over Iridium's head for a long while.
"It's kind of hard to worry about [first-generation] failures anymore," Iridium Chief Executive Matt Desch said in a Jan. 15 interview. "Now that the reinforcements have arrived, I think we've retired that risk to Iridium."
Desch said the 10 satellites launched on Jan. 14 will be sent into Iridium's plane 6. Eight will stay there; the two others will be drifted over to Plane 5.
That will fill the most glaring hole in Iridium's coverage. "For our next launch, in April, we'll launch into Plane 3 — that's the other hole," Desch said. "Every launch provides resilience and redundancy to the existing network."
Iridium booked seven 10-satellite launches with SpaceX. The current schedule is to give Iridium Next prime contractor Thales Alenia Space of France and Italy about three months to check out the satellites' performance before returning to Vandenberg Air Force Base, California, in April for a second group of 10 spacecraft to launch with SpaceX.
Hosted payloads Aireon, exactEarth awaiting full constellation
The 860-kilogram Iridium Next satellites are carrying several hosted payloads for companies that would prefer to be in service sooner rather than later. These include the Aireon commercial aircraft tracking service, in which Iridium is a major shareholder; and the exactEarth maritime ship-monitoring service.
In addition, the Iridium Next constellation offers customers faster delivery of more data, as would be expected when replacing a 20-year-old first-generation technology.
Nonetheless, the exact timing of the coming launches is a lot less of an issue now that the first is successfully done. Thales Alenia Space reported that all 10 satellites were healthy in orbit and sending signals.
SpaceX has an aggressive launch schedule for 2017, with 20-plus launches planned including five more for Iridium at 60-day intervals starting in April.
Schedule assurance at Vandenberg, far from SpaceX's crowded Cape
Whether the company will reach its long-planned rhythm of launching every two weeks from Vandenberg and Florida's Cape Canaveral Air Force Station is uncertain. But Desch said the fact that SpaceX's backlog is mainly for launches from the Cape makes it more likely that Iridium will be served even if operations at the Cape are slow in ramping up.
"The way I look at it, even if they only get 10 launches off I think I have a good shot at getting my five" because of the less-crowded manifest at Vandenberg, Desch said. "We have 20 or more satellites in the factory and ready — enough for two launches. We are really only gated now by the rockets."
With the sense of urgency now much reduced, Iridium can turn its attention to whether the 60-day periods between the second and seven launch might be reduced.
"Even with all the activities that they [Thales Alenia Space] have to do, there is some margin" in the schedule, Desch said. "There is no formal agreement on this but it's possible that launches three and four could occur with less than 60 days' spacing, say around 45 days. So we could use the margin wither to accelerate the deployment schedule or to catch up if there is a delay, so that we can make that first-half-2018 completion date."
Quelle: Space Intel Report
---
Update: 20.06.2017
.
SpaceX Falcon Rocket to Carry Iridium Next Satellites Sunday From Vandenberg AFB
Launch of 10 satellites marks next set for second-generation Iridium craft
The second set of Iridium Next satellites is on track for a Sunday afternoon departure from Vandenberg Air Force Base, potentially part of a double-header weekend for the Falcon rocket manufacturer.
Blastoff of the Space Exploration Technologies Falcon 9 rocket from Space Launch Complex-4 on South Base is planned for 1:25 p.m. Sunday with 10 Iridium Next communication satellites set to head to orbit.
This mission has an instantaneous window — just one chance a day — to get off the ground because of where the satellites need to be placed in space.
The rocket will carry the next bunch of second-generation Iridium global communication satellites, after the first set flew aboard a different Falcon rocket at the start of the year.
"This batch of satellites is at the launch site, mated to their dispenser, fueled, encapsulated in the fairing and patiently waiting for their big day," Iridium CEO Matt Desch said.
Before the rocket is cleared for launch, SpaceX, plans to conduct a countdown rehearsal and engine test firing at Vandenberg, possibly as soon as Tuesday.
During the test, the engines will ignite before turning off seconds later, while the rocket remains anchored to the launch pad.
In addition to the West Coast launch, SpaceX is gearing up for another mission, BulgariaSat-1, from Florida.
But plans for the East Coast launch hit a snag when the team had to stand down to repair a payload fairing valve, SpaceX founder Elon Musk said on Twitter.
The next opportunities for that mission reportedly are June 23 or June 24.
"Could be a weekend doubleheader," SpaceX representatives said on the corporate Twitter account.
"If schedule holds there will be two Falcon 9 launches within 48 hours (Cape & Vandenberg) this weekend," Musk noted on his Twitter account.
Desch said SpaceX has assured him the firm has independent launch teams and is able to accommodate the schedule.
"While we wish our friends down in Florida well the day before, and a good flight, it shouldn't have any impact on us," Desch said.
Typically, launch firms require several days between launches to give engineers time to review data and ensure no glitches occurred that could doom future missions.
The Falcon flight will mark the first mission for new 30th Space Wing Commander Col. Michael Hough.
"I'm excited my first launch opportunity is in partnership with SpaceX," Hough said.
"And being a part of putting Iridium Next in orbit to meet the growing demand for global mobile communication is icing on the cake. As a side, this will also be our first launch with the Autonomous Flight Safety System, which is expected to help decrease launch costs and improve turnaround times between launches."
This is the second of eight planned Iridium Next launches as the company replaces approximately 20-year-old spacecraft that make up the constellation.
In all, the Iridium Next constellation employs 66 satellites, with plans to have several craft in space as spares plus others as ground spares for future missions to space.
As commonly occurs with South Base launches, Jalama Beach County Park south of Vandenberg will be evacuated from approximately 8 a..m. to 2 p.m. Sunday.
Surf Beach and Ocean Beach County Park also are expected to be closed for a time Sunday for safety reasons linked to the launch, which will fall on the final day of the 65th annual Lompoc Valley Flower Festival.
Quelle: Noozhawk
---
Update: 25.06.2017 / 17.30 MESZ
.
SpaceX Doubleheader Part 2 – Falcon 9 set for Iridium NEXT-2 launch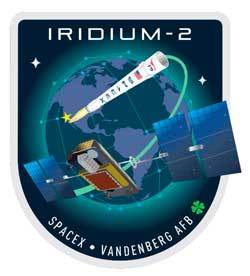 Just over two days after its successful launch of BulgariaSat-1, SpaceX's Falcon 9 rocket will make another launch Sunday to carry ten Iridium-NeXT communications satellites into orbit. Falcon will lift off from Vandenberg Air Force Base at 13:25 local time (20:25 UTC) to begin its mission.

SpaceX Launch:
Sunday's launch takes place forty-nine hours and fifteen minutes after that of the previous Falcon 9 mission, which successfully deployed the BulgariaSat-1 satellite into geostationary orbit on Friday.
Friday's launch was made from the Kennedy Space Center in Florida, while Sunday's will be from Falcon's West Coast home: Space Launch Complex 4E at the Vandenberg Air Force Base in California.
SpaceX has separate launch teams for the two sites, allowing the campaigns to progress in parallel with their launches in quick succession.
The BulgariaSat-1 mission was SpaceX's second launch to re-use a "flight proven" first stage – one recovered following a previous launch.
The booster used for the BulgariaSat mission had first been flown in January, as part of a launch which deployed ten communications satellites for Iridium Communications as part of a multi-launch deal.
Sunday's launch, which uses a previously-unflown first stage, is the second under the Iridium contract with a further ten satellites aboard.
If Falcon lifts off on time, the timespan between the BulgariaSat and Iridium launches will be the shortest turnaround between two orbital launches of a family of American rockets since a pair of Titan launches in early September 1989.
The 1989 launches – of a Titan III(34)D/Transtage from Cape Canaveral, followed forty-four hours later by a Titan II(23)G from Vandenberg Air Force Base – used related, but very different rockets. The Titan II(23)G was a converted two-stage Titan II missile while the Titan III(34)D was a heavy-lift vehicle with two large solid rocket motors either side of a stretched core topped with a Transtage upper stage.
For a turnaround between two launches of the same type of rocket flying in a similar configuration, it is the fastest the United States has achieved since December 1966.
Then, Atlas SLV-3 rockets made two launches, forty-one hours apart, with Agena-D upper stages. The first of these Atlas-Agena launches was made from Vandenberg on 5 December to deploy a KH-7 GAMBIT reconnaissance satellite – departing from the same launch pad that Falcon will fly Sunday's mission from. The second Atlas-Agena was a launch from Cape Canaveral Air Force Station, carrying NASA's first Applications Technology Satellite (ATS) towards geostationary orbit.
Although such a short time between launches is unusual for US rockets, Russia's Soyuz and China's Chang Zheng – or Long March – regularly make multiple flights in a short space of time. Twice in recent years – in 2013 and 2015 – pairs of Soyuz launches have been made just two hours apart.
The ten Iridium-NeXT satellites aboard Falcon 9 are the second batch of spacecraft to be launched towards a constellation which, when complete, will consist of sixty-six satellites plus on-orbit spares. The Iridium-NeXT constellation will replace Iridium Communications' current fleet of satellites which were launched between 1997 and 2002.
Iridium relies on a large fleet of satellites in low Earth orbit to provide worldwide mobile communications. The company's name comes from the metal iridium, which has atomic number 77 – the number of satellites that were originally anticipated to achieve global coverage. This was later revised down to sixty-six, but the name was retained.
The total setup cost of Iridium's first satellite constellation was estimated at around five billion dollars, and none of the spacecraft could be put into service until enough had reached orbit to enable global coverage.
Combined with a slower-than-expected uptake among customers, this led to Iridium SSC filing for bankruptcy in 1999. Motorola, who had financed the project, came close to ordering that the entire fleet be deorbited, but in 2001 a new company – Iridium Satellite LLC – purchased the entire constellation for about 25 million dollars. Iridium Satellite LLC would later be renamed Iridium Communications.
The first-generation Iridium constellation consisted of 689-kilogram (1,520-lb) LM-700A satellites manufactured by Lockheed Martin. Ninety-eight satellites were built, of which ninety-five were launched. The satellites were designed to provide eight years of service, however all but seven of the satellites currently in operation are at least eighteen years old with some having been in orbit for over two decades. Aside from the second-generation satellites launched in January, the youngest satellites were deployed by a June 2002 Rokot launch.
Iridium has ordered eighty-one second-generation, or Iridium-NeXT, satellites to replace its entire fleet at a cost of around three-billion dollars. This includes spacecraft that will be used as on-orbit and ground spares in addition to the 66 required to deliver service. In orbit, the constellation will have six planes of eleven satellites, orbiting at an altitude of 778 kilometers (483 miles, 420 nautical miles) and a near-polar inclination of 86.4 degrees.
The spacecraft are being constructed by Thales Alenia Space and Orbital ATK. Orbital is undertaking final assembly of the spacecraft in Gilbert, Arizona, while Thales is the prime contractor and has provided the ELiTeBus-1000 platform upon which they are based. Also known as the Extended Lifetime Bus, this is a derivative of the company's Proteus bus with an increased lifespan of at least ten years. Iridium intend to operate their new constellation for fifteen years.
Iridium spacecraft carry an L-band communications payload to transmit and receive data from handsets, while Ka-band transponders are used both to transmit data to and from ground stations and to establish crosslinks between satellites. The crosslink capability allows the spacecraft to route calls anywhere in the world without needing to use intermediary ground stations to downlink the data and uplink it to the next satellite.
SpaceX has been contracted to launch most of the Iridium satellites, in seven groups of ten satellites and one group of five. The five satellites will be carried along with the GRACE Follow-On geodesy mission, which is to be launched next year for NASA and Germany's space agency DLR.
SpaceX's first mission for Iridium was conducted in January when a Falcon 9 v1.2 deployed the first ten Iridium-NeXT spacecraft.
The launch was Falcon 9's return to flight following an explosion on the launch pad in September 2016 of a rocket that was being fuelled ahead of a static fire test. It also marked the first time that SpaceX successfully recovered Falcon 9's first stage on a West Coast launch – allowing the booster, Core 1029, to be re-used as part of the rocket that successfully launched BulgariaSat-1 on Friday. Following the BulgariaSat launch, the core was successfully landed once again.
Falcon 9 is the only rocket currently flying that is designed to be partially reusable, with the first stage capable of either returning to the launch site or landing downrange aboard a floating platform after it separates from the second stage and payload.
For Sunday's launch SpaceX has positioned an Autonomous Spaceport Drone Ship (ASDS), named Just Read the Instructions, downrange from Vandenberg to receive the first stage.
SpaceX operates Space Launch Complex 4 at Vandenberg Air Force Base for its west-coast launches. A former Atlas-Agena and Titan launch pad at Space Launch Complex 4E is used to launch Falcon, while the former Space Launch Complex 4W is being converted to serve as a landing zone.
Falcon 9 first flew in June 2010, with Sunday's launch its thirty-seventh flight. Three major revisions of the rocket have flown: the original Falcon 9, which is now known as the Falcon 9 v1.0, made five launches before giving way to the stretched and enhanced Falcon 9 v1.1 in 2013. A further-enhanced Falcon 9 v1.2 – also known as the Falcon 9 Full Thrust – first flew in December 2015.
Sunday's launch will be the first from Vandenberg to use SpaceX's new fast fuelling process.
After the launch conductor polls flight controllers to proceed with the operation, loading of RP-1 propellant into the rocket's first and second stages will begin an hour before liftoff. Oxidiser tanking – the loading of supercold liquid oxygen – will start twenty-five minutes later and continue until just before liftoff.
Three seconds before the countdown reaches zero, the nine Merlin-1D engines at the base of Falcon's first stage will come to life. The rocket will climb away from Vandenberg on a southerly trajectory, passing through the area of maximum dynamic pressure – or Max-Q – sixty-nine seconds after liftoff.
The first stage, Core 1036, will burn for the first two minutes and twenty-four seconds of the flight before reaching main engine cutoff, or MECO. Four seconds after cutoff the stage will separate and begin its descent towards Earth. Ignition of the second stage's Merlin-1D vacuum engine is expected seven seconds after stage separation, beginning a six-minute, 29-second burn.
Falcon's payload fairing will separate forty-one seconds into second stage flight. On some recent launches SpaceX has conducted experiments to try and recover the fairing for potential reuse after separation. It is unclear whether Sunday's launch will include any such attempt.
One thing that SpaceX will definitely be attempting to recover will be the first stage. This is equipped with legs that are deployed shortly before landing, and grid fins to provide control as it flies back through the atmosphere. The grid finds will be deployed shortly after stage separation.
On previous launches, SpaceX has used grid fins manufactured out of aluminum, which have frequently been burned and damaged during entry. Sunday's launch is the first to use larger grid fins, made of titanium. These are expected to be more resistant to reentry heating, so they will not need to be replaced for each flight.
The larger size of the fins, along with other improvements to their aerodynamics, increase the force they can apply to control the rocket's course and improve the amount of lift they provide relative to drag. This improves the gliding ability of the booster, reducing the amount of fuel that needs to be reserved for bringing the core home. The new fins will also aid Falcon Heavy's side boosters for their return.
Three minutes and thirteen seconds after separating, the first stage will begin a short engine burn as it reenters the atmosphere, slowing its descent to protect itself from heating as it descends. The landing burn will begin a little under two minutes later, guiding the booster onto the deck of Just Read the Instructions.
About eighty seconds after the first stage lands, at nine minutes and four seconds mission elapsed time the second stage will shut down at the end of its first burn. Following a 43-minute, two-second coast phase in a parking orbit, the second stage will restart for its second burn. This burn – lasting three seconds – will circularize the orbit.
Deployment of the ten Iridium spacecraft will begin at 57 minutes, ten seconds mission elapsed time, with the final satellite separating from Falcon 9 four minutes and 50 seconds later. The deployment orbit will be a little below the satellites' operational orbit: the satellites will be released into a circular orbit at 625 kilometers (388 miles, 337 nautical miles) in altitude and an inclination of 86.66 degrees.
Sunday's launch is the ninth of the year for SpaceX and the Falcon 9, as well as the rocket's third launch of June. Falcon 9's next launch is due no earlier than (NET) 4 July, with the Intelsat 35e communications satellite from the Kennedy Space Center.
The next launch from Vandenberg is currently targeting 22 July with the Republic of China's FORMOSAT-5 spacecraft, after which the next Iridium launch is scheduled for 24 August.
Quelle: NS
-
Update: 22.30 MESZ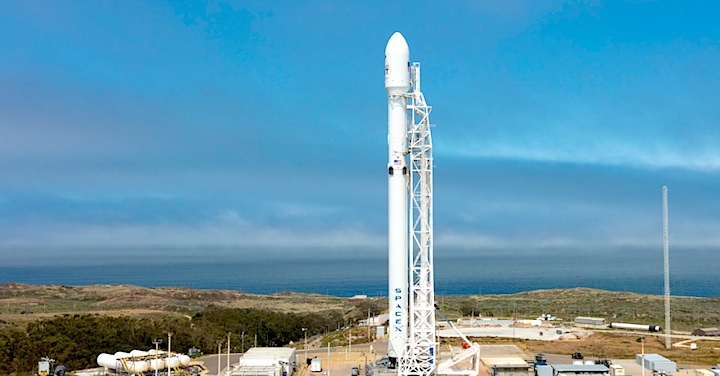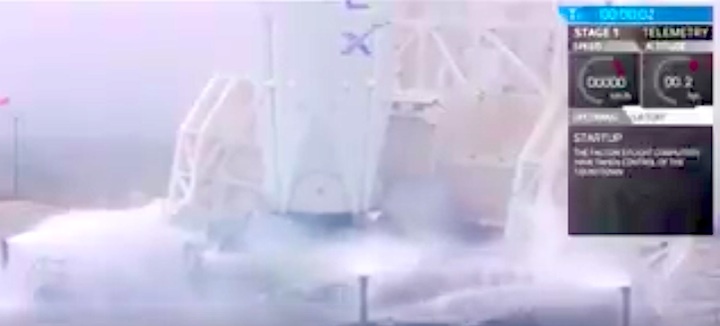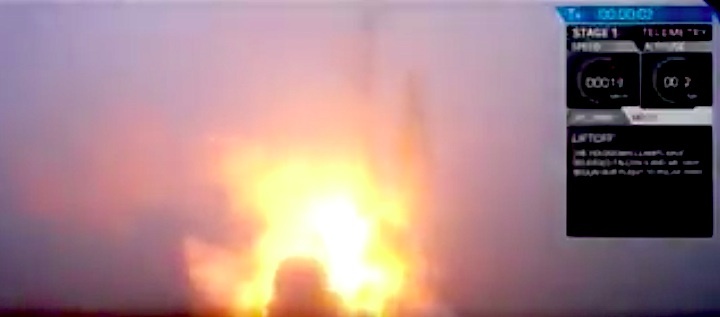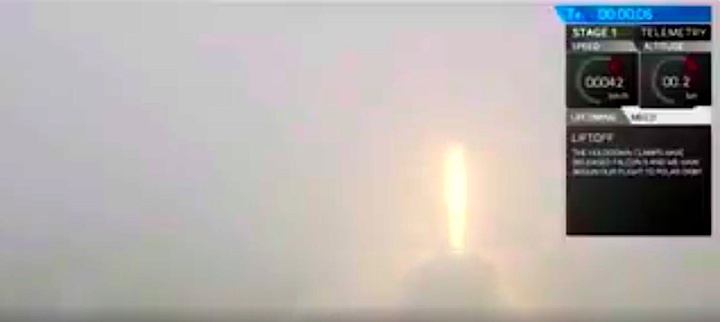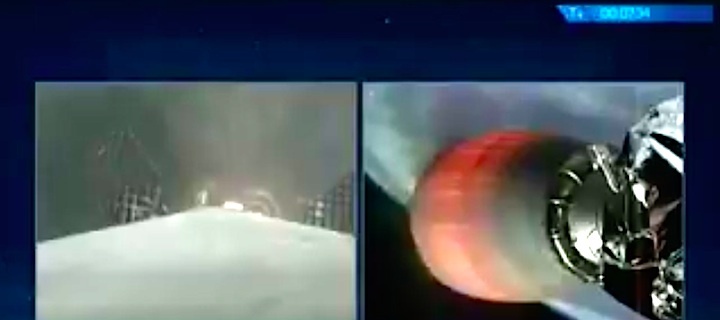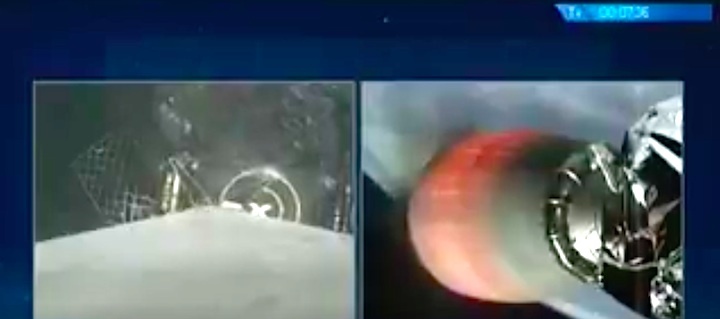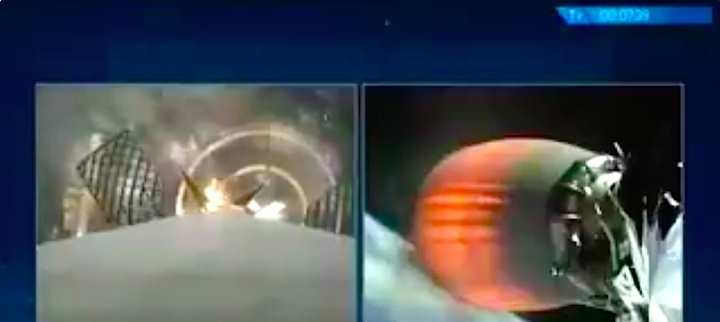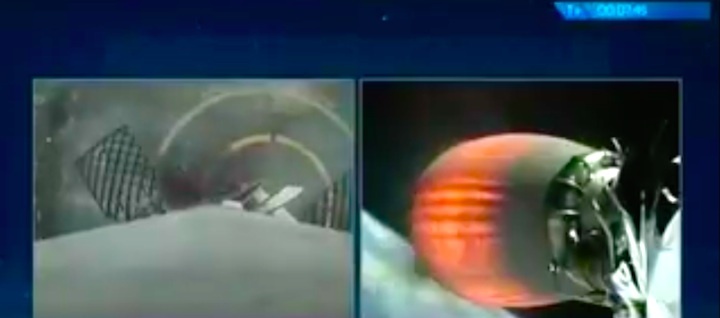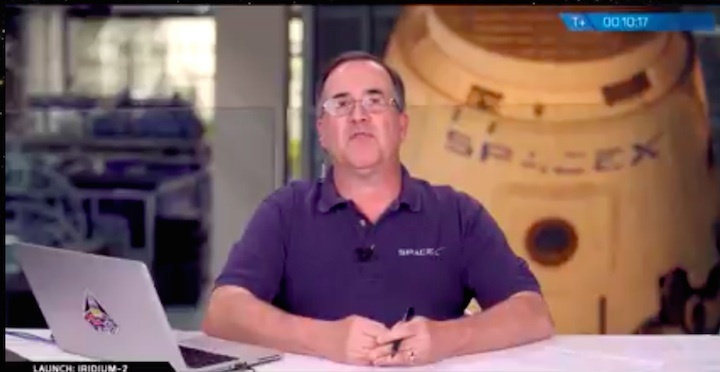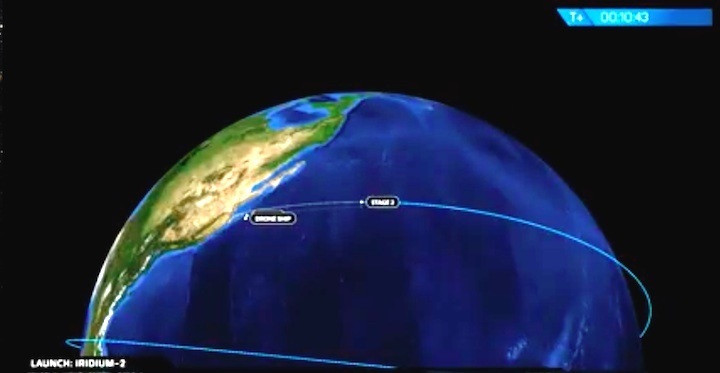 Quelle: SpaceX