.
16.07.2016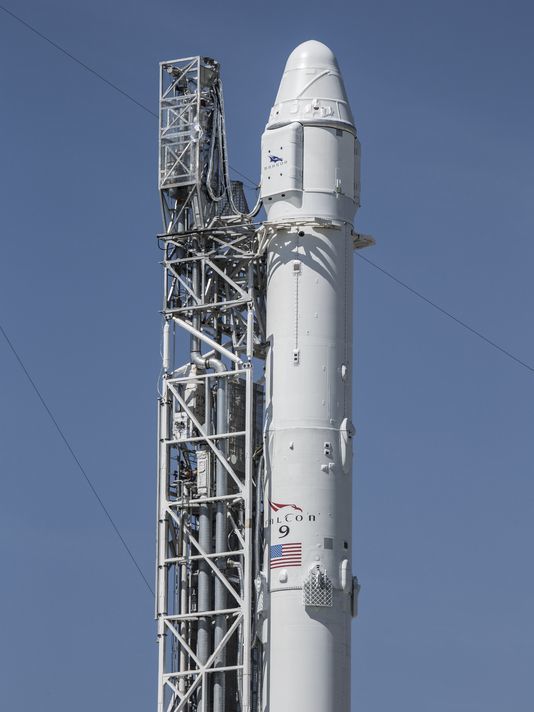 SpaceX Confirms Falcon 9 First-Stage Landing Attempt on Land During Upcoming NASA CRS-9 Mission; Brevard County, Fla. Residents May Experience Sonic Boom
July 15, 2016 10:30 AM Eastern Daylight Time
HAWTHORNE, Calif.--(BUSINESS WIRE)--Today SpaceX confirmed that the company is targeting the launch of its ninth NASA Commercial Resupply Services mission (CRS-9) aboard a Falcon 9 rocket from Space Launch Complex 40 at Cape Canaveral Air Force Station, Fla. on Monday, Jul. 18 at 12:45 a.m. EDT.
As with prior NASA Commercial Resupply Service (CRS) missions, Falcon-9 will launch with an instantaneous launch window. If needed, a backup launch opportunity is available on Jul. 20 at 12:00 a.m. EDT.
In addition to the primary mission of delivering critical cargo to the International Space Station, SpaceX is attempting the secondary mission of landing the first stage of the Falcon 9 rocket on land at Cape Canaveral Air Force Station's Landing Zone 1. SpaceX first landed a first stage booster at Landing Zone 1 on Dec. 22, 2015 as part of the ORBCOMM-2 mission. SpaceX has previously successfully recovered first stage rockets from three missions at sea using the company's Autonomous Spaceport Drone Ships. Landing Zone 1 is built on the former site of Space Launch Complex 13, a U.S. Air Force rocket and missile testing range.
As with the return of the first stage from the ORBCOMM-2 mission, there is the possibility that residents of northern and central Brevard County, Fla. may hear one or more sonic booms during landing. A sonic boom is a brief thunder-like noise a person on the ground hears when an aircraft or other vehicle flies overhead faster than the speed of sound.
Residents of the communities of Cape Canaveral, Cocoa, Cocoa Beach, Courtenay, Merritt Island, Mims, Port Canaveral, Port St. John, Rockledge, Scottsmoor, Sharpes, and Titusville in Brevard County, Fla. are most likely to hear a sonic boom, although what residents experience will depend on weather conditions and other factors.
Residents may wish to follow the company's launch webcast for real time information concerning Monday's launch.
Quelle: BusinessWire
---
SpaceX is about the launch a key component for future manned space exploration — here's how to watch
On Monday at 12:45 am ET, SpaceX will launch its ninth Dragon capsule into space, stuffed with 3,800 lbs of cargo and science experiments. Instead of attempting to land its famed Falcon 9 rocket on a drone ship again, this time the company will attempt to land the rocket on the ground.
Among the goodies that the rocket will be ferrying to space is something called an International Docking Adapter (IDA). Right now, only Russian spacecrafts can dock with the ISS. All other spacecrafts need to be grappled by the ISS crew.
This IDA is a docking port that will open the door to a future herd of spacecrafts (including ones with actual humans on them), allowing them to dock automatically.
This is going to be key for the future of manned space exploration because it will streamline space for both international agencies and private companies around the world. It will hopefully push space exploration and travel into a less rigid, more open climate, Inverse reports.
This is not the first time SpaceX has tried to launch one of these IDAs into space. The first time, however, ended in disaster, when its Falcon 9 rocket broke apart three minutes after lift off in June 2015.
The other supplies that the rocket will carry include:
A small DNA sequencer (which astronaut Kate Rubins will use sequence DNA in space for the first time).
Living heart cells to test the effects of microgravity on the heart.
An experiment to observe the effects of microgravity on muscle loss and bone deterioration.
A phase-change material heat exchanger that could freeze and thaw to help astronauts regulate their temperature on board the ISS without consuming materials.
According to NASA officials, these supplies will allow astronauts to test technology that will help humans push the boundaries of space exploration.
If SpaceX successfully lands the rocket, it will be the fifth rocket the company has landed and retrieved. According to SpaceX CEO Elon Musk, one of these retrieved rockets could launch again as early as September. Reusing these rockets could cut the cost of spaceflight by as much as 30%, SpaceX says.
Quelle: BusinessInsider
---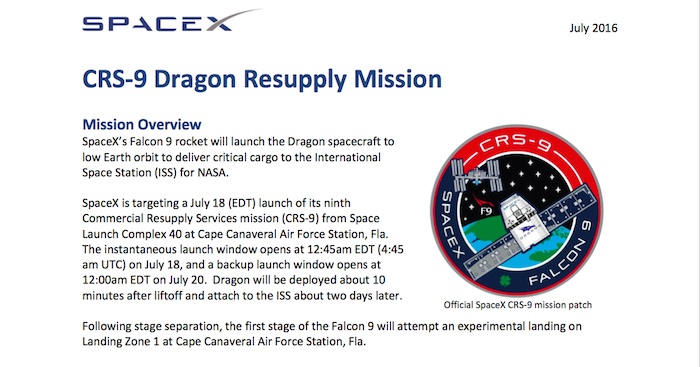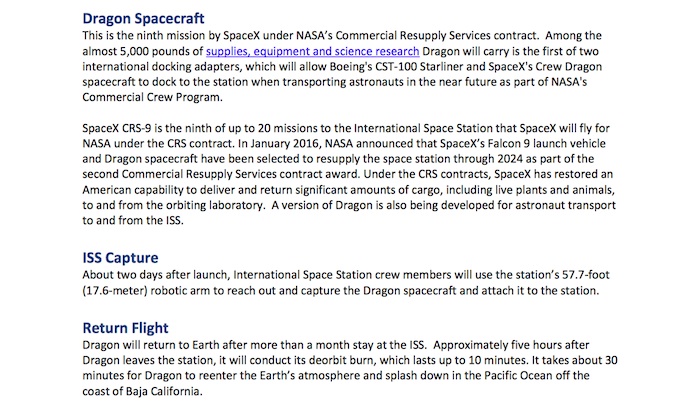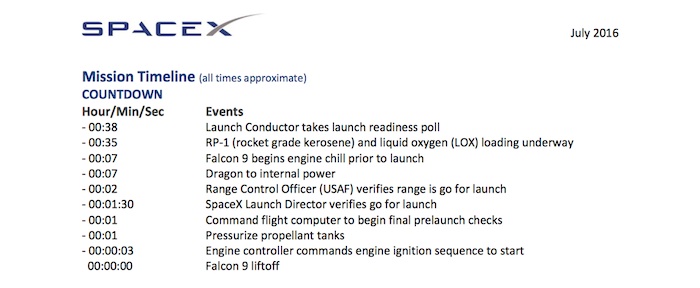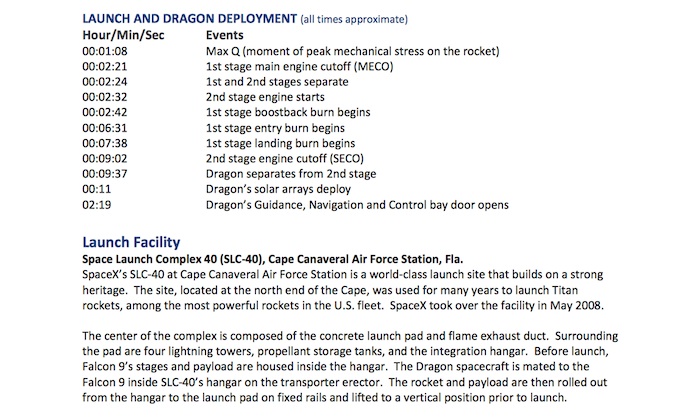 Quelle: SpaceX
.
Update: 17.07.2016
.
Falcon 9 launch on schedule despite KSC risk issue
KENNEDY SPACE CENTER, Fla. — A SpaceX Falcon 9 rocket is ready to launch a Dragon cargo spacecraft to the International Space Station July 18 despite a risk assessment that led NASA to decide to evacuate part of the center during the launch.
SpaceX performed a static fire test of the upgraded Falcon 9 on the pad at Launch Complex 40 at Cape Canaveral Air Force Station at around 8:30 a.m. Eastern July 16. That test, part of the company's standard pre-launch preparations, appeared to go well.
"Everything looks very good right now," said Hans Koenigsmann, vice president of flight reliability for SpaceX, at a NASA pre-launch briefing here several hours after the test. A final decision to proceed with the launch awaited a launch readiness review scheduled for later in the day. "I don't expect anything at this time other than a go" for the launch, scheduled for 12:45 a.m. Eastern July 18, he said.
The launch will proceed despite a last-minute hiccup in plans created by a risk assessment completed July 17 by the U.S. Air Force 45th Space Wing, which operates Cape Canaveral Air Force Station. NASA informed media late that day that "multiple NASA facilities including the Vehicle Assembly Building and the Press Site will be closed at least 60 minutes prior to launch."
Cody Chambers of KSC's range safety office said at the briefing that NASA made the decision because of concerns that the Dragon spacecraft could, in the event of a launch abort, land on center property. The hazard area does not extend outside of KSC property, he said.
"What we're looking at is, in the event of a Dragon abort scenario, the predominant winds would carry the spacecraft back towards KSC property," he said. "The spacecraft, on impacting the ground, could see a risk of releasing some toxic commodities" such as the nitrogen tetroxide and hydrazine propellants for its thrusters.
This scenario has not occurred before because Dragon did not have an abort capability prior to the loss of a Dragon spacecraft on a Falcon 9 launch failure in June 2015. SpaceX updated the spacecraft's software after that accident to give it the ability to deploy its parachutes in the event of a similar launch failure in the future. The first Dragon with that capability launched in April, but winds for that launch were blowing in a different direction and thus no evacuation of KSC property was required.
The decision took many by surprise and forced NASA and others to scramble to make backup plans for issues ranging from alternative view sites for guests of the launch to television coverage. "We are driven by uncertainty," Chambers said when asked about the timing of the risk analysis and decision to close part of KSC for the launch. He added NASA may make "adjustments as necessary" for those closure plans based on updated analyses closer to launch.
Landing plans
What is not a factor in the risk assessment, he said, is SpaceX's plan to attempt to land the Falcon 9 first stage on a pad at the former Launch Complex 13 at Cape Canaveral, now called Landing Zone 1 by SpaceX. That will be only the second time the company has attempted to bring the first stage back to land, after the successful landing of the first stage on an Orbcomm satellite launch in December 2015.
Koenigsmann said the difficulty of this landing will be "on par" with that earlier landing. While a return to land requires more propellant than a landing at sea, the trajectory of this flight will be more benign that previous landings of stages on missions to carry satellite into geostationary orbit.
"I'm pretty optimistic at this point in time that we'll land it, but I will always knock on wood," he said.
SpaceX has successfully landed four stages to date, one on land and three on a ship at sea. The stage from the December Orbcomm mission, the first successful landing of any kind, will be put on display outside of SpaceX's headquarters. Koenigsmann said the stage from an April Dragon launch will likely to be the first to be reflown, some time this fall. SpaceX "is in talks" with a potential, unnamed customer for that mission, he said.
Dragon cargo
The primary purpose for the launch, though, is to send a Dragon cargo spacecraft on to the ISS, the ninth such mission under SpaceX's Commercial Resupply Services (CRS) contract with NASA. The Dragon is carrying more than 2,250 kilograms of supplies, experiments and hardware to the station.
The Dragon's payload includes the second International Docking Adapter (IDA), which will be installed on the station to allow commercial crew vehicles under development by Boeing and SpaceX to dock with the station. The first (IDA) was lost with the rest of the Dragon spacecraft in the June 2015 Falcon 9 launch failure.
NASA is developing a third IDA to replace the one lost in last year's launch failure. That third adapter is tentatively scheduled to launch on SpaceX's CRS-16 cargo mission in 2018, said Kirk Shireman, NASA ISS program manager, during a July 13 briefing at the ISS Research and Development Conference in San Diego. That launch could be moved up, he said, but the IDA can only fly on Dragon missions to the station since it's carried as external cargo.
At least one IDA needs to be installed on the station to support commercial crew flights, starting with test flights by SpaceX in 2017 and Boeing in early 2018. Shireman added that some future cargo vehicles may also use the ports to dock with the station, rather than be berthed by the station's robotic arm as they are today.
He added, though, that commercial crew missions require only one, and not two, IDAs in place. "There is no requirement to have both IDAs on orbit prior to the launch of the first commercial crew test flight," he said. Having two, though, does provide some flexibility in crew handovers by allowing two vehicles to be docked simultaneously.
Among the research payloads flying on this mission is a handheld device that will perform the first DNA sequencing experiments in space. Sarah Wallace, a microbiologist at NASA's Johnson Space Center, said at the July 13 briefing the experiment will sequence the genomes of several organisms, including a mouse, and compare them to identical tests done on the ground.
Wallace said Kate Rubins, a biologist and NASA astronaut who arrived at the station earlier this month, helped with the experiment design, although the equipment is designed to be simple enough that any trained astronaut can use it. "We believe it's going to be a game-changer to have this capability on the ISS," Wallace said.
Quelle: SN
---
SpaceX knows which of its Falcon 9 rockets it will reuse first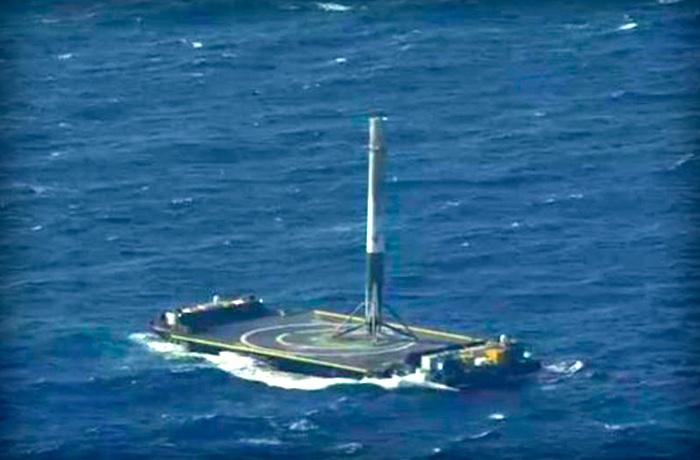 SpaceX has picked out which one of its landed Falcon 9 rockets it wants to re-fly for the first time. The plan is to reuse the vehicle that landed in April — the first Falcon 9 that SpaceX successfully landed on a drone ship in the ocean, and the second rocket the company has landed ever.
THAT ROCKET WILL LIKELY FLY SOMETIME THIS FALL
That Falcon 9 will likely fly sometime this fall, either in September or October, according to CEO Elon Musk. Though in April, Musk had offered a much more optimistic turnaround time, claiming that the first Falcon 9 rocket to fly again could happen as early as May or June. SpaceX still hasn't announced what will fly on this launch, but Hans Koenigsmann, vice president of flight reliability for SpaceX, said the the company is finalizing talks with a potential customer.
It makes sense that SpaceX will launch this particular Falcon 9 first. It's one of the earlier ones the company landed, so SpaceX has had more time to make it flight ready. Plus, Musk noted the company's first ever landed rocket wouldn't ever fly again. "I think we'll probably keep this one on the ground," Musk said December after that landing, "just [because] it's kind of unique, it's the first one we've brought back."
Quelle: THE VERGE
-
Update: 18.07.2016 / 7.20 MESZ
-
Launch LIVE-Frams von SpaceX:
.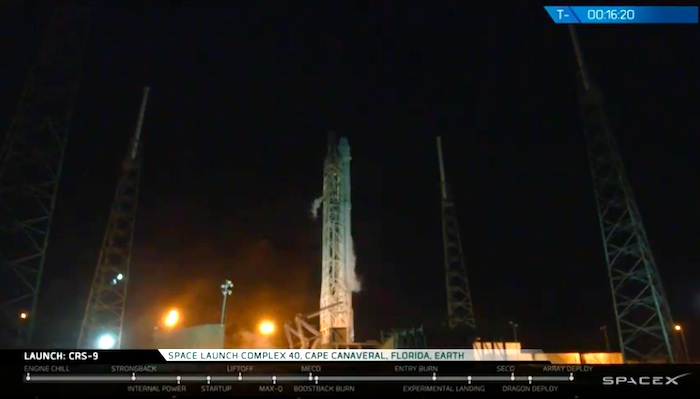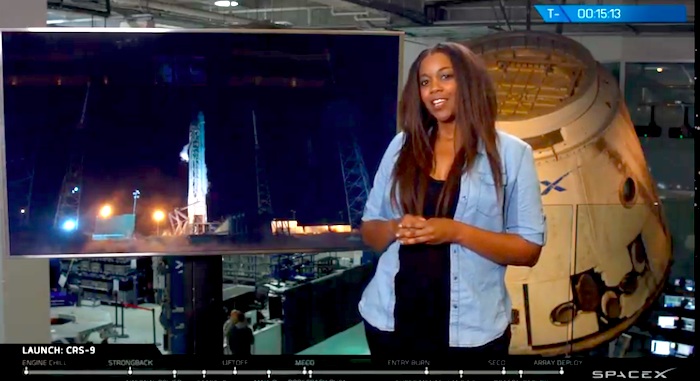 ...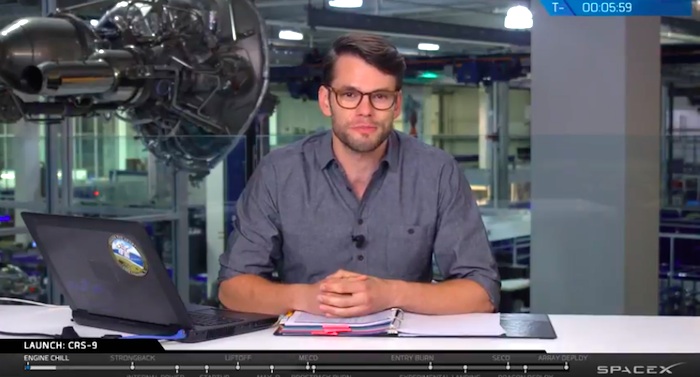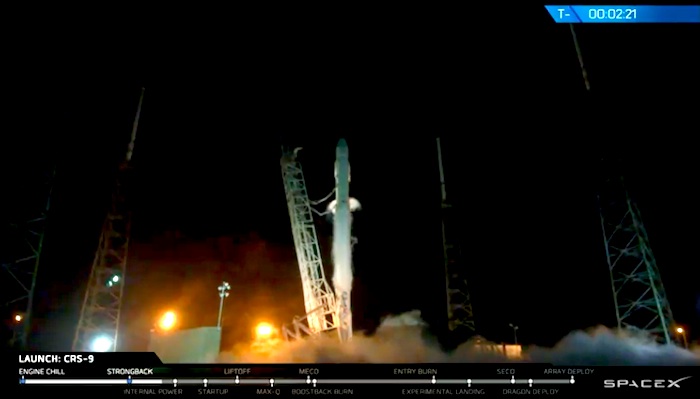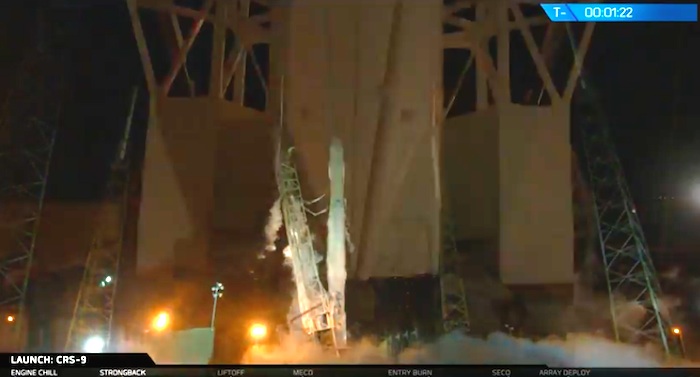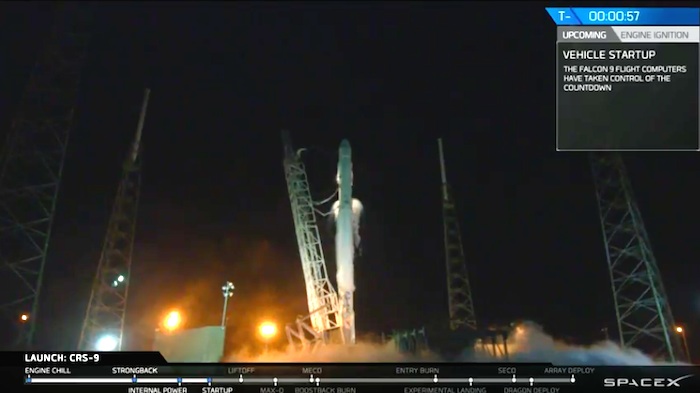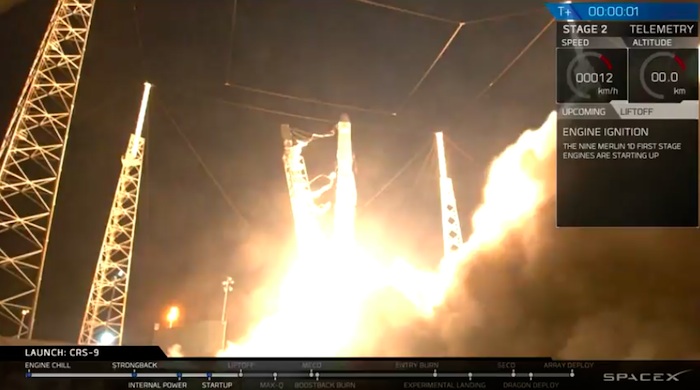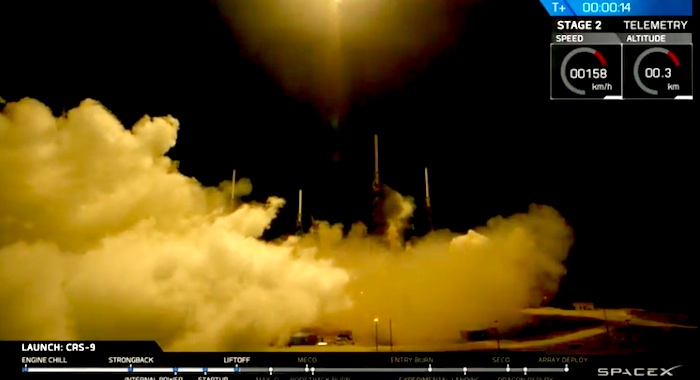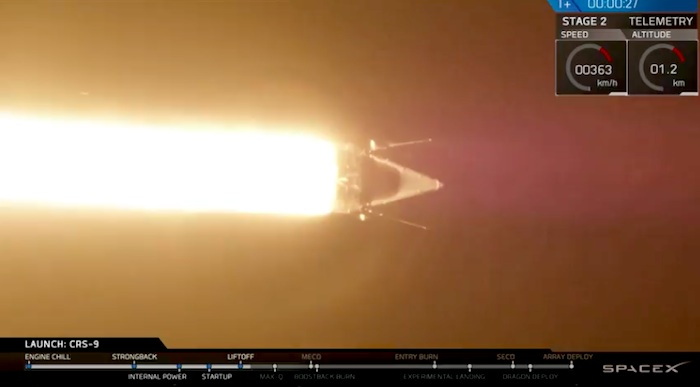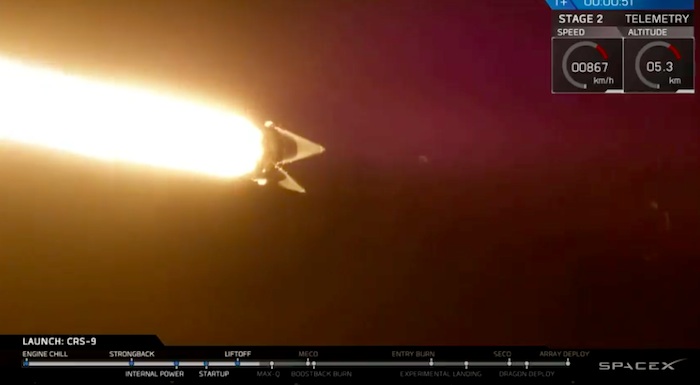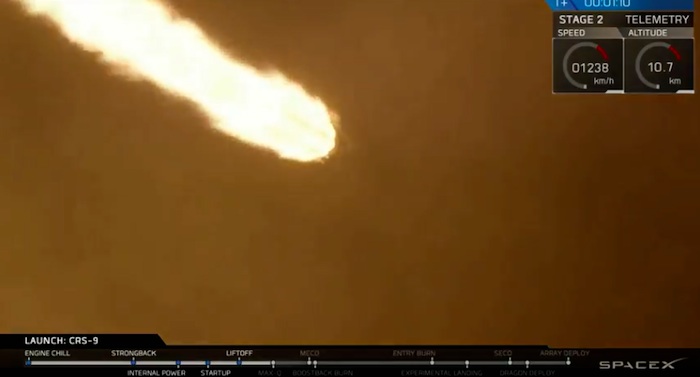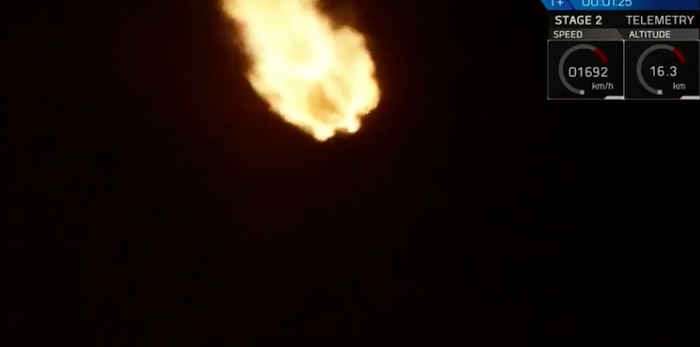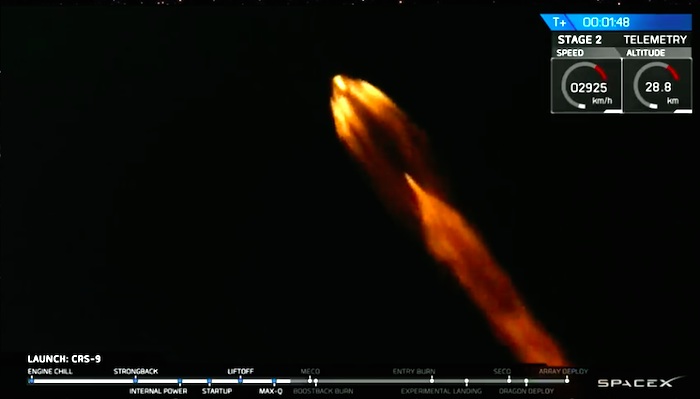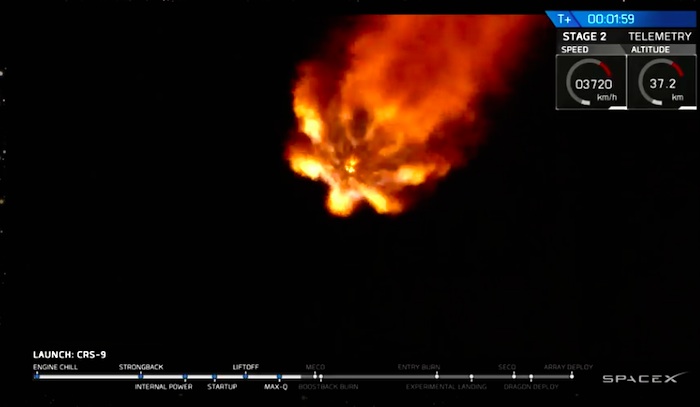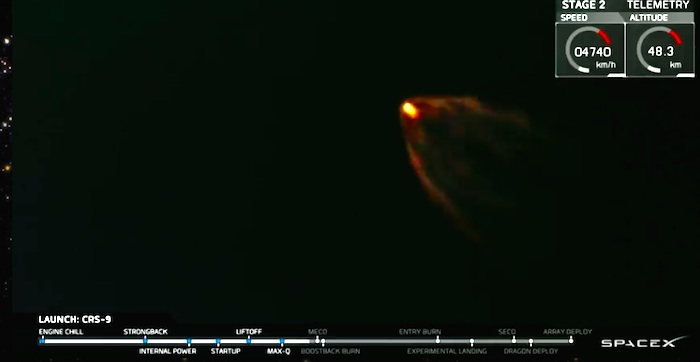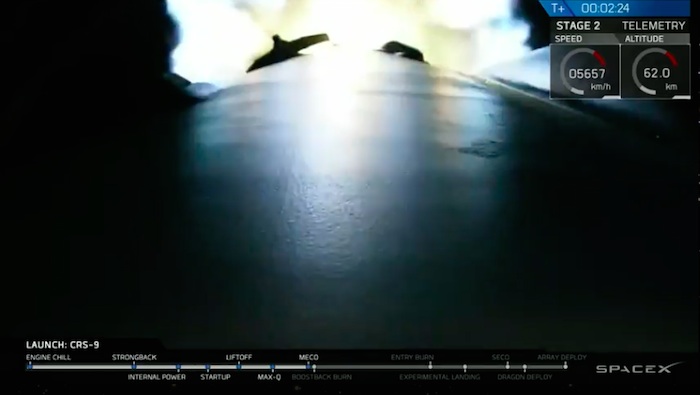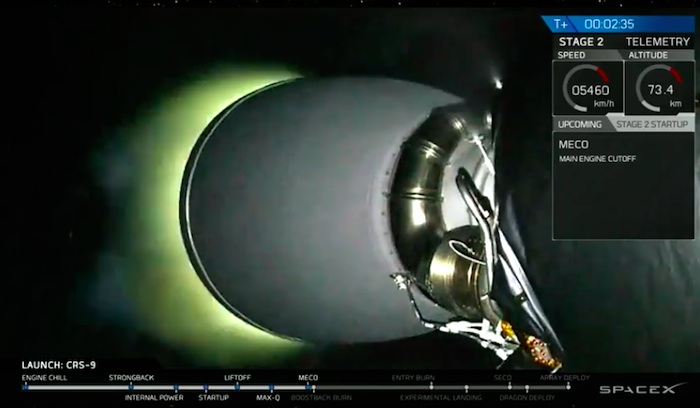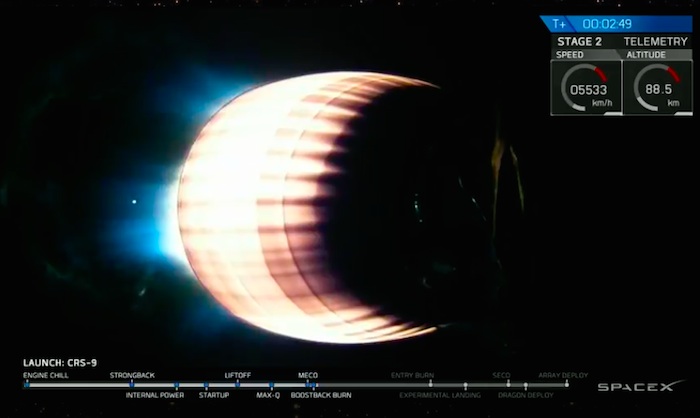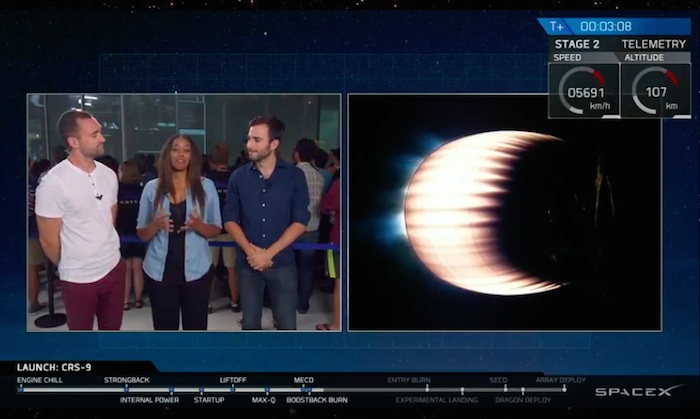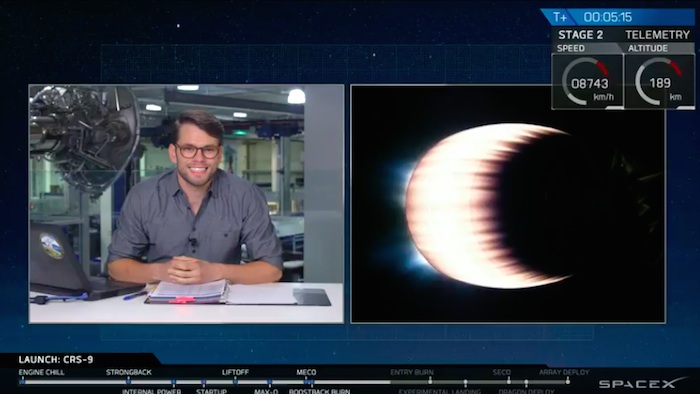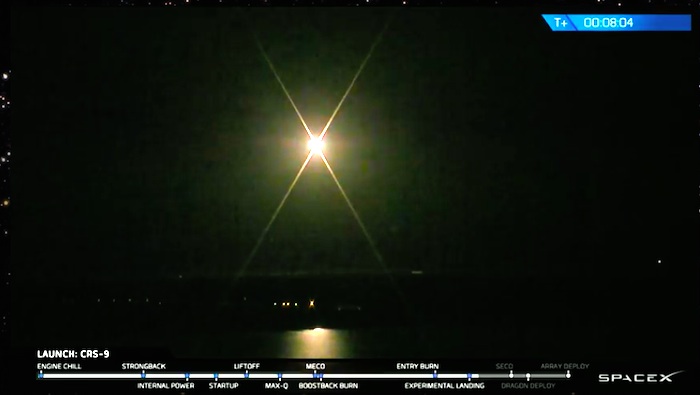 Rückkehr der 1.Stufe...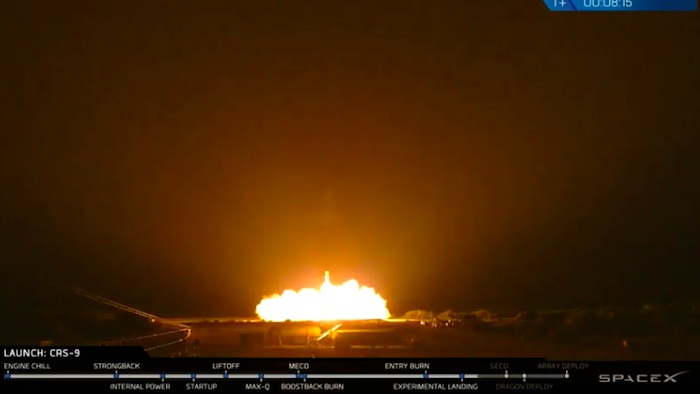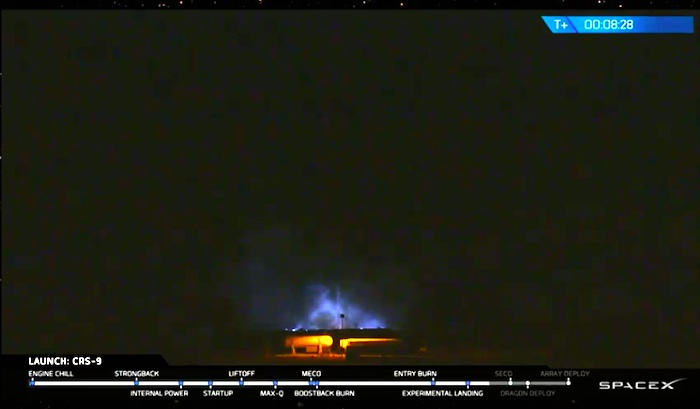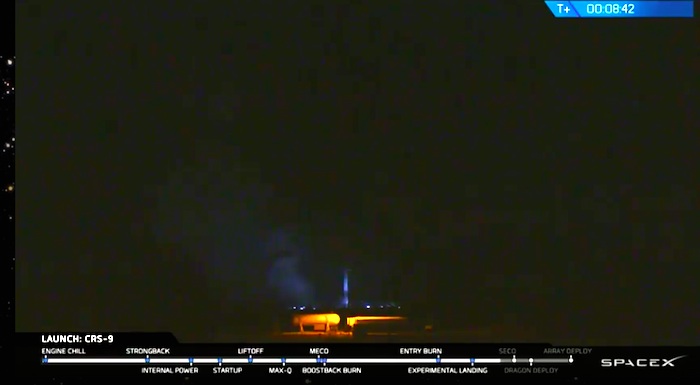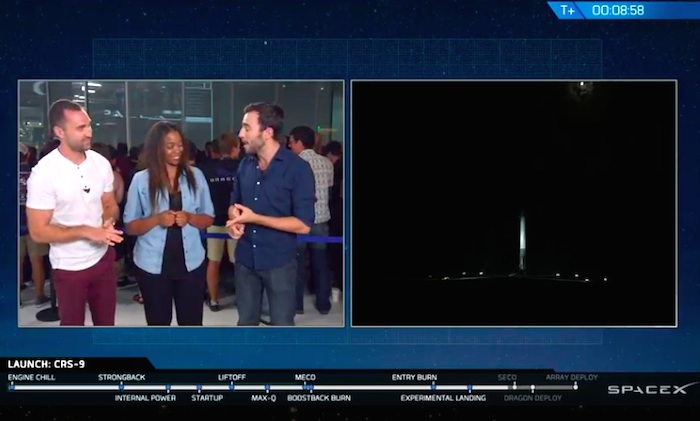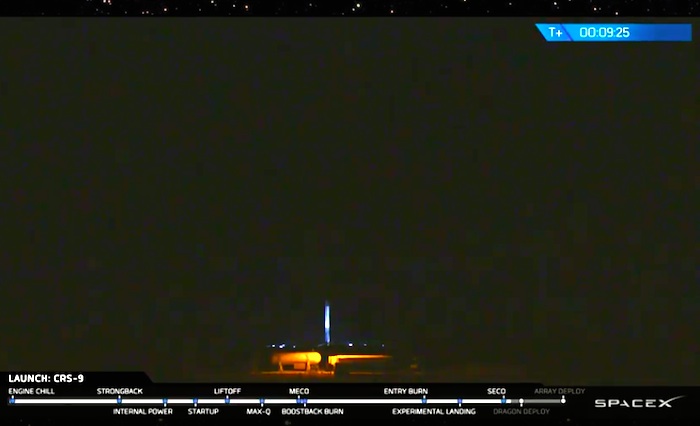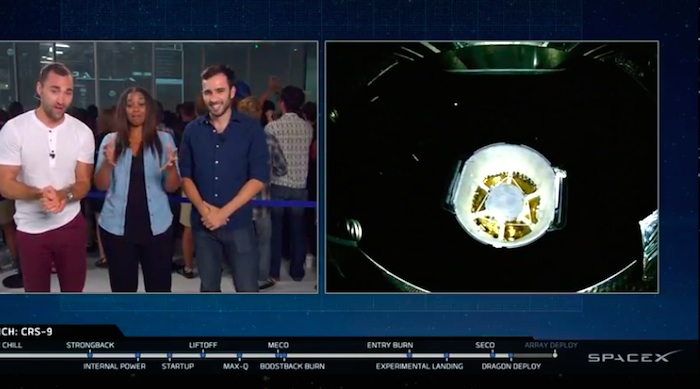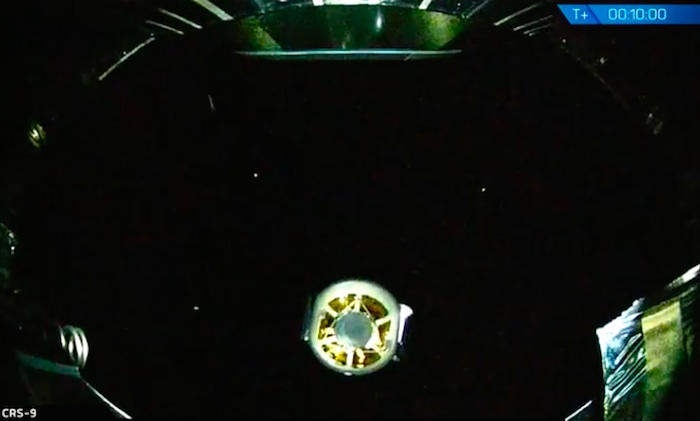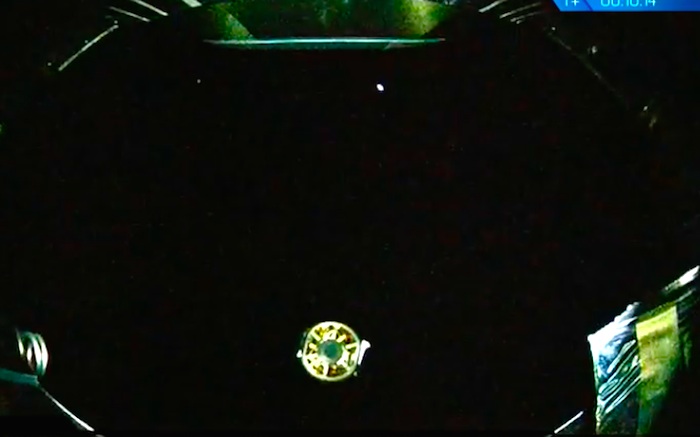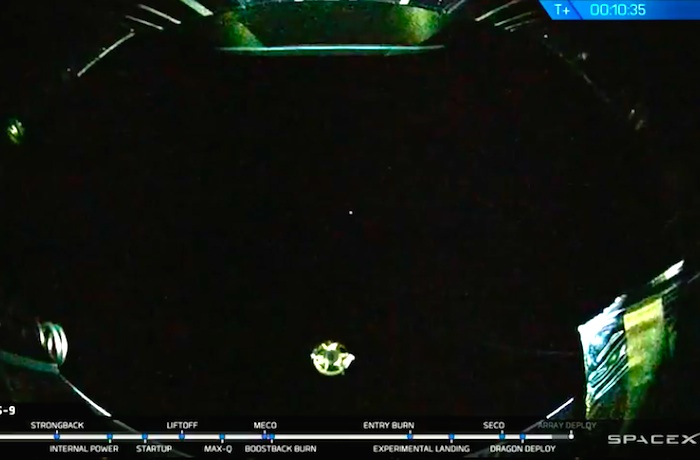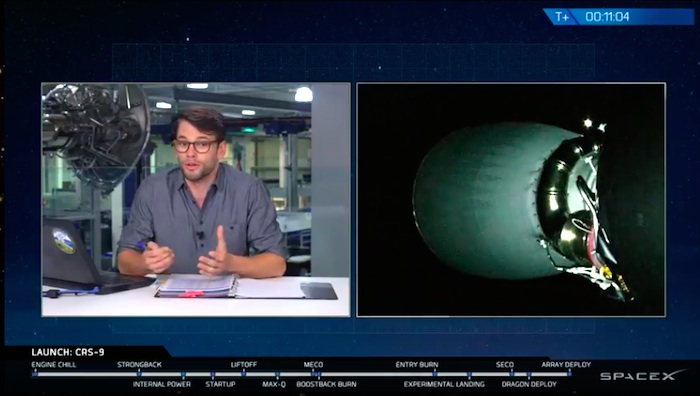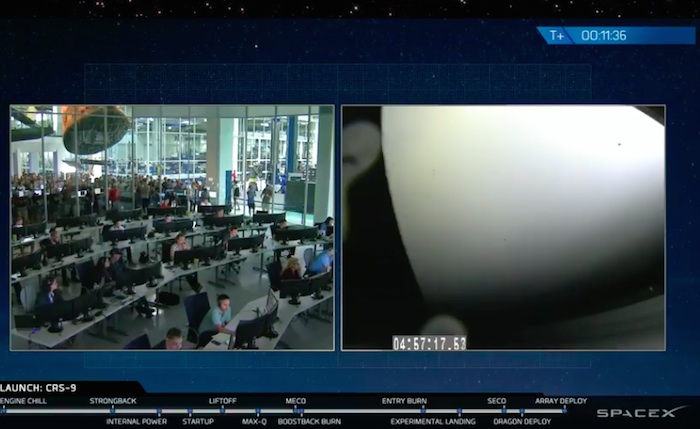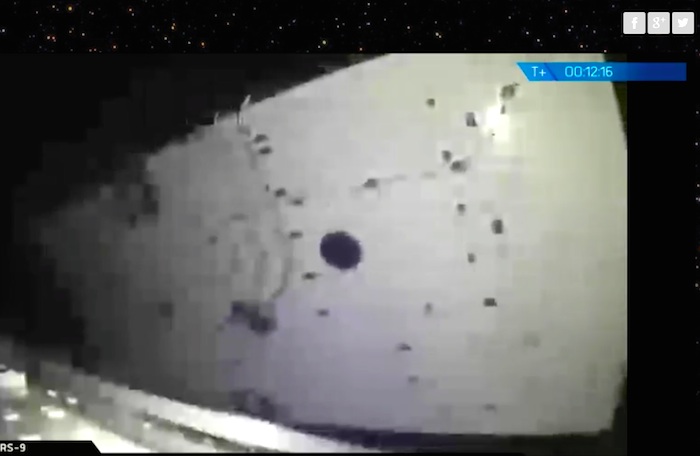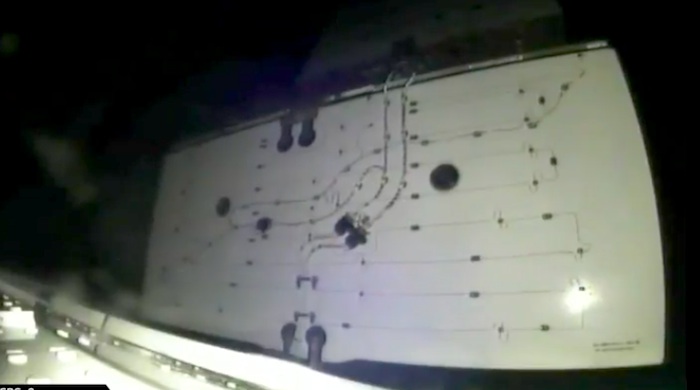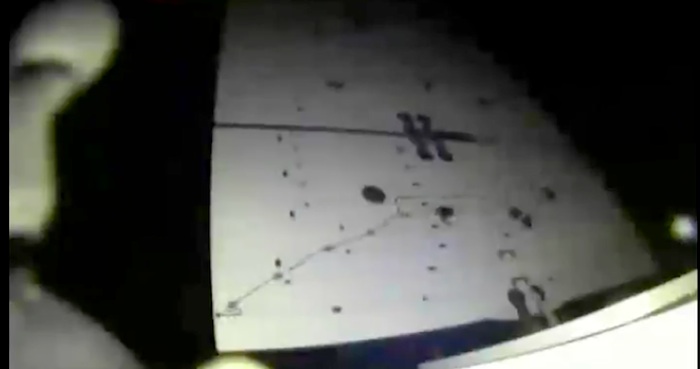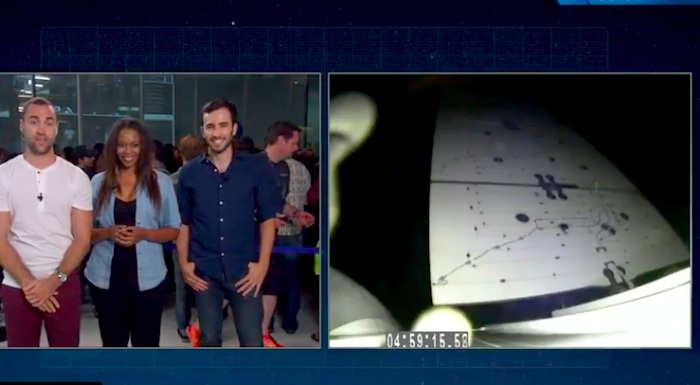 Quelle: SpaceX
-
Update: 18.00 MESZ
-
SpaceX Falcon Rocket Soars, Then Returns to Land
The booster dispatched a cargo ship into orbit with a new docking system for the space station.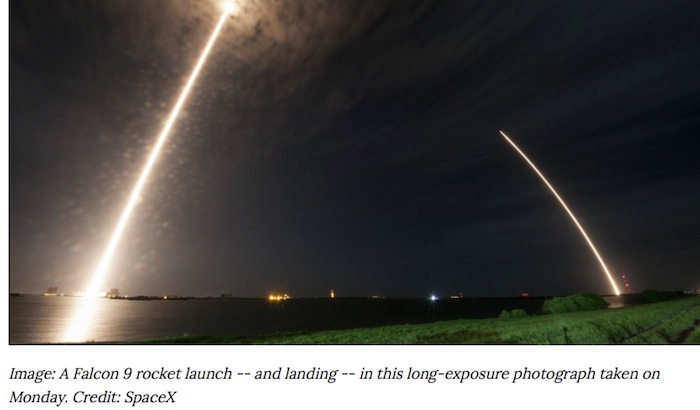 Under the glow of a full moon, a SpaceX Falcon 9 rocket soared through balmy Florida skies early Monday to deliver a cargo ship into orbit, then blazed back to its seaside launch site for a rare touchdown on the ground.
Sonic booms rang out across Central Florida shortly before 1 a.m. EDT as the booster dropped below the speed of sound and barreled toward a landing pad at Cape Canaveral Air Force Station. The 23-story tall rocket, carrying a Dragon cargo ship, had blasted off from a launch pad a few miles to the north at 12:45 a.m. EDT.
t was only the second time that a returning SpaceX rocket landed on the ground, an option only when the rocket has enough fuel to spare after dispatching its payload into orbit. The fuel is needed for braking burns to trim the rocket's speed.
SpaceX, which is owned and run by technology entrepreneur Elon Musk, uses a platform floating in the ocean as a landing pad for rockets on more challenging missions. So far, three of the last four ocean landings have been successful.
SpaceX wants to recover as many of its rockets as possible so they can be refurbished and reflow, drastically cutting launch costs. The company is working toward flying its first reused booster later this year, said Hans Koenigsmann, a SpaceX vice president in charge of flight reliability.
The primary goal of Monday's launch was to put a Dragon cargo ship into orbit for a two-day trip to the International Space Station. The capsule is loaded with nearly 5,000 pounds of supplies and science equipment for the station, a permanently staffed research laboratory that flies about 250 miles above Earth.
The new gear includes a miniature DNA sequencer, which will be tested in space for the first time. The most critical piece of hardware is a docking ring that will enable crewed spaceships under development by SpaceX and Boeing to park at the station.
The first docking ring was destroyed in a SpaceX Falcon 9 launch accident in June 2015.
Quelle: Seeker
3410 Views