.
Public concerns about invasions of privacy could result in complicated legal limits on use of smaller drones.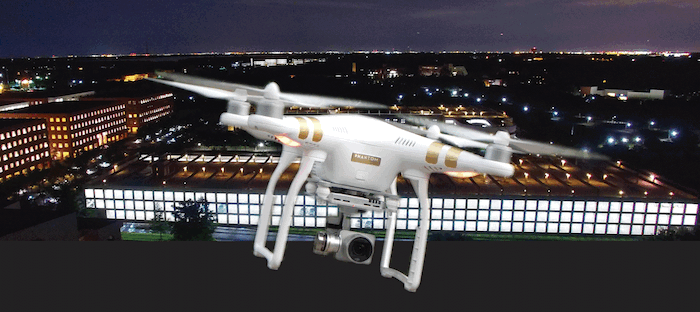 A camera mounted on a DJI Phantom (superimposed here) took this nighttime photo from a height
of 150 ft. Such small UAS capabilities concern privacy advocates.
Photos by Mark Colborn When a vacationing 39-year-old California man flew a Parrot Bebop Drone 100 ft above Washington's Lafayette Park May 14, the U.S. capital took notice.
-
The park, a popular spot for protesters, is directly across Pennsylvania Avenue from the front door of the White House. The District of Columbia has been blanketed with a no-fly zone for most aircraft since September 2001, and on May 13 the FAA kicked off a publicity campaign urging tourists headed for D.C. to "leave your drone at home." None of that deterred the errant operator of that small unmanned aircraft system (UAS). Federal officers quickly detained the hobbyist. He was arrested and given a June court date.
UAS incidents that might be seen as threats to national security are not taken lightly by law enforcement or, especially, lawmakers, who often call for more rules and restrictions in response. This understandably concerns professional pilots and helicopter operators, many of whom already question how UAS will affect their careers and the entire helicopter industry and wonder whether a drone will come through their windshield tomorrow.
But another UAS issue is starting to grab the attention of the public, politicians and legislators: privacy.
This has not been a driving issue for helicopters. People may complain about the noise from takeoffs, flights, descents and landings, but unless helicopters hover long, people are not likely to complain seriously about invasions of privacy. But UAS, particularly small ones, are quieter and legally can fly at much lower altitudes. If a UAS operator doesn't consider personal privacy, you can bet that legislators will.
With drones seemingly tracking our every move, an Orwellian police state may be upon us. This, at least, is what privacy advocates want us and our legislators to believe. They have managed to convince legislators in 13 states to enact laws regulating police use of drones. Eleven of those states require a warrant before the government may use a drone. (California nearly became the 12th in November, but Gov. Jerry Brown vetoed the bill.).
Several states and municipalities also have drafted restrictions or prohibitions on private drone operators conducting surveillance of people or private property. These laws pose problems.
According to one expert on drones, security, technology and crime, Gregory McNeal, new laws tend to focus on limiting drone technology, not the potential harm that can be accomplished with them. A professor at Pepperdine University's School of Law, McNeal has testified before Congress and has written about drone-related issues. In a 2014 paper for Washington think tank The Brookings Institution, he writes that, in many cases, the approach of legislators "creates perverse results, allowing the use of extremely sophisticated, pervasive surveillance technologies from manned aircraft, while disallowing benign uses of drones for mundane tasks like accident and crime-scene documentation."
In that paper, "Drones and Aerial Surveillance: Considerations for Legislators," McNeal makes five recommendations for drafting drone laws. At the top of the list is a "property-rights approach" to aerial surveillance. This would provide "landowners with the right to exclude aircraft, persons and other objects" in an airspace column from the surface of their land up to 350 ft agl. (McNeal is currently drafting a new proposal with a much-lower ceiling recommendation of 200 ft agl.) Such an approach, he claims, may solve most public and private concerns associated with drones. (On June 2, Nevada Gov. Brian Sandoval signed a law making a drone operator liable for trespass if the UAS is flown lower than 250 ft over private property.)
However, there are a number of problems in adopting such an arbitrary figure as a ceiling on private property. For one, the approach does not consider the reasonable expectation that a person's activities will remain private. It also does not consider that the person's use of the property could be curtailed or whether the duration of any nuisance created is acceptable.
You can imagine how difficult an arbitrary ceiling would be to enforce when a property owner would have to figure by eye the altitude at which a drone is operating.
An arbitrary-altitude approach also doesn't take into consideration a person's or business' liability risk. If the land in question is leased, for instance, the lease agreement may impose an obligation to keep activities on the land safe. That could be difficult if the lessor cannot prohibit unauthorized UAS from overflying those activities. This is a concern of the 330 members of the National Ski Areas Assn. in the U.S., many of whom lease government land. The group said it fully supports the FAA's proposed rule allowing commercial small-UAS use at ski areas, but it wants small hobby UAS banned from them.
The U.S. Supreme Court set a precedent in a 1946 ruling (in U.S. vs. Causby) that a landowner "owns at least as much of the space above the ground as he can occupy or use in connection with the land." The ruling said the ceiling of that space was the floor of what the U.S. government had set as navigable airspace's minimum safe altitude, or 500 to 1,000 ft agl.
In a 1989 ruling ( Florida v. Riley), the Supreme Court determined a police helicopter crew flying at 400 ft agl did not need a warrant when they observed marijuana plants poking out of the defendant's greenhouse. The helicopter did not create a nuisance, the Court said, and the surveillance's short duration did not detract from the property's use and enjoyment. Since 500 ft is the lower limit of navigable U.S. airspace for fixed-wing aircraft, the Court found that the helicopter's operation at 400 ft was safe and reasonable. Trial courts since have found manned observation flights as low as 400 ft rare and unsafe, except near an airport. Police still will need a warrant to fly a small UAS at that altitude for surveillance of both private and public spaces.
But the U.S. government still is navigating the tricky privacy issues raised by the UAS. President Obama in February directed the National Telecommunications and Information Administration to develop and communicate best practices for privacy, transparency and accountability in commercial and private UAS use. When the agency sought public comment on that task, more than 50 individuals and organizations replied. Several news groups said longstanding state privacy laws provide sufficient protections by prohibiting trespass and intrusive photography and videography. They argued that new guidelines would conflict with those laws and that restrictions on media use of drones could violate the First Amendment. But UAS will allow news outlets to capture spectacular video and images from vantage points never before possible.
.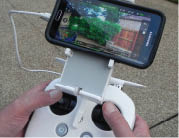 The hand controller for the Phantom 3 uses direct USB connection to Android or iOS devices to display real-time camera video overlaid with flight telemetry.
Photo by Mark Colborn
-
When I was moonlighting for a local TV news station, I gained a unique perspective on the news media business. Some photojournalists say liability risks are the main obstacles to using small UAS in newsgathering. No TV station would allow an employee to send up a drone without first fully assessing the risk to the public, they argue, thus ensuring a journalistic UAS code of conduct is followed (and the flights are cleared by insurance carriers).
Perhaps a solution would be to allow the insurance industry to police this new commercial UAS market by setting clear operational guidelines. On May 27, insurance underwriter Transport Risk Management said it delivered its first-ever all-inclusive UAS packages to clients, with full hull and liability coverage for the operator.
The U.S. is not the only country struggling with UAS privacy issues. In December, a select committee in the U.K. House of Lords heard testimony from an under secretary of state for transport that someone taking photos or videos with a UAS should be treated the same as "somebody going up a stepladder with a camera" or using closed-circuit TV.
Currently, inexpensive small UAS do not have the endurance for the kind of persistent, long-term surveillance that worries most privacy advocates around the world. However, as designs advance, as sensor packages are further miniaturized, and as battery technology improves, this could change. If government agencies or a private small UAS operator could conduct persistent surveillance on an individual, even in a public place, perhaps it would violate that person's reasonable expectations of privacy.
The Supreme Court likely would agree. In the 2012 U.S. v. Jones ruling, it concluded that police using a secretly planted GPS transmitter to track a suspected narcotics dealer's car over four weeks was unconstitutional, even though the car was publicly visible the entire time. The Court said it would have ruled otherwise if police had used more expensive or conventional methods (such as constantly following a suspect) instead of the simple device.
Need To Know: Thirteen U.S. states have some regulation of public and private UAS use.Establishing altitude restrictions on drones over private property can pose legal challenges.
U.S. Seeks Drone Privacy Benchmarks
The U.S. National Telecommunications and Information Administration held its first "stakeholder" meeting Aug. 3 to begin fulfilling a presidential order to develop small UAS privacy and transparency standards.
The purpose of the Washington meeting was to discuss and understand relevant issues within the UAS industry.
In it, that agency identified UAS benefits, including those for newsgathering and parcel delivery. But the agency also cited the importance in consumer trust and responsibility when operating the aircraft.
Some stakeholders suggested the agency's work process should address data security requirements, reporting obligations and privacy issues such as de-identification.
Attendees included representatives from the FAA, the Small UAV Coalition, the National Association of Broadcasters and the Center for Democracy and Leadership.
The next meeting is scheduled for Sept. 24 at the American Institute of Architects in Washington.
Quelle: Rotor&Wing
3673 Views