.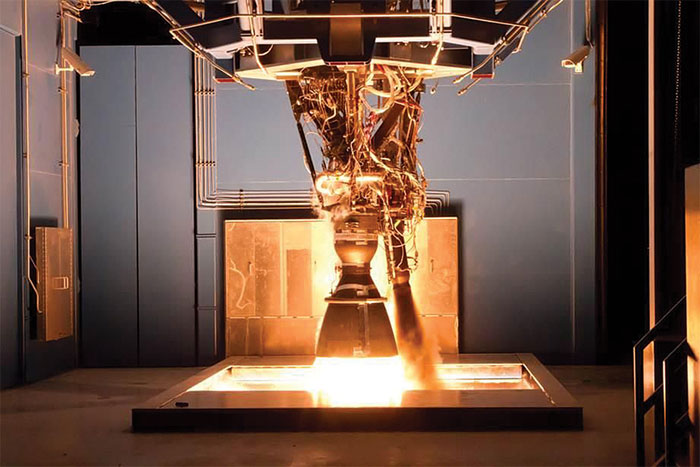 An upgrade to the SpaceX Falcon 9 Merlin 1D engine aims to increase thrust by 15%. Credit: SpaceX
.
An optimized Merlin 1D engine and other enhancements to the Falcon 9 v1.1 will give Space Exploration Technologies (SpaceX) the ability to lift commercial communications satellites to orbit while continuing to develop the rocket's reusable core stage.
Elon Musk, founder and chief executive of Hawthorne, California-based SpaceX, says the improvements include a 15% boost in thrust for the rocket's nine core-stage engines, as well as super-chilled propellant and a 10% increase in the volume of the upper-stage tank, according to Musk's Twitter feed.
Such performance improvements would allow the company to continue innovating while drawing revenue from a growing backlog of commercial missions.
However, if the design changes are significant, they could prevent SpaceX from lifting sensitive civil and military payloads on the retooled Falcon 9 without subjecting it to further scrutiny beyond U.S. Air Force and NASA launch-vehicle certification efforts already underway.
Although the agencies maintain separate protocols for certifying new launcher entrants for government missions, they share findings and assessments throughout the process. For both, certification is meant to ensure commercial service providers can adhere to standards and processes established over decades of experience and honed in the 1990s after a series of costly launch failures.
Both agencies expect to complete their respective Falcon 9 certification efforts mid-year, though NASA says once the vehicle is certified to launch riskier missions, in the future it does not plan to fly science payloads on SpaceX launchers utilizing refurbished Falcon 9 cores.
"Our current Category 2 certification effort assumes the use of an un-refurbished core stage," says NASA spokesman Joshua Buck, referring to the ongoing effort to certify the Falcon 9 to launch Earth-observation spacecraft, starting with the Jason-3 ocean altimetry mission set to lift off in June from Vandenberg AFB, California.
For now, NASA says it is unaware of any proposed changes to the current Falcon 9 vehicle and that Jason-3 is not the inaugural customer for an upgraded rocket. Instead, the first spacecraft to fly on the revamped Falcon 9 will be SES-9, a communications satellite built for commercial fleet operator SES, an early backer of SpaceX. Although the conservative Luxembourg-based company showed initial reluctance to fly on the inaugural Falcon 9 mission, CEO Karim Michel Sabbagh has since said the launch will go forward, ideally in the second quarter of 2015, if not the third.
A year ago Musk told Aviation Week he planned no major improvements to the Falcon 9, though he said SpaceX would be "chilling the propellant to densify it, to get more propellant load for the given volume." The change would enable the rocket to carry more fuel, even with heavier payloads, enabling the core stage to return to Earth for a controlled landing on a SpaceX drone-barge parked in the Atlantic Ocean off the coast of Florida.
The downside of such changes, however, is that they could require additional government work to certify an upgraded Falcon 9, if SpaceX seeks it.
NASA says SpaceX has been working to achieve so-called Cat. 2 "medium-risk" certification for Falcon 9 since the $82 million Jason-3 launch contract was awarded in July 2012. However, in January 2011, James Norman, head of NASA's Launch Services Program (LSP) office, said the agency's Falcon 9 certification effort was underway at the time.
"LSP is working to get it certified, and I think we're looking at spring 2013 to have it on board" for Cat. 2, mainly for Earth science missions, Norman told a meeting of the NASA Advisory Council's planetary science subcommittee. "Eventually, it will be a Cat. 3 launch service that will be available for planetary as well."
Since June 2010, when SpaceX debuted a baseline version of the Falcon 9—the v1.0—the rocket has already undergone one major transformation: In fall 2013, SpaceX introduced the current and more powerful v1.1, complete with stretched tanks and a new Merlin 1D engine that replaced the baseline rocket's Merlin 1C.
As a result, SpaceX and NASA have had to redo much of the early work in certifying the baseline vehicle.
"Much of the work related to design and components had to be re-accomplished by SpaceX with the switch from the Falcon 9 v1.0 to the Falcon 9 v1.1 vehicle," says NASA spokeswoman Stephanie Schierholz.
"Also, the certification element related to the number of successful flights and the related detailed flight-data review had to be started anew," Schierholz said, though much of the "process-related work," including quality, manufacturing, operations and systems engineering, was able to continue.
Although NASA's certification strategy for the Falcon 9 v1.1 required three flights of the rocket, the fact that SpaceX never vacuum-tested the upper stage on the ground prompted the agency to add two additional missions to achieve certification.
"NASA required SpaceX to add additional instrumentation and complete five consecutive successful flights of the Falcon 9 v1.1, rather than the three that are required [for Cat. 2 certification] in order to provide upper-stage engine performance data while operating in a vacuum," Schierholz said, adding that those missions have all been successfully flown.
In May 2014, the Air Force said it was spending $60 million on its Falcon 9 certification effort, which began in 2013.
Although LSP would not disclose the amount of money NASA has spent to date on certifying the Falcon 9, the agency did invest approximately $1 million in the development of additional instrumentation installed on the five SpaceX flights to generate data on the upper-stage engine performance in a vacuum. Buck says LSP—which has an annual budget of around $87 million—did not augment its workforce as a result.
NASA says if the Falcon 9 is upgraded in the future, the agency will review the performance and design changes and make a judgment as to whether those changes will require a new certification.
"A thrust increase alone would not immediately result in a new common launch vehicle configuration," Buck says. "However, often such changes are accomplished by major design differences throughout the engine and include propellant tank changes that affect the burn time and vehicle mass significantly," he says, adding that NASA considers the effect on loads, controls and aerodynamics when making such a determination. If the agency finds modifications that constitute a new launch vehicle configuration, then a certification strategy that complies with NASA regulations would be put in place and that "such a strategy would define the number of flights required to achieve NASA certification," Buck notes.
LSP says it is unclear how many additional flights of an upgraded Falcon 9 may be necessary, if any.
"It will depend on what changes, their magnitude, and when the contractor would desire to cut them in," Buck says, adding that the agency does not currently plan to certify the vehicle for higher-risk Cat. 3 missions, which would include planetary and astronomy missions.
He says the major differences between a Cat. 2 and Cat. 3 certification are the number of consecutive successful flights required and that NASA can choose to accept more risk for a Cat. 2 certification versus a Cat. 3.
"For instance, a component may have been qualified through analysis and/or through some testing level the contractor thought adequate but was not at full Military Standard levels," he says. "This may be acceptable for a Cat, 2 certification, but to achieve Cat, 3, NASA LSP might require the component to be tested to the full Military Standard specification."
NASA has already gone through the process of fleet-certifying the United Launch Alliance Atlas 5 4-meter (18 ft.) and 5-meter fairing launch vehicles and was the first government customer to fly on both Atlas 5 variants. The agency says it is not unusual to evaluate proposed launch vehicle changes and decide whether a new certification is necessary. And while significant changes to core propulsion systems are less common, NASA says it is in the process of certifying the Atlas V with the RL-10C-1 on the Centaur upper stage.
"Our certification activity will be completed before NASA's first use of this configuration next year," Buck says.
Quelle: AVIATION WEEK
3159 Views