.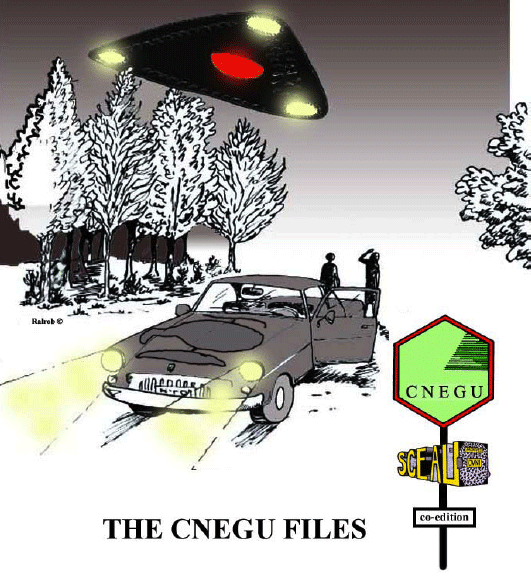 Fortsetzung:
.
SOBEPS claims that the standard UFO of the Belgian wave was triangular and flat with white lights laid out in triangle and a red flashing light near the centre. However the craft seen by the witnesses were not all triangular. In fact, they were described as triangular, rectangular, egg-shaped, cigar-shaped, banana-shaped, etc. A dome at the top and square or round portholes on the sides were also reported, and the lights were not on the same places depending on the described objects.
How then does one dare to speak about a "standard UFO"? (50) As for me, the standard UFO is only a SOBEPS invention intended to validate or reinforce the extraterrestrial craft thesis. In an article on the decisive sightings of November 29, 1989, Mr Meessen wrote: "We are confronted with flying objects that attest a non-conventional technology". For my part, I think that conventional craft did trigger the wave on November 29, 1989 but that the "research" method of SOBEPS is not at all conventional!
VI. CONCLUSIONS
Léon Brenig wondered why the witnesses of the November 29, 1989 sightings were puzzled by these craft, whereas they know what is a plane, a helicopter, the Moon, a planet or a star (51). For him, they were puzzled because they saw unknown, probably extraterrestrial, craft. The question that Mr Brenig should ask himself is: "are the UFO witnesses able to recognize all planes and all helicopters, as well as the Moon and other celestial bodies, under all sighting conditions, and particularly at night for planes and helicopters?" A lot of parameters can make that a sighting of a known object generates a UFO. If not, the misidentifications that even SOBEPS ufologists acknowledge would not exist. A fortiori, these misinterpretations are more numerous when people are confronted with objects they are not very familiar with, like big helicopters of an unusual model.
People inevitably know some helicopter models, but this does not imply they know all models and can definitely identify one of them every time. Moreover, the sighting of a flying helicopter or plane is not the same one in daylight and at night. Distance or reflections caused by the sunset, for example, contribute largely to make more difficult the identification of an aircraft.
If all people who see UFOs really knew all that can be in the sky, do you think that ufologists, all over the world, would concede that there is a great percentage of misidentifications by witnesses? However, within the framework of the Belgian UFO wave, SOBEPS made "as if" the misidentification percentage was low. It initially insisted loudly on the quality of the first witnesses (gendarmes), who could not be easily described as dreamers or jokers. But were they for all that excellent observers, able to recognize any type of aircraft?
According to Air & Cosmos N°1862 of October 25, 2002, p.9, the UFO wave of 1989-1992 in Belgium would actually have been triggered by training flights of stealth planes and helicopter gunships based in Germany. This information, that comes from a German senior official, appears me to be very plausible today. I shall add that at the root of this huge wave of sightings, there were also civilian and military aircraft, Belgian Army helicopters and civilian helicopters, notably medical helicopters, the latter being also likely to
fly at low altitude. And I do not forget to also point out the tremendous media hype orchestrated by SOBEPS, hype that pushed good people to look more at things in the sky to which they generally pay little attention or that they quite simply do not know…
On November 29, 1989, between 7.30 and 8 p.m., on the heights of Robermont, in Liège, Mr S.M… saw, in the north-west direction, three Bell type helicopters that he recognized thanks to their landing skis. They did not have any apparent marking and seemed to fly at an altitude of approximately 150-200 m, accompanying a triangular object lit by a light at its centre. In spite of the fact that it related mainly to helicopters, this sighting was done in a complete silence (52).
One of a kind since it concerns at the same time well identified helicopters and a triangular craft, this sighting was however extremely badly investigated.
Michel Bougard writes indeed that the witness saw the "true moon" at the east, on his left. However if the witness had the north-west in his visual field, the east could not be on his left! But above all, the witness could not see the moon at 7.30 p.m. that day since it had already set around 4.40 p.m., almost at the same time as the sun. Let us suppose that there was a mistake in the date. If the information relating to the moon is exact, other dates have to be considered like November 12, 13 or 14, 1989 and December 12 or 13, 1989. It is already somewhat difficult to swallow…
The triangular craft and the three helicopters moved southwards, Michel Bougard also writes. It is impossible, because if the witness saw the green light of each helicopter, that is always located on the right side, it means that the craft went from his left towards the right, i.e. towards the east or south-east and not towards the south. If the craft had moved southwards, the witness would have seen only the red light of the helicopters, unless the craft made a turn, which a good investigation should have specified.
This is what can be called a botched up investigation on a sighting of great importance. Published in Inforespace, it disappeared nevertheless from the detailed account of the November 29, 1989 events that appears in VOB 1.
Yet the description made by the witness does not leave any doubt: the three helicopters actually were American or German Bell Huey (NATO). Some American Bell helicopters do not have any marking. The Belgian Army and Air Force do not have this kind of helicopters. Had they just taken off from Bierset or
Beauvechain, two bases that NATO is allowed to use? Wasn't the craft they accompanied a F 117-A plane, still almost unknown at that time? Did SOBEPS search in this direction before speaking about a UFO accompanied by conventional craft?
As it can be seen throughout the present article, SOBEPS made one-sided and incomplete field investigations, that generate multiple questions and contradictions.
At the time of the counter-investigation of 1997 on the Gué d'Hossus case, close to Rocroi in the French Ardennes, a qualified observer reported that as from October 1989, he saw planes of various types and several nationalities (of which American) flying day and night, on manoeuvres before the beginning of bombings against Iraq. These planes all came from Belgium (53). In addition, the Berlin Wall fell on November 9, 1989. This historical event is likely to have caused some agitation within NATO. These facts are also to be taken into account when trying to understand the beginning of the Belgian UFO wave…
The ball is in SOBEPS court. Logically, the burden of proof falls indeed on those who affirm the existence of an original phenomenon. It is therefore up to SOBEPS, that speaks about UFOs, to prove that there really were UFOs and that there were no helicopters in flight at the time of the sightings. It had every opportunity to do it, since it prided itself on its good relations with military people.
.
Acknowledgements for their assistance to :
Jean-Pierre Casamayou, editor of the magazine Air & Cosmos, Gérard Gaudin, professional journalist in aeronautics, Marc Hallet, Hansjürgen Köhler, of CENAP, Eric Maillot, Morgane Maillot, Claude Maugé, Gilles Munsch, Raoul Robé, Thierry Rocher, Jacques Scornaux, Patrice Seray, Wim van Utrecht, Christine Zwygart.
The friends of Renaud also thank Michel Bougard, president of SOBEPS, for his kind authorization to reproduce several drawings published in Inforespace.
Translation into English by Thierry Pinvidic and Jacques Scornaux.
.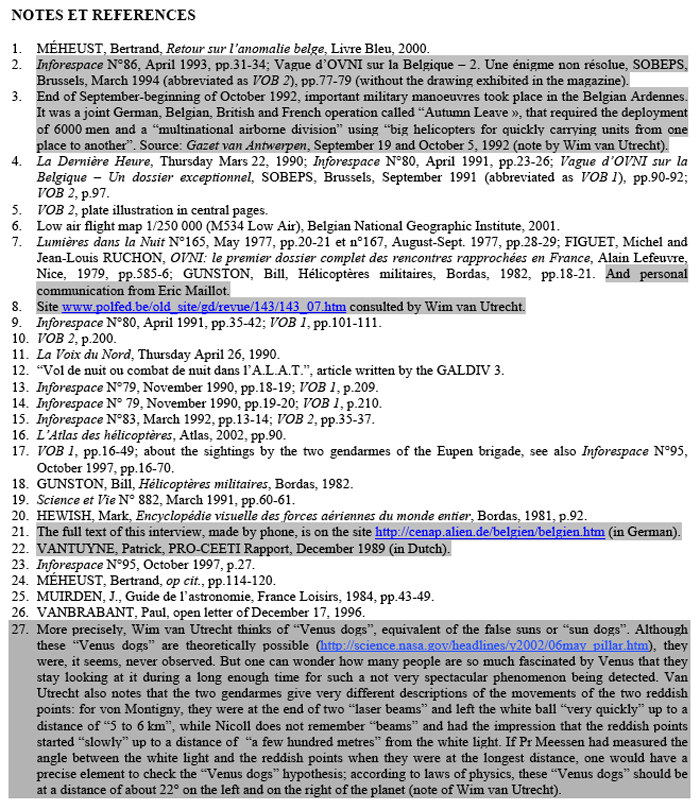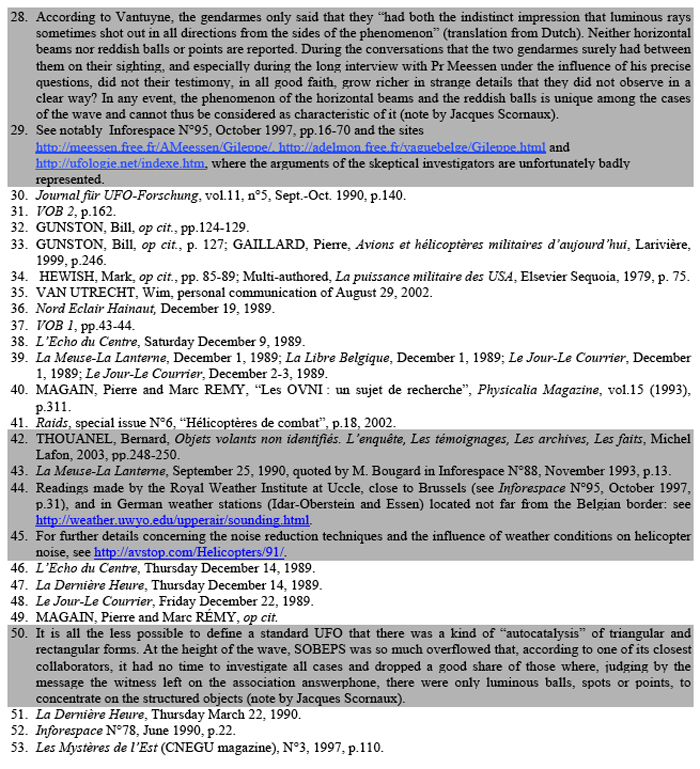 .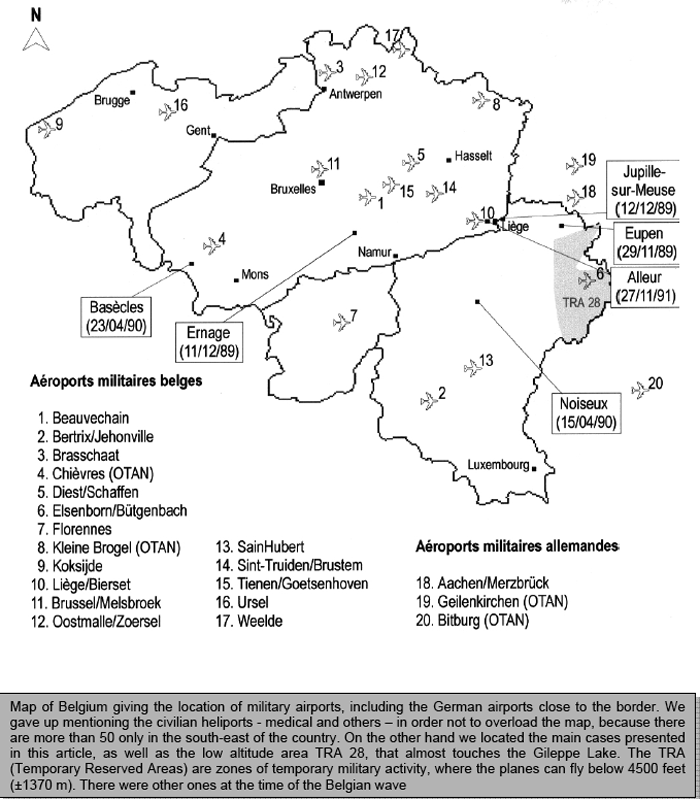 .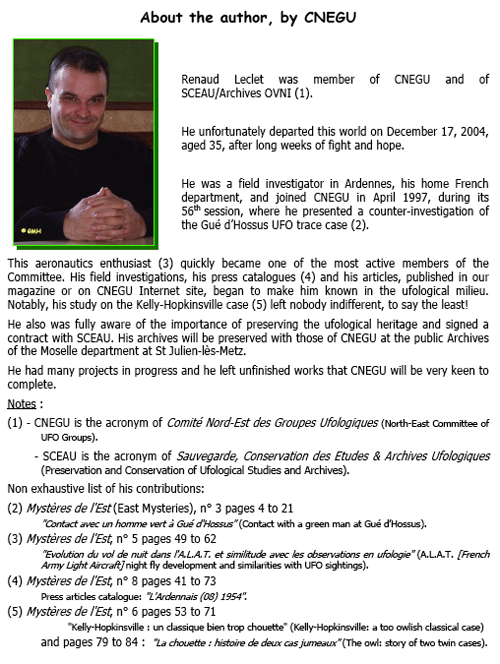 Quelle: BUW-RLT-10/2008
4215 Views