NASA just cut off all of its non-International Space Station communication and collaboration with Russia because of the country's aggression in Ukraine. That raises the question: What happens if Russia decides to cut all ties with NASA?
The relationship between NASA and Russia's Rescosmos space agency, when it comes to the International Space Station, is a symbiotic one—much of the technology in the space station is controlled by NASA, so if Russia decides it doesn't want to shuttle American astronauts back and forth, the agency has some options for recourse. But the Russians are certainly in a pretty powerful position when you consider that NASA has no other way to get humans to space. It's not out of the realm of possibility that Vladimir Putin could decide that Americans are no longer welcome aboard Soyuz spacecraft.
NASA won't say whether it has any contingency plans to get the two Americans (Rick Mastracchio, who has been there for roughly five months and Steve Swanson, who just got there two weeks ago) back to Earth should that happen. But the situation highlights why it's so important for NASA to work with SpaceX or some other commercial operator to get manned missions to the ISS lifting off from America again.
NASA said as much in a statement about why they're going to stop working with Russia on everything except for ISS-specific missions.
"Given Russia's ongoing violation of Ukraine's sovereignty and territorial integrity, NASA is suspending the majority of its ongoing engagements with the Russian Federation," the agency said. "NASA is laser-focused on a plan to return human spaceflight launches to American soil, and end our reliance on Russia to get into space. This has been a top priority of the Obama Administration for the past five years, and had our plan been fully funded, we would have returned American human spaceflight launches—and the jobs they support—back to the United States next year. With the reduced level of funding approved by Congress, we're now looking at launching from U.S. soil in 2017."
That's a not-too-subtle jab at lawmakers (who love cutting NASA's budget), but, that aside, what happens if things devolve and America's astronauts can't wait until 2017? Publicly, the agency says that it just isn't going to happen: "The space station partnership is strong. We'll continue to proceed with space station operations as they are currently," a NASA spokesperson told me.
But if push comes to shove, SpaceX could likely quickly modify its Dragon capsule, which has been flying resupply missions to the ISS for more than a year now, to hold human passengers. They'd likely be required to install a life support system, a process that could be done within a couple months, but a few oxygen tanks and rudimentary seats might do the trick for a single emergency mission.
SpaceX CEO Elon Musk hasn't kept secret his disdain for NASA's current system of shelling out $70 million per seat to the Russians—he says he could sell tickets to NASA for just $20 million a head. Neither have lawmakers, who are none-too-pleased that America is writing massive checks to a country that the US is actively sanctioning.
But even if NASA wanted to tell Russia to take their Soyuz and shove it, they probably couldn't: A year ago, NASA signed a $424 million contract with Rescosmos that ensures (barring some sort of international incident) that American astronauts will ride the Soyuz through at least 2017.
As Musk recently told Bloomberg TV, "being at Putin's mercy is not a good place to be." NASA knows this. Even if they won't say it publicly, behind the scenes, they must be making some sort of plan in case things in Crimea get worse.
"Engineering is engineering," Kelly Humphries, a spokesperson for NASA, told me when I asked him if the agency had asked SpaceX to speed up its crewed mission capabilities. "We're working with commercial companies to make sure everything is done properly so the spacecraft will interact properly with the International Space Station. You've got to do things the right way to make sure things are safe for people."
I can think of few things less safe than being stuck 230 miles from the Earth's surface with no ride home.
Quelle: Motherboard
.
Russia regrets NASA halting cooperation, experts warn of impact on intl space work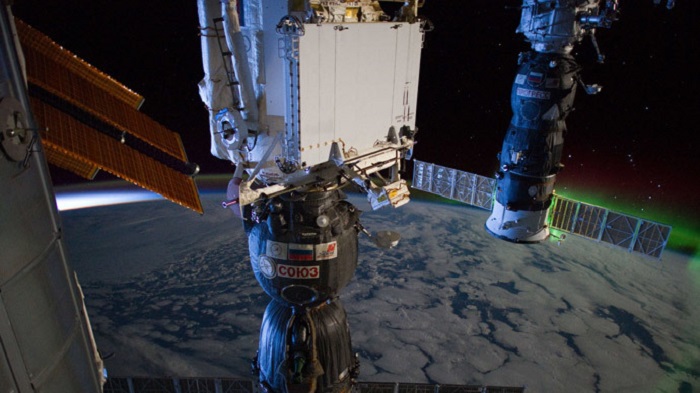 Russia has expressed its regrets over NASA's decision to halt cooperation with its Russian counterpart. However, experts agree that the measure will affect NASA and mutual international work, but will not significantly harm Russia.
"Well, this is a US decision," Russian Deputy Foreign Minister Sergey Ryabkov said on Thursday, commenting on NASA's decision to suspend "the majority of its ongoing engagements with the Russian Federation."
The statement by the space agency, publicly released on Wednesday, cited the "ongoing violation of Ukraine's sovereignty and territorial integrity" by Russia as a reason for the measure.
For now, the suspension will not affect NASA and Roscosmos joint work "to maintain the safe and continuous operation of the International Space Station."
Three Russians, two Americans, and one Japanese astronaut are onboard the International Space Station (ISS).
But NASA is eager to focus on returning human spaceflight launches to America, so as not to rely on Russia. Since the US space shuttle program was shut down in 2011, Russia's Soyuz rocket remains the only way to carry supplies to the ISS and launch humans into space.
"We regret that the US administration and those who make such decisions are unable to conduct obvious situational analyses and separate US long-term interests from some ongoing short-term goals," Ryabkov said.
However, the ISS is not the only sphere of cooperation between NASA and Russia. NASA actively collaborates with the Russian Space Research Institute (IKI RAN). So, it is yet to be seen how the halt in relations will affect other areas of mutual work.
"It is still unclear how this will impinge on IKI," Aleksandr Koptev, a NASA representative with the Russian Mission Control Centre, said as cited by Itar-Tass. "But by making such a decision they only harm themselves," he added.
There is no doubt that Washington's freeze on cooperation will hurt the global space partnership and have a "rather significant" impact on space exploration projects worldwide, Ivan Moiseyev, scientific head of Russia's Space Policy Institute predicted.
"Modern space science is a global phenomenon that benefits all countries," Moiseyev told RIA Novosti news agency. "It means that many large-scale projects require an international effort. A freeze on cooperation will spur a serious backlash against the international space program."
This view was echoed by a retired Soviet cosmonaut, Georgy Grechko.
"Work in space, involving such difficult missions and experiments, is always international, such as with a mission to Mars. There won't be Russian, European, American and Chinese spacecraft flying separately to Mars; this will be an international project," Grechko told RT.
However, Grechko, who has 3 space flights and a spacewalk on his resume, said he was not surprised by NASA's decision.
"I'm not surprised by this: once again, politics is destructively interfering with scientific-technical work," he said. "Of course, they gave in to political pressure. That is sad. I am 82 and I can say that it has always been the case that politics spoils scientific-technical programs."
Grechko assumed that NASA itself understands nothing about how the decision on Crimea was made, and it just had to obey the government.
"Because the money still comes from the government," he said. "This is a loss for everyone. Space should be about all countries working together and so this is a loss not just for Russia, but for all countries."
At the same time, NASA's decision is unlikely to have any catastrophic impacts on the Russian space exploration industry. It will simply have to adjust its projects to the new reality, Moiseyev said.
Quelle: RT
.
Russia, US will continue joint space projects despite NASA decision - Russian official
"Neither the Americans nor we intend to stop high-tech and mutually beneficial cooperation," the Russian Academy of Sciences' Institute of Medical and Biological Problems spokesman says
MOSCOW, The US space agency's decision to suspend cooperation with Russia has no impact on bilateral projects in medicine and biology, A Russian expert has said.
"The Russian Academy of Sciences' Institute of Medical and Biological Problems (IMBP) is doing much to work out joint programms," the IMBP's spokesman, Mark Belakovsky told ITAR-TASS on Thursday.
"I believe that joint programms in medicine and biology have not been delayed. Cooperation is mutually advantageous. Other countries such as Japan, Canada and European states, are taking part in it," he said.
"Neither the Americans nor we intend to stop high-tech and mutually beneficial cooperation," Belakovsky said.
"Even in the Cold War times there were always links that united states. Over more than 40 years we have maintained cooperation in space medicine and biology," he said.
"We developed mutually advantageous projects such as Mir-NASA and Mir-Shuttle. Russian and U. astronauts jointly work at the International Space Station (ISS)," he said.
"This year Russia is planning to launch several spacecraft under the federal and commercial programms. We hope to cope with the tasks," an official of the Khrunichev State Research and Production Space Centre told ITAR-TASS.
The center is taking part in Russia-US International Launch Services to promote Russia's Proton rockets on the world market, he said.
NASA (National Aeronautics and Space Administration) is suspending most of its cooperation with Russia, the ISS excepted, due to the current situation in Ukraine.
Quelle: ITAR-TASS
.