16.03.2023
NASA Selects Axiom Space for Third Private Astronaut Station Mission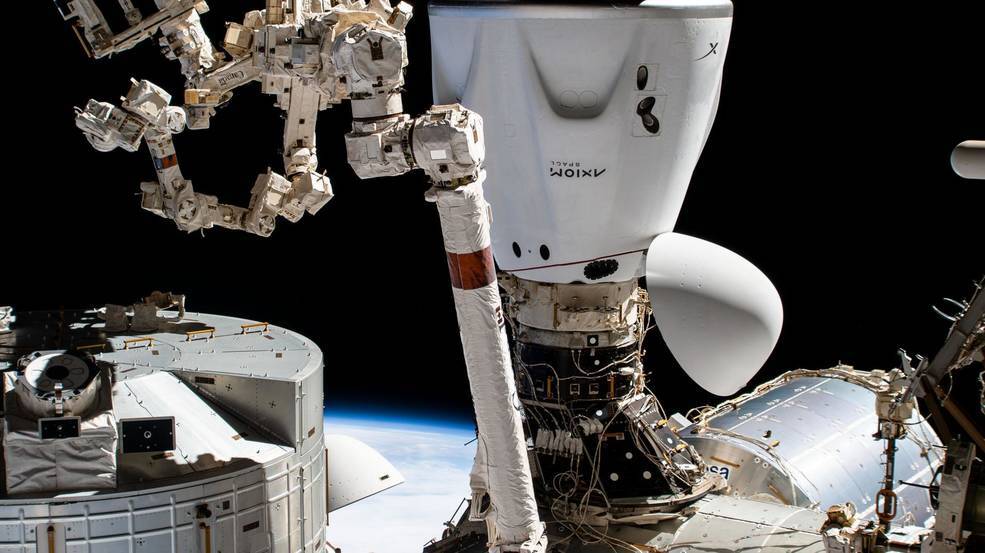 Credits: NASA
NASA and Axiom Space have signed a mission order for the third private astronaut mission to the International Space Station, targeted to launch no earlier than November 2023 from the agency's NASA's Kennedy Space Center in Florida.
"The diversity of currently available commercial orbital human spaceflight opportunities is truly astounding. NASA's commercial crew flights to the space station for our government astronauts paved the way for fully private missions to space like Inspiration4 and Polaris as well as private astronaut missions to the orbiting laboratory like the one we are announcing today," said Phil McAlister, director of commercial space at NASA Headquarters in Washington. "We are starting to see the incorporation of space into our economic sphere, and it is going to revolutionize the way people see, use, and experience space."
Axiom Mission 3 (Ax-3) is expected to spend 14 days docked to the space station. A specific launch date is dependent on spacecraft traffic to the space station and in-orbit activity planning and constraints. NASA and Axiom Space mission planners will coordinate in-orbit activities for the private astronauts to conduct in coordination with space station crew members and flight controllers on the ground.
"Axiom Space's selection to lead the next private astronaut mission to the International Space Station enables us to continue expanding access to nations, academia, commercial entities, and emerging industries to research, test, and demonstrate new technologies in microgravity," said Michael Suffredini, CEO and president of Axiom Space. "As NASA's focus shifts back to the Moon and on to Mars, we are committed to transforming low-Earth orbit into a global space marketplace, where access to space moves beyond the partners of the space station to nations, institutions and individuals with new ideas fueling a thriving human economy beyond Earth."
Axiom Space will submit four proposed crew members and two back up crew for the Ax-3 mission to the station's Multilateral Crew Operations Panel for review. NASA is requiring all private astronaut mission providers to select a previously flown NASA astronaut as the spacecraft commander. Following review and approval from NASA and its international partners, the prime crew members for the mission will be named.
The Ax-3 crew members will train for their flight with NASA, international partners, and SpaceX, which Axiom Space has contracted as launch provider for transportation to and from the space station and to familiarize the private astronauts with systems, procedures, and emergency preparedness for the space station and the Dragon spacecraft. Based on current mission planning, team crew training is scheduled to begin this spring.
Axiom Space is obtaining NASA services to conduct the mission via both the mission specific order and Reimbursable Space Act Agreements.
Through the mission specific order, Axiom Space is obtaining services from NASA such as crew supplies, cargo delivery to space, storage, and other in-orbit resources for daily use. The order also accommodates up to an additional contingency week aboard the space station. This mission is subject to NASA's pricing policy for the services the agency is providing to Axiom Space for in-orbit activities that are above space station baseline capabilities.
The order also identifies capabilities NASA may obtain from Axiom Space, including the return of scientific samples that must be kept cold in transit to and from Earth, return cargo capability, and the capability to use the private astronaut mission commander's time during the docked mission to complete NASA science or perform tasks for NASA.
Through Reimbursable Space Act Agreements, Axiom Space will reimburse NASA for services to enable the mission, such as training for crew members and use of facilities at NASA's Johnson Space Center in Houston and Kennedy Space Center in Florida. In addition, SpaceX has a Reimbursable Space Act Agreement with Kennedy for launch services.
NASA made the selection for the third private astronaut mission from proposals received in response to its September 2022 NASA Research Announcement and evaluated the mission proposals based on the provider's ability to execute a mission successfully, NASA's ability to support the proposed mission, and the mission's contribution to the agency's goal of low-Earth orbit commercialization. NASA also solicited proposals for a fourth private astronaut mission opportunity in 2024 and will announce the mission after successful completion of negotiations results in an award.
For more than 22 years, NASA has supported a continuous U.S. human presence in low-Earth orbit. The agency's goal is a low-Earth orbit marketplace where NASA is one of many customers, and the private sector leads the way. This strategy will provide services the government needs at a lower cost, enabling the agency to focus on its Artemis missions to the Moon and on to Mars while continuing to use low-Earth orbit as a training and proving ground for those deep space missions.
Quelle: NASA
----
Update: 18.03.2023
.
NASA selects Axiom Space for third private astronaut mission to ISS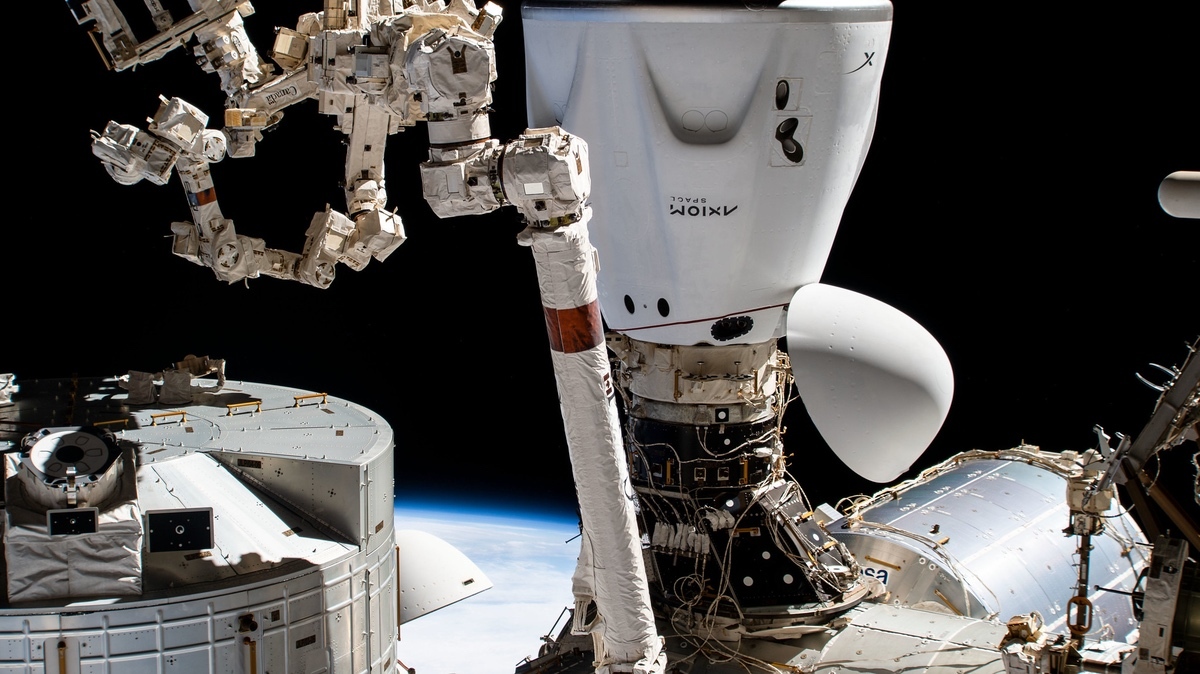 WASHINGTON — NASA has approved plans by Axiom Space to fly a third private astronaut mission to the International Space Station as soon as November, although with no details yet about who will go on the flight.
NASA announced March 14 it signed a "mission order" with Axiom for the mission, designated Ax-3 by the company. Launch is scheduled as soon as November, a date that will depend in part on the traffic of other vehicles heading to and from the station.
NASA solicited proposals for a third and fourth private astronaut mission in September 2022, after previously selecting Axiom for the Ax-1 mission that went to the ISS in April 2022 and Ax-2, scheduled for launch as soon as May. In its announcement about Ax-3, NASA said it would announce plans for the fourth private astronaut mission, planned for 2024, after completion of negotiations with an unspecified company.
Axiom was the only company to bid on the second private astronaut mission, according to NASA source selection statements published last August. Both Axiom and a second company, Shuttle IO Technologies, bid on NASA's original request for a third private astronaut mission in 2021, but the agency rejected both given low ratings from the review process. NASA did not disclose how many companies submitted proposals in this new solicitation for the third mission.
The announcement of Ax-3 disclosed few details about the mission other than it will spend 14 days at the ISS, slightly longer than the planned 10 days of Ax-2. The mission, like Ax-1 and -2, will use a SpaceX Crew Dragon spacecraft.
Axiom Space did not disclose the crew for Ax-3 in the announcement. Like the previous two missions, it will be commanded by a former NASA astronaut with flight experience, a requirement NASA enacted after Ax-1.
NASA said in the announcement that the formal announcement of the crew will come only after it is approved by NASA and the other ISS partners. While Axiom Space had named the commander and pilot of Ax-2 — Peggy Whitson and John Shoffner — in 2021, the other two crew members, Saudi astronauts Rayyanah Barnawi and Ali Alqarni, were not named until Feb. 12.
Axiom executives previously said that government-sponsored astronauts, like the two Saudis, would make up the bulk of customers on its upcoming private astronaut missions. "I expect that Ax-3 will be largely a country customer kind of flight with our professional astronaut," said Michael Suffredini, chief executive of Axiom, in a call with reporters in January. He added that will be repeated on Ax-4. "I think that, between those two flights, maybe one private individual will fly."
Axiom hopes to continue flying private astronaut missions to the ISS as it develops a series of commercial modules it will attach to the station, which will serve as the core of a standalone space station after the retirement of the station. "Our desire is to fly two missions a year," Michael López-Alegría, the former NASA astronaut who commanded Ax-1 for Axiom, said in a Feb. 26 speech at the Next-Generation Suborbital Researchers Conference in Colorado.
He noted in that speech that NASA had picked Axiom for both the third and fourth private astronaut missions, although the company was still in contract negotiations with NASA on them.
Once Axiom has its modules on the ISS, which will include its own docking port, the company will have more freedom to fly crews to them without having to compete for private astronaut mission opportunities, which NASA has currently capped at two a year. "We'll still have to go through NASA and will still have to comply with the ISS program rules," López-Alegría said, "but I feel like we'll have a little bit more leeway to do whatever we want."
Quelle: SN
478 Views