26.09.2019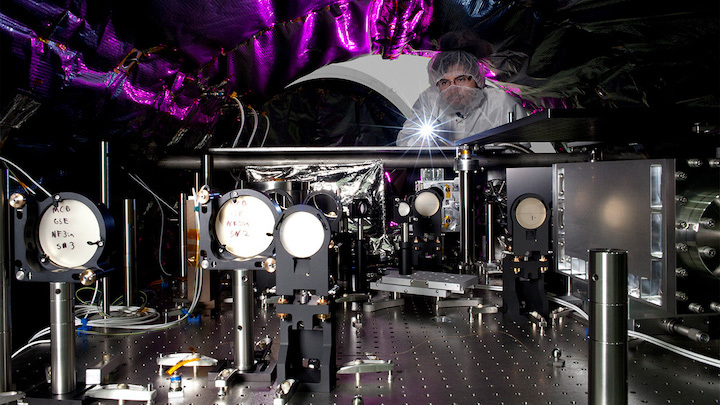 An optical engineer at NASA's Jet Propulsion Laboratory, in Pasadena, California, Camilo Mejia Prada, shines a light on the interior of a testbed for an instrument called a coronagraph that will fly aboard the WFIRST space telescope. Credit: NASA/JPL-Caltech/Matthew Luem
When a new NASA space telescope opens its eyes in the mid-2020s, it will peer at the universe through some of the most sophisticated sunglasses ever designed.
This multi-layered technology, the coronagraph instrument, might more rightly be called "starglasses": a system of masks, prisms, detectors and even self-flexing mirrors built to block out the glare from distant stars - and reveal the planets in orbit around them.
When a new NASA space telescope opens its eyes in the mid 2020s, it will peer at the universe through some of the most sophisticated sunglasses ever designed.
Normally, that glare is overwhelming, blotting out any chance of seeing planets orbiting other stars, called exoplanets, said Jason Rhodes, the project scientist for the Wide-Field Infrared Survey Telescope (WFIRST) at NASA's Jet Propulsion Laboratory in Pasadena, California.
A star's photons - particles of light - vastly overpower any light coming from an orbiting planet when they hit the telescope.
"What we're trying to do is cancel out a billion photons from the star for every one we capture from the planet," Rhodes said.
And WFIRST's coronagraph just completed a major milestone: a preliminary design review by NASA. That means the instrument has met all design, schedule and budget requirements, and can now proceed to the next phase: building hardware that will fly in space. It's one of a series of such reviews examining every facet of the mission, said WFIRST Project Scientist Jeffrey Kruk of NASA's Goddard Space Flight Center in Greenbelt, Maryland.
"Every one of these reviews is comprehensive," Kruk said. "We go over all aspects of the mission, to show that everything hangs together."
The WFIRST mission's coronagraph is meant to demonstrate the power of increasingly advanced technology. As it captures light directly from large, gaseous exoplanets, and from disks of dust and gas surrounding other stars, it will point the way to technologies for even larger space telescopes.
Future telescopes with even more sophisticated coronagraphs will be able to generate single pixel "images" of rocky planets the size of Earth. Then the light can be spread into a rainbow called a "spectrum," revealing which gases are present in the planet's atmosphere - perhaps oxygen, methane, carbon dioxide, and maybe even signs of life.
"With WFIRST we'll be able to get images and spectra of these large planets, with the goal of proving technologies that will be used in a future mission - to eventually look at small rocky planets that could have liquid water on their surfaces, or even signs of life, like our own," Rhodes said.
In this way, WFIRST is a kind of pioneer. That's why NASA considers the coronagraph to be a "technology demonstration." While it is likely to generate important scientific discoveries, its main job is to prove to the scientific community that complex coronagraphs really can work in space.
"This may be the most complicated astronomical instrument ever flown," Rhodes said.
Why This Coronagraph Is Different
NASA's Hubble Space Telescope, in orbit since 1990, is so far the only NASA astrophysics flagship mission to include coronagraphs - far simpler and less sophisticated versions than will fly on WFIRST.
But by the time it launches in the mid 2020s, WFIRST will be the third such mission to include coronagraph technology. NASA's massive James Webb Space Telescope, launching in 2021, will include a coronagraph with a sharpness of vision greater than Hubble's, but without the starlight suppression capability of WFIRST.
"WFIRST should be two or three orders of magnitude more powerful than any other coronagraph ever flown" in its ability to distinguish a planet from its star, Rhodes said. "There should be a chance for some really compelling science, even though it's just a tech demo."
The two flexible mirrors inside the coronagraph are key components. As light that has traveled tens of light-years from an exoplanet enters the telescope, thousands of actuators move like pistons, changing the shape of the mirrors in real time. The flexing of these "deformable mirrors" compensates for tiny flaws and changes in the telescope's optics.
Changes on the mirrors' surfaces are so precise they can compensate for errors smaller than the width of a strand of DNA.
These mirrors, in tandem with high-tech "masks," another major advance, squelch the star's diffraction - the bending of light waves around the edges of light-blocking elements inside the coronagraph.
The result: blinding starlight is sharply dimmed, and faintly glowing, previously hidden planets appear.
The star-dimming technology also could deliver the clearest-ever images of distant star systems' formative years - when they are still swaddled in disks of dust and gas as infant planets take shape inside.
"The debris disks we see today around other stars are brighter and more massive than what we have in our own solar system," said Vanessa Bailey, an astronomer at JPL and instrument technologist for the WFIRST coronagraph. "WFIRST's coronagraph instrument could study fainter, more diffuse disk material that's more like the Main Asteroid Belt, the Kuiper Belt, and other dust orbiting the Sun."
That could yield deep insights into how our solar system formed.
Kruk said the instrument's deformable mirrors and other advanced technology - known as "active wavefront control" - should mean a leap of 100 to 1,000 times the capability of previous coronagraphs.
"When you see an opportunity like this to really open new frontiers in a new field, you can't help but be excited by that," he said.
Once the coronagraph technology is successfully demonstrated over the mission's first 18 months, WFIRST's coronagraph could become open to the scientific community. A "Participating Scientist Program" would invite a broader variety of observers to conduct experiments beyond the demonstration phase.
The coronagraph's advancement through the design review milestone is part of a development schedule now moving at a fast clip. A giant camera that will also fly on the spacecraft, called the Wide-Field Instrument, cleared the same hurdle in June. It is considered the space telescope's main instrument.
Rhodes likes to compare WFIRST to the history-making Mars Pathfinder mission. After landing on the Red Planet in 1997, the Pathfinder lander unleashed a small rover, named Sojourner, to trundle on its own around the landing site and examine nearby rocks.
"That was a tech demo," Rhodes said. "The goal was to show that a rover works on Mars. But it went on to do some very interesting science during its lifetime. So we're hopeful the same is going to be true of WFIRST's coronagraph tech demo."
Quelle: NASA
----
Update: 19.05.2020
.
NASA to Make Announcement About WFIRST Space Telescope Mission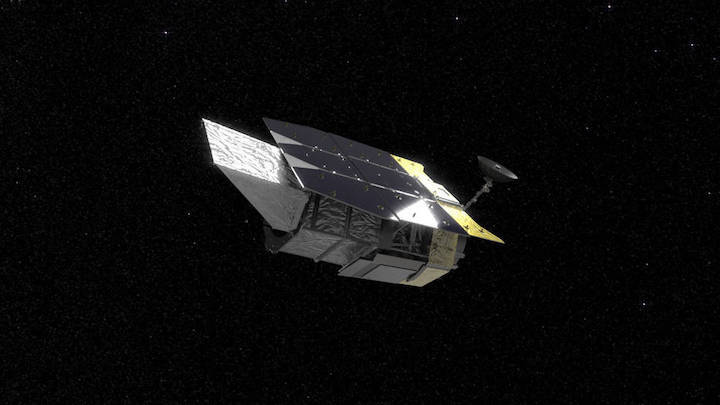 NASA will host a special edition of NASA Science Live at 11 a.m. EDT, Wednesday, May 20, to share an exciting announcement about the agency's Wide Field Infrared Survey Telescope (WFIRST) mission. The episode will air live on NASA's website, NASA YouTube, NASA Facebook and Twitter/Periscope.
Members of the mission will respond to questions from the livestream chat in real time during the episode. Follow @NASA and @NASAWFIRST on Facebook and Twitter for additional information.
WFIRST is a space telescope that will conduct unprecedented large surveys of the infrared universe to explore everything from our solar system to the edge of the observable universe, including planets throughout our galaxy and the nature of dark energy.
WFIRST is managed by NASA's Goddard Space Flight Center in Greenbelt, Maryland, with participation by NASA's Jet Propulsion Laboratory in Pasadena, California, the California Institute of Technology's Infrared Processing and Analysis Center in Pasadena, the Space Telescope Science Institute in Baltimore, and a science team comprising scientists from research institutions across the United States.
Quelle: NASA
----
Update: 21.05.2020
.
NASA Telescope Named For 'Mother of Hubble' Nancy Grace Roman
NASA is naming its next-generation space telescope currently under development, the Wide Field Infrared Survey Telescope (WFIRST), in honor of Nancy Grace Roman, NASA's first chief astronomer, who paved the way for space telescopes focused on the broader universe.
The newly named Nancy Grace Roman Space Telescope – or Roman Space Telescope, for short – is set to launch in the mid-2020s. It will investigate long-standing astronomical mysteries, such as the force behind the universe's expansion, and search for distant planets beyond our solar system.
Considered the "mother" of NASA's Hubble Space Telescope, which launched 30 years ago, Roman tirelessly advocated for new tools that would allow scientists to study the broader universe from space. She left behind a tremendous legacy in the scientific community when she died in 2018.
"It is because of Nancy Grace Roman's leadership and vision that NASA became a pioneer in astrophysics and launched Hubble, the world's most powerful and productive space telescope," said NASA Administrator Jim Bridenstine. "I can think of no better name for WFIRST, which will be the successor to NASA's Hubble and Webb Telescopes."
Former Sen. Barbara Mikulski, who worked with NASA on the Hubble and WFIRST space telescopes, said, "It is fitting that as we celebrate the 100th anniversary of women's suffrage, NASA has announced the name of their new WFIRST telescope in honor of Dr. Nancy Roman, the Mother of Hubble – well deserved. It recognizes the incredible achievements of women in science and moves us even closer to no more hidden figures and no more hidden galaxies."
Who Was Nancy Grace Roman?
Born on May 16, 1925, in Nashville, Tennessee, Roman consistently persevered in the face of challenges that plagued many women of her generation interested in science. By seventh grade, she knew she wanted to be an astronomer. Despite being discouraged about going into science – the head of Swarthmore College's physics department told her he usually dissuaded girls from majoring in physics, but that she "might make it" – Roman earned a bachelor's degree in astronomy from Swarthmore in 1946 and a doctorate from the University of Chicago in 1949.
She remained at Chicago for six years and made discoveries about the compositions of stars that had implications for the evolution of our Milky Way galaxy. Knowing that her chances of achieving tenure at a university as a woman were slim at that time, she took a position at the U.S. Naval Research Laboratory and made strides in researching cosmic questions through radio waves.
Roman came to NASA in 1959, just six months after the agency had been established. At that time, she served as the chief of astronomy and relativity in the Office of Space Science, managing astronomy-related programs and grants.
"I knew that taking on this responsibility would mean that I could no longer do research, but the challenge of formulating a program from scratch that I believed would influence astronomy for decades to come was too great to resist," she said in a NASA interview.
This was a difficult era for women who wanted to advance in scientific research. While Roman said that men generally treated her equally at NASA, she also revealed in one interview that she had to use the prefix "Dr." with her name because "otherwise, I could not get past the secretaries."
But she persisted in her vision to establish new ways to probe the secrets of the universe. When she arrived at NASA, astronomers could obtain data from balloons, sounding rockets and airplanes, but they could not measure all the wavelengths of light. Earth's atmosphere blocks out much of the radiation that comes from the distant universe. What's more, only a telescope in space has the luxury of perpetual nighttime and doesn't have to shut down during the day. Roman knew that to see the universe through more powerful, unblinking eyes, NASA would have to send telescopes to space.
Through Roman's leadership, NASA launched four Orbiting Astronomical Observatories between 1966 and 1972. While only two of the four were successful, they demonstrated the value of space-based astrophysics and represented the precursors to Hubble. She also championed the International Ultraviolet Explorer, which was built in the 1970s as a joint project between NASA, ESA (European Space Agency) and the United Kingdom, as well as the Cosmic Background Explorer, which measured the leftover radiation from the big bang and led to two of its leading scientists receiving the 2006 Nobel Prize in Physics.
Above all, Roman is credited with making the Hubble Space Telescope a reality. In the mid-1960s, she set up a committee of astronomers and engineers to envision a telescope that could accomplish important scientific goals. She convinced NASA and Congress that it was a priority to launch the most powerful space telescope the world had ever seen.
Hubble turned out to be the most scientifically revolutionary space telescope of all time. Ed Weiler, Hubble's chief scientist until 1998, called Roman "the mother of the Hubble Space Telescope."
"Nancy Grace Roman was a leader and advocate whose dedication contributed to NASA seriously pursuing the field of astrophysics and taking it to new heights," said Thomas Zurbuchen, NASA's associate administrator for science. "Her name deserves a place in the heavens she studied and opened for so many."
What is the Roman Space Telescope?
The Roman Space Telescope will be a NASA observatory designed to settle essential questions in the areas of dark energy, exoplanets and infrared astrophysics. The telescope has a primary mirror that is 2.4 meters (7.9 feet) in diameter and is the same size as the Hubble Space Telescope's primary mirror. The Roman Space Telescope is designed to have two instruments, the Wide Field Instrument and a technology demonstration Coronagraph Instrument. The Wide Field Instrument will have a field of view that is 100 times greater than the Hubble infrared instrument, allowing it to capture more of the sky with less observing time. The Coronagraph Instrument will perform high contrast imaging and spectroscopy of individual nearby exoplanets.
The WFIRST project passed a critical programmatic and technical milestone in February, giving the mission the official green light to begin hardware development and testing. With the passage of this latest key milestone, the team will begin finalizing the mission design by building engineering test units and models to ensure the design will hold up under the extreme conditions during launch and while in space.
NASA's Fiscal Year 2020 Consolidated Appropriations Act funds the WFIRST program through September 2020. It is not included in the Fiscal Year 2021 budget request, as the administration wants to focus on completing the James Webb Space Telescope.
Quelle: NASA
2315 Views