8.11.2019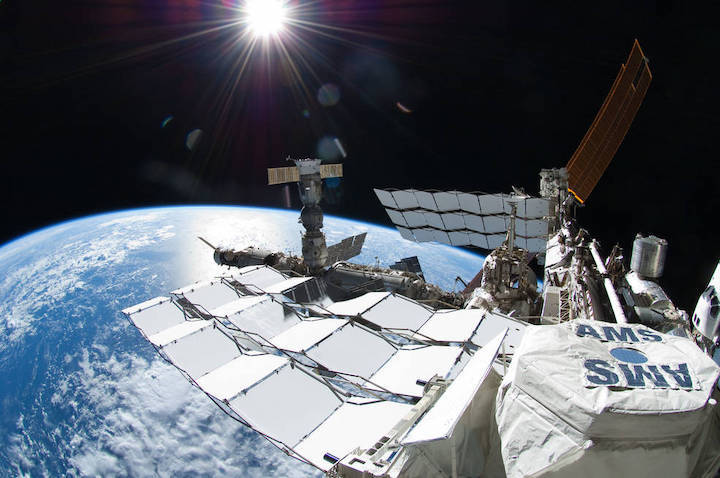 Two astronauts will venture outside the International Space Station for a series of complex spacewalks this month and next to repair the Alpha Magnetic Spectrometer (AMS), a cosmic ray detector.
At least four spacewalks currently are planned before the end of this year, the first of which will be conducted Friday, Nov. 15. Dates for the other spacewalks are under review and will be scheduled in the near future.
NASA will provide detailed plans of the spacewalks during a pair of back-to-back briefings at the agency's Johnson Space Center in Houston beginning at 2 p.m. EST Tuesday, Nov. 12. The briefings and coverage of each spacewalk, which will begin at 5:30 a.m., will air live on NASA Television and the agency's website.
To participate in the briefings in person, U.S. media must contact Johnson's newsroom at 281-483-5111 by 4 p.m. Friday, Nov. 8. Media who wish to participate by telephone must call Johnson's newsroom no later than 1:45 p.m. Nov. 12. Those following the briefings on social media may ask questions using #AskNASA.
The first briefing, at 2 p.m., will provide a program and science overview. Participants will be:
Kenny Todd, space station operations integration manager
Ken Bollweg, AMS program manager
The second briefing, at 3 p.m., will provide details of the tools, techniques and objectives of each spacewalk. Participants of that briefing will be:
Jeff Radigan, spacewalk flight director
Tara Jochim, AMS spacewalk repair project manager
John Mularski, lead spacewalk officer
Over the course of the spacewalks, Expedition 61 Commander Luca Parmitano of ESA (European Space Agency) and NASA Flight Engineer Drew Morgan will replace a cooling system and fix a coolant leak on AMS, which was delivered to the station in May 2011. The upgraded cooling system will support AMS through the lifetime of the space station.
These spacewalks are considered the most complex of their kind since the Hubble Space Telescope servicing missions, which took place between 1993 and 2009. The AMS originally was designed for a three-year mission and, unlike Hubble, was not designed to be serviced once in space. More than 20 unique tools were designed for the intricate repair work, which will include the cutting and splicing of eight cooling tubes to be connected to the new system, and reconnection of a myriad of power and data cables. Astronauts have never cut and reconnected fluid lines during a spacewalk.
Parmitano and Morgan have spent dozens of hours training specifically for the AMS repair spacewalks. NASA astronauts Christina Koch and Jessica Meir will help Parmitano and Morgan suit up for the spacewalks and will maneuver the Canadarm2 robotic arm to help position the spacewalkers around the AMS repair worksite. Parmitano has conducted two spacewalks in his career and Morgan has logged three spacewalks since his arrival on the station in July.
AMS – whose principal investigator is Nobel laureate physicist Samuel Ting – was constructed and tested, and is operated by an international team of 56 institutes from 16 countries organized under U.S. Department of Energy Office of Science sponsorship. AMS has been capturing high-energy cosmic rays to help researchers answer fundamental questions about the nature of antimatter, the unseen "dark matter" that makes up most of the mass in the universe, and the even-more-mysterious dark energy that is speeding up the expansion of the cosmos. AMS is managed by the AMS Integration Project Office at Johnson.
Quelle: NASA
----
Update: 10.11.2019
.
N° 19–2019: Call for media: Live event for Luca Parmitano's first spacewalk of Beyond
Media are invited to join ESA and CERN experts at the European Astronaut Centre (EAC) in Cologne, Germany, 15 November 2019, to watch ESA astronaut Luca Parmitano perform the first in a series of complex spacewalks to service the cosmic-particle-hunting Alpha Magnetic Spectrometer (AMS-02).
In a live linkup between the ESA's EAC and the European Laboratory for Particle Physics CERN, astronaut experts and scientists will provide specialist insight and commentary on what will be the most challenging series of spacewalks since those to repair the Hubble Space Telescope.
Originally intended to operate for three years and never designed to be maintained in orbit, the AMS-02 particle physics instrument has produced results that are shaping researchers' understanding of cosmic rays. Luca and his spacewalking partner NASA astronaut Andrew Morgan trained extensively to service the instrument ahead of their mission, but 15 November will be their first opportunity to examine their work site. Luca will be the lead spacewalker, a position known as 'EV1', another first for a European astronaut.
The EAC event will begin at 11:50 GMT (12:50 CET) – 20 minutes before Luca and Andrew exit the airlock at 12:10 GMT (13:10 CET). Experts from both sites, including the first European International Space Station commander Frank De Winne, will cover spacewalk preparation, the results AMS-02 that has achieved to date and the complexity of the task, with the opportunity for media to ask questions.
Live interactive coverage and commentary will run until 14:00 GMT (15:00 CET). This will be followed by interview opportunities. A working lunch will be provided and media are welcome to stay and watch the entire spacewalk at EAC if they wish.
Please indicate whether you would like an interview slot during your registration and state which of the ESA speakers you would like to interview.
Speakers:
Frank de Winne (ISS Operations and Astronaut Group Leader)
Herve Stevenin (Head of ESA EVA and Parabolic Flight Training Unit)
Andrea Boyd (ESA Eurocom Team Coordinator)
Stefan Schael, German AMS-02 Project lead, Astrophysicist, RWTH Aachen University
Location:
ESA European Astronaut Centre
Linder Hoehe
D-51147 Cologne
Germany
http://www.esa.int/About_Us/EAC/How_to_reach_us
Event programme:
All times in CET
12:00 – 12:30 EAC arrival and registration.
12:50 Welcome by Frank De Winne, first European commander of the International Space
Station and Head of EAC.
Introduction to ESA speakers.
13:00 Live cross to CERN plus speaker introduction.
13:10 Hatch opening.
Start of live commentary.
14:10 Translation to work site via robotic arm.
14:25 Work on AMS-02 begins.
15:00 End of live event.
15:00 – 17:00 Interview opportunity.
19:40 End of spacewalk.
Media registration:
Media representatives with press or social media credentials please register at: https://www.esa.int/Contact/mediaregistration
Social media participants should check here that they meet the eligibility criteria before applying. Note that there is no dedicated social media event; those attending with social media accreditation will have the same access to the event as traditional/online news media.
Please ensure you bring your passport or valid ID card (no driver licenses) to gain access to the DLR campus. Latest date for registration is 12 November.
Livestream:
This event will be shown live on ESA Web TV as well as via ESA's Facebook page: www.facebook.com/EuropeanSpaceAgency
For further information please contact:
ESA Newsroom and Media Relations
Tel. +390694180767
Email: media@esa.int
Quelle: ESA
1714 Views