2.06.2019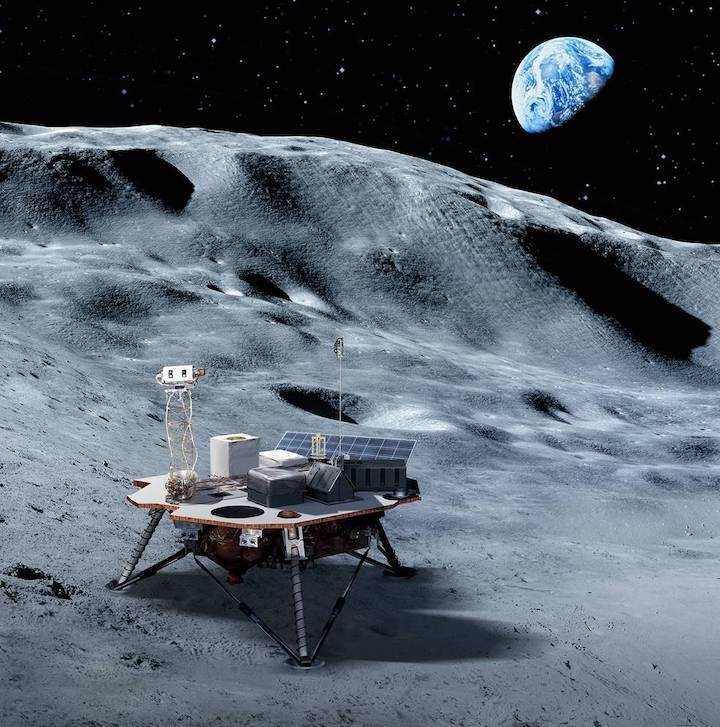 NASA has selected three commercial Moon landing service providers that will deliver science and technology payloads under Commercial Lunar Payload Services (CLPS) as part of the Artemis program. Each commercial lander will carry NASA-provided payloads that will conduct science investigations and demonstrate advanced technologies on the lunar surface, paving the way for NASA astronauts to land on the lunar surface by 2024.
"Our selection of these U.S. commercial landing service providers represents America's return to the Moon's surface for the first time in decades, and it's a huge step forward for our Artemis lunar exploration plans," said NASA Administrator Jim Bridenstine. "Next year, our initial science and technology research will be on the lunar surface, which will help support sending the first woman and the next man to the Moon in five years. Investing in these commercial landing services also is another strong step to build a commercial space economy beyond low-Earth orbit."
As part of their submissions, each partner proposed flying specific NASA instruments to the lunar surface. By the end of the summer, NASA will determine which payloads will fly on each flight. The potential payloads include instruments that will conduct new lunar science, pinpoint lander position, measure the lunar radiation environment, assess how lander and astronaut activity affects the Moon, and assist with navigation precision, among other capabilities.
The selections are:
Astrobotic of Pittsburgh has been awarded $79.5 million and has proposed to fly as many as 14 payloads to Lacus Mortis, a large crater on the near side of the Moon, by July 2021.

Intuitive Machines of Houston has been awarded $77 million. The company has proposed to fly as many as five payloads to Oceanus Procellarum, a scientifically intriguing dark spot on the Moon, by July 2021.

Orbit Beyond of Edison, New Jersey, has been awarded $97 million and has proposed to fly as many as four payloads to Mare Imbrium, a lava plain in one of the Moon's craters, by September 2020.
"These landers are just the beginning of exciting commercial partnerships that will bring us closer to solving the many scientific mysteries of our Moon, our solar system, and beyond," said Thomas Zurbuchen, associate administrator of NASA's Science Mission Directorate in Washington. "What we learn will not only change our view of the universe, but also prepare our human missions to the Moon and eventually Mars."
Each partner is providing end-to-end commercial payload delivery services to NASA, including payload integration and operations, launch from Earth and landing on the surface of the Moon. These early missions will enable important technology demonstrations that will inform the development of future landers and other exploration systems needed for humans to return to the lunar surface. They also will help prepare the agency to send astronauts to explore Mars.
"This announcement starts a significant step in NASA's collaboration with our commercial partners," said Chris Culbert, CLPS program manager at NASA's Johnson Space Center in Houston. "NASA is committed to working with industry to enable the next round of lunar exploration. The companies we have selected represent a diverse community of exciting small American companies, each with their own unique, innovative approach to getting to the Moon. We look forward to working with them to have our payloads delivered and opening the door for returning humans to the Moon."
As additional science, technology demonstration, and human exploration requirements for payloads develop, a request for task order bids will go to all current CLPS contractors. All nine companies initially selected in November 2018 for CLPS will be eligible to bid on subsequent task orders.
Charged with returning astronauts to the Moon within five years, NASA's Artemis lunar exploration plans are based on a two-phase approach: the first is focused on speed – landing astronauts on the Moon by 2024 – while the second will establish a sustained human presence on and around the Moon by 2028. We will use what we learn on the Moon to prepare to send astronauts to Mars.
Quelle: NASA
+++
NASA Selects Intuitive Machines for Robotic Return to the Moon in 2021
HOUSTON, May 31, 2019 – Intuitive Machines will join NASA's new era of lunar exploration with a robotic landing on the Moon in 2021, under a contract award announced today by NASA.
​
The firm, fixed-price contract for no more than $77,247,500 with an additional incentive of $2,500,000 calls for Intuitive Machines to develop, launch and land its Nova-C spacecraft on the lunar surface with a payload of NASA and private experiments. The mission will be the first under NASA's Commercial Lunar Payload Services (CLPS) program. The award places Intuitive Machines on a path to become the first private U.S. company to land a spacecraft on the Moon.
"We are grateful for the tremendous privilege and honor to be awarded this contract. I have dreamed of going to the moon since, as an 11-year-old boy, I saw Neil Armstrong's historic first step onto that new world. Today, Intuitive Machines begins a journey back to the moon in the culmination of my boyhood dream" said Dr. Kam Ghaffarian, Executive Chairman of Intuitive Machines.
​
"All of us at Intuitive Machines have great passion for space and exploration," said Steve Altemus, CEO of Intuitive Machines. "Our experience in developing autonomous systems, precision navigation, and cryogenic propulsion lends itself perfectly to the challenge of landing Nova-C on the Moon. In our first mission, we provide lunar science
payload delivery and technology advancement for NASA, academia, and our strategic partner Boeing."
"Our vision is to take the challenge of this historic step with an eye toward a permanent presence on the Moon," said Dr. Tim Crain, Intuitive Machines' Lunar Architect. "We are working with Boeing to extend core Nova-C technologies of propulsion and automation to the development of large scale and human landers."
"We are very excited about this incredible opportunity to once again put the United States on the surface of the Moon," Altemus adds. "We have a strong team of brilliant minds motivated to accomplish this mission. We have worked relentlessly over the past few years and we will continue to do so until we land the Nova-C on the Moon and put boots on the ground shortly thereafter."
The lunar payload and delivery service business of Intuitive Machines encompasses small, medium and large landers as well as the development of lunar infrastructure that will pave the way for planetary missions. The 2021 Nova-C mission will have a payload capacity of 220 pounds (100 kg) and transmit scientific data back to Earth during 13.5 days of activity on the Moon's surface.
​
Nova-C uses a first-in-class, deep-throttling liquid oxygen/methane engine that is scalable to landers of different sizes. Intuitive Machines also is working to enable space exploration beyond the Moon with its development and implementation of space-storable cryogenic propellants.
About Intuitive Machines Dr. Kam Ghaffarian, Steve Altemus, and Dr. Tim Crain founded intuitive Machines in 2013. Intuitive Machines was born as a think tank with the objective of applying human spaceflight methodologies and principles that enable low-cost solutions while managing the highest complexity and safety levels for autonomous systems. Intuitive Machines was formed from deep practical experience in the development of large, complex space systems. The people of Intuitive Machines use technical knowledge honed over decades of human spaceflight to provide risk-based decision-making, redundancy management, fault tolerance and isolation, quality and safety, reliability, maintainability, verification testing, and operations. For more information on Intuitive Machines, visit www.intuitivemachines.com.
Quelle: Intuitive Machines
+++
ASTROBOTIC AWARDED $79.5 MILLION CONTRACT TO DELIVER 14 NASA PAYLOADS TO THE MOON
MAY 31, 2019
Astrobotic's first mission manifest now totals 28 payloads from 8 nations
Astrobotic to add dozens of high tech jobs to the Pittsburgh area
Pittsburgh, PA and Washington, DC – Astrobotic was selected today by NASA's Commercial Lunar Payload Services (CLPS) program to deliver 14 payloads to the Moon on its Peregrine lunar lander in July 2021. With this $79.5 million CLPS award, Astrobotic has now secured 28 payloads for lunar delivery as part of its first mission. Fifty years after Apollo 11, Pittsburgh's Astrobotic is returning America back to the Moon in partnership with NASA.
Today's announcement of a firm fixed price contract to deliver NASA science, exploration, and technology demonstration payloads to the Moon is a culmination of Astrobotic's 12 year history as the pioneer in lunar delivery. Born and bred in Pittsburgh, Pennsylvania, one of America's advanced technology epicenters, Astrobotic is leading the world in lunar payload sales. Astrobotic's 28 payloads represent 8 different countries (including the United States). Payloads comprise of resource development, scientific investigation, technology demonstration, exploration, marketing, arts, and entertainment. NASA's CLPS selection, along with our existing manifest of signed customers, affirm that Astrobotic's American-designed Peregrine lander is the market choice for payload customers worldwide.
"Today is a historic day for Astrobotic and the commercial lunar market," said Astrobotic CEO John Thornton. "It is an awe-inspiring responsibility to be charged with delivering NASA's payloads alongside our existing manifest of customers. Astrobotic was founded on the tenets of technical excellence, credible timelines, and value to customers. NASA's confidence in our services is a testament to the hard work of the Astrobotic team, which spent 12 years making commercial lunar delivery a reality. Today, that hard work has come to fruition. We are proud to join NASA in returning America to the Moon."
Peregrine is a lunar lander product line that will carry uncrewed payloads to the Moon. With Peregrine's robust delivery capacity, the lunar surface is open to companies, governments, and universities, and individuals. The vehicle has passed an industry-standard Preliminary Design Review and the program will build and test a Structural Test Model followed by a Critical Design Review later this year. Peregrine will launch in June 2021 with a planned landing in July 2021.
With 28 payloads now on board for Peregrine Mission One and a healthy payload pipeline for follow-on Peregrine missions to the Moon, Astrobotic is expanding operations and growing its team. Career openings are available online now at the Astrobotic website, and we invite the nation's best technical talent to make history with us.
About Astrobotic
Astrobotic Technology, Inc. is a space robotics company that seeks to make space accessible to the world. The company's lunar lander, Peregrine, delivers payloads to the Moon for companies, governments, universities, non-profits, and individuals for$1.2 million per kilogram. Astrobotic was selected by NASA in May 2019 for a $79.5 million contract to deliver payloads to the Moon in 2021. The company also has more than 30 prior and ongoing NASA and commercial technology contracts, a commercial partnership with Airbus DS, a corporate sponsorship with DHL, and 28 payloads signed on for Peregrine's first mission to the Moon. The company is also an official partner with NASA through the Lunar CATALYST Program. Astrobotic was founded in 2007 and is headquartered in Pittsburgh, PA.
Quelle: Astrobotic
1688 Views