23.04.2018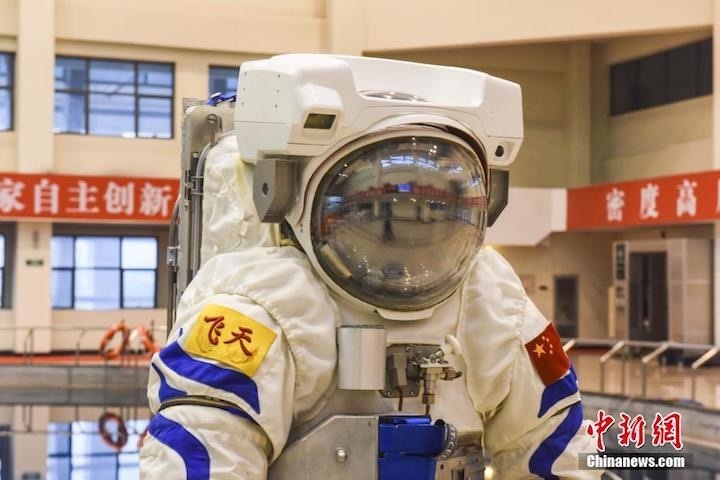 China's self-developed underwater astronaut training suit was revealed to press in Beijing on April 20, 2018. CNS
-
An underwater space suit designed for training China's astronauts was displayed publicly on April 20 in Beijing, giving an insight into preparations for missions to the future Chinese Space Station.
The Astronaut Centre of China started to develop the training suit in 2014, tackling challenges including controlling pressure, temperature and humidity, acquisition and transmission of signal and voice in the state of neutral buoyancy.
"We applied the most advanced digital design ideology in developing the training suit. Digital tools are used in whole research process, including design, simulation, modeling and production. The digital tools were manufactured and tested relying on our digital platform developed by the Shanghai Feitian Zhongzhi Technology Services Co. Ltd.," said Yin Rui, deputy chief director with the astronaut system of China's human spaceflight programme, CCTV+ reports.
Seen on the arm are the characters 飞天 ('Feitian'), meaning literally 'flying sky/heaven' but referring to apsaras as depicted on murals at Dunhuang and other sites. The Shenzhou 7 mission, which saw China's first and so far only extravehicular activity, used space suits named Feitian.
China's astronauts are currently training for the construction and maintenance of the Chinese Space Station (CSS), with the first module, Tianhe, scheduled for launch into low Earth orbit around 2020. Training can be seen in the video below.
"The underwater training for astronauts has been carried out as scheduled. Some astronauts who have participated in the human engineering verification test for extravehicular activities are capable of conducting underwater operations and carry out human engineering evaluation. Other astronauts are also going through training as planned," Yin said.
China's Self-developed Underwater Training Suit for Astronauts Makes Debut in Beijing
Yang Liwei, China's first astronaut in space and senior figure within the country's human spaceflight agency CMSA, said on Monday that the country had started preliminary selection for a third round of 17-18 astronauts.
China has launched six crewed spaceflight missions, the first being Shenzhou 5 in 2003, and has sent 11 astronauts to space in total.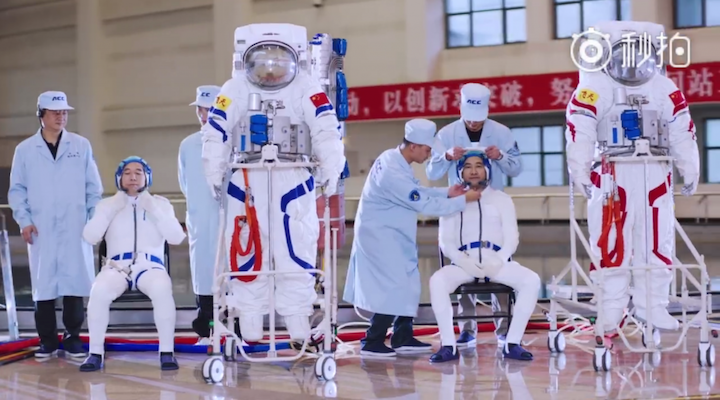 Astronauts prepare for neutral buoyancy training to simulate extravehicular activity. Astronaut Centre of China
Quelle: gbtimes
1238 Views