.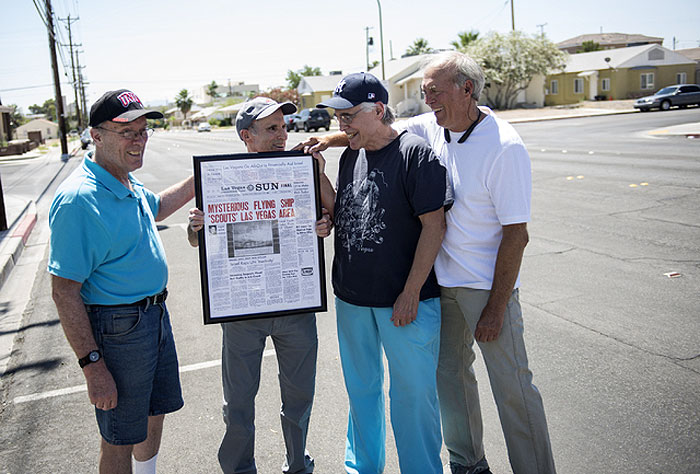 Friends relish memory of 1967 UFO hoax
From left, Richard Small, Syd "Bill" Rabin, Gerry Genovese and Mike McDonald talk about the time when they were teenagers and the took a hoax picture of a UFO that was published in the Las Vegas Sun in 1967 on Saturday, May 30, 2015, in Las Vegas. The four received national attention for a Polaroid photo of a flying hubcap that they tried to pass off as a UFO. (Jacob Kepler/Las Vegas Review-Journal)
.
Judging by the headline, an alien invasion seemed imminent 48 years ago.
The June 13, 1967, front page of the Las Vegas Sun screamed: "MYSTERIOUS FLYING SHIP 'SCOUTS' LAS VEGAS AREA."
And the evidence? A black-and-white Polaroid photo of a spiraling, metallic flying object.
The photograph and accompanying commentary came from four teenage boys. Now in their mid-60s, Richard Small, Gerry Genovese, Michael McDonald and Syd "Bill" Rabin gathered to reflect on the day they bamboozled the valley.
"We shook up the whole town," Rabin proclaimed earlier this month outside of the historic Morelli House, where the 65-year-old friends reunited.
They met there, they said, because the Mid-Century Modern home is connected to Las Vegas, just like them. (The former home of Rat Pack-era big bandleader Antonio Morelli's is of particular significance to Small, who says he, his father and his brother helped build it around 1959.)
That it was a flying object is true, Genovese said.
"But it was a hubcap," he said with a smirk.
.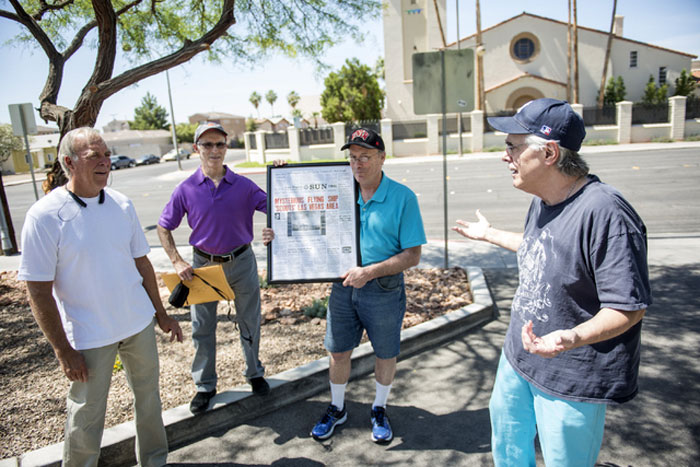 Hearing stories of alien encounters and spooky hovercrafts are commonplace for Nevadans, and this group of friends stoked the urban legends after learning how to fabricate a UFO photo from a science magazine.
On what they called Bubbling Wells Road, then a dirt road about a mile from Valley High School, the boys set up their photo shoot, tossing the hubcap "like a Frisbee," and snapping a photo. The stretch of road is now covered by houses, they said, and its name disappeared.
But their memories are still around. And still give them a laugh.
The photo was too good not to show somebody.
-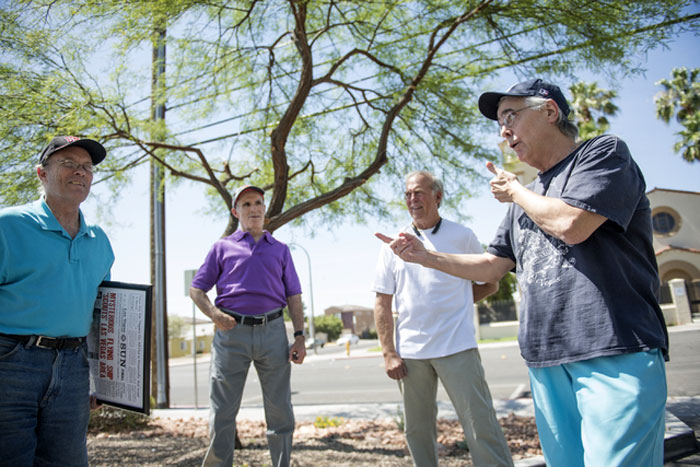 "When you're 17 years old, you want to have as much fun as you can," McDonald said. "Everyday it's, 'What can I do to have fun?' "
The foursome's collective imagination was good enough to conceptualize a tall tale to go along with their phony photo, but not good enough to foresee what would happen after handing their evidence over to local reporters.
"My dad picks up the morning paper, and that's what's on the headlines," Genovese said.
Small, who shares his father's name, said his dad came to him where they worked at the Fremont hotel-casino, saying "Rich, what did you do? Everybody thinks it's me."
Rabin remembered overhearing people talking about how scared they were in the break room of the old Sands hotel-casino, where he worked at the pool.
"They were thinking about leaving town for the weekend," he recalled, his friends laughing in the background. "They were really concerned about this alien invasion."
It was the talk of the town, and the teens had some explaining to do, starting with their parents — perhaps more terrifying at the time than extra terrestrials.
"They kinda laughed," Genovese said of his parents' reaction when he told them the truth. "I had older brothers. They were laughing hysterically. When they saw the paper, they laughed even harder."
The panic that ensued from those not in on the joke did not immediately put a damper on the group's sense of humor.
"I'm gonna carry this as far as I can go," Genovese said he thought at the time of the prank, because, "we're 17 years old."
A representative from a local TV station and UFO enthusiast Frank Edwards, as well as a colonel from Nellis Air Force Base, reached out to the boys, they claimed, hoping to get the scoop on their extraterrestrial spacecraft, Genovese said.
.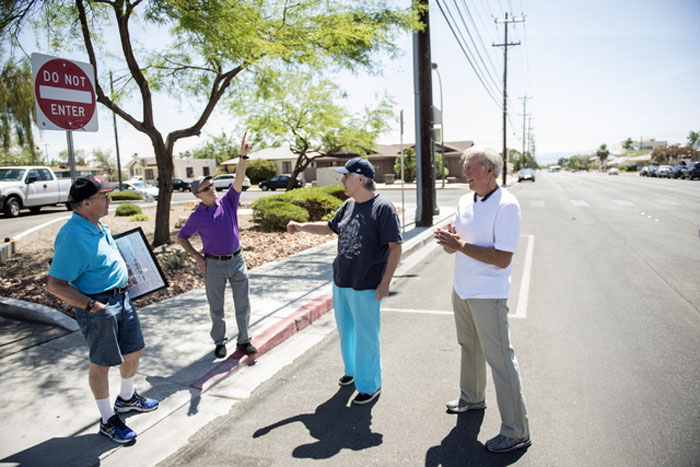 Talking about their plan to reveal their "saucer," the 17-year-old Bishop Gorman High School students decided they would bring the hubcap along to a TV interview to say, "Yeah, we saw it. In fact, we captured it," touting the not-so-unidentified-flying-object.
That plan did not work out — the jig was up in just one day — but because of Rabin's father.
Amid pressure from the government for interviews, McDonald, Genovese, Small and Rabin called off the prank.
"When the government got involved, started calling, wanting to talk to us," Rabin said, "I told my father what was going on, and he thought, at that point, maybe it was going too far."
On June 14, 1967, a mere 24 hours after the hoax had gone as viral as something could go in the '60s, the Las Vegas Review-Journal ended it.
"The mysterious flying ship 'scouting' Las Vegas Monday night turned out to be a hubcap, sources close to the 'ship' revealed Tuesday afternoon," the lede read.
"It's just amazing how fast without social media it got around," Rabin said.
Those "sources" were later revealed as the comedic group of friends.
"My father called the paper," Rabin said, explaining the prank's demise.
Although many dismiss this instance of a saucer flying through Southern Nevada skies, tales about Area 51, the top secret military installation about 80 miles northwest of Las Vegas, is best known for its UFO and alien conspiracy theories.
"Fear not. Very few people, regardless of what planet they are from, can fit on a hubcap," the Review-Journal story explained, resolving the dread brought on by a looming summer of '67 alien invasion — for now.
The valley today, the friends said, is a different place.
The four men still reside in Las Vegas and call themselves the "Circle Park Boys," named for the Huntridge Circle Park. "Circle Park was the center of the universe when we were kids," Small wrote in an email.
All but McDonald actually believe in the possibility of alien existence, saying there have been "too many sightings" to deny it.
Just don't take their word for it.
.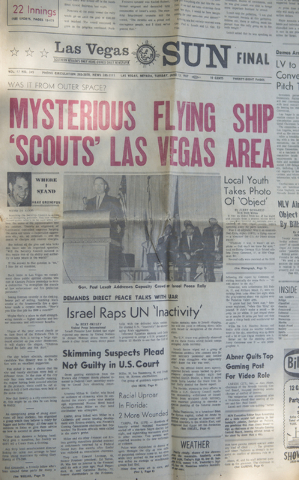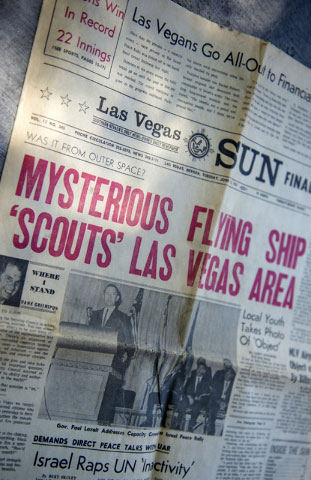 -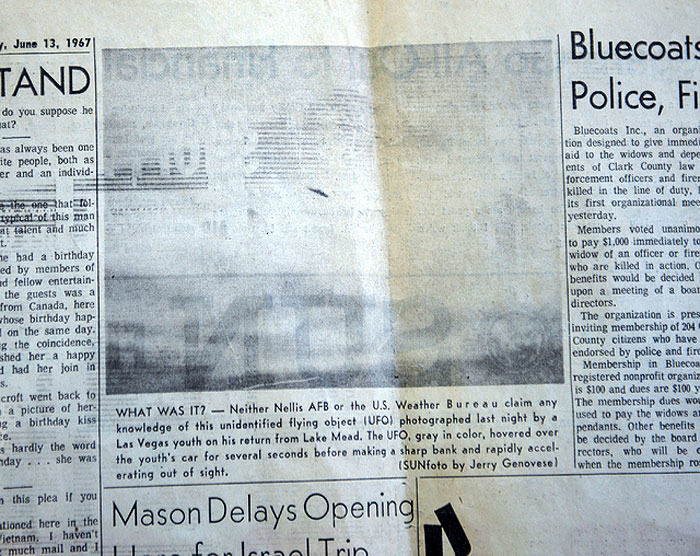 Quelle: LAS VEGAS REVIEW-JOURNAL
2640 Views